BEAUTIFUL AMALFI COAST TOWNS YOU MUST SEE AT LEAST ONCE
A vacation on Italy's sublime Amalfi Coast is what dreams are made of. Imagine waking each morning to see the sun rising over sparkling azure waters, as the waves break all along the incredible coastline. There's no denying, Amalfi Coast towns are among some of the most idyllic destinations you'll find in the world.
This guide walks you through all the beautiful towns of the Amalfi Coast, so you can decide how much time you need and where best to spend it. Be warned – the lure of these places is so strong that you may never want to leave.
Introduction to Amalfi Coast towns
The Amalfi Coast (Costiera Amalfitana) comprises a 50 kilometre stretch of Italy's western coastline. It is a UNESCO listed world heritage site – as well as an area of outstanding natural beauty. The area is located within Southern Italy's Gulf of Salerno, by the Tyrrhenian Sea.
There is something of an otherworldly aura about this region – the kind of stuff dreams and legends are made of. The terrain is characterised by towering cliff faces overlooking tiny, secluded coves, lapped by some of the clearest water you will have ever seen. For these reasons, several parts of the coastline were used to represent Themyscira, a mythical land featured in the Wonder Woman movie.
Whether you prefer glamor and elegance or more authentic, rustic Italian charm, the Amalfi coastal towns each have their own unique attractions. From Agerola and Conca dei Marini to Ravello or Vieti sul Mare, read on to find the perfect destinations for you.
Map of Amalfi Coast towns
This Amalfi Coast map should help you get your bearings. As shown, towns on the Amalfi Coast occupy the stretch of coastline that runs between Sorrento and Salerno. Here is all you need to know about each of these beautiful Amalfi Coast towns.
The most beautiful Amalfi Coast towns
Positano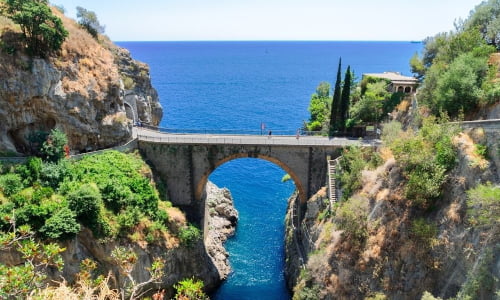 Positano is one of the most scenic locations on the entire planet. It's the perfect place to discover La Dolce Vita, and is one of the most romantic, colorful and relaxing towns to spend time in.
Positano is famed for its steep, twisting cobbled streets draped in vines and flowers. In May and June, an abundance of pretty wisteria can be seen among the town's colorful homes with terracotta roofs. These houses appear to be perched on the cliffside, cascading down to the Tyrrhenian Sea.
This Amalfi Coast town provides the perfect setting for laid-back vacation living – think long, lazy breakfasts and the freshest seafood lunches, or sipping a cappuccino or glass of wine as you savour those magical views.
Relaxing on the picturesque seafront lined with cheerful umbrellas is another popular pastime here, between browsing the interesting range of art galleries and stylish boutiques. As the day draws to a close, the incredible sunsets are unmissable.
As well as being such a stunning place in which to spend time, Positano also makes a useful base for exploring the Amalfi Coast. You can take a private boat trip from Positano along the coastline, or a day trip to the gorgeous island of Capri.
Positano suits couples seeking a romantic getaway, and is the ideal honeymoon spot. In summer, however, it is not secluded, as this is when the town's beauty attracts many visitors. If you prefer the quiet life, head further along the coast or wait to explore once the daytrippers have left for the day.
This is also not the ideal location for those with mobility issues – or young children – due to the steep streets and amount of steps. Neither is this a budget destination, so if you plan to stay it's best to book at least 6 months ahead of travel.
Amalfi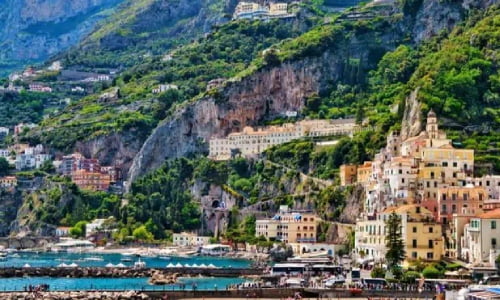 Amalfi lies at the heart of this southern Italian region, and the pretty seaside town is another great base for exploring the coast. In past times Amalfi rivalled the likes of Genoa and Venice in terms of maritime prowess. Today, it is a lively resort with a lovely beach and delightful cafes and restaurants.
Amalfi's historic cathedral is the town's focal point and a cultural highlight. If possible, don't miss the route that takes you there on foot via cobbled medieval streets and narrow, twisting passageways.
Amalfi boasts some Amalfi Coast's finest beaches, with some sandy coves as well as stony stretches. If the summer crowds prove too much, you can take a short stroll to nearby Atrani, which offers a more relaxed seaside vibe.
Due to its position halfway along the Amalfi coast, it's easy to take day trips from Amalfi – either on land or by boat. You can access local bus routes from the main port, and these can take you via the coast road and hills to Ravello. You can also hire a car in Amalfi if you require added flexibility.
Amalfi is the perfect Italian town for those who enjoy combining beach life with cultural and historic sites. You can also take various day trips from here. As the streets are not quite so steep as those in Positano, Amalfi is better suited to those with young children or who have limited mobility.
Ravello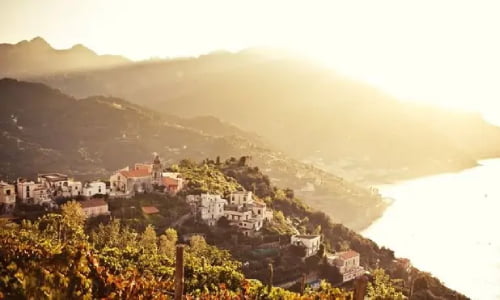 Ravello has it all – this Italian resort town is smart, stylish and historic, yet a relatively relaxing place to be. Occupying an elevated position at 365 meters above sea level, Ravello offers some of the most jaw dropping views you'll find anywhere.
Famous artists and writers have been discovering Ravello's unique charms for centuries, and D H Lawrence, Truman Capote and Jacqueline Kennedy Onassis are among past visitors. The noble villas or Ravello are a big draw, and the main ones not to miss are Villa Rufolo and Villa Cimbrione.
Villa Rufulo dates from the 13th century, and there are splendid views over the coastline from its terraces and manicured gardens. It hosts recitals and concerts and is open to the public all year round.
Villa Cimbrione is higher up the hill, and renowned across the globe for the views from its outdoor terraces – particularly the Terrace of Infinity (Terrazza dell'Infinito). It also boasts Il Flauto di Pan, a Michelin starred restaurant.
There is no beachfront in Ravello, but rather than being a drawback, this actually means it is a quieter, more exclusive place to stay than other Amalfi Coast towns.
Atrani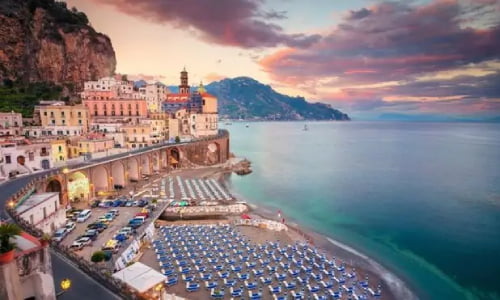 In contrast to nearby Amalfi, the pace of life is far slower in Atrani. This is southern Italy's smallest town, and offers visitors a refreshing seaside break, removed from the hustle and bustle of the area's larger resorts.
Atrani is built onto the edge of a cliff, and is a charming Italian fishing village with a wonderful beach. Hotels and homes are clustered high on the hillside, before a twisting tangle of streets winds its way towards the ocean and soft, sandy beach.
Among these cobbled streets visitors can stop at the rustic, local cafes and restaurants that will typically offer a freshly-caught catch of the day. With its laid-back vibe, Atrani is ideal for anyone who needs to wind down from their usual fast pace of life – as well as families.
As Atrani is located along the major SITA bus routes, it's also well placed for sightseeing. You can also take a 10 minute walk to Amalfi to access ferry routes.
Minori
Even in a country so famed for its pasta, Minori stands out as a gem. This town on the Amalfi Coast is nothing short of a foodies' paradise, and as such is often referred to as 'The City of Taste'. It has delicious fresh pasta, lemon and olive groves and some of the area's finest eateries.
As the beach in Minori is small and sunny, it can tend to become crowded in summer months. It's a lovely spot for swimming and sunbathing, with even the hottest days tempered by the fresh sea breezes.
Hiking up to Ravello to see the views and discover the villas is popular in Minori. Visitors can also explore the Villa Romana archaeological site, or catch a ferry to another of the towns scattered along the Amalfi Coast.
We recommend booking dinner at Gardiniello if you can – this restaurant serves up some of the finest seafood and fresh pasta specialities you'll find anywhere on the coast. Dining al fresco on the scented, jasmine-covered terrace here is one of those bucket list Italian experiences.
Maiori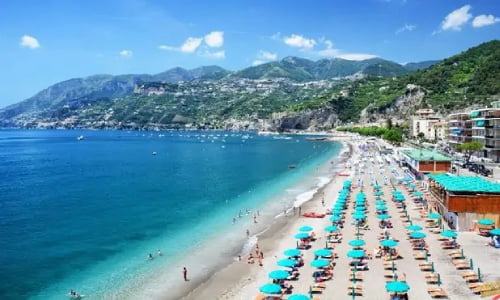 With sand and shingle beaches and clear, warm waters, Maiori is perfect for family vacations. The sea is well suited to swimming and splashing around, and the beach clubs at Lungomare Amendola offer sun loungers with parasols and beach bars. This Amalfi Coast resort town provides perfect for lazy days in the sun for kids and parents alike.
If you do tire of beach life, there are plenty of cafes, shops and restaurants to be found dotted along Maiori's medieval streets. You can also take day trips to intriguing local grottoes, neighboring foodie favourite Minori and Villa Marittima Romana, a Roman site of archaeological significance.
Praiano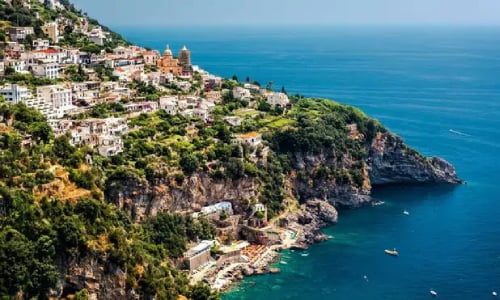 Picturesque Praiano is around midway between Positano and Amalfi, and is ideal for those seeking beautiful beaches and a more peaceful pace of life. This scenic spot also boasts some of the Amalfi Coast's most panoramic views. Seeing the sun set over Capri in the distance is one of those experiences that will be etched in your memories forever.
Praiano is smaller and quieter than both Positano and Amalfi. As a series of whitewashed homes scattered along the coastline, it has no town center as such. It is thus the ideal Amalfi Coast town for those seeking a relaxing beach vacation.
There are several beautiful beaches that enjoy long daily periods of sunlight. Near the water there are plenty of traditional Italian trattorias in which to sample the freshest seafood dishes. We recommended trying Trattoria da Armandino if you can.
Praiano is also an ideal starting point for the Path of the Gods – or Il Sentiero degli Dei – as this popular hiking trail can be started or ended there, depending on your direction of travel.
Praiano is a tranquil town and may not be the one for you if you dream of shopping til you drop or a lively nightlife scene. While the local SITA buses stop here, Praiano is not the best starting point for sightseeing during summer either, as the buses are often full from previous pick-up points by the time they reach here.
Vietri sul Mare
Located only 2 miles from Salerno, Vietri sul Mare is the last resort along the Amalfi Coast route. This modestly-sized destination is popular with foodies and also offers visitors magnificent views. Yet this spot is most famous for its rich ceramics heritage.
Vietri sul Mare is the birthplace of majolica – a brightly-colored type of Italian earthenware pottery. These striking ceramics are evident all over town, giving Vieti sul Mare a unique look and feel.
Despite its famed ceramics, Vietri sul Mare isn't really a resort town as such, in that it avoids catering specifically to visitors. This means it attracts fewer tourists and is thus quieter and has fewer of the usual tourist amenities.
If you want a simple seaside break away from the tourist crowds, Vieti sul Mare could be your ideal destination. Especially if you're an admirer of fine and colorful pottery.
Furore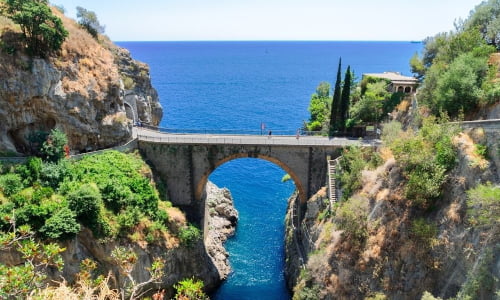 Furore is a walker's paradise, and somewhat off the beaten path. More of a village than a town, it has a compact, stony beach and a small scattering of buildings. The small settlement clings to the side of a rocky gorge that overlooks the breathtaking Furore fjord.
Furore is set among vineyards, lemon and olive groves, creating an archetypal Italian vista. The 30-meter-high bridge above the fjord also makes a superb backdrop for snapping Insta-worthy images. Each year it also serves as the venue for a high diving contest.
A number of day hike routes begin in Furore, so the village is justifiably popular with hikers and walkers.
Cetara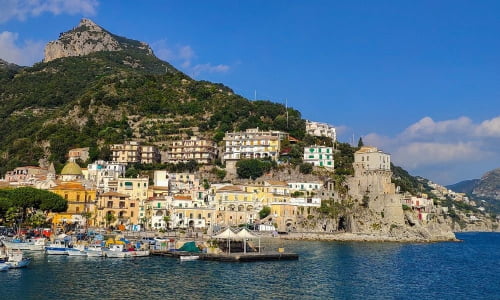 Cetara is a refreshingly unpretentious fishing village, and famous for its anchovies. It is one of the last places on the Amalfi Coast route before Salerno. As with generations before, local fishermen set sail on the Tyrrhenian Sea each evening to catch the village's renowned anchovies
Hugging a small cove, Cetara has a scenic and sheltered beach, flanked by white washed homes and fragrant citrus groves. The local delicacy here is colatura, and the eateries tend to feature this fairly heavily on their menus. It is made from the juice of salted anchovies, and best sampled as a delectable pasta sauce.
Conca dei Marini
If you're seeking the archetypal Italian fishing village, then they do not come much more idyllic than Conca dei Marini. This pretty village is characterised by traditional whitewashed dwellings, set among lemon and olive groves, while the Tyrrhenian sea laps at the rugged, rocky coastline below.
As a result of its secluded and picturesque position, Conca dei Marini is now popular with celebrities – and even royalty. It does have some exclusive, high end villas for hire, used by those who want to get away from all the trappings of fame or modern life.
Near to the village is the Emerald Grotto – a cave where stalactites hanging from the ceiling reflect the sparkling green light as it catches them. The graceful little local churches are also one of the area's star attractions.
Agerola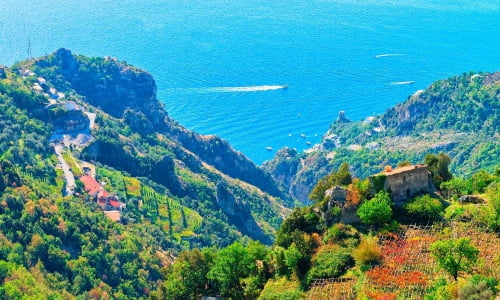 Despite being located on the Amalfi Coast, Agerola is often known as 'Little Switzerland'. This is due to the surrounding Lattari Mountains that are often snow-capped during winter. This mountainous landscape ensures Agerola is a fresh and breezy spot – a great escape from the baking resort towns of the coast during summer.
Agerola is about 600 meters above sea level, positioned a little above Amalfi and Furore. Unlike other resorts, it is not right beside the ocean. It has a fascinating history, beginning in Roman times and including periods of breeding silkworms and a rare white rose used in perfumery.
Agerola is a sparkling clean, alpine-style town with fresh cool air, and a relaxing mountainous landscape dotted with orchards and meadows. Visitors can also enjoy this unique spot while having easy access to Amalfi Coast boat and road trips.
Nocelle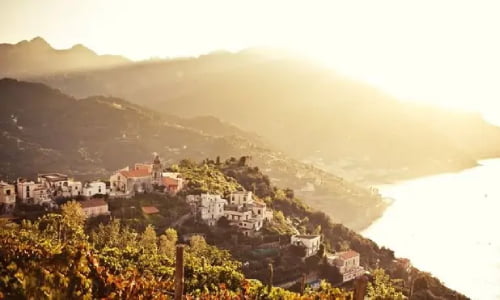 Close to Positano is the quiet, historic Italian village of Nocelle – a perfect location for those wishing to stay away from noisier, busier spots. As Nocelle is 400 meters above sea level, visitors can enjoy superb views over the terraced hillsides than tumble down to the ocean.
A very steep staircase with around 1,700 treads takes you to Positano. It's a tough uphill slog, but the stunning panoramas make it all worthwhile. Hiking fans also adore Nocelle as numerous trails through the Lattari Mountain range begin here. Among the most popular hiking routes is the Path of the Gods that can be accessed from Nocelle.
Nocelle is convenient for Positano, yet feels far removed from the crowds. Those who spend time here can enjoy the relaxed atmosphere, while remaining close to all the attractions of the Amalfi coast. A little like Agerola, the air here is somewhat cooler, particularly at night, when refreshing breezes travel upwards from the sea.
How to get to the Amalfi Coast
Whether you are arriving by plane or by train into Naples, the Amalfi Coast is not the most straightforward to reach. You can get there on your own steam using a combination of train, bus or ferry connections, however the easiest and most convenient method is to organize a private driving service.
Our driver will meet you at the airport or train station and transfer you to your destination while you watch the gorgeous coastal scenes float by your window.
Which of these beautiful Amalfi Coast towns will you visit?
Whether you prefer the hustle and bustle of a lively resort, are looking for a stunning sandy beach or love places with a refined elegance, the beautiful towns of the Amalfi Coast are there waiting for you. We hope this guide has helped you to decide where best to sample the incomparable wonders of this wonderful part of Italy.