Overview
Hagia Sophia Hurrem Sultan Hamam is the largest historical Hamam in Türkiye. As with many architectural beauties in Istanbul, Mimar Sinan has a hand in it.
It was built next to Hagia Sophia in the 16th century for his wife, Haseki Hurrem Sultan, by Suleiman the Magnificent. After being used actively until 1910, it was closed for a long time.
Since it was put into service after its restoration in 2008, it is now a monument of pleasure. When you are served sherbet prepared with seasonal fruits and various spices, you feel like in the imperial years. Leave yourself to the hand of a specially trained expert "tellak, natır, masseur and masseuse" and return to the world. For example, you can try aromatherapy massage with redbud oil.
You will also be amazed by the architectural features of the building. The bath, which stretches for seventy-five meters, is as magnificent inside as outside. You both feel the history, and you are in a modern and hygienic environment. The patterns on the navel stone are lovely, and the domes of the bath are also covered with lead.
With this pleasant and relaxing Turkish bath activity that will last for 1 hour, you can enjoy the comfort and purify your soul and body.
Why Elite Turkey Tours
Verified Reviews
25000+ Pictures and Reviews on the platform.

10000+ Tours and Activities
We have activities across 17 countries, across every category so that you never miss best things to do anywhere.

Customer Delight
We are always able to support you so that you have a hassle free experience.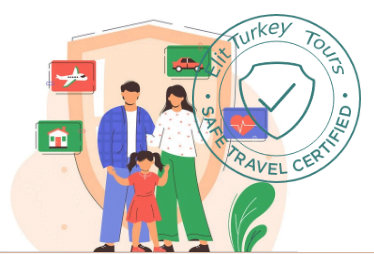 Our first priority is always to protect the health and safety of our clients and local teams  
Elite Turkey Tours  has received the World Travel and Tourism Council's Safe Travels stamp, which provides travelers with assurance that we have adopted health and hygiene global standardized protocols – so you can experience 'Safe Travels'.