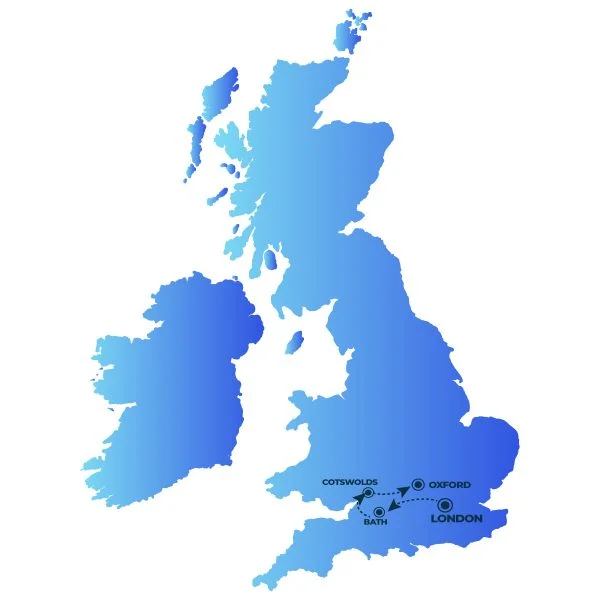 DAY 1 LONDON TO BATH
The Adventure Begins
A Meet & Greet assistant will be eagerly awaiting your arrival at the airport to make sure all goes smoothly! They'll greet you upon passing through customs and ensure everything else is taken care of – from taking a stress-free transfer to making check-in for your hotel room quick and easy as well as going over important travel documents. Meet your private driver and vehicle for a transfer to Bath. Approximate travel time is 2.5 hours.
Upon arrival at your destination, you will find a special welcome package filled with goodies to ensure an enjoyable stay. Enjoy exploring the city and its surroundings while equipped with a handy map of all the best spots! Additionally, receive train tickets as well as touristic information that is sure to make this adventure one-of-a-kind.
Where you'll be staying
• Abbey Hotel
• Superior Print Room
DAY 2 BATH
A Journey Back in Time
Experience a captivating half-day exploration of this remarkable English city, Bath! Admire the breathtaking Gothic grandeur of Bath Abbey, standing guard over its ancient Roman heritage. Delve beneath street level and explore the majestic underground baths complex that is still used today. Be awe-inspired by landmark Georgian architecture – take in Royal Crescent's picture perfect façade designed by John Wood, Younger while marveling at his father's work on The Circus townhouses nearby. Uncover layers of history as you traverse through this beautiful metropolis and soak up all it has to offer from our knowledgeable guide!
Where you'll be staying
• Abbey Hotel
• Superior Print Room
DAY 3 BATH
Cross an Item off the Bucket List
Discover the secrets of ancient Britain on an unforgettable guided tour today! Explore mysterious Stonehenge and learn why it remains a UNESCO World Heritage Site – estimated to be 5,000 years old. Delve into its possible history as either a place of sun worship, healing sanctuary or sacred burial site before venturing onwards to Avebury's even older loosely structured stone circles. Capture photos alongside Silbury Hill & the Cherhill White Horse; then finish your journey with picturesque Castle Combe village which looks like something straight out of a fairytale!
Where you'll be staying
• Abbey Hotel
• Superior Print Room
DAY 4 BATH TO COTSWOLDS
Nurtured by Nature
This morning you`ll be met by your local private driver-guide and vehicle to set out on your self-guided audio visit of the Roman Baths complex, a site of historical importance, as you travel en route to the Cotswolds. Discover the mysteries and splendor of Roman Britain on an amazing day tour! Begin your journey in Bath, where you will explore some of its celebrated ancient sites. Visit the Sacred Spring, marvel at remnants from the grandiose Temple Complex and take a dip into history with a trip to view remains of baths that lie beneath modern street level. Afterwards move onto Tetbury's Chipping Steps – home to awe-inspiring annual Woolsack Races! Journey onwards through Cirencester – once known as one of two major cities during Roman rule – reaching Bibury by late afternoon for breathtaking views over Arlington Row's picturesque cottages crafted out or classic Cotswold stone. Make it all part your unforgettable experience before being dropped off back at accommodation (entries not included).
Where you'll be staying
• Bay Tree Hotel
• Standard
DAY 5 COTSWOLDS
Strolling the Magical Streets
Depart with your private driver-guide on a full day tour hitting some of the highlights of the region as you follow in the footsteps of William Shakespeare, and visit the quaint villages of the CotswoldsTake an unforgettable journey to the historic town of Stratford-upon-Avon, once home to renowned playwright William Shakespeare. Begin by exploring the house which was his actual birthplace and then stroll around Hall's Croft – a stunning Tudor building that belonged to Shakepeare's daughter and her doctor husband. Complete your pilgrimage with a visit Anne Hathaway's cottage – where you can explore more about the family life of Shakespeare's wife before admiring St James' "wool church" as well as Sir Baptist Hicks' 17th century Alms houses in Broadway Village. Drive through the town and maybe stop for a spot of light shopping or some window browsing. Moving on through Snowshill, enjoy a short stroll through this delightful unspoiled Cotswold village before photo stops at Upper and Lower Slaughter, as well as Bourton on the Water. At day's end, you'll be dropped off back at your hotel.
Please note, admissions are not included and are payable on the spot.
Where you'll be staying
• Bay Tree Hotel
• Standard
DAY 6 COTSWOLDS OT OXFORD
Along Cobblestone Streets
Today, leave behind the rolling hills of Cotswolds and journey to Oxford – a city filled with iconic dreaming spires that house one of the oldest universities in history. On arrival, embark on an immersive walking tour and be transported back into centuries past as you explore this world-renowned University City! Admire masterpieces such as Sheldonian Theater from 17th century ad Radcliffe Camera's neoclassical facade before taking a stroll through its thirty eight impressive colleges set along meandering lanes. End your exploration by marvelling at Christ Church Meadow enclosed between two rivers Thames and Cherwell for some breathtaking views.
Where you'll be staying
• Old Bank Hotel
• Deluxe Room
DAY 7 OXFORD TO LONDON
Safe Travels!
Enjoy a luxurious ride from Oxford to London with your private chauffeur and vehicle. The approximately 1.5-hour journey is sure to make you feel like royalty!
Calendar & Prices
2
SIGNATURE OF COTSWOLDS 7 DAYS
General price:
$

7164.00 / ticket
3
SIGNATURE OF COTSWOLDS 7 DAYS
General price:
$

7164.00 / ticket
4
SIGNATURE OF COTSWOLDS 7 DAYS
General price:
$

7164.00 / ticket
5
SIGNATURE OF COTSWOLDS 7 DAYS
General price:
$

7164.00 / ticket
6
SIGNATURE OF COTSWOLDS 7 DAYS
General price:
$

7164.00 / ticket
7
SIGNATURE OF COTSWOLDS 7 DAYS
General price:
$

7164.00 / ticket
8
SIGNATURE OF COTSWOLDS 7 DAYS
General price:
$

7164.00 / ticket
9
SIGNATURE OF COTSWOLDS 7 DAYS
General price:
$

7164.00 / ticket
10
SIGNATURE OF COTSWOLDS 7 DAYS
General price:
$

7164.00 / ticket
11
SIGNATURE OF COTSWOLDS 7 DAYS
General price:
$

7164.00 / ticket
12
SIGNATURE OF COTSWOLDS 7 DAYS
General price:
$

7164.00 / ticket
13
SIGNATURE OF COTSWOLDS 7 DAYS
General price:
$

7164.00 / ticket
14
SIGNATURE OF COTSWOLDS 7 DAYS
General price:
$

7164.00 / ticket
15
SIGNATURE OF COTSWOLDS 7 DAYS
General price:
$

7164.00 / ticket
16
SIGNATURE OF COTSWOLDS 7 DAYS
General price:
$

7164.00 / ticket
17
SIGNATURE OF COTSWOLDS 7 DAYS
General price:
$

7164.00 / ticket
18
SIGNATURE OF COTSWOLDS 7 DAYS
General price:
$

7164.00 / ticket
19
SIGNATURE OF COTSWOLDS 7 DAYS
General price:
$

7164.00 / ticket
20
SIGNATURE OF COTSWOLDS 7 DAYS
General price:
$

7164.00 / ticket
21
SIGNATURE OF COTSWOLDS 7 DAYS
General price:
$

7164.00 / ticket
22
SIGNATURE OF COTSWOLDS 7 DAYS
General price:
$

7164.00 / ticket
23
SIGNATURE OF COTSWOLDS 7 DAYS
General price:
$

7164.00 / ticket
24
SIGNATURE OF COTSWOLDS 7 DAYS
General price:
$

7164.00 / ticket
25
SIGNATURE OF COTSWOLDS 7 DAYS
General price:
$

7164.00 / ticket
26
SIGNATURE OF COTSWOLDS 7 DAYS
General price:
$

7164.00 / ticket
27
SIGNATURE OF COTSWOLDS 7 DAYS
General price:
$

7164.00 / ticket
28
SIGNATURE OF COTSWOLDS 7 DAYS
General price:
$

7164.00 / ticket
29
SIGNATURE OF COTSWOLDS 7 DAYS
General price:
$

7164.00 / ticket
30
SIGNATURE OF COTSWOLDS 7 DAYS
General price:
$

7164.00 / ticket
31
SIGNATURE OF COTSWOLDS 7 DAYS
General price:
$

7164.00 / ticket
1
SIGNATURE OF COTSWOLDS 7 DAYS
General price:
$

7164.00 / ticket
2
SIGNATURE OF COTSWOLDS 7 DAYS
General price:
$

7164.00 / ticket
3
SIGNATURE OF COTSWOLDS 7 DAYS
General price:
$

7164.00 / ticket
4
SIGNATURE OF COTSWOLDS 7 DAYS
General price:
$

7164.00 / ticket
5
SIGNATURE OF COTSWOLDS 7 DAYS
General price:
$

7164.00 / ticket
6
SIGNATURE OF COTSWOLDS 7 DAYS
General price:
$

7164.00 / ticket
7
SIGNATURE OF COTSWOLDS 7 DAYS
General price:
$

7164.00 / ticket
8
SIGNATURE OF COTSWOLDS 7 DAYS
General price:
$

7164.00 / ticket
9
SIGNATURE OF COTSWOLDS 7 DAYS
General price:
$

7164.00 / ticket
10
SIGNATURE OF COTSWOLDS 7 DAYS
General price:
$

7164.00 / ticket
11
SIGNATURE OF COTSWOLDS 7 DAYS
General price:
$

7164.00 / ticket
12
SIGNATURE OF COTSWOLDS 7 DAYS
General price:
$

7164.00 / ticket
13
SIGNATURE OF COTSWOLDS 7 DAYS
General price:
$

7164.00 / ticket
14
SIGNATURE OF COTSWOLDS 7 DAYS
General price:
$

7164.00 / ticket
15
SIGNATURE OF COTSWOLDS 7 DAYS
General price:
$

7164.00 / ticket
16
SIGNATURE OF COTSWOLDS 7 DAYS
General price:
$

7164.00 / ticket
17
SIGNATURE OF COTSWOLDS 7 DAYS
General price:
$

7164.00 / ticket
18
SIGNATURE OF COTSWOLDS 7 DAYS
General price:
$

7164.00 / ticket
19
SIGNATURE OF COTSWOLDS 7 DAYS
General price:
$

7164.00 / ticket
20
SIGNATURE OF COTSWOLDS 7 DAYS
General price:
$

7164.00 / ticket
21
SIGNATURE OF COTSWOLDS 7 DAYS
General price:
$

7164.00 / ticket
22
SIGNATURE OF COTSWOLDS 7 DAYS
General price:
$

7164.00 / ticket
23
SIGNATURE OF COTSWOLDS 7 DAYS
General price:
$

7164.00 / ticket
24
SIGNATURE OF COTSWOLDS 7 DAYS
General price:
$

7164.00 / ticket
25
SIGNATURE OF COTSWOLDS 7 DAYS
General price:
$

7164.00 / ticket
26
SIGNATURE OF COTSWOLDS 7 DAYS
General price:
$

7164.00 / ticket
27
SIGNATURE OF COTSWOLDS 7 DAYS
General price:
$

7164.00 / ticket
28
SIGNATURE OF COTSWOLDS 7 DAYS
General price:
$

7164.00 / ticket
29
SIGNATURE OF COTSWOLDS 7 DAYS
General price:
$

7164.00 / ticket
30
SIGNATURE OF COTSWOLDS 7 DAYS
General price:
$

7164.00 / ticket
31
SIGNATURE OF COTSWOLDS 7 DAYS
General price:
$

7164.00 / ticket
1
SIGNATURE OF COTSWOLDS 7 DAYS
General price:
$

7164.00 / ticket
2
SIGNATURE OF COTSWOLDS 7 DAYS
General price:
$

7164.00 / ticket
3
SIGNATURE OF COTSWOLDS 7 DAYS
General price:
$

7164.00 / ticket
4
SIGNATURE OF COTSWOLDS 7 DAYS
General price:
$

7164.00 / ticket
29
SIGNATURE OF COTSWOLDS 7 DAYS
General price:
$

7164.00 / ticket
30
SIGNATURE OF COTSWOLDS 7 DAYS
General price:
$

7164.00 / ticket
31
SIGNATURE OF COTSWOLDS 7 DAYS
General price:
$

7164.00 / ticket
1
SIGNATURE OF COTSWOLDS 7 DAYS
General price:
$

7164.00 / ticket
2
SIGNATURE OF COTSWOLDS 7 DAYS
General price:
$

7164.00 / ticket
3
SIGNATURE OF COTSWOLDS 7 DAYS
General price:
$

7164.00 / ticket
4
SIGNATURE OF COTSWOLDS 7 DAYS
General price:
$

7164.00 / ticket
5
SIGNATURE OF COTSWOLDS 7 DAYS
General price:
$

7164.00 / ticket
6
SIGNATURE OF COTSWOLDS 7 DAYS
General price:
$

7164.00 / ticket
7
SIGNATURE OF COTSWOLDS 7 DAYS
General price:
$

7164.00 / ticket
8
SIGNATURE OF COTSWOLDS 7 DAYS
General price:
$

7164.00 / ticket
9
SIGNATURE OF COTSWOLDS 7 DAYS
General price:
$

7164.00 / ticket
10
SIGNATURE OF COTSWOLDS 7 DAYS
General price:
$

7164.00 / ticket
11
SIGNATURE OF COTSWOLDS 7 DAYS
General price:
$

7164.00 / ticket
12
SIGNATURE OF COTSWOLDS 7 DAYS
General price:
$

7164.00 / ticket
13
SIGNATURE OF COTSWOLDS 7 DAYS
General price:
$

7164.00 / ticket
14
SIGNATURE OF COTSWOLDS 7 DAYS
General price:
$

7164.00 / ticket
15
SIGNATURE OF COTSWOLDS 7 DAYS
General price:
$

7164.00 / ticket
16
SIGNATURE OF COTSWOLDS 7 DAYS
General price:
$

7164.00 / ticket
17
SIGNATURE OF COTSWOLDS 7 DAYS
General price:
$

7164.00 / ticket
18
SIGNATURE OF COTSWOLDS 7 DAYS
General price:
$

7164.00 / ticket
19
SIGNATURE OF COTSWOLDS 7 DAYS
General price:
$

7164.00 / ticket
20
SIGNATURE OF COTSWOLDS 7 DAYS
General price:
$

7164.00 / ticket
21
SIGNATURE OF COTSWOLDS 7 DAYS
General price:
$

7164.00 / ticket
22
SIGNATURE OF COTSWOLDS 7 DAYS
General price:
$

7164.00 / ticket
23
SIGNATURE OF COTSWOLDS 7 DAYS
General price:
$

7164.00 / ticket
24
SIGNATURE OF COTSWOLDS 7 DAYS
General price:
$

7164.00 / ticket
25
SIGNATURE OF COTSWOLDS 7 DAYS
General price:
$

7164.00 / ticket
26
SIGNATURE OF COTSWOLDS 7 DAYS
General price:
$

7164.00 / ticket
27
SIGNATURE OF COTSWOLDS 7 DAYS
General price:
$

7164.00 / ticket
28
SIGNATURE OF COTSWOLDS 7 DAYS
General price:
$

7164.00 / ticket
29
SIGNATURE OF COTSWOLDS 7 DAYS
General price:
$

7164.00 / ticket
1
SIGNATURE OF COTSWOLDS 7 DAYS
General price:
$

7164.00 / ticket
2
SIGNATURE OF COTSWOLDS 7 DAYS
General price:
$

7164.00 / ticket
3
SIGNATURE OF COTSWOLDS 7 DAYS
General price:
$

7164.00 / ticket
26
SIGNATURE OF COTSWOLDS 7 DAYS
General price:
$

7164.00 / ticket
27
SIGNATURE OF COTSWOLDS 7 DAYS
General price:
$

7164.00 / ticket
28
SIGNATURE OF COTSWOLDS 7 DAYS
General price:
$

7164.00 / ticket
29
SIGNATURE OF COTSWOLDS 7 DAYS
General price:
$

7164.00 / ticket
1
SIGNATURE OF COTSWOLDS 7 DAYS
General price:
$

7164.00 / ticket
2
SIGNATURE OF COTSWOLDS 7 DAYS
General price:
$

7164.00 / ticket
3
SIGNATURE OF COTSWOLDS 7 DAYS
General price:
$

7164.00 / ticket
4
SIGNATURE OF COTSWOLDS 7 DAYS
General price:
$

7164.00 / ticket
5
SIGNATURE OF COTSWOLDS 7 DAYS
General price:
$

7164.00 / ticket
6
SIGNATURE OF COTSWOLDS 7 DAYS
General price:
$

7164.00 / ticket
7
SIGNATURE OF COTSWOLDS 7 DAYS
General price:
$

7164.00 / ticket
8
SIGNATURE OF COTSWOLDS 7 DAYS
General price:
$

7164.00 / ticket
9
SIGNATURE OF COTSWOLDS 7 DAYS
General price:
$

7164.00 / ticket
10
SIGNATURE OF COTSWOLDS 7 DAYS
General price:
$

7164.00 / ticket
11
SIGNATURE OF COTSWOLDS 7 DAYS
General price:
$

7164.00 / ticket
12
SIGNATURE OF COTSWOLDS 7 DAYS
General price:
$

7164.00 / ticket
13
SIGNATURE OF COTSWOLDS 7 DAYS
General price:
$

7164.00 / ticket
14
SIGNATURE OF COTSWOLDS 7 DAYS
General price:
$

7164.00 / ticket
15
SIGNATURE OF COTSWOLDS 7 DAYS
General price:
$

7164.00 / ticket
16
SIGNATURE OF COTSWOLDS 7 DAYS
General price:
$

7164.00 / ticket
17
SIGNATURE OF COTSWOLDS 7 DAYS
General price:
$

7164.00 / ticket
18
SIGNATURE OF COTSWOLDS 7 DAYS
General price:
$

7164.00 / ticket
19
SIGNATURE OF COTSWOLDS 7 DAYS
General price:
$

7164.00 / ticket
20
SIGNATURE OF COTSWOLDS 7 DAYS
General price:
$

7164.00 / ticket
21
SIGNATURE OF COTSWOLDS 7 DAYS
General price:
$

7164.00 / ticket
22
SIGNATURE OF COTSWOLDS 7 DAYS
General price:
$

7164.00 / ticket
23
SIGNATURE OF COTSWOLDS 7 DAYS
General price:
$

7164.00 / ticket
24
SIGNATURE OF COTSWOLDS 7 DAYS
General price:
$

7164.00 / ticket
25
SIGNATURE OF COTSWOLDS 7 DAYS
General price:
$

7164.00 / ticket
26
SIGNATURE OF COTSWOLDS 7 DAYS
General price:
$

7164.00 / ticket
27
SIGNATURE OF COTSWOLDS 7 DAYS
General price:
$

7164.00 / ticket
28
SIGNATURE OF COTSWOLDS 7 DAYS
General price:
$

7164.00 / ticket
29
SIGNATURE OF COTSWOLDS 7 DAYS
General price:
$

7164.00 / ticket
30
SIGNATURE OF COTSWOLDS 7 DAYS
General price:
$

7164.00 / ticket
31
SIGNATURE OF COTSWOLDS 7 DAYS
General price:
$

7164.00 / ticket
1
SIGNATURE OF COTSWOLDS 7 DAYS
General price:
$

7164.00 / ticket
2
SIGNATURE OF COTSWOLDS 7 DAYS
General price:
$

7164.00 / ticket
3
SIGNATURE OF COTSWOLDS 7 DAYS
General price:
$

7164.00 / ticket
4
SIGNATURE OF COTSWOLDS 7 DAYS
General price:
$

7164.00 / ticket
5
SIGNATURE OF COTSWOLDS 7 DAYS
General price:
$

7164.00 / ticket
6
SIGNATURE OF COTSWOLDS 7 DAYS
General price:
$

7164.00 / ticket
7
SIGNATURE OF COTSWOLDS 7 DAYS
General price:
$

7164.00 / ticket
8
SIGNATURE OF COTSWOLDS 7 DAYS
General price:
$

7164.00 / ticket
9
SIGNATURE OF COTSWOLDS 7 DAYS
General price:
$

7164.00 / ticket
10
SIGNATURE OF COTSWOLDS 7 DAYS
General price:
$

7164.00 / ticket
11
SIGNATURE OF COTSWOLDS 7 DAYS
General price:
$

7164.00 / ticket
12
SIGNATURE OF COTSWOLDS 7 DAYS
General price:
$

7164.00 / ticket
13
SIGNATURE OF COTSWOLDS 7 DAYS
General price:
$

7164.00 / ticket
14
SIGNATURE OF COTSWOLDS 7 DAYS
General price:
$

7164.00 / ticket
15
SIGNATURE OF COTSWOLDS 7 DAYS
General price:
$

7164.00 / ticket
16
SIGNATURE OF COTSWOLDS 7 DAYS
General price:
$

7164.00 / ticket
17
SIGNATURE OF COTSWOLDS 7 DAYS
General price:
$

7164.00 / ticket
18
SIGNATURE OF COTSWOLDS 7 DAYS
General price:
$

7164.00 / ticket
19
SIGNATURE OF COTSWOLDS 7 DAYS
General price:
$

7164.00 / ticket
20
SIGNATURE OF COTSWOLDS 7 DAYS
General price:
$

7164.00 / ticket
21
SIGNATURE OF COTSWOLDS 7 DAYS
General price:
$

7164.00 / ticket
22
SIGNATURE OF COTSWOLDS 7 DAYS
General price:
$

7164.00 / ticket
23
SIGNATURE OF COTSWOLDS 7 DAYS
General price:
$

7164.00 / ticket
24
SIGNATURE OF COTSWOLDS 7 DAYS
General price:
$

7164.00 / ticket
25
SIGNATURE OF COTSWOLDS 7 DAYS
General price:
$

7164.00 / ticket
26
SIGNATURE OF COTSWOLDS 7 DAYS
General price:
$

7164.00 / ticket
27
SIGNATURE OF COTSWOLDS 7 DAYS
General price:
$

7164.00 / ticket
28
SIGNATURE OF COTSWOLDS 7 DAYS
General price:
$

7164.00 / ticket
29
SIGNATURE OF COTSWOLDS 7 DAYS
General price:
$

7164.00 / ticket
30
SIGNATURE OF COTSWOLDS 7 DAYS
General price:
$

7164.00 / ticket
1
SIGNATURE OF COTSWOLDS 7 DAYS
General price:
$

7164.00 / ticket
2
SIGNATURE OF COTSWOLDS 7 DAYS
General price:
$

7164.00 / ticket
3
SIGNATURE OF COTSWOLDS 7 DAYS
General price:
$

7164.00 / ticket
4
SIGNATURE OF COTSWOLDS 7 DAYS
General price:
$

7164.00 / ticket
5
SIGNATURE OF COTSWOLDS 7 DAYS
General price:
$

7164.00 / ticket
29
SIGNATURE OF COTSWOLDS 7 DAYS
General price:
$

7164.00 / ticket
30
SIGNATURE OF COTSWOLDS 7 DAYS
General price:
$

7164.00 / ticket
1
SIGNATURE OF COTSWOLDS 7 DAYS
General price:
$

7164.00 / ticket
2
SIGNATURE OF COTSWOLDS 7 DAYS
General price:
$

7164.00 / ticket
3
SIGNATURE OF COTSWOLDS 7 DAYS
General price:
$

7164.00 / ticket
4
SIGNATURE OF COTSWOLDS 7 DAYS
General price:
$

7164.00 / ticket
5
SIGNATURE OF COTSWOLDS 7 DAYS
General price:
$

7164.00 / ticket
6
SIGNATURE OF COTSWOLDS 7 DAYS
General price:
$

7164.00 / ticket
7
SIGNATURE OF COTSWOLDS 7 DAYS
General price:
$

7164.00 / ticket
8
SIGNATURE OF COTSWOLDS 7 DAYS
General price:
$

7164.00 / ticket
9
SIGNATURE OF COTSWOLDS 7 DAYS
General price:
$

7164.00 / ticket
10
SIGNATURE OF COTSWOLDS 7 DAYS
General price:
$

7164.00 / ticket
11
SIGNATURE OF COTSWOLDS 7 DAYS
General price:
$

7164.00 / ticket
12
SIGNATURE OF COTSWOLDS 7 DAYS
General price:
$

7164.00 / ticket
13
SIGNATURE OF COTSWOLDS 7 DAYS
General price:
$

7164.00 / ticket
14
SIGNATURE OF COTSWOLDS 7 DAYS
General price:
$

7164.00 / ticket
15
SIGNATURE OF COTSWOLDS 7 DAYS
General price:
$

7164.00 / ticket
16
SIGNATURE OF COTSWOLDS 7 DAYS
General price:
$

7164.00 / ticket
17
SIGNATURE OF COTSWOLDS 7 DAYS
General price:
$

7164.00 / ticket
18
SIGNATURE OF COTSWOLDS 7 DAYS
General price:
$

7164.00 / ticket
19
SIGNATURE OF COTSWOLDS 7 DAYS
General price:
$

7164.00 / ticket
20
SIGNATURE OF COTSWOLDS 7 DAYS
General price:
$

7164.00 / ticket
21
SIGNATURE OF COTSWOLDS 7 DAYS
General price:
$

7164.00 / ticket
22
SIGNATURE OF COTSWOLDS 7 DAYS
General price:
$

7164.00 / ticket
23
SIGNATURE OF COTSWOLDS 7 DAYS
General price:
$

7164.00 / ticket
24
SIGNATURE OF COTSWOLDS 7 DAYS
General price:
$

7164.00 / ticket
25
SIGNATURE OF COTSWOLDS 7 DAYS
General price:
$

7164.00 / ticket
26
SIGNATURE OF COTSWOLDS 7 DAYS
General price:
$

7164.00 / ticket
27
SIGNATURE OF COTSWOLDS 7 DAYS
General price:
$

7164.00 / ticket
28
SIGNATURE OF COTSWOLDS 7 DAYS
General price:
$

7164.00 / ticket
29
SIGNATURE OF COTSWOLDS 7 DAYS
General price:
$

7164.00 / ticket
30
SIGNATURE OF COTSWOLDS 7 DAYS
General price:
$

7164.00 / ticket
31
SIGNATURE OF COTSWOLDS 7 DAYS
General price:
$

7164.00 / ticket
1
SIGNATURE OF COTSWOLDS 7 DAYS
General price:
$

7164.00 / ticket
2
SIGNATURE OF COTSWOLDS 7 DAYS
General price:
$

7164.00 / ticket
27
SIGNATURE OF COTSWOLDS 7 DAYS
General price:
$

7164.00 / ticket
28
SIGNATURE OF COTSWOLDS 7 DAYS
General price:
$

7164.00 / ticket
29
SIGNATURE OF COTSWOLDS 7 DAYS
General price:
$

7164.00 / ticket
30
SIGNATURE OF COTSWOLDS 7 DAYS
General price:
$

7164.00 / ticket
31
SIGNATURE OF COTSWOLDS 7 DAYS
General price:
$

7164.00 / ticket
1
SIGNATURE OF COTSWOLDS 7 DAYS
General price:
$

7164.00 / ticket
2
SIGNATURE OF COTSWOLDS 7 DAYS
General price:
$

7164.00 / ticket
3
SIGNATURE OF COTSWOLDS 7 DAYS
General price:
$

7164.00 / ticket
4
SIGNATURE OF COTSWOLDS 7 DAYS
General price:
$

7164.00 / ticket
5
SIGNATURE OF COTSWOLDS 7 DAYS
General price:
$

7164.00 / ticket
6
SIGNATURE OF COTSWOLDS 7 DAYS
General price:
$

7164.00 / ticket
7
SIGNATURE OF COTSWOLDS 7 DAYS
General price:
$

7164.00 / ticket
8
SIGNATURE OF COTSWOLDS 7 DAYS
General price:
$

7164.00 / ticket
9
SIGNATURE OF COTSWOLDS 7 DAYS
General price:
$

7164.00 / ticket
10
SIGNATURE OF COTSWOLDS 7 DAYS
General price:
$

7164.00 / ticket
11
SIGNATURE OF COTSWOLDS 7 DAYS
General price:
$

7164.00 / ticket
12
SIGNATURE OF COTSWOLDS 7 DAYS
General price:
$

7164.00 / ticket
13
SIGNATURE OF COTSWOLDS 7 DAYS
General price:
$

7164.00 / ticket
14
SIGNATURE OF COTSWOLDS 7 DAYS
General price:
$

7164.00 / ticket
15
SIGNATURE OF COTSWOLDS 7 DAYS
General price:
$

7164.00 / ticket
16
SIGNATURE OF COTSWOLDS 7 DAYS
General price:
$

7164.00 / ticket
17
SIGNATURE OF COTSWOLDS 7 DAYS
General price:
$

7164.00 / ticket
18
SIGNATURE OF COTSWOLDS 7 DAYS
General price:
$

7164.00 / ticket
19
SIGNATURE OF COTSWOLDS 7 DAYS
General price:
$

7164.00 / ticket
20
SIGNATURE OF COTSWOLDS 7 DAYS
General price:
$

7164.00 / ticket
21
SIGNATURE OF COTSWOLDS 7 DAYS
General price:
$

7164.00 / ticket
22
SIGNATURE OF COTSWOLDS 7 DAYS
General price:
$

7164.00 / ticket
23
SIGNATURE OF COTSWOLDS 7 DAYS
General price:
$

7164.00 / ticket
24
SIGNATURE OF COTSWOLDS 7 DAYS
General price:
$

7164.00 / ticket
25
SIGNATURE OF COTSWOLDS 7 DAYS
General price:
$

7164.00 / ticket
26
SIGNATURE OF COTSWOLDS 7 DAYS
General price:
$

7164.00 / ticket
27
SIGNATURE OF COTSWOLDS 7 DAYS
General price:
$

7164.00 / ticket
28
SIGNATURE OF COTSWOLDS 7 DAYS
General price:
$

7164.00 / ticket
29
SIGNATURE OF COTSWOLDS 7 DAYS
General price:
$

7164.00 / ticket
30
SIGNATURE OF COTSWOLDS 7 DAYS
General price:
$

7164.00 / ticket
1
SIGNATURE OF COTSWOLDS 7 DAYS
General price:
$

7164.00 / ticket
2
SIGNATURE OF COTSWOLDS 7 DAYS
General price:
$

7164.00 / ticket
3
SIGNATURE OF COTSWOLDS 7 DAYS
General price:
$

7164.00 / ticket
4
SIGNATURE OF COTSWOLDS 7 DAYS
General price:
$

7164.00 / ticket
5
SIGNATURE OF COTSWOLDS 7 DAYS
General price:
$

7164.00 / ticket
6
SIGNATURE OF COTSWOLDS 7 DAYS
General price:
$

7164.00 / ticket
7
SIGNATURE OF COTSWOLDS 7 DAYS
General price:
$

7164.00 / ticket
8
SIGNATURE OF COTSWOLDS 7 DAYS
General price:
$

7164.00 / ticket
9
SIGNATURE OF COTSWOLDS 7 DAYS
General price:
$

7164.00 / ticket
10
SIGNATURE OF COTSWOLDS 7 DAYS
General price:
$

7164.00 / ticket
11
SIGNATURE OF COTSWOLDS 7 DAYS
General price:
$

7164.00 / ticket
12
SIGNATURE OF COTSWOLDS 7 DAYS
General price:
$

7164.00 / ticket
13
SIGNATURE OF COTSWOLDS 7 DAYS
General price:
$

7164.00 / ticket
14
SIGNATURE OF COTSWOLDS 7 DAYS
General price:
$

7164.00 / ticket
15
SIGNATURE OF COTSWOLDS 7 DAYS
General price:
$

7164.00 / ticket
16
SIGNATURE OF COTSWOLDS 7 DAYS
General price:
$

7164.00 / ticket
17
SIGNATURE OF COTSWOLDS 7 DAYS
General price:
$

7164.00 / ticket
18
SIGNATURE OF COTSWOLDS 7 DAYS
General price:
$

7164.00 / ticket
19
SIGNATURE OF COTSWOLDS 7 DAYS
General price:
$

7164.00 / ticket
20
SIGNATURE OF COTSWOLDS 7 DAYS
General price:
$

7164.00 / ticket
21
SIGNATURE OF COTSWOLDS 7 DAYS
General price:
$

7164.00 / ticket
22
SIGNATURE OF COTSWOLDS 7 DAYS
General price:
$

7164.00 / ticket
23
SIGNATURE OF COTSWOLDS 7 DAYS
General price:
$

7164.00 / ticket
24
SIGNATURE OF COTSWOLDS 7 DAYS
General price:
$

7164.00 / ticket
25
SIGNATURE OF COTSWOLDS 7 DAYS
General price:
$

7164.00 / ticket
26
SIGNATURE OF COTSWOLDS 7 DAYS
General price:
$

7164.00 / ticket
27
SIGNATURE OF COTSWOLDS 7 DAYS
General price:
$

7164.00 / ticket
28
SIGNATURE OF COTSWOLDS 7 DAYS
General price:
$

7164.00 / ticket
29
SIGNATURE OF COTSWOLDS 7 DAYS
General price:
$

7164.00 / ticket
30
SIGNATURE OF COTSWOLDS 7 DAYS
General price:
$

7164.00 / ticket
31
SIGNATURE OF COTSWOLDS 7 DAYS
General price:
$

7164.00 / ticket
1
SIGNATURE OF COTSWOLDS 7 DAYS
General price:
$

7164.00 / ticket
2
SIGNATURE OF COTSWOLDS 7 DAYS
General price:
$

7164.00 / ticket
3
SIGNATURE OF COTSWOLDS 7 DAYS
General price:
$

7164.00 / ticket
4
SIGNATURE OF COTSWOLDS 7 DAYS
General price:
$

7164.00 / ticket
29
SIGNATURE OF COTSWOLDS 7 DAYS
General price:
$

7164.00 / ticket
30
SIGNATURE OF COTSWOLDS 7 DAYS
General price:
$

7164.00 / ticket
31
SIGNATURE OF COTSWOLDS 7 DAYS
General price:
$

7164.00 / ticket
1
SIGNATURE OF COTSWOLDS 7 DAYS
General price:
$

7164.00 / ticket
2
SIGNATURE OF COTSWOLDS 7 DAYS
General price:
$

7164.00 / ticket
3
SIGNATURE OF COTSWOLDS 7 DAYS
General price:
$

7164.00 / ticket
4
SIGNATURE OF COTSWOLDS 7 DAYS
General price:
$

7164.00 / ticket
5
SIGNATURE OF COTSWOLDS 7 DAYS
General price:
$

7164.00 / ticket
6
SIGNATURE OF COTSWOLDS 7 DAYS
General price:
$

7164.00 / ticket
7
SIGNATURE OF COTSWOLDS 7 DAYS
General price:
$

7164.00 / ticket
8
SIGNATURE OF COTSWOLDS 7 DAYS
General price:
$

7164.00 / ticket
9
SIGNATURE OF COTSWOLDS 7 DAYS
General price:
$

7164.00 / ticket
10
SIGNATURE OF COTSWOLDS 7 DAYS
General price:
$

7164.00 / ticket
11
SIGNATURE OF COTSWOLDS 7 DAYS
General price:
$

7164.00 / ticket
12
SIGNATURE OF COTSWOLDS 7 DAYS
General price:
$

7164.00 / ticket
13
SIGNATURE OF COTSWOLDS 7 DAYS
General price:
$

7164.00 / ticket
14
SIGNATURE OF COTSWOLDS 7 DAYS
General price:
$

7164.00 / ticket
15
SIGNATURE OF COTSWOLDS 7 DAYS
General price:
$

7164.00 / ticket
16
SIGNATURE OF COTSWOLDS 7 DAYS
General price:
$

7164.00 / ticket
17
SIGNATURE OF COTSWOLDS 7 DAYS
General price:
$

7164.00 / ticket
18
SIGNATURE OF COTSWOLDS 7 DAYS
General price:
$

7164.00 / ticket
19
SIGNATURE OF COTSWOLDS 7 DAYS
General price:
$

7164.00 / ticket
20
SIGNATURE OF COTSWOLDS 7 DAYS
General price:
$

7164.00 / ticket
21
SIGNATURE OF COTSWOLDS 7 DAYS
General price:
$

7164.00 / ticket
22
SIGNATURE OF COTSWOLDS 7 DAYS
General price:
$

7164.00 / ticket
23
SIGNATURE OF COTSWOLDS 7 DAYS
General price:
$

7164.00 / ticket
24
SIGNATURE OF COTSWOLDS 7 DAYS
General price:
$

7164.00 / ticket
25
SIGNATURE OF COTSWOLDS 7 DAYS
General price:
$

7164.00 / ticket
26
SIGNATURE OF COTSWOLDS 7 DAYS
General price:
$

7164.00 / ticket
27
SIGNATURE OF COTSWOLDS 7 DAYS
General price:
$

7164.00 / ticket
28
SIGNATURE OF COTSWOLDS 7 DAYS
General price:
$

7164.00 / ticket
29
SIGNATURE OF COTSWOLDS 7 DAYS
General price:
$

7164.00 / ticket
30
SIGNATURE OF COTSWOLDS 7 DAYS
General price:
$

7164.00 / ticket
31
SIGNATURE OF COTSWOLDS 7 DAYS
General price:
$

7164.00 / ticket
1
SIGNATURE OF COTSWOLDS 7 DAYS
General price:
$

7164.00 / ticket
26
SIGNATURE OF COTSWOLDS 7 DAYS
General price:
$

7164.00 / ticket
27
SIGNATURE OF COTSWOLDS 7 DAYS
General price:
$

7164.00 / ticket
28
SIGNATURE OF COTSWOLDS 7 DAYS
General price:
$

7164.00 / ticket
29
SIGNATURE OF COTSWOLDS 7 DAYS
General price:
$

7164.00 / ticket
30
SIGNATURE OF COTSWOLDS 7 DAYS
General price:
$

7164.00 / ticket
31
SIGNATURE OF COTSWOLDS 7 DAYS
General price:
$

7164.00 / ticket
1
SIGNATURE OF COTSWOLDS 7 DAYS
General price:
$

7164.00 / ticket
2
SIGNATURE OF COTSWOLDS 7 DAYS
General price:
$

7164.00 / ticket
3
SIGNATURE OF COTSWOLDS 7 DAYS
General price:
$

7164.00 / ticket
4
SIGNATURE OF COTSWOLDS 7 DAYS
General price:
$

7164.00 / ticket
5
SIGNATURE OF COTSWOLDS 7 DAYS
General price:
$

7164.00 / ticket
6
SIGNATURE OF COTSWOLDS 7 DAYS
General price:
$

7164.00 / ticket
7
SIGNATURE OF COTSWOLDS 7 DAYS
General price:
$

7164.00 / ticket
8
SIGNATURE OF COTSWOLDS 7 DAYS
General price:
$

7164.00 / ticket
9
SIGNATURE OF COTSWOLDS 7 DAYS
General price:
$

7164.00 / ticket
10
SIGNATURE OF COTSWOLDS 7 DAYS
General price:
$

7164.00 / ticket
11
SIGNATURE OF COTSWOLDS 7 DAYS
General price:
$

7164.00 / ticket
12
SIGNATURE OF COTSWOLDS 7 DAYS
General price:
$

7164.00 / ticket
13
SIGNATURE OF COTSWOLDS 7 DAYS
General price:
$

7164.00 / ticket
14
SIGNATURE OF COTSWOLDS 7 DAYS
General price:
$

7164.00 / ticket
15
SIGNATURE OF COTSWOLDS 7 DAYS
General price:
$

7164.00 / ticket
16
SIGNATURE OF COTSWOLDS 7 DAYS
General price:
$

7164.00 / ticket
17
SIGNATURE OF COTSWOLDS 7 DAYS
General price:
$

7164.00 / ticket
18
SIGNATURE OF COTSWOLDS 7 DAYS
General price:
$

7164.00 / ticket
19
SIGNATURE OF COTSWOLDS 7 DAYS
General price:
$

7164.00 / ticket
20
SIGNATURE OF COTSWOLDS 7 DAYS
General price:
$

7164.00 / ticket
21
SIGNATURE OF COTSWOLDS 7 DAYS
General price:
$

7164.00 / ticket
22
SIGNATURE OF COTSWOLDS 7 DAYS
General price:
$

7164.00 / ticket
23
SIGNATURE OF COTSWOLDS 7 DAYS
General price:
$

7164.00 / ticket
24
SIGNATURE OF COTSWOLDS 7 DAYS
General price:
$

7164.00 / ticket
25
SIGNATURE OF COTSWOLDS 7 DAYS
General price:
$

7164.00 / ticket
26
SIGNATURE OF COTSWOLDS 7 DAYS
General price:
$

7164.00 / ticket
27
SIGNATURE OF COTSWOLDS 7 DAYS
General price:
$

7164.00 / ticket
28
SIGNATURE OF COTSWOLDS 7 DAYS
General price:
$

7164.00 / ticket
29
SIGNATURE OF COTSWOLDS 7 DAYS
General price:
$

7164.00 / ticket
30
SIGNATURE OF COTSWOLDS 7 DAYS
General price:
$

7164.00 / ticket
1
SIGNATURE OF COTSWOLDS 7 DAYS
General price:
$

7164.00 / ticket
2
SIGNATURE OF COTSWOLDS 7 DAYS
General price:
$

7164.00 / ticket
3
SIGNATURE OF COTSWOLDS 7 DAYS
General price:
$

7164.00 / ticket
4
SIGNATURE OF COTSWOLDS 7 DAYS
General price:
$

7164.00 / ticket
5
SIGNATURE OF COTSWOLDS 7 DAYS
General price:
$

7164.00 / ticket
6
SIGNATURE OF COTSWOLDS 7 DAYS
General price:
$

7164.00 / ticket
30
SIGNATURE OF COTSWOLDS 7 DAYS
General price:
$

7164.00 / ticket
1
SIGNATURE OF COTSWOLDS 7 DAYS
General price:
$

7164.00 / ticket
2
SIGNATURE OF COTSWOLDS 7 DAYS
General price:
$

7164.00 / ticket
3
SIGNATURE OF COTSWOLDS 7 DAYS
General price:
$

7164.00 / ticket
4
SIGNATURE OF COTSWOLDS 7 DAYS
General price:
$

7164.00 / ticket
5
SIGNATURE OF COTSWOLDS 7 DAYS
General price:
$

7164.00 / ticket
6
SIGNATURE OF COTSWOLDS 7 DAYS
General price:
$

7164.00 / ticket
7
SIGNATURE OF COTSWOLDS 7 DAYS
General price:
$

7164.00 / ticket
8
SIGNATURE OF COTSWOLDS 7 DAYS
General price:
$

7164.00 / ticket
9
SIGNATURE OF COTSWOLDS 7 DAYS
General price:
$

7164.00 / ticket
10
SIGNATURE OF COTSWOLDS 7 DAYS
General price:
$

7164.00 / ticket
11
SIGNATURE OF COTSWOLDS 7 DAYS
General price:
$

7164.00 / ticket
12
SIGNATURE OF COTSWOLDS 7 DAYS
General price:
$

7164.00 / ticket
13
SIGNATURE OF COTSWOLDS 7 DAYS
General price:
$

7164.00 / ticket
14
SIGNATURE OF COTSWOLDS 7 DAYS
General price:
$

7164.00 / ticket
15
SIGNATURE OF COTSWOLDS 7 DAYS
General price:
$

7164.00 / ticket
16
SIGNATURE OF COTSWOLDS 7 DAYS
General price:
$

7164.00 / ticket
17
SIGNATURE OF COTSWOLDS 7 DAYS
General price:
$

7164.00 / ticket
18
SIGNATURE OF COTSWOLDS 7 DAYS
General price:
$

7164.00 / ticket
19
SIGNATURE OF COTSWOLDS 7 DAYS
General price:
$

7164.00 / ticket
20
SIGNATURE OF COTSWOLDS 7 DAYS
General price:
$

7164.00 / ticket
21
SIGNATURE OF COTSWOLDS 7 DAYS
General price:
$

7164.00 / ticket
22
SIGNATURE OF COTSWOLDS 7 DAYS
General price:
$

7164.00 / ticket
23
SIGNATURE OF COTSWOLDS 7 DAYS
General price:
$

7164.00 / ticket
24
SIGNATURE OF COTSWOLDS 7 DAYS
General price:
$

7164.00 / ticket
25
SIGNATURE OF COTSWOLDS 7 DAYS
General price:
$

7164.00 / ticket
26
SIGNATURE OF COTSWOLDS 7 DAYS
General price:
$

7164.00 / ticket
27
SIGNATURE OF COTSWOLDS 7 DAYS
General price:
$

7164.00 / ticket
28
SIGNATURE OF COTSWOLDS 7 DAYS
General price:
$

7164.00 / ticket
29
SIGNATURE OF COTSWOLDS 7 DAYS
General price:
$

7164.00 / ticket
30
SIGNATURE OF COTSWOLDS 7 DAYS
General price:
$

7164.00 / ticket
31
SIGNATURE OF COTSWOLDS 7 DAYS
General price:
$

7164.00 / ticket
1
SIGNATURE OF COTSWOLDS 7 DAYS
General price:
$

7164.00 / ticket
2
SIGNATURE OF COTSWOLDS 7 DAYS
General price:
$

7164.00 / ticket
3
SIGNATURE OF COTSWOLDS 7 DAYS
General price:
$

7164.00 / ticket
28
SIGNATURE OF COTSWOLDS 7 DAYS
General price:
$

7164.00 / ticket
29
SIGNATURE OF COTSWOLDS 7 DAYS
General price:
$

7164.00 / ticket
30
SIGNATURE OF COTSWOLDS 7 DAYS
General price:
$

7164.00 / ticket
31
SIGNATURE OF COTSWOLDS 7 DAYS
General price:
$

7164.00 / ticket
1
SIGNATURE OF COTSWOLDS 7 DAYS
General price:
$

7164.00 / ticket
2
SIGNATURE OF COTSWOLDS 7 DAYS
General price:
$

7164.00 / ticket
3
SIGNATURE OF COTSWOLDS 7 DAYS
General price:
$

7164.00 / ticket
4
SIGNATURE OF COTSWOLDS 7 DAYS
General price:
$

7164.00 / ticket
5
SIGNATURE OF COTSWOLDS 7 DAYS
General price:
$

7164.00 / ticket
6
SIGNATURE OF COTSWOLDS 7 DAYS
General price:
$

7164.00 / ticket
7
SIGNATURE OF COTSWOLDS 7 DAYS
General price:
$

7164.00 / ticket
8
SIGNATURE OF COTSWOLDS 7 DAYS
General price:
$

7164.00 / ticket
9
SIGNATURE OF COTSWOLDS 7 DAYS
General price:
$

7164.00 / ticket
10
SIGNATURE OF COTSWOLDS 7 DAYS
General price:
$

7164.00 / ticket
11
SIGNATURE OF COTSWOLDS 7 DAYS
General price:
$

7164.00 / ticket
12
SIGNATURE OF COTSWOLDS 7 DAYS
General price:
$

7164.00 / ticket
13
SIGNATURE OF COTSWOLDS 7 DAYS
General price:
$

7164.00 / ticket
14
SIGNATURE OF COTSWOLDS 7 DAYS
General price:
$

7164.00 / ticket
15
SIGNATURE OF COTSWOLDS 7 DAYS
General price:
$

7164.00 / ticket
16
SIGNATURE OF COTSWOLDS 7 DAYS
General price:
$

7164.00 / ticket
17
SIGNATURE OF COTSWOLDS 7 DAYS
General price:
$

7164.00 / ticket
18
SIGNATURE OF COTSWOLDS 7 DAYS
General price:
$

7164.00 / ticket
19
SIGNATURE OF COTSWOLDS 7 DAYS
General price:
$

7164.00 / ticket
20
SIGNATURE OF COTSWOLDS 7 DAYS
General price:
$

7164.00 / ticket
21
SIGNATURE OF COTSWOLDS 7 DAYS
General price:
$

7164.00 / ticket
22
SIGNATURE OF COTSWOLDS 7 DAYS
General price:
$

7164.00 / ticket
23
SIGNATURE OF COTSWOLDS 7 DAYS
General price:
$

7164.00 / ticket
24
SIGNATURE OF COTSWOLDS 7 DAYS
General price:
$

7164.00 / ticket
25
SIGNATURE OF COTSWOLDS 7 DAYS
General price:
$

7164.00 / ticket
26
SIGNATURE OF COTSWOLDS 7 DAYS
General price:
$

7164.00 / ticket
27
SIGNATURE OF COTSWOLDS 7 DAYS
General price:
$

7164.00 / ticket
28
SIGNATURE OF COTSWOLDS 7 DAYS
General price:
$

7164.00 / ticket
29
SIGNATURE OF COTSWOLDS 7 DAYS
General price:
$

7164.00 / ticket
30
SIGNATURE OF COTSWOLDS 7 DAYS
General price:
$

7164.00 / ticket
1
SIGNATURE OF COTSWOLDS 7 DAYS
General price:
$

7164.00 / ticket