Deluxe Private Balloon Flight in Cappadocia



Overview
Flying in a hot air balloon, an excellent feeling worldwide is a privilege in Cappadocia. This is the most enjoyable and beautiful place to fly with a deluxe private balloon in Cappadocia. We offer you an unforgettable adventure as the new face of ballooning in Cappadocia.
Since Hot Air Balloons cannot fly in conditions above 28ºC and are incredibly windy, flights are made in the morning when meteorological conditions are suitable. At around 5 am, our vehicles pick up our passengers from their hotels and bring them to the departure area.
While the balloons are getting ready for the flight on the ground, our passengers have a light open buffet breakfast and watch the preparation of the balloons. After a short trial, the balloons start their flight close to sunrise. There is no orientation facility in hot air balloons.
They move in the direction of the wind. However, the wind directions may be different at different air altitudes. The pilot tries to find the appropriate wind in the order he wants to go by ascending and descending.
During the flight, the Balloons rise to a height of approximately 1000 feet, allowing our passengers to watch the sunrise, the fairy chimneys, and valley views by entering the valley..
At the end of the flight, we have a champagne celebration for our passengers. In addition, a flight certificate is given as a memento of the flight. At the end of the deluxe private balloon in Cappadocia adventure, our passengers are dropped off at their hotels with our vehicles.
Deluxe Private Balloon Flight In Cappadocia
One of the best adventures of a lifetime. Flying over this imaginary geography will make you feel like you are on space or another planet. The combination of the colors, the first lights of the day, and the beauty of nature complete with the fantastic and experienced service of the company. From the time we pick you up from your hotel until the time we leave you back, you will have a wonderful time flying over Cappadocia. Having this experience on your own will be a privilege.
Why Elite Turkey Tours
Verified Reviews
25000+ Pictures and Reviews on the platform.

10000+ Tours and Activities
We have activities across 17 countries, across every category so that you never miss best things to do anywhere.

Customer Delight
We are always able to support you so that you have a hassle free experience.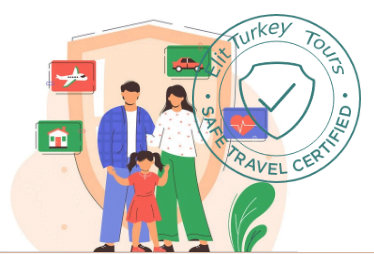 Our first priority is always to protect the health and safety of our clients and local teams  
Elite Turkey Tours  has received the World Travel and Tourism Council's Safe Travels stamp, which provides travelers with assurance that we have adopted health and hygiene global standardized protocols – so you can experience 'Safe Travels'.