Daily Deluxe Private Cappadocia Tours from Istanbul



Overview
We want to provide the most convenient service for you. That's why the driver and guide waiting for you will welcome you with a board with your name on it. In this way, you can contact our team members within the airport without any difficulty and take a step on your Private Cappadocia tour.
Private Cappadocia Tours from Istanbul
We offer the most special services for you in our daily luxury Cappadocia tour and show you the unique beauties. Contact us now to get this tour opportunity!
Daily Cappadocia Tour Program by Plane from Istanbul

We want to provide the best service for you. That's why the driver and guide waiting for you will greet you with a board with your name on it. In this way, you can reach our team members within the airport without any difficulty and take a step on your Cappadocia vacation.
Devrent Valley (Imagination Valley)
Our first stop will be Devrent Valley as we start our Cappadocia tour. This valley contains fairy chimneys with an attractive appearance in the Cappadocia region. The fairy chimneys found here are made of human and animal shapes attracts attention. Due to the interestingness of these shapes, you can satisfy your curiosity with the detailed information of the guides in the place known as Imagination Valley.
Pasabag (Monks Valley)
We will drive to Pasabag (Monks Valley) at our next stop. The church and interesting fairy chimneys you will encounter in this location will attract your attention. Fairy chimneys resembling Hobbits and Smurfs, in particular, make people curious.
Pottery Workshop
While continuing the tour, you will stop by the pottery shops where works of art from ancient times. The pottery shop, where the people's works of art will be explained in detail, together with the information about the Hittite period, which you learn with the guide during the tour, awaits you. You can access information about people's living conditions in ancient times here.
Lunch at a Local Restaurant
As we continue our tour, we aim for you to have a delicious experience. We host you in a restaurant where you will discover traditional Cappadocian dishes, and we offer you a service where you will taste delicious dishes. In this way, we want you to capture the cultural interaction in the best way possible.
Goreme Open Air Museum
You will be able to continue the tour from where you left off with Goreme Open Air Museum, which offers unique beauties on the UNESCO World Heritage list. In this museum, there are some of the most famous churches of Cappadocia, St. Basil, Elmalı, St. Barbara, Yılanlı, Pantaktator, Maltese Crusader, St. Catherine, Darkness, Çarıklı, Tokalı. In this way, continue to explore the cultural riches of Cappadocia by exploring the churches.
Uchisar Castle Region
Uchisar Castle Region is the only place where Erciyes and Hasan Mountains can be seen together. You will also have the opportunity to see Cappadocia with a bird's head in this place, known as the biggest fairy chimney of Cappadocia. As Elite Turkey Tour, Cappadocia will be at your feet in this location where you will visit on the tour we offer you.
Pigeon Valley
Pigeon Valley, where colorful balloons float in the sky, offers you the unique view of Cappadocia. Get ready to take perfect pictures of the scenery that awaits you in this location, known for the story of pigeons.
All Private Airport Transfers
 1-day private tour in Cappadocia
 Private A/C luxurious minivans on tours and transfers
 Private English speaking guiding
 Lunch on tour
 All admission fees to the sites and museums
 Local taxes & 18 % VAT
 Flight tickets
 Personal expenses
 Drinks at the meal
 Gratuities for the guide and driver
 Room Service Fees
Why Elite Turkey Tours
Verified Reviews
25000+ Pictures and Reviews on the platform.

10000+ Tours and Activities
We have activities across 17 countries, across every category so that you never miss best things to do anywhere.

Customer Delight
We are always able to support you so that you have a hassle free experience.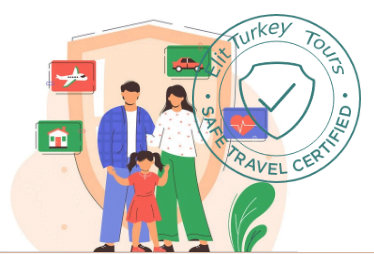 Our first priority is always to protect the health and safety of our clients and local teams  
Elite Turkey Tours  has received the World Travel and Tourism Council's Safe Travels stamp, which provides travelers with assurance that we have adopted health and hygiene global standardized protocols – so you can experience 'Safe Travels'.