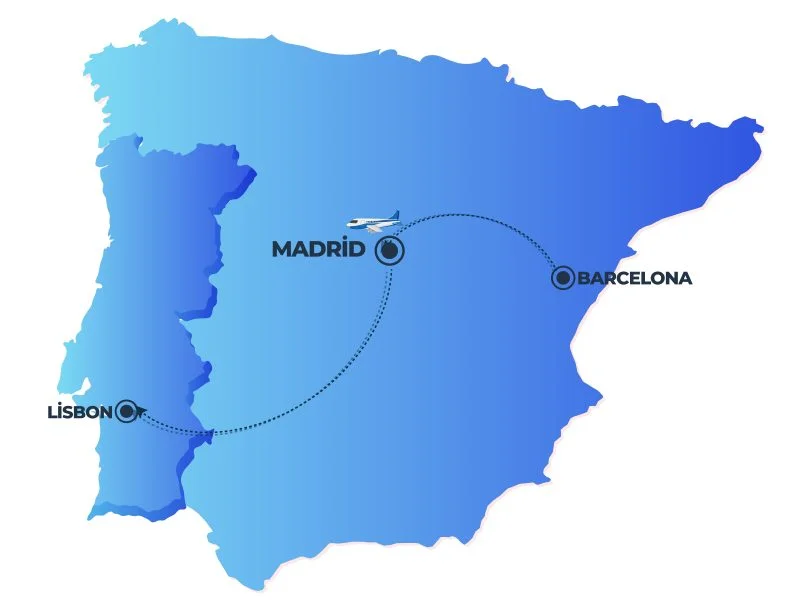 TOUR PLAN

1 st DAY
BARCELONA
You've Arrived – Meet your driver and vehicle to arrange a transfer from the airport.
An English-speaking assistant will be waiting for you in the lobby of your hotel to guide you through your welcome pack and help you with check-in.
A Welcome Package with a map of the city, tickets for trains (if applicable) and any other information we consider useful will be waiting upon your arrival at your hotel.
Where you'll be staying
Condes de Barcelona
Condal Paseo de Gracia
2nd DAY
BARCELONA
Sagrada Familia / Parc Guell – Audacious Architecture
Begin a full-day Barcelona tour with your guide and transport. You will learn about Antoni Gaudi, the famous modernist architect and the extraordinary achievements he made throughout Barcelona. You'll be able to see many of Barcelona's most famous architectures, including Casa Batllo and Casa Mila, also known as La Pedrera. Casa Batllo is an unusual building that has enigmatic shapes, a colorful façade, and elegant architectural details. La Pedrera, a beautifully sculpted residential building, is a great example of how wealthy people lived in the early 20th century. You can then head to Gaudi's famous Sagrada Familia to see this UNESCO World Heritage Site. This monumental architectural masterpiece is still being built over 100 years later. It is one of Barcelona's most iconic sites. It is the largest unfinished Roman Catholic Church in the world and it's unique style is a must-see. The 4th century Roman Walls of Barcelona and the 13th-century Cathedral of Barcelona's Old Gothic Quarter are then on display. Next, you will find the famous pedestrian avenue Las Ramblas lined with trees, where you can see the vibrant local culture in action. Enjoy stunning views of Barcelona from Parc Guell in the upper part of Barcelona. It was built in the beginning of the 1900's and, although it was not completed before Gaudi's death, it is still one of his most imaginative and colorful works and one of the most impressive parks in the world.
Where you'll be staying
Condes de Barcelona
Condal Paseo de Gracia
3rd DAY
BARCELONA
Montserrat – Enjoy the Mountain Air
Begin your half-day tour in Catalunya with your driver and guide. You will visit the Montserrat sacred mountaintop monastery. Montserrat is located just an hour from Barcelona and has been a significant Spanish pilgrimage destination for almost 1,000 years. It is home to approximately eighty Benedictine monks. You will be guided through the monastery complex and a Renaissance Basilica, once you arrive. You can see the Black Madonna, Catalunya's Patron Saint, here in its 12th century carving. The Monastery of Montserrat is perched on a prominent rock face and offers breathtaking views of the surrounding landscape.
Where you'll be staying
Condes de Barcelona
Condal Paseo de Gracia
4th DAY
BARCELONA TO MADRID
Meet your driver and vehicle to transfer you from the train station.
Take the train from Barcelona to Madrid. It takes about 3 hours to travel by train.
Meet your driver and vehicle to transfer you from the train station.
Enjoy a half-day walking tour through Madrid's oldest neighborhoods with a private guide. Admire the numerous churches, convents and inns as well as palaces, palaces, theaters and narrow medieval streets.
Convents, inns and palaces, theatres, traditional shops, narrow medieval streets, and theaters are all rich in history. The capital's most important sights include Puerta del Sol which is the heartbeat of Madrid since 17 centuries, and Calle Mayor (or Plaza Mayor), a porticoed square that takes you back to medieval rogues and swashbuckling swordsmen. You can explore the Calle Cuchilleros and Arco, where you will find centuries-old taverns that have been dug into the ground. The Plaza de la Villa is a great example of Spanish architecture. Admire the Royal Palace, which is the largest in Western Europe. The Plaza de Oriente is lined with gardens and statues from Spain's early rulers.
Where you'll be staying
Iberostar Las Letras Gran Via
Superior
5th DAY
MADRID
Discuss with an Expert
Enjoy a half-day excursion to Toledo with a local guide and private driver. Toledo, Spain's medieval capital and a source of inspiration for El Greco (16th century master), is UNESCO World Heritage Site. The walled city is located close to the River Tajo and has many museums, churches, and steel workshops. These master artisans continue the legacy of the medieval Toledo swordsmiths. Meet your guide and take a stroll through the city's cobblestone streets. The 14th century is alive and well
The Toledo Cathedral is a Gothic masterpiece and considered the pinnacle of Spanish Gothic style. The Santa Maria la Blanca Synagogue Synagogue is Europe's oldest and most prominent synagogue. It can be found in the Jewish Quarter. The Alcazar of Toledo is a historical fortress that looks out over Toledo and the lands beyond. You can also see the exterior of San Servando's medieval Castle.
Where you'll be staying
Iberostar Las Letras Gran Via
Superior
6th DAY
MADRID TO LISBON
The Journey Continues…
Meet your driver and vehicle to arrange a transfer from the airport.
Fly direct from Madrid to Lisbon. The flight takes approximately 2 hours.
Meet your driver to arrange a private transfer from the airport. You can also enjoy our added comfort.
We will provide an English-speaking assistant to assist you at the customs. He will be holding a sign with your name written on it. Your representative will assist you in coordinating meeting with your private driver, and will accompany you to your accommodation.
Welcome package with a bottle wine, a map of the city, and tickets for trains (if applicable) will be waiting at your hotel upon your arrival.
Where you'll be staying
7th DAY
LISBON
View the Signature Sights In Style
Begin a half-day sightseeing of Lisbon with a driver and private guide. This city on seven hills has layers of history that date back to the times of the Romans, the Phoenicians and the Visigoths. Rossio Square is the heart of Lisbon. Next, visit Alfama, the Old Quarter. Visit Lisbon Cathedral with its history going back to 12 centuries. Also, take in views of St. George's Castle (a Moorish fortification) while enjoying a spectacular view over Lisbon from the Miradouro da Senhora do Monte lookout. Belem is the city's most famous district. Here you can walk alongside two UNESCO World Heritage Sites, the Jeronimos Monastery (16th century) and the Belem Tower (on the Tagus River). Before returning to your hotel, make a quick stop at the Monument to the Discoveries. This monument celebrates the 15th-16th-century Portuguese Age of Discovery.
Where you'll be staying
8th DAY
LISBON
Pena Palace, Sintra – Cross an item off the Bucket List
Begin your coastal adventure with your private guide. You will see many sandy beaches hidden in the cliffs. Protected by 17th-century fortresses, you will also find some beautiful coastlines. You will arrive in Estoril, a beautiful resort town, which is famous for its Casino Estoril or Hotel Palacio. These were rendezvous points for WWII spy operatives and their handlers. Portugal was politically neutral. Enjoy a stroll along Tamariz Beach, admiring Forte da Cruz's 17th-century castle set against a backdrop of palm trees. Continue on to Cascais. Once a fishing village, this town has managed to preserve its maritime traditions while incorporating the royal and aristocratic presences of late 19th and early 21st century. It became a luxury resort town on Portugal's Riviera. You'll discover a vibrant town center and stunning Atlantic beaches as you pass through it. You can then head to Sintra where you will find hundreds of years worth of history and culture, surrounded with lush vegetation. You will find yourself in the middle of the old city, surrounded by old houses which have been converted into traditional handicraft shops or pastry shops. You'll feel as if you are in a fairytale when you ascend the mountain by shuttle. End your day in Lisbon.
Where you'll be staying
9th DAY
LISBON
Until Next Time…
Meet your driver to arrange a private transfer from Lisbon airport. Drivers may not be fluent in English, as it is their sole responsibility to transport clients from one place to the next. An additional charge will apply if you request an English-speaking assistant or guide for your transfer.
Calendar & Prices
2
9 Days Spain & Portugal Premium Custom Designed Tour
General price:
$

7245.00 / ticket
3
9 Days Spain & Portugal Premium Custom Designed Tour
General price:
$

7245.00 / ticket
4
9 Days Spain & Portugal Premium Custom Designed Tour
General price:
$

7245.00 / ticket
5
9 Days Spain & Portugal Premium Custom Designed Tour
General price:
$

7245.00 / ticket
6
9 Days Spain & Portugal Premium Custom Designed Tour
General price:
$

7245.00 / ticket
7
9 Days Spain & Portugal Premium Custom Designed Tour
General price:
$

7245.00 / ticket
8
9 Days Spain & Portugal Premium Custom Designed Tour
General price:
$

7245.00 / ticket
9
9 Days Spain & Portugal Premium Custom Designed Tour
General price:
$

7245.00 / ticket
10
9 Days Spain & Portugal Premium Custom Designed Tour
General price:
$

7245.00 / ticket
11
9 Days Spain & Portugal Premium Custom Designed Tour
General price:
$

7245.00 / ticket
12
9 Days Spain & Portugal Premium Custom Designed Tour
General price:
$

7245.00 / ticket
13
9 Days Spain & Portugal Premium Custom Designed Tour
General price:
$

7245.00 / ticket
14
9 Days Spain & Portugal Premium Custom Designed Tour
General price:
$

7245.00 / ticket
15
9 Days Spain & Portugal Premium Custom Designed Tour
General price:
$

7245.00 / ticket
16
9 Days Spain & Portugal Premium Custom Designed Tour
General price:
$

7245.00 / ticket
17
9 Days Spain & Portugal Premium Custom Designed Tour
General price:
$

7245.00 / ticket
18
9 Days Spain & Portugal Premium Custom Designed Tour
General price:
$

7245.00 / ticket
19
9 Days Spain & Portugal Premium Custom Designed Tour
General price:
$

7245.00 / ticket
20
9 Days Spain & Portugal Premium Custom Designed Tour
General price:
$

7245.00 / ticket
21
9 Days Spain & Portugal Premium Custom Designed Tour
General price:
$

7245.00 / ticket
22
9 Days Spain & Portugal Premium Custom Designed Tour
General price:
$

7245.00 / ticket
23
9 Days Spain & Portugal Premium Custom Designed Tour
General price:
$

7245.00 / ticket
24
9 Days Spain & Portugal Premium Custom Designed Tour
General price:
$

7245.00 / ticket
25
9 Days Spain & Portugal Premium Custom Designed Tour
General price:
$

7245.00 / ticket
26
9 Days Spain & Portugal Premium Custom Designed Tour
General price:
$

7245.00 / ticket
27
9 Days Spain & Portugal Premium Custom Designed Tour
General price:
$

7245.00 / ticket
28
9 Days Spain & Portugal Premium Custom Designed Tour
General price:
$

7245.00 / ticket
29
9 Days Spain & Portugal Premium Custom Designed Tour
General price:
$

7245.00 / ticket
30
9 Days Spain & Portugal Premium Custom Designed Tour
General price:
$

7245.00 / ticket
31
9 Days Spain & Portugal Premium Custom Designed Tour
General price:
$

7245.00 / ticket
1
9 Days Spain & Portugal Premium Custom Designed Tour
General price:
$

7245.00 / ticket
2
9 Days Spain & Portugal Premium Custom Designed Tour
General price:
$

7245.00 / ticket
3
9 Days Spain & Portugal Premium Custom Designed Tour
General price:
$

7245.00 / ticket
4
9 Days Spain & Portugal Premium Custom Designed Tour
General price:
$

7245.00 / ticket
5
9 Days Spain & Portugal Premium Custom Designed Tour
General price:
$

7245.00 / ticket
6
9 Days Spain & Portugal Premium Custom Designed Tour
General price:
$

7245.00 / ticket
7
9 Days Spain & Portugal Premium Custom Designed Tour
General price:
$

7245.00 / ticket
8
9 Days Spain & Portugal Premium Custom Designed Tour
General price:
$

7245.00 / ticket
9
9 Days Spain & Portugal Premium Custom Designed Tour
General price:
$

7245.00 / ticket
10
9 Days Spain & Portugal Premium Custom Designed Tour
General price:
$

7245.00 / ticket
11
9 Days Spain & Portugal Premium Custom Designed Tour
General price:
$

7245.00 / ticket
12
9 Days Spain & Portugal Premium Custom Designed Tour
General price:
$

7245.00 / ticket
13
9 Days Spain & Portugal Premium Custom Designed Tour
General price:
$

7245.00 / ticket
14
9 Days Spain & Portugal Premium Custom Designed Tour
General price:
$

7245.00 / ticket
15
9 Days Spain & Portugal Premium Custom Designed Tour
General price:
$

7245.00 / ticket
16
9 Days Spain & Portugal Premium Custom Designed Tour
General price:
$

7245.00 / ticket
17
9 Days Spain & Portugal Premium Custom Designed Tour
General price:
$

7245.00 / ticket
18
9 Days Spain & Portugal Premium Custom Designed Tour
General price:
$

7245.00 / ticket
19
9 Days Spain & Portugal Premium Custom Designed Tour
General price:
$

7245.00 / ticket
20
9 Days Spain & Portugal Premium Custom Designed Tour
General price:
$

7245.00 / ticket
21
9 Days Spain & Portugal Premium Custom Designed Tour
General price:
$

7245.00 / ticket
22
9 Days Spain & Portugal Premium Custom Designed Tour
General price:
$

7245.00 / ticket
23
9 Days Spain & Portugal Premium Custom Designed Tour
General price:
$

7245.00 / ticket
24
9 Days Spain & Portugal Premium Custom Designed Tour
General price:
$

7245.00 / ticket
25
9 Days Spain & Portugal Premium Custom Designed Tour
General price:
$

7245.00 / ticket
26
9 Days Spain & Portugal Premium Custom Designed Tour
General price:
$

7245.00 / ticket
27
9 Days Spain & Portugal Premium Custom Designed Tour
General price:
$

7245.00 / ticket
28
9 Days Spain & Portugal Premium Custom Designed Tour
General price:
$

7245.00 / ticket
29
9 Days Spain & Portugal Premium Custom Designed Tour
General price:
$

7245.00 / ticket
30
9 Days Spain & Portugal Premium Custom Designed Tour
General price:
$

7245.00 / ticket
31
9 Days Spain & Portugal Premium Custom Designed Tour
General price:
$

7245.00 / ticket
1
9 Days Spain & Portugal Premium Custom Designed Tour
General price:
$

7245.00 / ticket
2
9 Days Spain & Portugal Premium Custom Designed Tour
General price:
$

7245.00 / ticket
3
9 Days Spain & Portugal Premium Custom Designed Tour
General price:
$

7245.00 / ticket
4
9 Days Spain & Portugal Premium Custom Designed Tour
General price:
$

7245.00 / ticket
29
9 Days Spain & Portugal Premium Custom Designed Tour
General price:
$

7245.00 / ticket
30
9 Days Spain & Portugal Premium Custom Designed Tour
General price:
$

7245.00 / ticket
31
9 Days Spain & Portugal Premium Custom Designed Tour
General price:
$

7245.00 / ticket
1
9 Days Spain & Portugal Premium Custom Designed Tour
General price:
$

7245.00 / ticket
2
9 Days Spain & Portugal Premium Custom Designed Tour
General price:
$

7245.00 / ticket
3
9 Days Spain & Portugal Premium Custom Designed Tour
General price:
$

7245.00 / ticket
4
9 Days Spain & Portugal Premium Custom Designed Tour
General price:
$

7245.00 / ticket
5
9 Days Spain & Portugal Premium Custom Designed Tour
General price:
$

7245.00 / ticket
6
9 Days Spain & Portugal Premium Custom Designed Tour
General price:
$

7245.00 / ticket
7
9 Days Spain & Portugal Premium Custom Designed Tour
General price:
$

7245.00 / ticket
8
9 Days Spain & Portugal Premium Custom Designed Tour
General price:
$

7245.00 / ticket
9
9 Days Spain & Portugal Premium Custom Designed Tour
General price:
$

7245.00 / ticket
10
9 Days Spain & Portugal Premium Custom Designed Tour
General price:
$

7245.00 / ticket
11
9 Days Spain & Portugal Premium Custom Designed Tour
General price:
$

7245.00 / ticket
12
9 Days Spain & Portugal Premium Custom Designed Tour
General price:
$

7245.00 / ticket
13
9 Days Spain & Portugal Premium Custom Designed Tour
General price:
$

7245.00 / ticket
14
9 Days Spain & Portugal Premium Custom Designed Tour
General price:
$

7245.00 / ticket
15
9 Days Spain & Portugal Premium Custom Designed Tour
General price:
$

7245.00 / ticket
16
9 Days Spain & Portugal Premium Custom Designed Tour
General price:
$

7245.00 / ticket
17
9 Days Spain & Portugal Premium Custom Designed Tour
General price:
$

7245.00 / ticket
18
9 Days Spain & Portugal Premium Custom Designed Tour
General price:
$

7245.00 / ticket
19
9 Days Spain & Portugal Premium Custom Designed Tour
General price:
$

7245.00 / ticket
20
9 Days Spain & Portugal Premium Custom Designed Tour
General price:
$

7245.00 / ticket
21
9 Days Spain & Portugal Premium Custom Designed Tour
General price:
$

7245.00 / ticket
22
9 Days Spain & Portugal Premium Custom Designed Tour
General price:
$

7245.00 / ticket
23
9 Days Spain & Portugal Premium Custom Designed Tour
General price:
$

7245.00 / ticket
24
9 Days Spain & Portugal Premium Custom Designed Tour
General price:
$

7245.00 / ticket
25
9 Days Spain & Portugal Premium Custom Designed Tour
General price:
$

7245.00 / ticket
26
9 Days Spain & Portugal Premium Custom Designed Tour
General price:
$

7245.00 / ticket
27
9 Days Spain & Portugal Premium Custom Designed Tour
General price:
$

7245.00 / ticket
28
9 Days Spain & Portugal Premium Custom Designed Tour
General price:
$

7245.00 / ticket
29
9 Days Spain & Portugal Premium Custom Designed Tour
General price:
$

7245.00 / ticket
1
9 Days Spain & Portugal Premium Custom Designed Tour
General price:
$

7245.00 / ticket
2
9 Days Spain & Portugal Premium Custom Designed Tour
General price:
$

7245.00 / ticket
3
9 Days Spain & Portugal Premium Custom Designed Tour
General price:
$

7245.00 / ticket
26
9 Days Spain & Portugal Premium Custom Designed Tour
General price:
$

7245.00 / ticket
27
9 Days Spain & Portugal Premium Custom Designed Tour
General price:
$

7245.00 / ticket
28
9 Days Spain & Portugal Premium Custom Designed Tour
General price:
$

7245.00 / ticket
29
9 Days Spain & Portugal Premium Custom Designed Tour
General price:
$

7245.00 / ticket
1
9 Days Spain & Portugal Premium Custom Designed Tour
General price:
$

7245.00 / ticket
2
9 Days Spain & Portugal Premium Custom Designed Tour
General price:
$

7245.00 / ticket
3
9 Days Spain & Portugal Premium Custom Designed Tour
General price:
$

7245.00 / ticket
4
9 Days Spain & Portugal Premium Custom Designed Tour
General price:
$

7245.00 / ticket
5
9 Days Spain & Portugal Premium Custom Designed Tour
General price:
$

7245.00 / ticket
6
9 Days Spain & Portugal Premium Custom Designed Tour
General price:
$

7245.00 / ticket
7
9 Days Spain & Portugal Premium Custom Designed Tour
General price:
$

7245.00 / ticket
8
9 Days Spain & Portugal Premium Custom Designed Tour
General price:
$

7245.00 / ticket
9
9 Days Spain & Portugal Premium Custom Designed Tour
General price:
$

7245.00 / ticket
10
9 Days Spain & Portugal Premium Custom Designed Tour
General price:
$

7245.00 / ticket
11
9 Days Spain & Portugal Premium Custom Designed Tour
General price:
$

7245.00 / ticket
12
9 Days Spain & Portugal Premium Custom Designed Tour
General price:
$

7245.00 / ticket
13
9 Days Spain & Portugal Premium Custom Designed Tour
General price:
$

7245.00 / ticket
14
9 Days Spain & Portugal Premium Custom Designed Tour
General price:
$

7245.00 / ticket
15
9 Days Spain & Portugal Premium Custom Designed Tour
General price:
$

7245.00 / ticket
16
9 Days Spain & Portugal Premium Custom Designed Tour
General price:
$

7245.00 / ticket
17
9 Days Spain & Portugal Premium Custom Designed Tour
General price:
$

7245.00 / ticket
18
9 Days Spain & Portugal Premium Custom Designed Tour
General price:
$

7245.00 / ticket
19
9 Days Spain & Portugal Premium Custom Designed Tour
General price:
$

7245.00 / ticket
20
9 Days Spain & Portugal Premium Custom Designed Tour
General price:
$

7245.00 / ticket
21
9 Days Spain & Portugal Premium Custom Designed Tour
General price:
$

7245.00 / ticket
22
9 Days Spain & Portugal Premium Custom Designed Tour
General price:
$

7245.00 / ticket
23
9 Days Spain & Portugal Premium Custom Designed Tour
General price:
$

7245.00 / ticket
24
9 Days Spain & Portugal Premium Custom Designed Tour
General price:
$

7245.00 / ticket
25
9 Days Spain & Portugal Premium Custom Designed Tour
General price:
$

7245.00 / ticket
26
9 Days Spain & Portugal Premium Custom Designed Tour
General price:
$

7245.00 / ticket
27
9 Days Spain & Portugal Premium Custom Designed Tour
General price:
$

7245.00 / ticket
28
9 Days Spain & Portugal Premium Custom Designed Tour
General price:
$

7245.00 / ticket
29
9 Days Spain & Portugal Premium Custom Designed Tour
General price:
$

7245.00 / ticket
30
9 Days Spain & Portugal Premium Custom Designed Tour
General price:
$

7245.00 / ticket
31
9 Days Spain & Portugal Premium Custom Designed Tour
General price:
$

7245.00 / ticket
1
9 Days Spain & Portugal Premium Custom Designed Tour
General price:
$

7245.00 / ticket
2
9 Days Spain & Portugal Premium Custom Designed Tour
General price:
$

7245.00 / ticket
3
9 Days Spain & Portugal Premium Custom Designed Tour
General price:
$

7245.00 / ticket
4
9 Days Spain & Portugal Premium Custom Designed Tour
General price:
$

7245.00 / ticket
5
9 Days Spain & Portugal Premium Custom Designed Tour
General price:
$

7245.00 / ticket
6
9 Days Spain & Portugal Premium Custom Designed Tour
General price:
$

7245.00 / ticket
7
9 Days Spain & Portugal Premium Custom Designed Tour
General price:
$

7245.00 / ticket
8
9 Days Spain & Portugal Premium Custom Designed Tour
General price:
$

7245.00 / ticket
9
9 Days Spain & Portugal Premium Custom Designed Tour
General price:
$

7245.00 / ticket
10
9 Days Spain & Portugal Premium Custom Designed Tour
General price:
$

7245.00 / ticket
11
9 Days Spain & Portugal Premium Custom Designed Tour
General price:
$

7245.00 / ticket
12
9 Days Spain & Portugal Premium Custom Designed Tour
General price:
$

7245.00 / ticket
13
9 Days Spain & Portugal Premium Custom Designed Tour
General price:
$

7245.00 / ticket
14
9 Days Spain & Portugal Premium Custom Designed Tour
General price:
$

7245.00 / ticket
15
9 Days Spain & Portugal Premium Custom Designed Tour
General price:
$

7245.00 / ticket
16
9 Days Spain & Portugal Premium Custom Designed Tour
General price:
$

7245.00 / ticket
17
9 Days Spain & Portugal Premium Custom Designed Tour
General price:
$

7245.00 / ticket
18
9 Days Spain & Portugal Premium Custom Designed Tour
General price:
$

7245.00 / ticket
19
9 Days Spain & Portugal Premium Custom Designed Tour
General price:
$

7245.00 / ticket
20
9 Days Spain & Portugal Premium Custom Designed Tour
General price:
$

7245.00 / ticket
21
9 Days Spain & Portugal Premium Custom Designed Tour
General price:
$

7245.00 / ticket
22
9 Days Spain & Portugal Premium Custom Designed Tour
General price:
$

7245.00 / ticket
23
9 Days Spain & Portugal Premium Custom Designed Tour
General price:
$

7245.00 / ticket
24
9 Days Spain & Portugal Premium Custom Designed Tour
General price:
$

7245.00 / ticket
25
9 Days Spain & Portugal Premium Custom Designed Tour
General price:
$

7245.00 / ticket
26
9 Days Spain & Portugal Premium Custom Designed Tour
General price:
$

7245.00 / ticket
27
9 Days Spain & Portugal Premium Custom Designed Tour
General price:
$

7245.00 / ticket
28
9 Days Spain & Portugal Premium Custom Designed Tour
General price:
$

7245.00 / ticket
29
9 Days Spain & Portugal Premium Custom Designed Tour
General price:
$

7245.00 / ticket
30
9 Days Spain & Portugal Premium Custom Designed Tour
General price:
$

7245.00 / ticket
1
9 Days Spain & Portugal Premium Custom Designed Tour
General price:
$

7245.00 / ticket
2
9 Days Spain & Portugal Premium Custom Designed Tour
General price:
$

7245.00 / ticket
3
9 Days Spain & Portugal Premium Custom Designed Tour
General price:
$

7245.00 / ticket
4
9 Days Spain & Portugal Premium Custom Designed Tour
General price:
$

7245.00 / ticket
5
9 Days Spain & Portugal Premium Custom Designed Tour
General price:
$

7245.00 / ticket
29
9 Days Spain & Portugal Premium Custom Designed Tour
General price:
$

7245.00 / ticket
30
9 Days Spain & Portugal Premium Custom Designed Tour
General price:
$

7245.00 / ticket
1
9 Days Spain & Portugal Premium Custom Designed Tour
General price:
$

7245.00 / ticket
2
9 Days Spain & Portugal Premium Custom Designed Tour
General price:
$

7245.00 / ticket
3
9 Days Spain & Portugal Premium Custom Designed Tour
General price:
$

7245.00 / ticket
4
9 Days Spain & Portugal Premium Custom Designed Tour
General price:
$

7245.00 / ticket
5
9 Days Spain & Portugal Premium Custom Designed Tour
General price:
$

7245.00 / ticket
6
9 Days Spain & Portugal Premium Custom Designed Tour
General price:
$

7245.00 / ticket
7
9 Days Spain & Portugal Premium Custom Designed Tour
General price:
$

7245.00 / ticket
8
9 Days Spain & Portugal Premium Custom Designed Tour
General price:
$

7245.00 / ticket
9
9 Days Spain & Portugal Premium Custom Designed Tour
General price:
$

7245.00 / ticket
10
9 Days Spain & Portugal Premium Custom Designed Tour
General price:
$

7245.00 / ticket
11
9 Days Spain & Portugal Premium Custom Designed Tour
General price:
$

7245.00 / ticket
12
9 Days Spain & Portugal Premium Custom Designed Tour
General price:
$

7245.00 / ticket
13
9 Days Spain & Portugal Premium Custom Designed Tour
General price:
$

7245.00 / ticket
14
9 Days Spain & Portugal Premium Custom Designed Tour
General price:
$

7245.00 / ticket
15
9 Days Spain & Portugal Premium Custom Designed Tour
General price:
$

7245.00 / ticket
16
9 Days Spain & Portugal Premium Custom Designed Tour
General price:
$

7245.00 / ticket
17
9 Days Spain & Portugal Premium Custom Designed Tour
General price:
$

7245.00 / ticket
18
9 Days Spain & Portugal Premium Custom Designed Tour
General price:
$

7245.00 / ticket
19
9 Days Spain & Portugal Premium Custom Designed Tour
General price:
$

7245.00 / ticket
20
9 Days Spain & Portugal Premium Custom Designed Tour
General price:
$

7245.00 / ticket
21
9 Days Spain & Portugal Premium Custom Designed Tour
General price:
$

7245.00 / ticket
22
9 Days Spain & Portugal Premium Custom Designed Tour
General price:
$

7245.00 / ticket
23
9 Days Spain & Portugal Premium Custom Designed Tour
General price:
$

7245.00 / ticket
24
9 Days Spain & Portugal Premium Custom Designed Tour
General price:
$

7245.00 / ticket
25
9 Days Spain & Portugal Premium Custom Designed Tour
General price:
$

7245.00 / ticket
26
9 Days Spain & Portugal Premium Custom Designed Tour
General price:
$

7245.00 / ticket
27
9 Days Spain & Portugal Premium Custom Designed Tour
General price:
$

7245.00 / ticket
28
9 Days Spain & Portugal Premium Custom Designed Tour
General price:
$

7245.00 / ticket
29
9 Days Spain & Portugal Premium Custom Designed Tour
General price:
$

7245.00 / ticket
30
9 Days Spain & Portugal Premium Custom Designed Tour
General price:
$

7245.00 / ticket
31
9 Days Spain & Portugal Premium Custom Designed Tour
General price:
$

7245.00 / ticket
1
9 Days Spain & Portugal Premium Custom Designed Tour
General price:
$

7245.00 / ticket
2
9 Days Spain & Portugal Premium Custom Designed Tour
General price:
$

7245.00 / ticket
27
9 Days Spain & Portugal Premium Custom Designed Tour
General price:
$

7245.00 / ticket
28
9 Days Spain & Portugal Premium Custom Designed Tour
General price:
$

7245.00 / ticket
29
9 Days Spain & Portugal Premium Custom Designed Tour
General price:
$

7245.00 / ticket
30
9 Days Spain & Portugal Premium Custom Designed Tour
General price:
$

7245.00 / ticket
31
9 Days Spain & Portugal Premium Custom Designed Tour
General price:
$

7245.00 / ticket
1
9 Days Spain & Portugal Premium Custom Designed Tour
General price:
$

7245.00 / ticket
2
9 Days Spain & Portugal Premium Custom Designed Tour
General price:
$

7245.00 / ticket
3
9 Days Spain & Portugal Premium Custom Designed Tour
General price:
$

7245.00 / ticket
4
9 Days Spain & Portugal Premium Custom Designed Tour
General price:
$

7245.00 / ticket
5
9 Days Spain & Portugal Premium Custom Designed Tour
General price:
$

7245.00 / ticket
6
9 Days Spain & Portugal Premium Custom Designed Tour
General price:
$

7245.00 / ticket
7
9 Days Spain & Portugal Premium Custom Designed Tour
General price:
$

7245.00 / ticket
8
9 Days Spain & Portugal Premium Custom Designed Tour
General price:
$

7245.00 / ticket
9
9 Days Spain & Portugal Premium Custom Designed Tour
General price:
$

7245.00 / ticket
10
9 Days Spain & Portugal Premium Custom Designed Tour
General price:
$

7245.00 / ticket
11
9 Days Spain & Portugal Premium Custom Designed Tour
General price:
$

7245.00 / ticket
12
9 Days Spain & Portugal Premium Custom Designed Tour
General price:
$

7245.00 / ticket
13
9 Days Spain & Portugal Premium Custom Designed Tour
General price:
$

7245.00 / ticket
14
9 Days Spain & Portugal Premium Custom Designed Tour
General price:
$

7245.00 / ticket
15
9 Days Spain & Portugal Premium Custom Designed Tour
General price:
$

7245.00 / ticket
16
9 Days Spain & Portugal Premium Custom Designed Tour
General price:
$

7245.00 / ticket
17
9 Days Spain & Portugal Premium Custom Designed Tour
General price:
$

7245.00 / ticket
18
9 Days Spain & Portugal Premium Custom Designed Tour
General price:
$

7245.00 / ticket
19
9 Days Spain & Portugal Premium Custom Designed Tour
General price:
$

7245.00 / ticket
20
9 Days Spain & Portugal Premium Custom Designed Tour
General price:
$

7245.00 / ticket
21
9 Days Spain & Portugal Premium Custom Designed Tour
General price:
$

7245.00 / ticket
22
9 Days Spain & Portugal Premium Custom Designed Tour
General price:
$

7245.00 / ticket
23
9 Days Spain & Portugal Premium Custom Designed Tour
General price:
$

7245.00 / ticket
24
9 Days Spain & Portugal Premium Custom Designed Tour
General price:
$

7245.00 / ticket
25
9 Days Spain & Portugal Premium Custom Designed Tour
General price:
$

7245.00 / ticket
26
9 Days Spain & Portugal Premium Custom Designed Tour
General price:
$

7245.00 / ticket
27
9 Days Spain & Portugal Premium Custom Designed Tour
General price:
$

7245.00 / ticket
28
9 Days Spain & Portugal Premium Custom Designed Tour
General price:
$

7245.00 / ticket
29
9 Days Spain & Portugal Premium Custom Designed Tour
General price:
$

7245.00 / ticket
30
9 Days Spain & Portugal Premium Custom Designed Tour
General price:
$

7245.00 / ticket
1
9 Days Spain & Portugal Premium Custom Designed Tour
General price:
$

7245.00 / ticket
2
9 Days Spain & Portugal Premium Custom Designed Tour
General price:
$

7245.00 / ticket
3
9 Days Spain & Portugal Premium Custom Designed Tour
General price:
$

7245.00 / ticket
4
9 Days Spain & Portugal Premium Custom Designed Tour
General price:
$

7245.00 / ticket
5
9 Days Spain & Portugal Premium Custom Designed Tour
General price:
$

7245.00 / ticket
6
9 Days Spain & Portugal Premium Custom Designed Tour
General price:
$

7245.00 / ticket
7
9 Days Spain & Portugal Premium Custom Designed Tour
General price:
$

7245.00 / ticket
8
9 Days Spain & Portugal Premium Custom Designed Tour
General price:
$

7245.00 / ticket
9
9 Days Spain & Portugal Premium Custom Designed Tour
General price:
$

7245.00 / ticket
10
9 Days Spain & Portugal Premium Custom Designed Tour
General price:
$

7245.00 / ticket
11
9 Days Spain & Portugal Premium Custom Designed Tour
General price:
$

7245.00 / ticket
12
9 Days Spain & Portugal Premium Custom Designed Tour
General price:
$

7245.00 / ticket
13
9 Days Spain & Portugal Premium Custom Designed Tour
General price:
$

7245.00 / ticket
14
9 Days Spain & Portugal Premium Custom Designed Tour
General price:
$

7245.00 / ticket
15
9 Days Spain & Portugal Premium Custom Designed Tour
General price:
$

7245.00 / ticket
16
9 Days Spain & Portugal Premium Custom Designed Tour
General price:
$

7245.00 / ticket
17
9 Days Spain & Portugal Premium Custom Designed Tour
General price:
$

7245.00 / ticket
18
9 Days Spain & Portugal Premium Custom Designed Tour
General price:
$

7245.00 / ticket
19
9 Days Spain & Portugal Premium Custom Designed Tour
General price:
$

7245.00 / ticket
20
9 Days Spain & Portugal Premium Custom Designed Tour
General price:
$

7245.00 / ticket
21
9 Days Spain & Portugal Premium Custom Designed Tour
General price:
$

7245.00 / ticket
22
9 Days Spain & Portugal Premium Custom Designed Tour
General price:
$

7245.00 / ticket
23
9 Days Spain & Portugal Premium Custom Designed Tour
General price:
$

7245.00 / ticket
24
9 Days Spain & Portugal Premium Custom Designed Tour
General price:
$

7245.00 / ticket
25
9 Days Spain & Portugal Premium Custom Designed Tour
General price:
$

7245.00 / ticket
26
9 Days Spain & Portugal Premium Custom Designed Tour
General price:
$

7245.00 / ticket
27
9 Days Spain & Portugal Premium Custom Designed Tour
General price:
$

7245.00 / ticket
28
9 Days Spain & Portugal Premium Custom Designed Tour
General price:
$

7245.00 / ticket
29
9 Days Spain & Portugal Premium Custom Designed Tour
General price:
$

7245.00 / ticket
30
9 Days Spain & Portugal Premium Custom Designed Tour
General price:
$

7245.00 / ticket
31
9 Days Spain & Portugal Premium Custom Designed Tour
General price:
$

7245.00 / ticket
1
9 Days Spain & Portugal Premium Custom Designed Tour
General price:
$

7245.00 / ticket
2
9 Days Spain & Portugal Premium Custom Designed Tour
General price:
$

7245.00 / ticket
3
9 Days Spain & Portugal Premium Custom Designed Tour
General price:
$

7245.00 / ticket
4
9 Days Spain & Portugal Premium Custom Designed Tour
General price:
$

7245.00 / ticket
29
9 Days Spain & Portugal Premium Custom Designed Tour
General price:
$

7245.00 / ticket
30
9 Days Spain & Portugal Premium Custom Designed Tour
General price:
$

7245.00 / ticket
31
9 Days Spain & Portugal Premium Custom Designed Tour
General price:
$

7245.00 / ticket
1
9 Days Spain & Portugal Premium Custom Designed Tour
General price:
$

7245.00 / ticket
2
9 Days Spain & Portugal Premium Custom Designed Tour
General price:
$

7245.00 / ticket
3
9 Days Spain & Portugal Premium Custom Designed Tour
General price:
$

7245.00 / ticket
4
9 Days Spain & Portugal Premium Custom Designed Tour
General price:
$

7245.00 / ticket
5
9 Days Spain & Portugal Premium Custom Designed Tour
General price:
$

7245.00 / ticket
6
9 Days Spain & Portugal Premium Custom Designed Tour
General price:
$

7245.00 / ticket
7
9 Days Spain & Portugal Premium Custom Designed Tour
General price:
$

7245.00 / ticket
8
9 Days Spain & Portugal Premium Custom Designed Tour
General price:
$

7245.00 / ticket
9
9 Days Spain & Portugal Premium Custom Designed Tour
General price:
$

7245.00 / ticket
10
9 Days Spain & Portugal Premium Custom Designed Tour
General price:
$

7245.00 / ticket
11
9 Days Spain & Portugal Premium Custom Designed Tour
General price:
$

7245.00 / ticket
12
9 Days Spain & Portugal Premium Custom Designed Tour
General price:
$

7245.00 / ticket
13
9 Days Spain & Portugal Premium Custom Designed Tour
General price:
$

7245.00 / ticket
14
9 Days Spain & Portugal Premium Custom Designed Tour
General price:
$

7245.00 / ticket
15
9 Days Spain & Portugal Premium Custom Designed Tour
General price:
$

7245.00 / ticket
16
9 Days Spain & Portugal Premium Custom Designed Tour
General price:
$

7245.00 / ticket
17
9 Days Spain & Portugal Premium Custom Designed Tour
General price:
$

7245.00 / ticket
18
9 Days Spain & Portugal Premium Custom Designed Tour
General price:
$

7245.00 / ticket
19
9 Days Spain & Portugal Premium Custom Designed Tour
General price:
$

7245.00 / ticket
20
9 Days Spain & Portugal Premium Custom Designed Tour
General price:
$

7245.00 / ticket
21
9 Days Spain & Portugal Premium Custom Designed Tour
General price:
$

7245.00 / ticket
22
9 Days Spain & Portugal Premium Custom Designed Tour
General price:
$

7245.00 / ticket
23
9 Days Spain & Portugal Premium Custom Designed Tour
General price:
$

7245.00 / ticket
24
9 Days Spain & Portugal Premium Custom Designed Tour
General price:
$

7245.00 / ticket
25
9 Days Spain & Portugal Premium Custom Designed Tour
General price:
$

7245.00 / ticket
26
9 Days Spain & Portugal Premium Custom Designed Tour
General price:
$

7245.00 / ticket
27
9 Days Spain & Portugal Premium Custom Designed Tour
General price:
$

7245.00 / ticket
28
9 Days Spain & Portugal Premium Custom Designed Tour
General price:
$

7245.00 / ticket
29
9 Days Spain & Portugal Premium Custom Designed Tour
General price:
$

7245.00 / ticket
30
9 Days Spain & Portugal Premium Custom Designed Tour
General price:
$

7245.00 / ticket
31
9 Days Spain & Portugal Premium Custom Designed Tour
General price:
$

7245.00 / ticket
1
9 Days Spain & Portugal Premium Custom Designed Tour
General price:
$

7245.00 / ticket
26
9 Days Spain & Portugal Premium Custom Designed Tour
General price:
$

7245.00 / ticket
27
9 Days Spain & Portugal Premium Custom Designed Tour
General price:
$

7245.00 / ticket
28
9 Days Spain & Portugal Premium Custom Designed Tour
General price:
$

7245.00 / ticket
29
9 Days Spain & Portugal Premium Custom Designed Tour
General price:
$

7245.00 / ticket
30
9 Days Spain & Portugal Premium Custom Designed Tour
General price:
$

7245.00 / ticket
31
9 Days Spain & Portugal Premium Custom Designed Tour
General price:
$

7245.00 / ticket
1
9 Days Spain & Portugal Premium Custom Designed Tour
General price:
$

7245.00 / ticket
2
9 Days Spain & Portugal Premium Custom Designed Tour
General price:
$

7245.00 / ticket
3
9 Days Spain & Portugal Premium Custom Designed Tour
General price:
$

7245.00 / ticket
4
9 Days Spain & Portugal Premium Custom Designed Tour
General price:
$

7245.00 / ticket
5
9 Days Spain & Portugal Premium Custom Designed Tour
General price:
$

7245.00 / ticket
6
9 Days Spain & Portugal Premium Custom Designed Tour
General price:
$

7245.00 / ticket
7
9 Days Spain & Portugal Premium Custom Designed Tour
General price:
$

7245.00 / ticket
8
9 Days Spain & Portugal Premium Custom Designed Tour
General price:
$

7245.00 / ticket
9
9 Days Spain & Portugal Premium Custom Designed Tour
General price:
$

7245.00 / ticket
10
9 Days Spain & Portugal Premium Custom Designed Tour
General price:
$

7245.00 / ticket
11
9 Days Spain & Portugal Premium Custom Designed Tour
General price:
$

7245.00 / ticket
12
9 Days Spain & Portugal Premium Custom Designed Tour
General price:
$

7245.00 / ticket
13
9 Days Spain & Portugal Premium Custom Designed Tour
General price:
$

7245.00 / ticket
14
9 Days Spain & Portugal Premium Custom Designed Tour
General price:
$

7245.00 / ticket
15
9 Days Spain & Portugal Premium Custom Designed Tour
General price:
$

7245.00 / ticket
16
9 Days Spain & Portugal Premium Custom Designed Tour
General price:
$

7245.00 / ticket
17
9 Days Spain & Portugal Premium Custom Designed Tour
General price:
$

7245.00 / ticket
18
9 Days Spain & Portugal Premium Custom Designed Tour
General price:
$

7245.00 / ticket
19
9 Days Spain & Portugal Premium Custom Designed Tour
General price:
$

7245.00 / ticket
20
9 Days Spain & Portugal Premium Custom Designed Tour
General price:
$

7245.00 / ticket
21
9 Days Spain & Portugal Premium Custom Designed Tour
General price:
$

7245.00 / ticket
22
9 Days Spain & Portugal Premium Custom Designed Tour
General price:
$

7245.00 / ticket
23
9 Days Spain & Portugal Premium Custom Designed Tour
General price:
$

7245.00 / ticket
24
9 Days Spain & Portugal Premium Custom Designed Tour
General price:
$

7245.00 / ticket
25
9 Days Spain & Portugal Premium Custom Designed Tour
General price:
$

7245.00 / ticket
26
9 Days Spain & Portugal Premium Custom Designed Tour
General price:
$

7245.00 / ticket
27
9 Days Spain & Portugal Premium Custom Designed Tour
General price:
$

7245.00 / ticket
28
9 Days Spain & Portugal Premium Custom Designed Tour
General price:
$

7245.00 / ticket
29
9 Days Spain & Portugal Premium Custom Designed Tour
General price:
$

7245.00 / ticket
30
9 Days Spain & Portugal Premium Custom Designed Tour
General price:
$

7245.00 / ticket
1
9 Days Spain & Portugal Premium Custom Designed Tour
General price:
$

7245.00 / ticket
2
9 Days Spain & Portugal Premium Custom Designed Tour
General price:
$

7245.00 / ticket
3
9 Days Spain & Portugal Premium Custom Designed Tour
General price:
$

7245.00 / ticket
4
9 Days Spain & Portugal Premium Custom Designed Tour
General price:
$

7245.00 / ticket
5
9 Days Spain & Portugal Premium Custom Designed Tour
General price:
$

7245.00 / ticket
6
9 Days Spain & Portugal Premium Custom Designed Tour
General price:
$

7245.00 / ticket
30
9 Days Spain & Portugal Premium Custom Designed Tour
General price:
$

7245.00 / ticket
1
9 Days Spain & Portugal Premium Custom Designed Tour
General price:
$

7245.00 / ticket
2
9 Days Spain & Portugal Premium Custom Designed Tour
General price:
$

7245.00 / ticket
3
9 Days Spain & Portugal Premium Custom Designed Tour
General price:
$

7245.00 / ticket
4
9 Days Spain & Portugal Premium Custom Designed Tour
General price:
$

7245.00 / ticket
5
9 Days Spain & Portugal Premium Custom Designed Tour
General price:
$

7245.00 / ticket
6
9 Days Spain & Portugal Premium Custom Designed Tour
General price:
$

7245.00 / ticket
7
9 Days Spain & Portugal Premium Custom Designed Tour
General price:
$

7245.00 / ticket
8
9 Days Spain & Portugal Premium Custom Designed Tour
General price:
$

7245.00 / ticket
9
9 Days Spain & Portugal Premium Custom Designed Tour
General price:
$

7245.00 / ticket
10
9 Days Spain & Portugal Premium Custom Designed Tour
General price:
$

7245.00 / ticket
11
9 Days Spain & Portugal Premium Custom Designed Tour
General price:
$

7245.00 / ticket
12
9 Days Spain & Portugal Premium Custom Designed Tour
General price:
$

7245.00 / ticket
13
9 Days Spain & Portugal Premium Custom Designed Tour
General price:
$

7245.00 / ticket
14
9 Days Spain & Portugal Premium Custom Designed Tour
General price:
$

7245.00 / ticket
15
9 Days Spain & Portugal Premium Custom Designed Tour
General price:
$

7245.00 / ticket
16
9 Days Spain & Portugal Premium Custom Designed Tour
General price:
$

7245.00 / ticket
17
9 Days Spain & Portugal Premium Custom Designed Tour
General price:
$

7245.00 / ticket
18
9 Days Spain & Portugal Premium Custom Designed Tour
General price:
$

7245.00 / ticket
19
9 Days Spain & Portugal Premium Custom Designed Tour
General price:
$

7245.00 / ticket
20
9 Days Spain & Portugal Premium Custom Designed Tour
General price:
$

7245.00 / ticket
21
9 Days Spain & Portugal Premium Custom Designed Tour
General price:
$

7245.00 / ticket
22
9 Days Spain & Portugal Premium Custom Designed Tour
General price:
$

7245.00 / ticket
23
9 Days Spain & Portugal Premium Custom Designed Tour
General price:
$

7245.00 / ticket
24
9 Days Spain & Portugal Premium Custom Designed Tour
General price:
$

7245.00 / ticket
25
9 Days Spain & Portugal Premium Custom Designed Tour
General price:
$

7245.00 / ticket
26
9 Days Spain & Portugal Premium Custom Designed Tour
General price:
$

7245.00 / ticket
27
9 Days Spain & Portugal Premium Custom Designed Tour
General price:
$

7245.00 / ticket
28
9 Days Spain & Portugal Premium Custom Designed Tour
General price:
$

7245.00 / ticket
29
9 Days Spain & Portugal Premium Custom Designed Tour
General price:
$

7245.00 / ticket
30
9 Days Spain & Portugal Premium Custom Designed Tour
General price:
$

7245.00 / ticket
31
9 Days Spain & Portugal Premium Custom Designed Tour
General price:
$

7245.00 / ticket
1
9 Days Spain & Portugal Premium Custom Designed Tour
General price:
$

7245.00 / ticket
2
9 Days Spain & Portugal Premium Custom Designed Tour
General price:
$

7245.00 / ticket
3
9 Days Spain & Portugal Premium Custom Designed Tour
General price:
$

7245.00 / ticket
28
9 Days Spain & Portugal Premium Custom Designed Tour
General price:
$

7245.00 / ticket
29
9 Days Spain & Portugal Premium Custom Designed Tour
General price:
$

7245.00 / ticket
30
9 Days Spain & Portugal Premium Custom Designed Tour
General price:
$

7245.00 / ticket
31
9 Days Spain & Portugal Premium Custom Designed Tour
General price:
$

7245.00 / ticket
1
9 Days Spain & Portugal Premium Custom Designed Tour
General price:
$

7245.00 / ticket
2
9 Days Spain & Portugal Premium Custom Designed Tour
General price:
$

7245.00 / ticket
3
9 Days Spain & Portugal Premium Custom Designed Tour
General price:
$

7245.00 / ticket
4
9 Days Spain & Portugal Premium Custom Designed Tour
General price:
$

7245.00 / ticket
5
9 Days Spain & Portugal Premium Custom Designed Tour
General price:
$

7245.00 / ticket
6
9 Days Spain & Portugal Premium Custom Designed Tour
General price:
$

7245.00 / ticket
7
9 Days Spain & Portugal Premium Custom Designed Tour
General price:
$

7245.00 / ticket
8
9 Days Spain & Portugal Premium Custom Designed Tour
General price:
$

7245.00 / ticket
9
9 Days Spain & Portugal Premium Custom Designed Tour
General price:
$

7245.00 / ticket
10
9 Days Spain & Portugal Premium Custom Designed Tour
General price:
$

7245.00 / ticket
11
9 Days Spain & Portugal Premium Custom Designed Tour
General price:
$

7245.00 / ticket
12
9 Days Spain & Portugal Premium Custom Designed Tour
General price:
$

7245.00 / ticket
13
9 Days Spain & Portugal Premium Custom Designed Tour
General price:
$

7245.00 / ticket
14
9 Days Spain & Portugal Premium Custom Designed Tour
General price:
$

7245.00 / ticket
15
9 Days Spain & Portugal Premium Custom Designed Tour
General price:
$

7245.00 / ticket
16
9 Days Spain & Portugal Premium Custom Designed Tour
General price:
$

7245.00 / ticket
17
9 Days Spain & Portugal Premium Custom Designed Tour
General price:
$

7245.00 / ticket
18
9 Days Spain & Portugal Premium Custom Designed Tour
General price:
$

7245.00 / ticket
19
9 Days Spain & Portugal Premium Custom Designed Tour
General price:
$

7245.00 / ticket
20
9 Days Spain & Portugal Premium Custom Designed Tour
General price:
$

7245.00 / ticket
21
9 Days Spain & Portugal Premium Custom Designed Tour
General price:
$

7245.00 / ticket
22
9 Days Spain & Portugal Premium Custom Designed Tour
General price:
$

7245.00 / ticket
23
9 Days Spain & Portugal Premium Custom Designed Tour
General price:
$

7245.00 / ticket
24
9 Days Spain & Portugal Premium Custom Designed Tour
General price:
$

7245.00 / ticket
25
9 Days Spain & Portugal Premium Custom Designed Tour
General price:
$

7245.00 / ticket
26
9 Days Spain & Portugal Premium Custom Designed Tour
General price:
$

7245.00 / ticket
27
9 Days Spain & Portugal Premium Custom Designed Tour
General price:
$

7245.00 / ticket
28
9 Days Spain & Portugal Premium Custom Designed Tour
General price:
$

7245.00 / ticket
29
9 Days Spain & Portugal Premium Custom Designed Tour
General price:
$

7245.00 / ticket
30
9 Days Spain & Portugal Premium Custom Designed Tour
General price:
$

7245.00 / ticket
1
9 Days Spain & Portugal Premium Custom Designed Tour
General price:
$

7245.00 / ticket