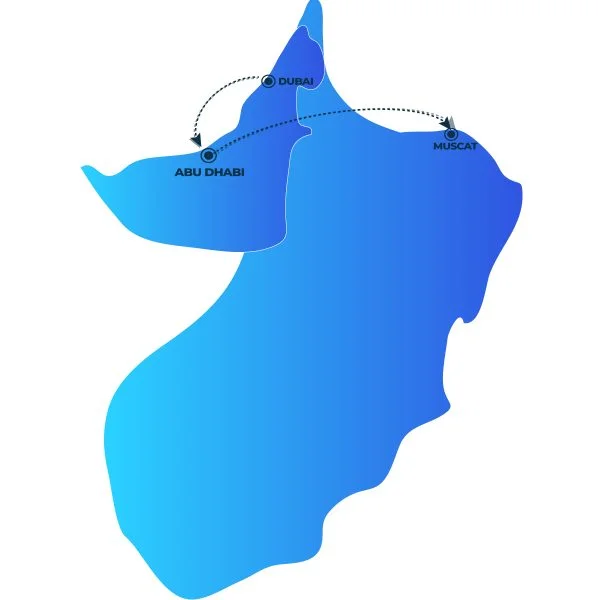 Day 1 MUSCAT
Start your trip off stress-free with the ultimate arrival experience. You'll be met at your gate by a representative and luggage porter with comfy buggy cars to transport you to the Prime Class Arrival Lounge for some delicious refreshments. Skip the long immigration lines with your assistant, who will guide you through the dedicated Fast Track counters. Need a visa? No problem – your assistant can help with the processing. Your luggage will be taken care of, so all you have to do is enjoy the VIP treatment. Your personal assistant and porter will accompany you as you exit the terminal and meet up with your private driver. Say goodbye to air travel anxieties and hello to a truly luxurious travel experience.
A private vehicle and English speaking driver will provide a transfer between airport and your hotel.
Experience the enchanting beauty of Grand Mosque at night as you journey in your private vehicle accompanied by a driver-guide. Marvel at the intricate architecture illuminated from all angles with spotlights. Your next stop is the charming Muttrah town and its Corniche, adjacent to the bustling Mina Al Sultan Qaboos port of Oman. Be sure to take a short break to explore the Muttrah Souk and take home some cherished traditional Omani souvenirs. Your cultural exploration continues at Bait Al Zubair Museum, one of the most awe-inspiring museums in Oman. Delve into the rich history and lifestyle of Oman's people through captivating exhibits and displays. From here travel on to see the Sultan's Palace and the two forts Jalali and Mirani which guard it. Afterwards return to your hotel.
Where you'll be staying
• Crowne Plaza Muscat
• Seaview
DAY 2 MUSCAT
The Adventure Begins
Your private vehicle and English-speaking driver-guide will whisk you away on a unforgettable adventure. You will visit Nizwa souq and fort, strategically built atop a hill overlooking a bustling market below. But that's not all, next stop is the majestic Jabal Akhdar, also known as Green Mountain. This breathtaking destination sits 2800 meters above sea level and is not to be missed. Be sure to bring your camera as you'll want to capture every moment of this stunning natural beauty. Then, continue on to Wadi Bani Habib, a dry-river bed dotted with turquoise pools that stretch for miles. As you travel through this area, you'll pass through beautiful villages with terrace farming fields that will leave you with lasting memories. Finally, make your way to the peak of the Green Mountain for an unparalleled view that you'll never forget. And don't forget to stop at Jabal Akhdar hotel for some Omani coffee or tea and some light refreshments (not included). This is a tour that should not be missed!Afterwards, you will return to your hotel.
Where you'll be staying
• Crowne Plaza Muscat
• Seaview
DAY 3 MUSCAT
Get a Lay of the Land
Enjoy an exhilarating round of "dune bashing" in a four-wheel drive vehicle accompanied by a driver-guide. Imagine a vast expanse of undulating red and white sand dunes, rising up to towering heights of 200 meters and stretching as far as the eye can see. But the Wahiba Sands aren't just a stunning sight for photographers, they're also home to a diverse range of flourishing flora and fauna, with ever-changing patterns of dunes. And what's a visit to the desert without seeing the nomads and Bedouins making their way with their trusty camels? Don't miss the chance to visit a Bedouin home for a picnic lunch, to truly experience their way of life. But if shade and relaxation are what you're after, it's time to head to Wadi Bani Khalid. This breathtaking wadi will soothe all your stresses away with its clear, deep blue waters and inviting palm trees – a perfect place to take a siesta.
Embark on a breathtaking journey through the stunning Wadi Bani Khalid and discover quaint villages perched on the slopes of majestic mountains. Don't forget to pack your swimwear, as the crystal-clear waters of the Wadi beckon. Comfortable and light clothing, paired with sensible walking shoes, will ensure a comfortable adventure out in nature.
Where you'll be staying
• Crowne Plaza Muscat
• Seaview
DAY 4 MUSCAT TO ABU DHABI
The Journey Continues…
A private vehicle and English speaking driver will provide a transfer between airport and your hotel.
Flight is required, currently not included in the quote.
As soon as you touch down, a friendly face will be waiting to greet you and hand you a bunch of goodies to kickstart your adventure. Inside that welcome package, you'll find all sorts of insider intel about your destination, as well as around-the-clock emergency contact info just in case you need it. No need to worry, you're in good hands!A private vehicle with English-speaking driver will provide a transfer between the airport and hotel.
Where you'll be staying
• Traders Qaryat Al Beri
• Deluxe Room
DAY 5 ABU DHABI
Explore a City of Contrasts
Discover the enchanting attractions of Abu Dhabi with your personal guide and chauffeur for a whole day of adventure. Marvel at the breathtaking Sheikh Zayed Grand Mosque, a modern triumph of Islamic architecture with its captivating gold features and pristine white ambience. Take in the symmetrical beauty of the city's most iconic spots for the perfect photo opportunities. Get a rare glimpse into the Emirati government at the majestic Qasr Al-Watan, the Presidential Palace, and revel in the greatness of the impressive Great Hall. Immerse yourself in the collection of priceless artifacts and literature at the Library and House of Knowledge. Lastly, capture a moment at Abu Dhabi's oldest stone structure, the 18th-century Qasr – it's an authentic slice of history!
Al-Hosn, a contrast to much of the city's surrounding modern development. Midday, you'll be treated to a delicious buffet lunch at Le Vendome (drinks payable on the spot). Located on the 4th floor of the Emirates Palace hotel, the venue offers stunning views of the Arabian Gulf as you savor both local and international cuisine. Fueled up for the afternoon, explore the iconic Ferrari World amusement park with priority queue access. Home to over 40 record-breaking attractions including the world's fastest roller coaster, there's an abundance of stimulus for the senses. Conclude your day with a relaxing transfer back to your hotel.
Where you'll be staying
• Traders Qaryat Al Beri
• Deluxe Room
DAY 6 ABU DHABI TO DUBAI
On the Road Again
A private vehicle with English-speaking driver will provide a transfer between the Abu Dhabi and Dubai.
Enjoy time at leisure to explore at your own pace, or relax at your hotel.
Where you'll be staying
• Jumeirah Beach Hotel
• Ocean Deluxe Room
DAY 7 DUBAI
Secrets of the City
Experience the dynamic allure of modern Dubai on a full day tour with a private guide and driver. The adventure begins at Jeremiah Beach where you can capture breathtaking photos of the iconic Burj Al Arab, a sail-shaped masterpiece rising out of the sea. Next, immerse yourself in the architectural wonder of Palm Jumeirah, the world's largest man-made island, shaped like a palm tree. Take in panoramic views from the observation deck at the Palm Tower and stand in awe of the mesmerizing skyline. Explore the Museum of the Future and witness interactive exhibits that enable you to shape a more promising future. Don't miss this chance to discover the ultra-luxe and awe-inspiring delights of modern Dubai like never before.At Dubai Mall, discover the scale one of the world's largest shopping centers.
Experience the grandeur and vibrancy of a bustling hotspot where luxury brands and culinary delights await you. Take in the sights and sounds as you explore the area before culminating your day with an unforgettable ascent to the top of the world's tallest building, the iconic Burj Khalifa. Watch in awe as the sun sets while standing on the observation deck of the 124th floor, with panoramic views of the city, desert, and ocean. End your day with a transfer back to your hotel or stay to watch the majestic Dubai Fountains evening show. Looking for a good meal? Speak to your Destination Expert for restaurant recommendations near the fountains.
Where you'll be staying
• Jumeirah Beach Hotel
• Ocean Deluxe Room
DAY 8 DUBAI
High in the Sky
Embark on a breathtaking morning adventure that will take you soaring high above the desert dunes, enveloped in the warm and gentle embrace of a hot air balloon. Accompanied by some of the world's most experienced pilots, you'll have the opportunity to witness an awe-inspiring sunrise from a height of 4,000 feet. But that's not all – prepare to be mesmerized by trained falcons as they soar through the air, adding a truly unforgettable dimension to the already awe-inspiring experience. You'll be picked up from your hotel in a shared SUV and whisked away to the launch site, where you'll receive a safety briefing from your pilot before climbing aboard the balloon. From there, sit back and relax as you take in the vast expanse of shimmering desert dunes, and marvel at the incredible sight of falcons gracefully gliding through the air from the safety of your balloon basket. It's an experience that simply must be seen to be believed.
Experience an awe-inspiring sight that will leave you speechless – a breathtaking spectacle that must be witnessed firsthand! After embarking on an hour-long ride, prepare to be transported to a private desert conservation reserve where you can freshen up before indulging in a delectable breakfast spread of gourmet delicacies. As your unforgettable encounter comes to a close, you'll be whisked back to your hotel. Please note that balloon departures are contingent upon weather conditions. Step aboard an opulent yacht and embark on a luxurious cruise along the stunning Dubai coastline. During your 2-hour sail, indulge in a delectable 3-course dinner and take in the mesmerizing views of iconic landmarks like Burj Al-Arab and Atlantis The Palm. And the icing on the cake? A professional crew catering to your every whim. This is a once-in-a-lifetime experience that promises to leave you speechless. Plus, enjoy roundtrip private transfer from your hotel to the yacht for a hassle-free journey.
Where you'll be staying
• Jumeirah Beach Hotel
• Ocean Deluxe Room
DAY 9 DUBAI
Bon Voyage
A private vehicle with driver will provide a transfer between the airport and hotel.
Calendar & Prices
2
9 DAYS OMAN & DUBAI TOURS
General price:
$

5950.00 / ticket
3
9 DAYS OMAN & DUBAI TOURS
General price:
$

5950.00 / ticket
4
9 DAYS OMAN & DUBAI TOURS
General price:
$

5950.00 / ticket
5
9 DAYS OMAN & DUBAI TOURS
General price:
$

5950.00 / ticket
6
9 DAYS OMAN & DUBAI TOURS
General price:
$

5950.00 / ticket
7
9 DAYS OMAN & DUBAI TOURS
General price:
$

5950.00 / ticket
8
9 DAYS OMAN & DUBAI TOURS
General price:
$

5950.00 / ticket
9
9 DAYS OMAN & DUBAI TOURS
General price:
$

5950.00 / ticket
10
9 DAYS OMAN & DUBAI TOURS
General price:
$

5950.00 / ticket
11
9 DAYS OMAN & DUBAI TOURS
General price:
$

5950.00 / ticket
12
9 DAYS OMAN & DUBAI TOURS
General price:
$

5950.00 / ticket
13
9 DAYS OMAN & DUBAI TOURS
General price:
$

5950.00 / ticket
14
9 DAYS OMAN & DUBAI TOURS
General price:
$

5950.00 / ticket
15
9 DAYS OMAN & DUBAI TOURS
General price:
$

5950.00 / ticket
16
9 DAYS OMAN & DUBAI TOURS
General price:
$

5950.00 / ticket
17
9 DAYS OMAN & DUBAI TOURS
General price:
$

5950.00 / ticket
18
9 DAYS OMAN & DUBAI TOURS
General price:
$

5950.00 / ticket
19
9 DAYS OMAN & DUBAI TOURS
General price:
$

5950.00 / ticket
20
9 DAYS OMAN & DUBAI TOURS
General price:
$

5950.00 / ticket
21
9 DAYS OMAN & DUBAI TOURS
General price:
$

5950.00 / ticket
22
9 DAYS OMAN & DUBAI TOURS
General price:
$

5950.00 / ticket
23
9 DAYS OMAN & DUBAI TOURS
General price:
$

5950.00 / ticket
24
9 DAYS OMAN & DUBAI TOURS
General price:
$

5950.00 / ticket
25
9 DAYS OMAN & DUBAI TOURS
General price:
$

5950.00 / ticket
26
9 DAYS OMAN & DUBAI TOURS
General price:
$

5950.00 / ticket
27
9 DAYS OMAN & DUBAI TOURS
General price:
$

5950.00 / ticket
28
9 DAYS OMAN & DUBAI TOURS
General price:
$

5950.00 / ticket
29
9 DAYS OMAN & DUBAI TOURS
General price:
$

5950.00 / ticket
30
9 DAYS OMAN & DUBAI TOURS
General price:
$

5950.00 / ticket
31
9 DAYS OMAN & DUBAI TOURS
General price:
$

5950.00 / ticket
1
9 DAYS OMAN & DUBAI TOURS
General price:
$

5950.00 / ticket
2
9 DAYS OMAN & DUBAI TOURS
General price:
$

5950.00 / ticket
3
9 DAYS OMAN & DUBAI TOURS
General price:
$

5950.00 / ticket
4
9 DAYS OMAN & DUBAI TOURS
General price:
$

5950.00 / ticket
5
9 DAYS OMAN & DUBAI TOURS
General price:
$

5950.00 / ticket
6
9 DAYS OMAN & DUBAI TOURS
General price:
$

5950.00 / ticket
7
9 DAYS OMAN & DUBAI TOURS
General price:
$

5950.00 / ticket
8
9 DAYS OMAN & DUBAI TOURS
General price:
$

5950.00 / ticket
9
9 DAYS OMAN & DUBAI TOURS
General price:
$

5950.00 / ticket
10
9 DAYS OMAN & DUBAI TOURS
General price:
$

5950.00 / ticket
11
9 DAYS OMAN & DUBAI TOURS
General price:
$

5950.00 / ticket
12
9 DAYS OMAN & DUBAI TOURS
General price:
$

5950.00 / ticket
13
9 DAYS OMAN & DUBAI TOURS
General price:
$

5950.00 / ticket
14
9 DAYS OMAN & DUBAI TOURS
General price:
$

5950.00 / ticket
15
9 DAYS OMAN & DUBAI TOURS
General price:
$

5950.00 / ticket
16
9 DAYS OMAN & DUBAI TOURS
General price:
$

5950.00 / ticket
17
9 DAYS OMAN & DUBAI TOURS
General price:
$

5950.00 / ticket
18
9 DAYS OMAN & DUBAI TOURS
General price:
$

5950.00 / ticket
19
9 DAYS OMAN & DUBAI TOURS
General price:
$

5950.00 / ticket
20
9 DAYS OMAN & DUBAI TOURS
General price:
$

5950.00 / ticket
21
9 DAYS OMAN & DUBAI TOURS
General price:
$

5950.00 / ticket
22
9 DAYS OMAN & DUBAI TOURS
General price:
$

5950.00 / ticket
23
9 DAYS OMAN & DUBAI TOURS
General price:
$

5950.00 / ticket
24
9 DAYS OMAN & DUBAI TOURS
General price:
$

5950.00 / ticket
25
9 DAYS OMAN & DUBAI TOURS
General price:
$

5950.00 / ticket
26
9 DAYS OMAN & DUBAI TOURS
General price:
$

5950.00 / ticket
27
9 DAYS OMAN & DUBAI TOURS
General price:
$

5950.00 / ticket
28
9 DAYS OMAN & DUBAI TOURS
General price:
$

5950.00 / ticket
29
9 DAYS OMAN & DUBAI TOURS
General price:
$

5950.00 / ticket
30
9 DAYS OMAN & DUBAI TOURS
General price:
$

5950.00 / ticket
31
9 DAYS OMAN & DUBAI TOURS
General price:
$

5950.00 / ticket
1
9 DAYS OMAN & DUBAI TOURS
General price:
$

5950.00 / ticket
2
9 DAYS OMAN & DUBAI TOURS
General price:
$

5950.00 / ticket
3
9 DAYS OMAN & DUBAI TOURS
General price:
$

5950.00 / ticket
4
9 DAYS OMAN & DUBAI TOURS
General price:
$

5950.00 / ticket
29
9 DAYS OMAN & DUBAI TOURS
General price:
$

5950.00 / ticket
30
9 DAYS OMAN & DUBAI TOURS
General price:
$

5950.00 / ticket
31
9 DAYS OMAN & DUBAI TOURS
General price:
$

5950.00 / ticket
1
9 DAYS OMAN & DUBAI TOURS
General price:
$

5950.00 / ticket
2
9 DAYS OMAN & DUBAI TOURS
General price:
$

5950.00 / ticket
3
9 DAYS OMAN & DUBAI TOURS
General price:
$

5950.00 / ticket
4
9 DAYS OMAN & DUBAI TOURS
General price:
$

5950.00 / ticket
5
9 DAYS OMAN & DUBAI TOURS
General price:
$

5950.00 / ticket
6
9 DAYS OMAN & DUBAI TOURS
General price:
$

5950.00 / ticket
7
9 DAYS OMAN & DUBAI TOURS
General price:
$

5950.00 / ticket
8
9 DAYS OMAN & DUBAI TOURS
General price:
$

5950.00 / ticket
9
9 DAYS OMAN & DUBAI TOURS
General price:
$

5950.00 / ticket
10
9 DAYS OMAN & DUBAI TOURS
General price:
$

5950.00 / ticket
11
9 DAYS OMAN & DUBAI TOURS
General price:
$

5950.00 / ticket
12
9 DAYS OMAN & DUBAI TOURS
General price:
$

5950.00 / ticket
13
9 DAYS OMAN & DUBAI TOURS
General price:
$

5950.00 / ticket
14
9 DAYS OMAN & DUBAI TOURS
General price:
$

5950.00 / ticket
15
9 DAYS OMAN & DUBAI TOURS
General price:
$

5950.00 / ticket
16
9 DAYS OMAN & DUBAI TOURS
General price:
$

5950.00 / ticket
17
9 DAYS OMAN & DUBAI TOURS
General price:
$

5950.00 / ticket
18
9 DAYS OMAN & DUBAI TOURS
General price:
$

5950.00 / ticket
19
9 DAYS OMAN & DUBAI TOURS
General price:
$

5950.00 / ticket
20
9 DAYS OMAN & DUBAI TOURS
General price:
$

5950.00 / ticket
21
9 DAYS OMAN & DUBAI TOURS
General price:
$

5950.00 / ticket
22
9 DAYS OMAN & DUBAI TOURS
General price:
$

5950.00 / ticket
23
9 DAYS OMAN & DUBAI TOURS
General price:
$

5950.00 / ticket
24
9 DAYS OMAN & DUBAI TOURS
General price:
$

5950.00 / ticket
25
9 DAYS OMAN & DUBAI TOURS
General price:
$

5950.00 / ticket
26
9 DAYS OMAN & DUBAI TOURS
General price:
$

5950.00 / ticket
27
9 DAYS OMAN & DUBAI TOURS
General price:
$

5950.00 / ticket
28
9 DAYS OMAN & DUBAI TOURS
General price:
$

5950.00 / ticket
29
9 DAYS OMAN & DUBAI TOURS
General price:
$

5950.00 / ticket
1
9 DAYS OMAN & DUBAI TOURS
General price:
$

5950.00 / ticket
2
9 DAYS OMAN & DUBAI TOURS
General price:
$

5950.00 / ticket
3
9 DAYS OMAN & DUBAI TOURS
General price:
$

5950.00 / ticket
26
9 DAYS OMAN & DUBAI TOURS
General price:
$

5950.00 / ticket
27
9 DAYS OMAN & DUBAI TOURS
General price:
$

5950.00 / ticket
28
9 DAYS OMAN & DUBAI TOURS
General price:
$

5950.00 / ticket
29
9 DAYS OMAN & DUBAI TOURS
General price:
$

5950.00 / ticket
1
9 DAYS OMAN & DUBAI TOURS
General price:
$

5950.00 / ticket
2
9 DAYS OMAN & DUBAI TOURS
General price:
$

5950.00 / ticket
3
9 DAYS OMAN & DUBAI TOURS
General price:
$

5950.00 / ticket
4
9 DAYS OMAN & DUBAI TOURS
General price:
$

5950.00 / ticket
5
9 DAYS OMAN & DUBAI TOURS
General price:
$

5950.00 / ticket
6
9 DAYS OMAN & DUBAI TOURS
General price:
$

5950.00 / ticket
7
9 DAYS OMAN & DUBAI TOURS
General price:
$

5950.00 / ticket
8
9 DAYS OMAN & DUBAI TOURS
General price:
$

5950.00 / ticket
9
9 DAYS OMAN & DUBAI TOURS
General price:
$

5950.00 / ticket
10
9 DAYS OMAN & DUBAI TOURS
General price:
$

5950.00 / ticket
11
9 DAYS OMAN & DUBAI TOURS
General price:
$

5950.00 / ticket
12
9 DAYS OMAN & DUBAI TOURS
General price:
$

5950.00 / ticket
13
9 DAYS OMAN & DUBAI TOURS
General price:
$

5950.00 / ticket
14
9 DAYS OMAN & DUBAI TOURS
General price:
$

5950.00 / ticket
15
9 DAYS OMAN & DUBAI TOURS
General price:
$

5950.00 / ticket
16
9 DAYS OMAN & DUBAI TOURS
General price:
$

5950.00 / ticket
17
9 DAYS OMAN & DUBAI TOURS
General price:
$

5950.00 / ticket
18
9 DAYS OMAN & DUBAI TOURS
General price:
$

5950.00 / ticket
19
9 DAYS OMAN & DUBAI TOURS
General price:
$

5950.00 / ticket
20
9 DAYS OMAN & DUBAI TOURS
General price:
$

5950.00 / ticket
21
9 DAYS OMAN & DUBAI TOURS
General price:
$

5950.00 / ticket
22
9 DAYS OMAN & DUBAI TOURS
General price:
$

5950.00 / ticket
23
9 DAYS OMAN & DUBAI TOURS
General price:
$

5950.00 / ticket
24
9 DAYS OMAN & DUBAI TOURS
General price:
$

5950.00 / ticket
25
9 DAYS OMAN & DUBAI TOURS
General price:
$

5950.00 / ticket
26
9 DAYS OMAN & DUBAI TOURS
General price:
$

5950.00 / ticket
27
9 DAYS OMAN & DUBAI TOURS
General price:
$

5950.00 / ticket
28
9 DAYS OMAN & DUBAI TOURS
General price:
$

5950.00 / ticket
29
9 DAYS OMAN & DUBAI TOURS
General price:
$

5950.00 / ticket
30
9 DAYS OMAN & DUBAI TOURS
General price:
$

5950.00 / ticket
31
9 DAYS OMAN & DUBAI TOURS
General price:
$

5950.00 / ticket
1
9 DAYS OMAN & DUBAI TOURS
General price:
$

5950.00 / ticket
2
9 DAYS OMAN & DUBAI TOURS
General price:
$

5950.00 / ticket
3
9 DAYS OMAN & DUBAI TOURS
General price:
$

5950.00 / ticket
4
9 DAYS OMAN & DUBAI TOURS
General price:
$

5950.00 / ticket
5
9 DAYS OMAN & DUBAI TOURS
General price:
$

5950.00 / ticket
6
9 DAYS OMAN & DUBAI TOURS
General price:
$

5950.00 / ticket
7
9 DAYS OMAN & DUBAI TOURS
General price:
$

5950.00 / ticket
8
9 DAYS OMAN & DUBAI TOURS
General price:
$

5950.00 / ticket
9
9 DAYS OMAN & DUBAI TOURS
General price:
$

5950.00 / ticket
10
9 DAYS OMAN & DUBAI TOURS
General price:
$

5950.00 / ticket
11
9 DAYS OMAN & DUBAI TOURS
General price:
$

5950.00 / ticket
12
9 DAYS OMAN & DUBAI TOURS
General price:
$

5950.00 / ticket
13
9 DAYS OMAN & DUBAI TOURS
General price:
$

5950.00 / ticket
14
9 DAYS OMAN & DUBAI TOURS
General price:
$

5950.00 / ticket
15
9 DAYS OMAN & DUBAI TOURS
General price:
$

5950.00 / ticket
16
9 DAYS OMAN & DUBAI TOURS
General price:
$

5950.00 / ticket
17
9 DAYS OMAN & DUBAI TOURS
General price:
$

5950.00 / ticket
18
9 DAYS OMAN & DUBAI TOURS
General price:
$

5950.00 / ticket
19
9 DAYS OMAN & DUBAI TOURS
General price:
$

5950.00 / ticket
20
9 DAYS OMAN & DUBAI TOURS
General price:
$

5950.00 / ticket
21
9 DAYS OMAN & DUBAI TOURS
General price:
$

5950.00 / ticket
22
9 DAYS OMAN & DUBAI TOURS
General price:
$

5950.00 / ticket
23
9 DAYS OMAN & DUBAI TOURS
General price:
$

5950.00 / ticket
24
9 DAYS OMAN & DUBAI TOURS
General price:
$

5950.00 / ticket
25
9 DAYS OMAN & DUBAI TOURS
General price:
$

5950.00 / ticket
26
9 DAYS OMAN & DUBAI TOURS
General price:
$

5950.00 / ticket
27
9 DAYS OMAN & DUBAI TOURS
General price:
$

5950.00 / ticket
28
9 DAYS OMAN & DUBAI TOURS
General price:
$

5950.00 / ticket
29
9 DAYS OMAN & DUBAI TOURS
General price:
$

5950.00 / ticket
30
9 DAYS OMAN & DUBAI TOURS
General price:
$

5950.00 / ticket
1
9 DAYS OMAN & DUBAI TOURS
General price:
$

5950.00 / ticket
2
9 DAYS OMAN & DUBAI TOURS
General price:
$

5950.00 / ticket
3
9 DAYS OMAN & DUBAI TOURS
General price:
$

5950.00 / ticket
4
9 DAYS OMAN & DUBAI TOURS
General price:
$

5950.00 / ticket
5
9 DAYS OMAN & DUBAI TOURS
General price:
$

5950.00 / ticket
29
9 DAYS OMAN & DUBAI TOURS
General price:
$

5950.00 / ticket
30
9 DAYS OMAN & DUBAI TOURS
General price:
$

5950.00 / ticket
1
9 DAYS OMAN & DUBAI TOURS
General price:
$

5950.00 / ticket
2
9 DAYS OMAN & DUBAI TOURS
General price:
$

5950.00 / ticket
3
9 DAYS OMAN & DUBAI TOURS
General price:
$

5950.00 / ticket
4
9 DAYS OMAN & DUBAI TOURS
General price:
$

5950.00 / ticket
5
9 DAYS OMAN & DUBAI TOURS
General price:
$

5950.00 / ticket
6
9 DAYS OMAN & DUBAI TOURS
General price:
$

5950.00 / ticket
7
9 DAYS OMAN & DUBAI TOURS
General price:
$

5950.00 / ticket
8
9 DAYS OMAN & DUBAI TOURS
General price:
$

5950.00 / ticket
9
9 DAYS OMAN & DUBAI TOURS
General price:
$

5950.00 / ticket
10
9 DAYS OMAN & DUBAI TOURS
General price:
$

5950.00 / ticket
11
9 DAYS OMAN & DUBAI TOURS
General price:
$

5950.00 / ticket
12
9 DAYS OMAN & DUBAI TOURS
General price:
$

5950.00 / ticket
13
9 DAYS OMAN & DUBAI TOURS
General price:
$

5950.00 / ticket
14
9 DAYS OMAN & DUBAI TOURS
General price:
$

5950.00 / ticket
15
9 DAYS OMAN & DUBAI TOURS
General price:
$

5950.00 / ticket
16
9 DAYS OMAN & DUBAI TOURS
General price:
$

5950.00 / ticket
17
9 DAYS OMAN & DUBAI TOURS
General price:
$

5950.00 / ticket
18
9 DAYS OMAN & DUBAI TOURS
General price:
$

5950.00 / ticket
19
9 DAYS OMAN & DUBAI TOURS
General price:
$

5950.00 / ticket
20
9 DAYS OMAN & DUBAI TOURS
General price:
$

5950.00 / ticket
21
9 DAYS OMAN & DUBAI TOURS
General price:
$

5950.00 / ticket
22
9 DAYS OMAN & DUBAI TOURS
General price:
$

5950.00 / ticket
23
9 DAYS OMAN & DUBAI TOURS
General price:
$

5950.00 / ticket
24
9 DAYS OMAN & DUBAI TOURS
General price:
$

5950.00 / ticket
25
9 DAYS OMAN & DUBAI TOURS
General price:
$

5950.00 / ticket
26
9 DAYS OMAN & DUBAI TOURS
General price:
$

5950.00 / ticket
27
9 DAYS OMAN & DUBAI TOURS
General price:
$

5950.00 / ticket
28
9 DAYS OMAN & DUBAI TOURS
General price:
$

5950.00 / ticket
29
9 DAYS OMAN & DUBAI TOURS
General price:
$

5950.00 / ticket
30
9 DAYS OMAN & DUBAI TOURS
General price:
$

5950.00 / ticket
31
9 DAYS OMAN & DUBAI TOURS
General price:
$

5950.00 / ticket
1
9 DAYS OMAN & DUBAI TOURS
General price:
$

5950.00 / ticket
2
9 DAYS OMAN & DUBAI TOURS
General price:
$

5950.00 / ticket
27
9 DAYS OMAN & DUBAI TOURS
General price:
$

5950.00 / ticket
28
9 DAYS OMAN & DUBAI TOURS
General price:
$

5950.00 / ticket
29
9 DAYS OMAN & DUBAI TOURS
General price:
$

5950.00 / ticket
30
9 DAYS OMAN & DUBAI TOURS
General price:
$

5950.00 / ticket
31
9 DAYS OMAN & DUBAI TOURS
General price:
$

5950.00 / ticket
1
9 DAYS OMAN & DUBAI TOURS
General price:
$

5950.00 / ticket
2
9 DAYS OMAN & DUBAI TOURS
General price:
$

5950.00 / ticket
3
9 DAYS OMAN & DUBAI TOURS
General price:
$

5950.00 / ticket
4
9 DAYS OMAN & DUBAI TOURS
General price:
$

5950.00 / ticket
5
9 DAYS OMAN & DUBAI TOURS
General price:
$

5950.00 / ticket
6
9 DAYS OMAN & DUBAI TOURS
General price:
$

5950.00 / ticket
7
9 DAYS OMAN & DUBAI TOURS
General price:
$

5950.00 / ticket
8
9 DAYS OMAN & DUBAI TOURS
General price:
$

5950.00 / ticket
9
9 DAYS OMAN & DUBAI TOURS
General price:
$

5950.00 / ticket
10
9 DAYS OMAN & DUBAI TOURS
General price:
$

5950.00 / ticket
11
9 DAYS OMAN & DUBAI TOURS
General price:
$

5950.00 / ticket
12
9 DAYS OMAN & DUBAI TOURS
General price:
$

5950.00 / ticket
13
9 DAYS OMAN & DUBAI TOURS
General price:
$

5950.00 / ticket
14
9 DAYS OMAN & DUBAI TOURS
General price:
$

5950.00 / ticket
15
9 DAYS OMAN & DUBAI TOURS
General price:
$

5950.00 / ticket
16
9 DAYS OMAN & DUBAI TOURS
General price:
$

5950.00 / ticket
17
9 DAYS OMAN & DUBAI TOURS
General price:
$

5950.00 / ticket
18
9 DAYS OMAN & DUBAI TOURS
General price:
$

5950.00 / ticket
19
9 DAYS OMAN & DUBAI TOURS
General price:
$

5950.00 / ticket
20
9 DAYS OMAN & DUBAI TOURS
General price:
$

5950.00 / ticket
21
9 DAYS OMAN & DUBAI TOURS
General price:
$

5950.00 / ticket
22
9 DAYS OMAN & DUBAI TOURS
General price:
$

5950.00 / ticket
23
9 DAYS OMAN & DUBAI TOURS
General price:
$

5950.00 / ticket
24
9 DAYS OMAN & DUBAI TOURS
General price:
$

5950.00 / ticket
25
9 DAYS OMAN & DUBAI TOURS
General price:
$

5950.00 / ticket
26
9 DAYS OMAN & DUBAI TOURS
General price:
$

5950.00 / ticket
27
9 DAYS OMAN & DUBAI TOURS
General price:
$

5950.00 / ticket
28
9 DAYS OMAN & DUBAI TOURS
General price:
$

5950.00 / ticket
29
9 DAYS OMAN & DUBAI TOURS
General price:
$

5950.00 / ticket
30
9 DAYS OMAN & DUBAI TOURS
General price:
$

5950.00 / ticket
1
9 DAYS OMAN & DUBAI TOURS
General price:
$

5950.00 / ticket
2
9 DAYS OMAN & DUBAI TOURS
General price:
$

5950.00 / ticket
3
9 DAYS OMAN & DUBAI TOURS
General price:
$

5950.00 / ticket
4
9 DAYS OMAN & DUBAI TOURS
General price:
$

5950.00 / ticket
5
9 DAYS OMAN & DUBAI TOURS
General price:
$

5950.00 / ticket
6
9 DAYS OMAN & DUBAI TOURS
General price:
$

5950.00 / ticket
7
9 DAYS OMAN & DUBAI TOURS
General price:
$

5950.00 / ticket
8
9 DAYS OMAN & DUBAI TOURS
General price:
$

5950.00 / ticket
9
9 DAYS OMAN & DUBAI TOURS
General price:
$

5950.00 / ticket
10
9 DAYS OMAN & DUBAI TOURS
General price:
$

5950.00 / ticket
11
9 DAYS OMAN & DUBAI TOURS
General price:
$

5950.00 / ticket
12
9 DAYS OMAN & DUBAI TOURS
General price:
$

5950.00 / ticket
13
9 DAYS OMAN & DUBAI TOURS
General price:
$

5950.00 / ticket
14
9 DAYS OMAN & DUBAI TOURS
General price:
$

5950.00 / ticket
15
9 DAYS OMAN & DUBAI TOURS
General price:
$

5950.00 / ticket
16
9 DAYS OMAN & DUBAI TOURS
General price:
$

5950.00 / ticket
17
9 DAYS OMAN & DUBAI TOURS
General price:
$

5950.00 / ticket
18
9 DAYS OMAN & DUBAI TOURS
General price:
$

5950.00 / ticket
19
9 DAYS OMAN & DUBAI TOURS
General price:
$

5950.00 / ticket
20
9 DAYS OMAN & DUBAI TOURS
General price:
$

5950.00 / ticket
21
9 DAYS OMAN & DUBAI TOURS
General price:
$

5950.00 / ticket
22
9 DAYS OMAN & DUBAI TOURS
General price:
$

5950.00 / ticket
23
9 DAYS OMAN & DUBAI TOURS
General price:
$

5950.00 / ticket
24
9 DAYS OMAN & DUBAI TOURS
General price:
$

5950.00 / ticket
25
9 DAYS OMAN & DUBAI TOURS
General price:
$

5950.00 / ticket
26
9 DAYS OMAN & DUBAI TOURS
General price:
$

5950.00 / ticket
27
9 DAYS OMAN & DUBAI TOURS
General price:
$

5950.00 / ticket
28
9 DAYS OMAN & DUBAI TOURS
General price:
$

5950.00 / ticket
29
9 DAYS OMAN & DUBAI TOURS
General price:
$

5950.00 / ticket
30
9 DAYS OMAN & DUBAI TOURS
General price:
$

5950.00 / ticket
31
9 DAYS OMAN & DUBAI TOURS
General price:
$

5950.00 / ticket
1
9 DAYS OMAN & DUBAI TOURS
General price:
$

5950.00 / ticket
2
9 DAYS OMAN & DUBAI TOURS
General price:
$

5950.00 / ticket
3
9 DAYS OMAN & DUBAI TOURS
General price:
$

5950.00 / ticket
4
9 DAYS OMAN & DUBAI TOURS
General price:
$

5950.00 / ticket
29
9 DAYS OMAN & DUBAI TOURS
General price:
$

5950.00 / ticket
30
9 DAYS OMAN & DUBAI TOURS
General price:
$

5950.00 / ticket
31
9 DAYS OMAN & DUBAI TOURS
General price:
$

5950.00 / ticket
1
9 DAYS OMAN & DUBAI TOURS
General price:
$

5950.00 / ticket
2
9 DAYS OMAN & DUBAI TOURS
General price:
$

5950.00 / ticket
3
9 DAYS OMAN & DUBAI TOURS
General price:
$

5950.00 / ticket
4
9 DAYS OMAN & DUBAI TOURS
General price:
$

5950.00 / ticket
5
9 DAYS OMAN & DUBAI TOURS
General price:
$

5950.00 / ticket
6
9 DAYS OMAN & DUBAI TOURS
General price:
$

5950.00 / ticket
7
9 DAYS OMAN & DUBAI TOURS
General price:
$

5950.00 / ticket
8
9 DAYS OMAN & DUBAI TOURS
General price:
$

5950.00 / ticket
9
9 DAYS OMAN & DUBAI TOURS
General price:
$

5950.00 / ticket
10
9 DAYS OMAN & DUBAI TOURS
General price:
$

5950.00 / ticket
11
9 DAYS OMAN & DUBAI TOURS
General price:
$

5950.00 / ticket
12
9 DAYS OMAN & DUBAI TOURS
General price:
$

5950.00 / ticket
13
9 DAYS OMAN & DUBAI TOURS
General price:
$

5950.00 / ticket
14
9 DAYS OMAN & DUBAI TOURS
General price:
$

5950.00 / ticket
15
9 DAYS OMAN & DUBAI TOURS
General price:
$

5950.00 / ticket
16
9 DAYS OMAN & DUBAI TOURS
General price:
$

5950.00 / ticket
17
9 DAYS OMAN & DUBAI TOURS
General price:
$

5950.00 / ticket
18
9 DAYS OMAN & DUBAI TOURS
General price:
$

5950.00 / ticket
19
9 DAYS OMAN & DUBAI TOURS
General price:
$

5950.00 / ticket
20
9 DAYS OMAN & DUBAI TOURS
General price:
$

5950.00 / ticket
21
9 DAYS OMAN & DUBAI TOURS
General price:
$

5950.00 / ticket
22
9 DAYS OMAN & DUBAI TOURS
General price:
$

5950.00 / ticket
23
9 DAYS OMAN & DUBAI TOURS
General price:
$

5950.00 / ticket
24
9 DAYS OMAN & DUBAI TOURS
General price:
$

5950.00 / ticket
25
9 DAYS OMAN & DUBAI TOURS
General price:
$

5950.00 / ticket
26
9 DAYS OMAN & DUBAI TOURS
General price:
$

5950.00 / ticket
27
9 DAYS OMAN & DUBAI TOURS
General price:
$

5950.00 / ticket
28
9 DAYS OMAN & DUBAI TOURS
General price:
$

5950.00 / ticket
29
9 DAYS OMAN & DUBAI TOURS
General price:
$

5950.00 / ticket
30
9 DAYS OMAN & DUBAI TOURS
General price:
$

5950.00 / ticket
31
9 DAYS OMAN & DUBAI TOURS
General price:
$

5950.00 / ticket
1
9 DAYS OMAN & DUBAI TOURS
General price:
$

5950.00 / ticket
26
9 DAYS OMAN & DUBAI TOURS
General price:
$

5950.00 / ticket
27
9 DAYS OMAN & DUBAI TOURS
General price:
$

5950.00 / ticket
28
9 DAYS OMAN & DUBAI TOURS
General price:
$

5950.00 / ticket
29
9 DAYS OMAN & DUBAI TOURS
General price:
$

5950.00 / ticket
30
9 DAYS OMAN & DUBAI TOURS
General price:
$

5950.00 / ticket
31
9 DAYS OMAN & DUBAI TOURS
General price:
$

5950.00 / ticket
1
9 DAYS OMAN & DUBAI TOURS
General price:
$

5950.00 / ticket
2
9 DAYS OMAN & DUBAI TOURS
General price:
$

5950.00 / ticket
3
9 DAYS OMAN & DUBAI TOURS
General price:
$

5950.00 / ticket
4
9 DAYS OMAN & DUBAI TOURS
General price:
$

5950.00 / ticket
5
9 DAYS OMAN & DUBAI TOURS
General price:
$

5950.00 / ticket
6
9 DAYS OMAN & DUBAI TOURS
General price:
$

5950.00 / ticket
7
9 DAYS OMAN & DUBAI TOURS
General price:
$

5950.00 / ticket
8
9 DAYS OMAN & DUBAI TOURS
General price:
$

5950.00 / ticket
9
9 DAYS OMAN & DUBAI TOURS
General price:
$

5950.00 / ticket
10
9 DAYS OMAN & DUBAI TOURS
General price:
$

5950.00 / ticket
11
9 DAYS OMAN & DUBAI TOURS
General price:
$

5950.00 / ticket
12
9 DAYS OMAN & DUBAI TOURS
General price:
$

5950.00 / ticket
13
9 DAYS OMAN & DUBAI TOURS
General price:
$

5950.00 / ticket
14
9 DAYS OMAN & DUBAI TOURS
General price:
$

5950.00 / ticket
15
9 DAYS OMAN & DUBAI TOURS
General price:
$

5950.00 / ticket
16
9 DAYS OMAN & DUBAI TOURS
General price:
$

5950.00 / ticket
17
9 DAYS OMAN & DUBAI TOURS
General price:
$

5950.00 / ticket
18
9 DAYS OMAN & DUBAI TOURS
General price:
$

5950.00 / ticket
19
9 DAYS OMAN & DUBAI TOURS
General price:
$

5950.00 / ticket
20
9 DAYS OMAN & DUBAI TOURS
General price:
$

5950.00 / ticket
21
9 DAYS OMAN & DUBAI TOURS
General price:
$

5950.00 / ticket
22
9 DAYS OMAN & DUBAI TOURS
General price:
$

5950.00 / ticket
23
9 DAYS OMAN & DUBAI TOURS
General price:
$

5950.00 / ticket
24
9 DAYS OMAN & DUBAI TOURS
General price:
$

5950.00 / ticket
25
9 DAYS OMAN & DUBAI TOURS
General price:
$

5950.00 / ticket
26
9 DAYS OMAN & DUBAI TOURS
General price:
$

5950.00 / ticket
27
9 DAYS OMAN & DUBAI TOURS
General price:
$

5950.00 / ticket
28
9 DAYS OMAN & DUBAI TOURS
General price:
$

5950.00 / ticket
29
9 DAYS OMAN & DUBAI TOURS
General price:
$

5950.00 / ticket
30
9 DAYS OMAN & DUBAI TOURS
General price:
$

5950.00 / ticket
1
9 DAYS OMAN & DUBAI TOURS
General price:
$

5950.00 / ticket
2
9 DAYS OMAN & DUBAI TOURS
General price:
$

5950.00 / ticket
3
9 DAYS OMAN & DUBAI TOURS
General price:
$

5950.00 / ticket
4
9 DAYS OMAN & DUBAI TOURS
General price:
$

5950.00 / ticket
5
9 DAYS OMAN & DUBAI TOURS
General price:
$

5950.00 / ticket
6
9 DAYS OMAN & DUBAI TOURS
General price:
$

5950.00 / ticket
30
9 DAYS OMAN & DUBAI TOURS
General price:
$

5950.00 / ticket
1
9 DAYS OMAN & DUBAI TOURS
General price:
$

5950.00 / ticket
2
9 DAYS OMAN & DUBAI TOURS
General price:
$

5950.00 / ticket
3
9 DAYS OMAN & DUBAI TOURS
General price:
$

5950.00 / ticket
4
9 DAYS OMAN & DUBAI TOURS
General price:
$

5950.00 / ticket
5
9 DAYS OMAN & DUBAI TOURS
General price:
$

5950.00 / ticket
6
9 DAYS OMAN & DUBAI TOURS
General price:
$

5950.00 / ticket
7
9 DAYS OMAN & DUBAI TOURS
General price:
$

5950.00 / ticket
8
9 DAYS OMAN & DUBAI TOURS
General price:
$

5950.00 / ticket
9
9 DAYS OMAN & DUBAI TOURS
General price:
$

5950.00 / ticket
10
9 DAYS OMAN & DUBAI TOURS
General price:
$

5950.00 / ticket
11
9 DAYS OMAN & DUBAI TOURS
General price:
$

5950.00 / ticket
12
9 DAYS OMAN & DUBAI TOURS
General price:
$

5950.00 / ticket
13
9 DAYS OMAN & DUBAI TOURS
General price:
$

5950.00 / ticket
14
9 DAYS OMAN & DUBAI TOURS
General price:
$

5950.00 / ticket
15
9 DAYS OMAN & DUBAI TOURS
General price:
$

5950.00 / ticket
16
9 DAYS OMAN & DUBAI TOURS
General price:
$

5950.00 / ticket
17
9 DAYS OMAN & DUBAI TOURS
General price:
$

5950.00 / ticket
18
9 DAYS OMAN & DUBAI TOURS
General price:
$

5950.00 / ticket
19
9 DAYS OMAN & DUBAI TOURS
General price:
$

5950.00 / ticket
20
9 DAYS OMAN & DUBAI TOURS
General price:
$

5950.00 / ticket
21
9 DAYS OMAN & DUBAI TOURS
General price:
$

5950.00 / ticket
22
9 DAYS OMAN & DUBAI TOURS
General price:
$

5950.00 / ticket
23
9 DAYS OMAN & DUBAI TOURS
General price:
$

5950.00 / ticket
24
9 DAYS OMAN & DUBAI TOURS
General price:
$

5950.00 / ticket
25
9 DAYS OMAN & DUBAI TOURS
General price:
$

5950.00 / ticket
26
9 DAYS OMAN & DUBAI TOURS
General price:
$

5950.00 / ticket
27
9 DAYS OMAN & DUBAI TOURS
General price:
$

5950.00 / ticket
28
9 DAYS OMAN & DUBAI TOURS
General price:
$

5950.00 / ticket
29
9 DAYS OMAN & DUBAI TOURS
General price:
$

5950.00 / ticket
30
9 DAYS OMAN & DUBAI TOURS
General price:
$

5950.00 / ticket
31
9 DAYS OMAN & DUBAI TOURS
General price:
$

5950.00 / ticket
1
9 DAYS OMAN & DUBAI TOURS
General price:
$

5950.00 / ticket
2
9 DAYS OMAN & DUBAI TOURS
General price:
$

5950.00 / ticket
3
9 DAYS OMAN & DUBAI TOURS
General price:
$

5950.00 / ticket
28
9 DAYS OMAN & DUBAI TOURS
General price:
$

5950.00 / ticket
29
9 DAYS OMAN & DUBAI TOURS
General price:
$

5950.00 / ticket
30
9 DAYS OMAN & DUBAI TOURS
General price:
$

5950.00 / ticket
31
9 DAYS OMAN & DUBAI TOURS
General price:
$

5950.00 / ticket
1
9 DAYS OMAN & DUBAI TOURS
General price:
$

5950.00 / ticket
2
9 DAYS OMAN & DUBAI TOURS
General price:
$

5950.00 / ticket
3
9 DAYS OMAN & DUBAI TOURS
General price:
$

5950.00 / ticket
4
9 DAYS OMAN & DUBAI TOURS
General price:
$

5950.00 / ticket
5
9 DAYS OMAN & DUBAI TOURS
General price:
$

5950.00 / ticket
6
9 DAYS OMAN & DUBAI TOURS
General price:
$

5950.00 / ticket
7
9 DAYS OMAN & DUBAI TOURS
General price:
$

5950.00 / ticket
8
9 DAYS OMAN & DUBAI TOURS
General price:
$

5950.00 / ticket
9
9 DAYS OMAN & DUBAI TOURS
General price:
$

5950.00 / ticket
10
9 DAYS OMAN & DUBAI TOURS
General price:
$

5950.00 / ticket
11
9 DAYS OMAN & DUBAI TOURS
General price:
$

5950.00 / ticket
12
9 DAYS OMAN & DUBAI TOURS
General price:
$

5950.00 / ticket
13
9 DAYS OMAN & DUBAI TOURS
General price:
$

5950.00 / ticket
14
9 DAYS OMAN & DUBAI TOURS
General price:
$

5950.00 / ticket
15
9 DAYS OMAN & DUBAI TOURS
General price:
$

5950.00 / ticket
16
9 DAYS OMAN & DUBAI TOURS
General price:
$

5950.00 / ticket
17
9 DAYS OMAN & DUBAI TOURS
General price:
$

5950.00 / ticket
18
9 DAYS OMAN & DUBAI TOURS
General price:
$

5950.00 / ticket
19
9 DAYS OMAN & DUBAI TOURS
General price:
$

5950.00 / ticket
20
9 DAYS OMAN & DUBAI TOURS
General price:
$

5950.00 / ticket
21
9 DAYS OMAN & DUBAI TOURS
General price:
$

5950.00 / ticket
22
9 DAYS OMAN & DUBAI TOURS
General price:
$

5950.00 / ticket
23
9 DAYS OMAN & DUBAI TOURS
General price:
$

5950.00 / ticket
24
9 DAYS OMAN & DUBAI TOURS
General price:
$

5950.00 / ticket
25
9 DAYS OMAN & DUBAI TOURS
General price:
$

5950.00 / ticket
26
9 DAYS OMAN & DUBAI TOURS
General price:
$

5950.00 / ticket
27
9 DAYS OMAN & DUBAI TOURS
General price:
$

5950.00 / ticket
28
9 DAYS OMAN & DUBAI TOURS
General price:
$

5950.00 / ticket
29
9 DAYS OMAN & DUBAI TOURS
General price:
$

5950.00 / ticket
30
9 DAYS OMAN & DUBAI TOURS
General price:
$

5950.00 / ticket
1
9 DAYS OMAN & DUBAI TOURS
General price:
$

5950.00 / ticket