9 Days Deluxe Harmony fo Türkiye Honeymoon pack



Day 1
Istanbul
Welcome to Turkey. After you have cleared border and customs, your agent will greet with you in the arrivals hall at your airport and accompany yourself and loved ones to your personal transfer that will transport you to the five-star hotel. Relax and enjoy the afternoon at leisure in Istanbul together with your partner.
Day 2

Istanbul – Istanbul Classics Tour
After breakfast, take an hour-long tour of the famous landmarks in Istanbul as a couple who are married. Start with the majestic Hagia Sophia. This magnificent Byzantine basilica was constructed in the 6th century and is regarded as to be the Eighth Wonder of the World. Go on to the 17th-century Ottoman Blue Mosque, a excellent illustration of the classical Turkish architecture, renowned for being the only one in the world with six minarets. Also, you can go to the Hippodrome that was once the centre of political and sporting events in Constantinople. On your excursion, you will be able see the Obelisk from Egypt and the Serpentine Column from Delphi as well as the fountain that was built by Wilhelm II. Your tour will finish with a visit to the historic Grand Bazaar, a very appealing shopping experience that is packed with an extensive collection of exquisite handmade carpets jewellery, leather, and other items that you could pamper each other with.
Day 3

Istanbul
Take a break exploring the stunning sites and vibrant city of Istanbul or opt for the optional Bosphorus Cruise, with the lover of your life. Get recommendations from the Leisure Travel
Consultant, on their top websites and romantic activities within Istanbul.
Day 4

Istanbul, Cappadocia
The next morning you'll be transferred to the airport, in order to catch a flight for Kayseri. After arriving, you'll be taken towards your elegant Cappadocia hotel. Relax and enjoy the afternoon at your leisure, or join an optional excursion with your partner.
Day 5

Cappadocia – Goreme Tour
Breakfast is served before your private half-day tour will commence, visiting the most famous tourist attraction in Cappadocia The Goreme Open Air Museum, which is a collection of various cave-churches with paintings carved out by Orthodox monks in the period between 1000 and 1200 A.D. The decorations and paintings are a tribute to the blooming of a distinctive Cappadocian aesthetic style. After that, you'll visit the tiny villages in Cavusin and Ortahisar where you can admire their stone-cut homes and rock homes that have been abandoned. After the tour, you'll be able to take a trip back to your accommodation to enjoy a peaceful evening with your beloved or go on an excursion to Kaymakli Underground City. Kaymakli Underground City.
Day 6

Cappadocia
Enjoy your free day to take in the beautiful scenery of Cappadocia as you gaze at each other's eyes. Love your partner while you enjoy many amazing things like the possibility of a hot-air balloon ride or a tour through your tour of the Cappadocia region. The tour will include Uchisar, Sognali Valley, the highest point in the region with churches dating to the 13th and 9th centuries, as well as Ihlara Valley, known for its underground dwellings made of rock.
Day 7

Cappadocia, Kusadasi/Izmir/Sirince
In the morning, you'll be transferred to the airport to take a flight to Izmir. After arriving, you'll be taken to your hotel, either Izmir or Kusadasi and then spend the rest time at leisure with your partner.
Day 8

Kusadasi/Izmir/Sirince – Ephesus Tour
Following breakfast, the private day tour of Ephesus, the city that was once a major hub of commerce and culture. Ephesus is scheduled to begin. Ephesus is among the best preserved ancient cities in the Mediterranean. The first stop is in The Temple of Artemis, one of the Seven Wonders of the Ancient World. Continue to the Library of Celsus, Temple of Hadrian, Theatre and Odeon. In the next archeological area and the House of Virgin Mary. After lunch, make your way back to your accommodation to relax with a couples massage or romantic dinner.
Day 9

Kusadasi/Izmir/Sirince
Enjoy a day of relaxation while admiring the crystal clear waters of the Aegean or visiting the wonderful sites that are ancient to the region such as Pergamum, Hierapolis, and Aphrodisias. Contact your Travel Consultant for any additional suggestions for sightseeing to do with your spouse.
Day 10

Departure
Transfer into Izmir Airport. Izmir Airport, for your return flight to Istanbul and your subsequent connection to your home.
3 Nights Luxury Accommodation at your Choice of Hotel in Istanbul
3 nights of Luxury Hotel Accommodation in the hotel of your choice of Hotel in Cappadocia Cappadocia
3 Nights Luxury Luxury Accommodation at your choice of Hotels situated in Izmir, Kusadasi or Sirince
A Private Half-Day Tour of Istanbul with an English Speaking Licensed Guide
The Private Half-Day Tour of the Goreme Open Air Museum with an English Speaking Licensed Guide
Exclusive All Day Tour of Ephesus with an English Speaking Licensed Guide
Aeroports departing between Istanbul towards Cappadocia Cappadocia to Istanbul
Aeroports departing between Cappadocia through Izmir Izmir to Cappadocia
Airfare from Izmir to Istanbul
All transfers and Handling Luggage inside Türkiye The Turkish government has a strict policy on handling luggage and transfers.
All Transportation Provided by Deluxe Air-Conditioned Private Vehicle
13 Meals: 9 Buffet Breakfasts, 1 Lunch, and 3 Dinners
All Hotel Taxes and Service Charges
Entrance Fees as Per Itinerary
Why Elite Turkey Tours
Verified Reviews
25000+ Pictures and Reviews on the platform.

10000+ Tours and Activities
We have activities across 17 countries, across every category so that you never miss best things to do anywhere.

Customer Delight
We are always able to support you so that you have a hassle free experience.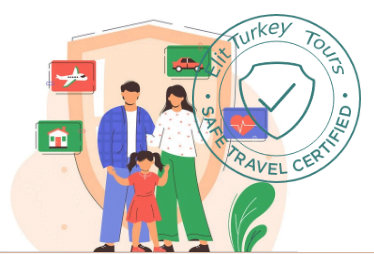 Our first priority is always to protect the health and safety of our clients and local teams  
Elite Turkey Tours  has received the World Travel and Tourism Council's Safe Travels stamp, which provides travelers with assurance that we have adopted health and hygiene global standardized protocols – so you can experience 'Safe Travels'.