8 Days Mykonos, Paros, Naxos, Santorini Greece Tour



Overview
Mykonos retains its bohemian spirit while remaining the most popular and cosmopolitan summer resort. Many people are unaware that Mykonos is an island with a "dual personality." On the one side, it's vibrant, bright, and cosmopolitan, yet it's also quite charming, with cobblestone streets, whitewashed buildings, churches, and windmills.
Paros is a wonderful location in the heart of the Aegean Sea, with its unparalleled natural beauty, charming towns, and classic Cycladic buildings. The picturesque villages of Prodromos to admire the windmills, Lefkes with the stunning view from above, and Marbles to visit the church of Taxiarchis will entice visitors, but if you truly want to experience the authentic and classic side of Paros, visit its hinterland and wander in the picturesque villages of Prodromos to admire the windmills, Lefkes with the stunning view from above, and Marbles to visit the church of Taxiarchis.
Naxos is a mountainous island with deep ravines, springs, cedar woods, caverns, and endless sandy beaches. The renowned place on the island is a stroll in Chora, which is situated amphitheatrically on a hill with Kastropolitia towering at its highest point. The small uphill paths will take you to the Venetian Castle (built in 1207), where you may explore through its twisting alleyways and end up at Portara, a monument and Naxos icon.
Santorini is an island that actually hangs on the edge of the cliff, and it is unique in the world for its beauty, charm, and history. There aren't many sites in the world where you can swim in crystal blue seas while climbing the crater of a massive active volcano in the midst of the sea.
The spirit of the island will overwhelm your senses as you watch the sunset from the lovely Oia!
Enjoy your vacation to those magnificent locations and… experience your Greek story!
Package includes 7 nights' stay at a hotel of your choosing with breakfast, transfers, and ferry tickets.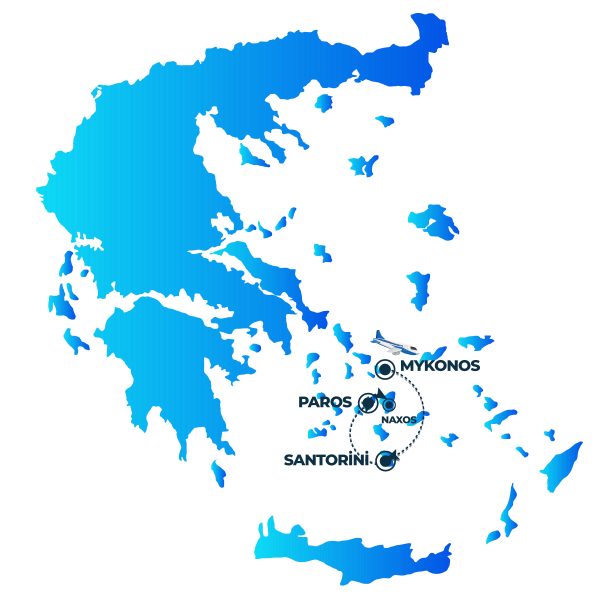 TOUR PLAN

1 st DAY

Arrival in Mykonos
Upon your arrival in Mykonos, transfer to your hotel. Check in and overnight.
2nd DAY
We begin with a one-of-a-kind rural excursion. Our first destination will be the gorgeous beach Ag. Ioannis, which has the greatest view of Delos Island, where we will witness fisherman and their boats at the little pier, as well as a private chapel and residences built in traditional Cycladic architecture. In the most traditional town of Ano Mera, you may also visit the monastery Panagia Tourliani, which was erected in the 16th century, and then we will have ample free time to wander about the square. The next destination is Kalafatis beach, where you may unwind before returning to town. We will also go to the Paraportiani and Saint Nicholas churches.
3rd DAY
Mykonos to Santorini
Morning transfer to the port to board the ferry to Santorini. Upon your arrival in Santorini, transfer to your hotel. We propose an afternoon visit to Oia to enjoy one of the most beautiful sunsets in the Aegean Sea. Overnight.
4th DAY
Santorini
We'll begin with the Akrotiri Archaeological Site. Akrotiri is a Bronze Age village on Santorini's volcanic island (Thera). The village was devastated by a massive eruption in the 17th century BC and buried by volcanic ash, which preserved the entire city in ideal circumstances, earning it the nickname "Prehistoric Pompei." We'll continue on to Red Beach, which is recognized for the distinctive color of its sand and the slope behind it. We continue with Perivolos black sand beach, one of the longest beaches in the Cyclades and the greatest beach in Santorini, considered the island's trendiest beach. We will go through Megalochori (Walking Tour), one of the island's most stunning traditional towns.
5th DAY
Santorini to Paros
Morning transfer to the port to board the ferry to Paros. Upon your arrival in Paros, transfer to your hotel. Overnight.
6th DAY
Paros – Day of leisure with island attractions
Parikia is the capital city of Paros and is located on the island's northwest coast. Nestled amid this are tiny churches such as the church of Agios Konstantinos, which was erected on top of the ancient temple of the goddess Demeter, and the remnants of the Frankish fortress, which is located in the middle of the old town. Lunch in a tavern. The Church of Panagia Ekatontapyliani is one of Greece's oldest, finest maintained, and most significant churches. Naoussa is a lovely village on the island's north coast. The remnants of a Venetian stronghold from the 15th century may be seen here. Overnight.
7th DAY
From Paros to Naxos
Transfer to the ferry terminal for your trip to Naxos. Naxos is the Cyclades' largest and greenest island. It boasts towering mountains, rich valleys, lush green gorges, breathtaking seascapes, and traditional villages located high on mountain summits where the residents still wear traditional attire and live off the land. Beautiful medieval churches, monasteries, and Venetian castles cohabit peacefully with Cycladic architecture in Naxos. Transfer to your hotel upon arrival. We recommend taking a trip to Chora, the capital of Naxos, which has an enormous Venetian castle as its landmark. Chora is a historic castle town with stone paved streets (known as kalderimia in Greek) where you can observe a unique combination of Cycladic and Medieval architecture.
8th DAY
Naxos to Mykonos
Early ferry to Mykonos island for your departure.
 2 nights hotel accommodation in Mykonos on Bed and Breakfast
 2 nights hotel accommodation in Santorini on Bed and Breakfast
 2 nights hotel accommodation in Paros on Bed and Breakfast
 1night hotel accommodation in Naxos on Bed and Breakfast
 Ferry tickets Mykonos – Santorini – Paros - Naxos (tourist class)
 International flights
 Personal expenses
 Meals and drinks
 Τravel insurance
 Gratuities
 Greek Hotels Stayover Tax
Why Elite Turkey Tours
Verified Reviews
25000+ Pictures and Reviews on the platform.

10000+ Tours and Activities
We have activities across 17 countries, across every category so that you never miss best things to do anywhere.

Customer Delight
We are always able to support you so that you have a hassle free experience.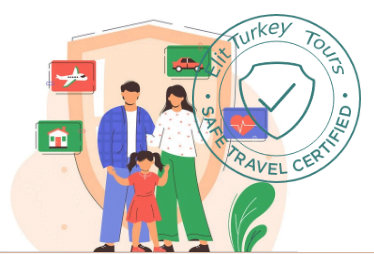 Our first priority is always to protect the health and safety of our clients and local teams  
Elite Turkey Tours  has received the World Travel and Tourism Council's Safe Travels stamp, which provides travelers with assurance that we have adopted health and hygiene global standardized protocols – so you can experience 'Safe Travels'.