8 Days Admire of Türkiye Family Tours Itinerary



Overview
Tour Start Date:Available twice a month from 1ST April 2022 till 30th September 2022 please check the departure date list as below down.
Tour Route: Istanbul – Kusadasi – Ephesus – Pamukkale – Cappadocia and domestic flight back to Istanbul
Departure date Starting date Last Date Double occupancy Single Price Child Price
1 April 2022 10 June 2022 19 August 2022 $950 1250 Dollars $900
15 April 2022 24 June 2022 2 September 2022 $950 1250 Dollars $900
29 April 2022 8 July 2022 16 September 2022 $950 1250 Dollars $900
13 May 2022 22 July 2022 30 September 2022 $950 1250 Dollars $900
27 May 2022 5 August 2022 $950 1250 Dollars $900
8 Days Admire of Türkiye Family Tours with Guaranteed Departure
If you're searching for something unique and exceptional, look no further. The greatest Türkiye trip, with stops in Istanbul, Kusadasi, Ephesus, Pamukkale, and Cappadocia. This is an incredible trip for you, complete with bells and whistles. There are no long bus journeys, only domestic planes that carry you to your destination safely and comfortably.
Please Note: Domestic flight price for adult passengers is approximate: USD 80 one way.
Please Note: Domestic flight price for under 2 years old is approximate: USD 35 one way
WARRANTY EXIT DATES
1 April 2022 10 June 2022 19 August 2022
15 April 2022 24 June 2022 2 September 2022
29 April 2022 8 July 2022 16 September 2022
13 May 2022 22 July 2022 30 September 2022
27 May 2022 5 August 202
HOTEL CATEGORIES & LISTS
Istanbul 4 Star Ramada Hotel & Suite Golden Horn
Kusadasi 5 Star Suhan 360 Hotel
Cappadocia Private Class A Elpuente Cave Hotel
Note: If this hotel list is not available at the time of your reservation, we will arrange another hotel for your group. If you choose a hotel in a different category, additional costs may occur.
DISCOUNTS FOR KIDS LAND TOUR
UNDER 1 year 15% US $ 100 ( Baby Seat )
AGES 2 – 6 150 $
AGES 7 – 10 285 $
OVER 11 YEARS Full amount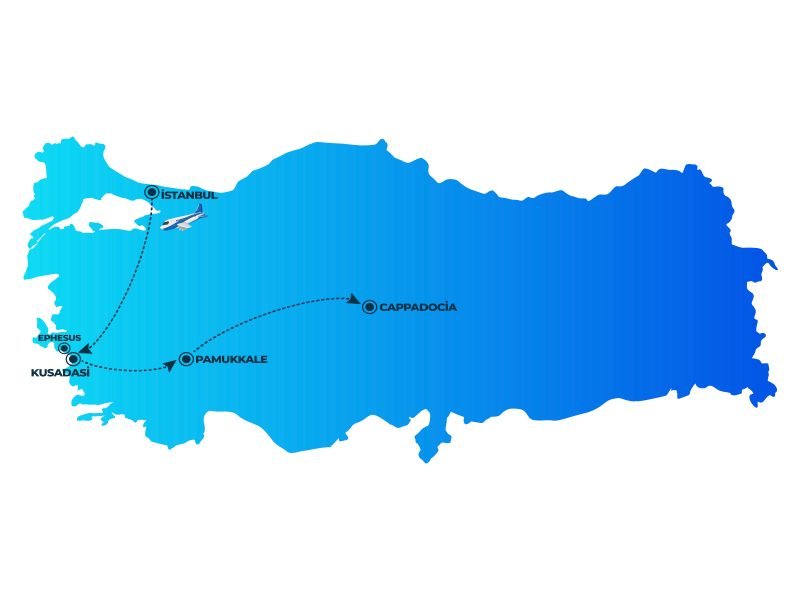 Day 1
When we arrive at Istanbul International Airport, your guide will meet us, help us, and transport us to the hotel. Istanbul was the capital city of the Byzantine and Roman Empires, as well as the Ottoman State. It is an enthralling city that spans two continents, Europe and Asia. It is a metropolis of museums, bazaars, minarets, mosques, cathedrals, palaces, and restaurants that appeal to everyone's taste, customs, and fifteen million inhabitants. In Istanbul, spend the night.
Day 2
After breakfast, we will go on an Istanbul City Tour. HIPPODROME will be our first stop. The ancient Hippodrome, with its three monuments: the Obelisk of Theodosius, the bronze Serpentine Column, and the Column of Constantine, was the site of chariot racing. Then we'll go to the SULTANAHMET IMPERIAL MOSQUE. It was created in the 16th century by the architect Mehmet and is known as the BLUE MOSQUE because of its spectacular interior decorating of blue Iznik tiles. It is located across from Hagia Sophia Grand Mosque.
HAGIA SOPHIA GRAND MOSQUE will be our next stop. The Hagia Sophia Grand Mosque, formerly known as the Church of Divine Wisdom, is without a doubt the best of its type! The Hagia Sophia Grand Mosque is the best specimen of Byzantine architecture that has survived. It was once the greatest church in the world for 1000 years, featuring spectacular 6th-century golden mosaics. It is now a mosque. At 13:00 p.m., there will be a lunch break.
Following lunch, TravelShop Group will transport you to the ASIL EFENDI, a unique ambiance with moderate pricing for your shopping. Exotic Spices & Herbs, Turkish Baklava, Turkish Delights, Turkish Coffee, nuts and fruits, little mementos such as Ceramic Handicrafts, Evil Eyes totems, all-natural olive oil, and soaps may be found here.
ON THE BOSPHORUS TOUR, AN OPTIONAL DINNER CRUISE IS AVAILABLE
Tonight, from 07:30 pm to 11:30 pm, we offer an optional Entertaining Dinner Cruise program on the Bosphorus, which connects Europe and Asia. On the Bosphorus Supper Cruise, you will experience a wonderful night on the Bosphorus with dinner, unlimited local alcoholic and non-alcoholic and soft beverages, belly dance show, Turkish Folklore show, DJ Performance, and fantastic entertainment. Transfer to your accommodation once the entertainment concludes about midnight at 12:00 am. In Istanbul, spend the night.
Please Note: Please do not forget to carry a headscarf with you for the visit to religious places such as Blue Mosque & Haghia Sophia Mosque.
Day 3
After breakfast, take BOSPORUS BY BOAT, a classic boat tour through the river that separates Europe and Asia. The coast is studded with antique wooden mansions, marble castles, fortifications, and little fishing settlements. You will witness the spectacular scenery of the following places from your boat throughout the expedition. See Dolmabahce Palace and, farther down, Yildiz Palace's grounds and imperial pavilions. Ciragan Palace is located on the park's seaside border, with 300 meters of its marble front facing the sea.
Every Sunday, a diverse group of artists congregates in Ortakoy to showcase their work along the street. Ortakoy is a model of tolerance, with a church, a mosque, and a synagogue coexisting for centuries. RUMELI FORTRESS (from a boat), built by Mehmet the Conqueror in 1452 before the conquest of Istanbul, took only four months to build and was designed to control and guard the dreaded Bosporus crossing. It is one of the most stunning pieces of military architecture in the world. BEYLERBEYI PALACE (view from the boat) is the summer house of Ottoman sultans that still stands in its full refurbished splendor, complete with authentic antique furnishings and gorgeous gardens with the Harem on Istanbul's Asian side.
Lunch is being served in a Turkish restaurant. We will next take you to the GRAND SPICE BAZAAR after lunch, which has a distinct ambiance and cheap rates for your shopping. Exotic spices and herbs, Turkish Baklava, Turkish Delights, Turkish Coffee, nuts and fruits, little mementos such as Ceramic Handicrafts, Evil Eyes totems, all-natural olive oil, soaps, and many more things are available at Souvenir Shops and shops. Transfer to Istanbul Airport for a domestic flight to Izmir after the tour. Transfer from the airport to your Kusadasi hotel. In Kusadasi, we'll have dinner and stay the night.
Day 4
After breakfast, embark from the hotel for a fully guided tour of Ephesus, one of the best-preserved ancient monuments in the world en route, including stops at the Temple of Artemis, Curetes Street, the famed Roman Baths, the Celsus Library, and the Grand Theatre. Around 13:00 p.m., there is a lunch break.
After lunch, we'll go to a carpet-weaving facility, where one of Turkey's oldest arts is still practiced. We'll go on a Turkish Village Tour after lunch. Sirince's building style is now associated with Anatolian Greeks. The white-painted buildings on the hill are completely original. Sirince Village is also well-known for producing some of the greatest wines in Turkey, particularly fruit wines.
You will be assessed on your knowledge of creating fruit wine in the evening. On the way, we will stop at one of the region's well-known leather production hubs, where you will have the option to acquire a fantastic factory rate. On this guided tour, you will escape the incessant pestering and, at times, bullying that is common in Turkish marketplaces. Allowing you to enjoy your shopping experience while learning about the historical craftspeople. In Kusadasi, spend the night.
Day 5
At 8:00 a.m., we left for Pamukkale. When we arrive at Pamukkale, we will have a lunch break until 13:30 p.m. Following that, we will visit the Pamukkale calcium terraces (cotton castle) and the Hierapolis ruins, then wander around this natural phenomenon and have the option of resting in the waters of the natural springs. Denizli/Pamukkale, located on the Buyuk Menderes River, meaning "seaside" in Turkish. It is a developing industrial city noted for its textile industry and outlet shopping. You will go to one of Pamukkale's famous textile manufacturers. This trip will conclude at 18.30 p.m., and you will be returned to your hotel. In Kusadasi, spend the night.
TANDEM PARAGLIDING IS OPTIONAL
After your Pamukkale trip, we propose that you do the optional Pamukkale paragliding tour. Pamukkale Tandem Paragliding Tour will make your Pamukkale Tour memorable. Enjoy a flight over Pamukkale's gorgeous and infamous White Mountain, with breathtaking views of the area's attractions. Tandem paragliding in Pamukkale is an excellent alternative experience for people looking for some adrenaline-pumping action. This trip will conclude at 05.30 p.m., and you will be returned to your hotel. We will stay in a thermal hotel, which boasts the most exquisite natural hot water in Pamukkale, and you may relax in the hotel's hot thermal pool.
Day 6
We left for Izmir Airport after breakfast for our domestic trip to Cappadocia. Transfer from the airport to your accommodation in Kayseri. You have the remainder of the day to tour Cappadocia.
CAPPADOCIA TURKISH NIGHT SHOW (OPTIONAL)
We offer an Optional Tour in the evening at 07:30 pm PM to experience our Turkish Night Shows, which are traditions that have endured from the Ottoman Empire to the present day. You may have a fantastic time in the genuine caves with the rich Anatolian meal menu, limitless local alcoholic and non-alcoholic drinks, belly dance show, Turkish Folklore show, DJ Performance, and friendly Anatolian Hospitality service. Spend the night in Cappadocia.
Day 7
We will pick you up from your accommodation in the most beautiful and unique location in the globe at 05:30 a.m. before sunrise for our clients who will enjoy the Hot Air Balloon Tour. And we'll head to a location where hundreds of Hot Air Balloons will take off into the sky. We'll watch the sunrise over those magnificent fairy chimneys and valleys that awe people with their beauty. We'll celebrate our accomplishment with champagne when we land and receive our flight certificate after flying for roughly an hour. Then we'll head back to our hotel for a hearty breakfast.
After breakfast, embark on a Cappadocia Tour at 09:30 am. We will take you to Ozkonak Underground City, one of Cappadocia's best-preserved underground cities. Following the Underground City trip, you will visit the Goreme Open Air Museum, often known as the Heart of Cappadocia. The Goreme Open Air Museum is well-known for its murals from the 10th century depicting the lives of Jesus Christ and monks. Cavusin, an abandoned settlement with old cave Greek dwellings, is the next destination. After Cavusin, you proceed to Avanos' restaurant for lunch. After lunch, you go to a pottery workshop to discover how potteries are made. You then proceed to Love Valley.
Valley of Love Cappadocia is, to put it mildly, a hidden region with magnificent landforms. Despite their similarity to manhood, these incredible rock structures are not man-made. The next destination is Devrent Valley, also known as Imagination Valley, where you can view natural rock formations that resemble animals. The final destination is Three Beauties, three lovely fairy chimneys with caps that represent Cappadocia. This trip will conclude at 18.00 and you will be returned to your hotel. Spend the night in Cappadocia.
Day 8
You will have free time in Cappadocia after breakfast. Today we go to Kayseri Airport for our domestic journey to Istanbul and finally home. We hope your tour was memorable, and we hope to see you again on one of our excursions in the future. Have a safe journey home, and thank you for selecting EliteTurkeyTours.
All airport transfer services specified in the itinerary
2 nights accommodation in Istanbul
3 nights accommodation in Kusadasi
2 nights accommodation in Cappadocia
7 open buffet breakfast
5 lunches
5 dinners
Guided Istanbul City Tour
Guided Istanbul Bosphorus Tour
Guided Ephesus and Sirince Village Tour
Guided Pamukkale Tour
Guided Cappadocia Tour with Underground City and Göreme Open Air Museum
All entrance fees stated in the itinerary
Transfer service in a fully air-conditioned, non-smoking bus
Professional English-speaking tour guides
International flights
Optional Tour
Fuse: All types
Türkiye entry visa
Domestic flight from Istanbul to Izmir
Domestic flight from Izmir to Kayseri / Nevşehir
Domestic flight from Cappadocia to Istanbul
Why Elite Turkey Tours
Verified Reviews
25000+ Pictures and Reviews on the platform.

10000+ Tours and Activities
We have activities across 17 countries, across every category so that you never miss best things to do anywhere.

Customer Delight
We are always able to support you so that you have a hassle free experience.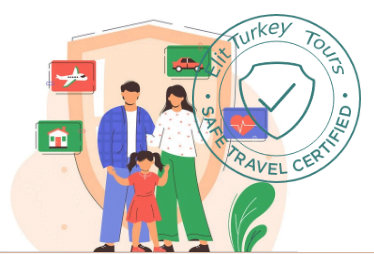 Our first priority is always to protect the health and safety of our clients and local teams  
Elite Turkey Tours  has received the World Travel and Tourism Council's Safe Travels stamp, which provides travelers with assurance that we have adopted health and hygiene global standardized protocols – so you can experience 'Safe Travels'.