Overview
If you would like to witness the miracles of Türkiye, then our 6 Days Magical of Türkiye tour may be a great option for you. We organize these tours twice a month between April 4 and October 3, 2022, and it includes the most fantastic attractions in Istanbul, Antalya, and Cappadocia.
Here are all the details you may want to learn about this amazing tour.
Departure date Starting date Last Date Double occupancy Single Price Child Price
1 April 2022 10 June 2022 19 August 2022 $900 1150 Dollars $825
15 April 20222 4 June 2022 2 September 2022 $900 1150 Dollars $825
29 April 2022 8 July 2022 16 September 2022 $900 1150 Dollars $825
13 May 2022 22 July 2022 30 September 2022 $900 1150 Dollars $825
27 May 2022 5 August 2022 $900 1150 Dollars $825
7 Days Magical of Türkiye Vacation Package with Guaranteed Departure
If you're searching for something unique and exceptional, look no further. The greatest Türkiye package for a short trip to Türkiye, covering Istanbul, Antalya, Konya, Cappadocia, and return to Istanbul. This is an incredible trip for you, complete with bells and whistles.
There are no long bus journeys, only domestic planes that carry you to your destination safely and comfortably. You will be able to see Istanbul, the Mediterranean Region, and Central Anatolia if you buy that tour. An ideal vacation for those who enjoy history, culture, the sea, and the beach, as well as their 7 Days Magical of Türkiye tour in Türkiye!
7 DAYS MAGICAL OF TÜRKİYE TRAVEL PACKAGE GUARANTEED DEPARTMENT PRICES
Room Type Triple Room Double Room Single Room
Price Per Person:% s triple _ room $995.00 double room $1095.00 single room $1285
WARRANTY EXIT DATES
4 April 2022 13 June 2022 22 August 2022
18 April 2022 27 June 2022 5 September 2022
02 May 2022 11 July 2022 19 September 2022
16 May 2022 25 July 2022 3 October 2022
30 May 2022 8 August 2022
Destination HOTEL CATEGORIES & LISTS
Istanbul Ramada Hotel & Suite Golden Horn
Antalya 4 Star Afflon City Loft Hotel
Cappadocia Private Class A Elpuente cave hotel
Please Note: For domestic flight price, under 2 years old, about: 40.00 dollars, baby 90 dollars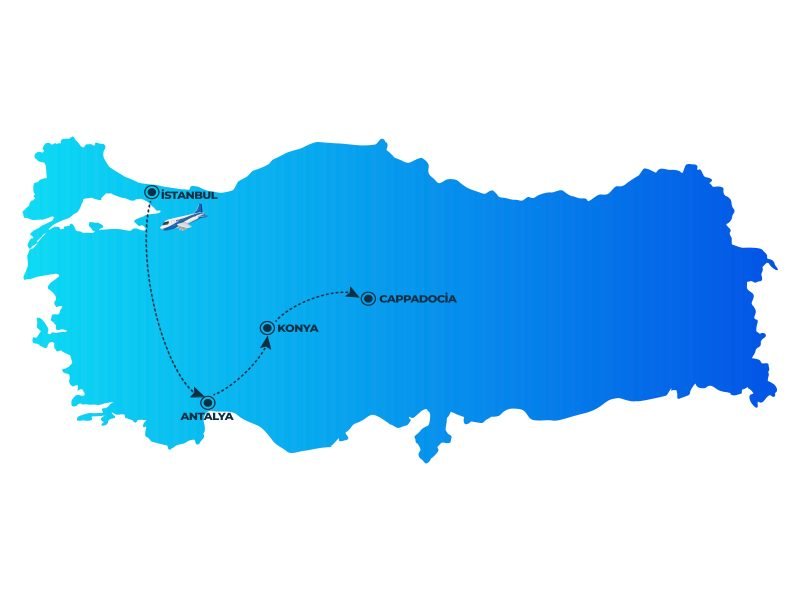 Day 1
When we arrive at Istanbul International Airport, your guide will meet us, help us, and transport us to the hotel. Istanbul was the capital city of the Byzantine and Roman Empires, as well as the Ottoman State.
It is an enthralling city that spans two continents, Europe and Asia. It is a metropolis of museums, bazaars, minarets, mosques, cathedrals, palaces, and restaurants that appeal to everyone's taste, customs, and fifteen million inhabitants. In Istanbul, spend the night.
Day 2
After breakfast, we will go on an Istanbul City Tour. HIPPODROME will be our first stop. The ancient Hippodrome, with its three monuments: the Obelisk of Theodosius, the bronze Serpentine Column, and the Column of Constantine, was the site of chariot racing. Then we'll go to the SULTANAHMET IMPERIAL MOSQUE. It was created in the 16th century by the architect Mehmet and is known as the BLUE MOSQUE because of its spectacular interior decorating of blue Iznik tiles. It is located across from Hagia Sophia Grand Mosque.
HAGIA SOPHIA GRAND MOSQUE will be our next stop. The Hagia Sophia Grand Mosque, formerly known as the Church of Divine Wisdom, is without a doubt the best of its type! The Hagia Sophia Grand Mosque is the best specimen of Byzantine architecture that has survived. It was once the greatest church in the world for 1000 years, featuring spectacular 6th-century golden mosaics. It is now a mosque. At 13:00 p.m., there will be a lunch break.
Following lunch, TravelShop Group will transport you to the ASIL EFENDI, a unique ambiance with moderate pricing for your shopping. Exotic Spices & Herbs, Turkish Baklava, Turkish Delights, Turkish Coffee, nuts and fruits, little mementos such as Ceramic Handicrafts, Evil Eyes totems, all-natural olive oil, and soaps may be found here.
ON THE BOSPHORUS TOUR, AN OPTIONAL DINNER CRUISE IS AVAILABLE
Tonight, from 19:30 to 23:30, we offer an optional Entertaining Dinner Cruise program on the Bosphorus, which connects Europe and Asia. On the Bosphorus Supper Cruise, you will experience a wonderful night on the Bosphorus with dinner, unlimited local alcoholic and non-alcoholic and soft beverages, belly dance show, Turkish Folklore show, DJ Performance, and fantastic entertainment. Transfer to your accommodation once the entertainment concludes about midnight 00:00 am. In Istanbul, spend the night.
Please Note: Please do not forget to carry a headscarf with you for the visit to religious places such as Blue Mosque & Haghia Sophia Mosque.
Day 3
After breakfast, take BOSPORUS BY BOAT, a classic boat tour through the river that separates Europe and Asia. The coast is studded with antique wooden mansions, marble castles, fortifications, and little fishing settlements. You will witness the spectacular scenery of the following places from your boat throughout the expedition. See Dolmabahce Palace and, farther down, Yildiz Palace's grounds and imperial pavilions.
Ciragan Palace is located on the park's seaside border, with 300 meters of its marble front facing the sea. Every Sunday, a diverse group of artists congregates in Ortakoy to showcase their work along the street. Ortakoy is a model of tolerance, with a church, a mosque, and a synagogue coexisting for centuries. RUMELI FORTRESS (from a boat), built by Mehmet the Conqueror in 1452 before to the conquest of Istanbul, took only four months to build and was designed to control and guard the dreaded Bosporus crossing. It is one of the most stunning pieces of military architecture in the world.
BEYLERBEYI PALACE (view from the boat) is the summer house of Ottoman sultans that still stands in its full refurbished splendor, complete with authentic antique furnishings and gorgeous gardens with the Harem on Istanbul's Asian side. Lunch is being served in a Turkish restaurant. We will next take you to the GRAND SPICE BAZAAR after lunch, which has a distinct ambiance and cheap rates for your shopping.
Exotic spices and herbs, Turkish Baklava, Turkish Delights, Turkish Coffee, nuts and fruits, little mementos such as Ceramic Handicrafts, Evil Eyes totems, all-natural olive oil, soaps, and many more things are available at Souvenir Shops and shops. Transfer to Istanbul airport for a domestic flight to Antalya. Transfer from the airport to your accommodation in Antalya. In Antalya, we had dinner and stayed the night.
Day 4
Drive to Antalya Old Metropolis (Kaleiçi) after breakfast. Marina, Clock Tower, Hadrian's Gate, Broken Minaret, Hdrlk Tower: Kaleici is a tiny historic component of Antalya's contemporary city, also known as the Old City of Antalya. It was originally a huge contemporary Roman town, then a Byzantine Empire, then a Seljuk town, and ultimately an Ottoman Turkish town.
The Hadrian's Gate (also known as Hadrianus Gate or The Three Gates) is a triumphal arch named after the Roman Emperor Hadrian. Antalya's shattered marvel is the Broken Minaret of the Korkut Mosque, which was erected in the 2nd century AD as a Roman temple and so did not have a minaret at all. Hıdırlık Tower is a tawny stone landmark in Antalya, Turkey, where Kaleiçi meets Karaalioglu Park. It is said to have been erected on a square layout in the Hellenistic era and then converted to a circular tower in the 2nd century AD, and it was used as either a fortress or a lighthouse in the past. We eat lunch at the hotel before heading to the Duden Waterfalls.
All of the streams in the region aspire to reach the Mediterranean, and they pour down the slopes of the Taurus, sometimes overland, sometimes subterranean, resulting in beautiful waterfalls, of which there are more than twenty. Return to your hotel after the trip, and the rest of the day is yours. Spend the night in Antalya.
Day 5
After breakfast, go for Konya at 08:00. We stop for coffee after 2.5 hours and then travel to Konya for lunch at 13:00 pm. Visit the majestic green-tiled Mausoleum of Mevlana, the spiritual founder of the Sufi movement, after lunch (Whirling Dervishes). Drive to Cappadocia after the Konya Mevlana tour. Check into your accommodation in Cappadocia at about 18:30 p.m.
Please keep in mind that if we do not have a minimum of 6 passengers per departure, this tour will be conducted via domestic aircraft from Antalya to Cappadocia. Please keep in mind that in such a situation, the domestic flight from Antalya to Cappadocia is included in the offered pricing, but lunch is not.
Please keep in mind that if you want to participate in our optional Cappadocia Hor Air Ballooning excursion for tomorrow, you must contact your guide and register in advance because it will take place early the next morning.
CAPPADOCIA TURKISH NIGHT SHOW (OPTIONAL)
We offer an Optional Tour in the evening at 19:30 PM to experience our Turkish Night Shows, which are traditions that have endured from the Ottoman Empire to the present day. You may have a fantastic time in the genuine caves with the rich Anatolian meal menu, limitless local alcoholic and non-alcoholic drinks, belly dance show, Turkish Folklore show, DJ Performance, and friendly Anatolian Hospitality service. Spend the night in Cappadocia.
Day 6
We will pick you up from your accommodation in the most beautiful and unique location in the globe at 05:30 a.m. before sunrise for our clients who will enjoy the Hot Air Balloon Tour. And we'll head to a location where hundreds of Hot Air Balloons will take off into the sky. We'll watch the sunrise over those magnificent fairy chimneys and valleys that awe people with their beauty. We'll celebrate our accomplishment with champagne when we land and receive our flight certificate after flying for roughly an hour. Then we'll head back to our hotel for a hearty breakfast.
After breakfast, embark on a Cappadocia Tour at 9:30 a.m. We will take you to Ozkonak Underground City, one of Cappadocia's best-preserved underground cities. After the Underground City tour, you will go to the Goreme Open Air Museum, which is located in the heart of Cappadocia. The Goreme Open Air Museum is well-known for its murals from the 10th century depicting the lives of Jesus Christ and monks. Cavusin, an abandoned settlement with old cave Greek dwellings, is the next destination. After Cavusin, you proceed to Avanos' restaurant for lunch.
After lunch, you go to a pottery workshop to discover how potteries are made. You then proceed to Love Valley. Valley of Love, to say the least, Cappadocia is a secret valley with gorgeous landforms. Despite their similarity to manhood, these incredible rock structures are not man-made. The next destination is Devrent Valley, also known as Imagination Valley, where you can view natural rock formations that resemble animals. The final visit is Three Beauties, three gorgeous fairy chimneys with caps that are the icon of Cappadocia. This trip will conclude at 6:00 p.m., and you will be returned to your hotel. Spend the night in Cappadocia.
Day 7
You will have free time in Cappadocia after breakfast. Today we fly to Cappadocia Airport for our domestic journey to Istanbul and finally home. We hope your tour was memorable, and we hope to see you again on one of our excursions in the future. Have a safe journey home, and thank you for selecting EliteTurkeyTours.
Calendar & Prices
30
7 Days Magical of Türkiye – Elite Turkey Tours
General price:
$

2150.00 / ticket
1
7 Days Magical of Türkiye – Elite Turkey Tours
General price:
$

2150.00 / ticket
30
7 Days Magical of Türkiye – Elite Turkey Tours
General price:
$

2150.00 / ticket
1
7 Days Magical of Türkiye – Elite Turkey Tours
General price:
$

2150.00 / ticket
2
7 Days Magical of Türkiye – Elite Turkey Tours
General price:
$

2150.00 / ticket
3
7 Days Magical of Türkiye – Elite Turkey Tours
General price:
$

2150.00 / ticket
4
7 Days Magical of Türkiye – Elite Turkey Tours
General price:
$

2150.00 / ticket
5
7 Days Magical of Türkiye – Elite Turkey Tours
General price:
$

2150.00 / ticket
6
7 Days Magical of Türkiye – Elite Turkey Tours
General price:
$

2150.00 / ticket
7
7 Days Magical of Türkiye – Elite Turkey Tours
General price:
$

2150.00 / ticket
8
7 Days Magical of Türkiye – Elite Turkey Tours
General price:
$

2150.00 / ticket
9
7 Days Magical of Türkiye – Elite Turkey Tours
General price:
$

2150.00 / ticket
10
7 Days Magical of Türkiye – Elite Turkey Tours
General price:
$

2150.00 / ticket
11
7 Days Magical of Türkiye – Elite Turkey Tours
General price:
$

2150.00 / ticket
12
7 Days Magical of Türkiye – Elite Turkey Tours
General price:
$

2150.00 / ticket
13
7 Days Magical of Türkiye – Elite Turkey Tours
General price:
$

2150.00 / ticket
14
7 Days Magical of Türkiye – Elite Turkey Tours
General price:
$

2150.00 / ticket
15
7 Days Magical of Türkiye – Elite Turkey Tours
General price:
$

2150.00 / ticket
16
7 Days Magical of Türkiye – Elite Turkey Tours
General price:
$

2150.00 / ticket
17
7 Days Magical of Türkiye – Elite Turkey Tours
General price:
$

2150.00 / ticket
18
7 Days Magical of Türkiye – Elite Turkey Tours
General price:
$

2150.00 / ticket
19
7 Days Magical of Türkiye – Elite Turkey Tours
General price:
$

2150.00 / ticket
20
7 Days Magical of Türkiye – Elite Turkey Tours
General price:
$

2150.00 / ticket
21
7 Days Magical of Türkiye – Elite Turkey Tours
General price:
$

2150.00 / ticket
22
7 Days Magical of Türkiye – Elite Turkey Tours
General price:
$

2150.00 / ticket
23
7 Days Magical of Türkiye – Elite Turkey Tours
General price:
$

2150.00 / ticket
24
7 Days Magical of Türkiye – Elite Turkey Tours
General price:
$

2150.00 / ticket
25
7 Days Magical of Türkiye – Elite Turkey Tours
General price:
$

2150.00 / ticket
26
7 Days Magical of Türkiye – Elite Turkey Tours
General price:
$

2150.00 / ticket
27
7 Days Magical of Türkiye – Elite Turkey Tours
General price:
$

2150.00 / ticket
28
7 Days Magical of Türkiye – Elite Turkey Tours
General price:
$

2150.00 / ticket
29
7 Days Magical of Türkiye – Elite Turkey Tours
General price:
$

2150.00 / ticket
30
7 Days Magical of Türkiye – Elite Turkey Tours
General price:
$

2150.00 / ticket
31
7 Days Magical of Türkiye – Elite Turkey Tours
General price:
$

2150.00 / ticket
1
7 Days Magical of Türkiye – Elite Turkey Tours
General price:
$

2150.00 / ticket
2
7 Days Magical of Türkiye – Elite Turkey Tours
General price:
$

2150.00 / ticket
3
7 Days Magical of Türkiye – Elite Turkey Tours
General price:
$

2150.00 / ticket
4
7 Days Magical of Türkiye – Elite Turkey Tours
General price:
$

2150.00 / ticket
5
7 Days Magical of Türkiye – Elite Turkey Tours
General price:
$

2150.00 / ticket
30
7 Days Magical of Türkiye – Elite Turkey Tours
General price:
$

2150.00 / ticket
31
7 Days Magical of Türkiye – Elite Turkey Tours
General price:
$

2150.00 / ticket
1
7 Days Magical of Türkiye – Elite Turkey Tours
General price:
$

2150.00 / ticket
2
7 Days Magical of Türkiye – Elite Turkey Tours
General price:
$

2150.00 / ticket
3
7 Days Magical of Türkiye – Elite Turkey Tours
General price:
$

2150.00 / ticket
4
7 Days Magical of Türkiye – Elite Turkey Tours
General price:
$

2150.00 / ticket
5
7 Days Magical of Türkiye – Elite Turkey Tours
General price:
$

2150.00 / ticket
6
7 Days Magical of Türkiye – Elite Turkey Tours
General price:
$

2150.00 / ticket
7
7 Days Magical of Türkiye – Elite Turkey Tours
General price:
$

2150.00 / ticket
8
7 Days Magical of Türkiye – Elite Turkey Tours
General price:
$

2150.00 / ticket
9
7 Days Magical of Türkiye – Elite Turkey Tours
General price:
$

2150.00 / ticket
10
7 Days Magical of Türkiye – Elite Turkey Tours
General price:
$

2150.00 / ticket
11
7 Days Magical of Türkiye – Elite Turkey Tours
General price:
$

2150.00 / ticket
12
7 Days Magical of Türkiye – Elite Turkey Tours
General price:
$

2150.00 / ticket
13
7 Days Magical of Türkiye – Elite Turkey Tours
General price:
$

2150.00 / ticket
14
7 Days Magical of Türkiye – Elite Turkey Tours
General price:
$

2150.00 / ticket
15
7 Days Magical of Türkiye – Elite Turkey Tours
General price:
$

2150.00 / ticket
16
7 Days Magical of Türkiye – Elite Turkey Tours
General price:
$

2150.00 / ticket
17
7 Days Magical of Türkiye – Elite Turkey Tours
General price:
$

2150.00 / ticket
18
7 Days Magical of Türkiye – Elite Turkey Tours
General price:
$

2150.00 / ticket
19
7 Days Magical of Türkiye – Elite Turkey Tours
General price:
$

2150.00 / ticket
20
7 Days Magical of Türkiye – Elite Turkey Tours
General price:
$

2150.00 / ticket
21
7 Days Magical of Türkiye – Elite Turkey Tours
General price:
$

2150.00 / ticket
22
7 Days Magical of Türkiye – Elite Turkey Tours
General price:
$

2150.00 / ticket
23
7 Days Magical of Türkiye – Elite Turkey Tours
General price:
$

2150.00 / ticket
24
7 Days Magical of Türkiye – Elite Turkey Tours
General price:
$

2150.00 / ticket
25
7 Days Magical of Türkiye – Elite Turkey Tours
General price:
$

2150.00 / ticket
26
7 Days Magical of Türkiye – Elite Turkey Tours
General price:
$

2150.00 / ticket
27
7 Days Magical of Türkiye – Elite Turkey Tours
General price:
$

2150.00 / ticket
28
7 Days Magical of Türkiye – Elite Turkey Tours
General price:
$

2150.00 / ticket
29
7 Days Magical of Türkiye – Elite Turkey Tours
General price:
$

2150.00 / ticket
30
7 Days Magical of Türkiye – Elite Turkey Tours
General price:
$

2150.00 / ticket
1
7 Days Magical of Türkiye – Elite Turkey Tours
General price:
$

2150.00 / ticket
2
7 Days Magical of Türkiye – Elite Turkey Tours
General price:
$

2150.00 / ticket
3
7 Days Magical of Türkiye – Elite Turkey Tours
General price:
$

2150.00 / ticket
27
7 Days Magical of Türkiye – Elite Turkey Tours
General price:
$

2150.00 / ticket
28
7 Days Magical of Türkiye – Elite Turkey Tours
General price:
$

2150.00 / ticket
29
7 Days Magical of Türkiye – Elite Turkey Tours
General price:
$

2150.00 / ticket
30
7 Days Magical of Türkiye – Elite Turkey Tours
General price:
$

2150.00 / ticket
1
7 Days Magical of Türkiye – Elite Turkey Tours
General price:
$

2150.00 / ticket
2
7 Days Magical of Türkiye – Elite Turkey Tours
General price:
$

2150.00 / ticket
3
7 Days Magical of Türkiye – Elite Turkey Tours
General price:
$

2150.00 / ticket
4
7 Days Magical of Türkiye – Elite Turkey Tours
General price:
$

2150.00 / ticket
5
7 Days Magical of Türkiye – Elite Turkey Tours
General price:
$

2150.00 / ticket
6
7 Days Magical of Türkiye – Elite Turkey Tours
General price:
$

2150.00 / ticket
7
7 Days Magical of Türkiye – Elite Turkey Tours
General price:
$

2150.00 / ticket
8
7 Days Magical of Türkiye – Elite Turkey Tours
General price:
$

2150.00 / ticket
9
7 Days Magical of Türkiye – Elite Turkey Tours
General price:
$

2150.00 / ticket
10
7 Days Magical of Türkiye – Elite Turkey Tours
General price:
$

2150.00 / ticket
11
7 Days Magical of Türkiye – Elite Turkey Tours
General price:
$

2150.00 / ticket
12
7 Days Magical of Türkiye – Elite Turkey Tours
General price:
$

2150.00 / ticket
13
7 Days Magical of Türkiye – Elite Turkey Tours
General price:
$

2150.00 / ticket
14
7 Days Magical of Türkiye – Elite Turkey Tours
General price:
$

2150.00 / ticket
15
7 Days Magical of Türkiye – Elite Turkey Tours
General price:
$

2150.00 / ticket
16
7 Days Magical of Türkiye – Elite Turkey Tours
General price:
$

2150.00 / ticket
17
7 Days Magical of Türkiye – Elite Turkey Tours
General price:
$

2150.00 / ticket
18
7 Days Magical of Türkiye – Elite Turkey Tours
General price:
$

2150.00 / ticket
19
7 Days Magical of Türkiye – Elite Turkey Tours
General price:
$

2150.00 / ticket
20
7 Days Magical of Türkiye – Elite Turkey Tours
General price:
$

2150.00 / ticket
21
7 Days Magical of Türkiye – Elite Turkey Tours
General price:
$

2150.00 / ticket
22
7 Days Magical of Türkiye – Elite Turkey Tours
General price:
$

2150.00 / ticket
23
7 Days Magical of Türkiye – Elite Turkey Tours
General price:
$

2150.00 / ticket
24
7 Days Magical of Türkiye – Elite Turkey Tours
General price:
$

2150.00 / ticket
25
7 Days Magical of Türkiye – Elite Turkey Tours
General price:
$

2150.00 / ticket
26
7 Days Magical of Türkiye – Elite Turkey Tours
General price:
$

2150.00 / ticket
27
7 Days Magical of Türkiye – Elite Turkey Tours
General price:
$

2150.00 / ticket
28
7 Days Magical of Türkiye – Elite Turkey Tours
General price:
$

2150.00 / ticket
29
7 Days Magical of Türkiye – Elite Turkey Tours
General price:
$

2150.00 / ticket
30
7 Days Magical of Türkiye – Elite Turkey Tours
General price:
$

2150.00 / ticket
31
7 Days Magical of Türkiye – Elite Turkey Tours
General price:
$

2150.00 / ticket
1
7 Days Magical of Türkiye – Elite Turkey Tours
General price:
$

2150.00 / ticket
2
7 Days Magical of Türkiye – Elite Turkey Tours
General price:
$

2150.00 / ticket
3
7 Days Magical of Türkiye – Elite Turkey Tours
General price:
$

2150.00 / ticket
4
7 Days Magical of Türkiye – Elite Turkey Tours
General price:
$

2150.00 / ticket
5
7 Days Magical of Türkiye – Elite Turkey Tours
General price:
$

2150.00 / ticket
6
7 Days Magical of Türkiye – Elite Turkey Tours
General price:
$

2150.00 / ticket
7
7 Days Magical of Türkiye – Elite Turkey Tours
General price:
$

2150.00 / ticket
8
7 Days Magical of Türkiye – Elite Turkey Tours
General price:
$

2150.00 / ticket
9
7 Days Magical of Türkiye – Elite Turkey Tours
General price:
$

2150.00 / ticket
10
7 Days Magical of Türkiye – Elite Turkey Tours
General price:
$

2150.00 / ticket
11
7 Days Magical of Türkiye – Elite Turkey Tours
General price:
$

2150.00 / ticket
12
7 Days Magical of Türkiye – Elite Turkey Tours
General price:
$

2150.00 / ticket
13
7 Days Magical of Türkiye – Elite Turkey Tours
General price:
$

2150.00 / ticket
14
7 Days Magical of Türkiye – Elite Turkey Tours
General price:
$

2150.00 / ticket
15
7 Days Magical of Türkiye – Elite Turkey Tours
General price:
$

2150.00 / ticket
16
7 Days Magical of Türkiye – Elite Turkey Tours
General price:
$

2150.00 / ticket
17
7 Days Magical of Türkiye – Elite Turkey Tours
General price:
$

2150.00 / ticket
18
7 Days Magical of Türkiye – Elite Turkey Tours
General price:
$

2150.00 / ticket
19
7 Days Magical of Türkiye – Elite Turkey Tours
General price:
$

2150.00 / ticket
20
7 Days Magical of Türkiye – Elite Turkey Tours
General price:
$

2150.00 / ticket
21
7 Days Magical of Türkiye – Elite Turkey Tours
General price:
$

2150.00 / ticket
22
7 Days Magical of Türkiye – Elite Turkey Tours
General price:
$

2150.00 / ticket
23
7 Days Magical of Türkiye – Elite Turkey Tours
General price:
$

2150.00 / ticket
24
7 Days Magical of Türkiye – Elite Turkey Tours
General price:
$

2150.00 / ticket
25
7 Days Magical of Türkiye – Elite Turkey Tours
General price:
$

2150.00 / ticket
26
7 Days Magical of Türkiye – Elite Turkey Tours
General price:
$

2150.00 / ticket
27
7 Days Magical of Türkiye – Elite Turkey Tours
General price:
$

2150.00 / ticket
28
7 Days Magical of Türkiye – Elite Turkey Tours
General price:
$

2150.00 / ticket
29
7 Days Magical of Türkiye – Elite Turkey Tours
General price:
$

2150.00 / ticket
30
7 Days Magical of Türkiye – Elite Turkey Tours
General price:
$

2150.00 / ticket
31
7 Days Magical of Türkiye – Elite Turkey Tours
General price:
$

2150.00 / ticket
1
7 Days Magical of Türkiye – Elite Turkey Tours
General price:
$

2150.00 / ticket
2
7 Days Magical of Türkiye – Elite Turkey Tours
General price:
$

2150.00 / ticket
3
7 Days Magical of Türkiye – Elite Turkey Tours
General price:
$

2150.00 / ticket
4
7 Days Magical of Türkiye – Elite Turkey Tours
General price:
$

2150.00 / ticket
29
7 Days Magical of Türkiye – Elite Turkey Tours
General price:
$

2150.00 / ticket
30
7 Days Magical of Türkiye – Elite Turkey Tours
General price:
$

2150.00 / ticket
31
7 Days Magical of Türkiye – Elite Turkey Tours
General price:
$

2150.00 / ticket
1
7 Days Magical of Türkiye – Elite Turkey Tours
General price:
$

2150.00 / ticket
2
7 Days Magical of Türkiye – Elite Turkey Tours
General price:
$

2150.00 / ticket
3
7 Days Magical of Türkiye – Elite Turkey Tours
General price:
$

2150.00 / ticket
4
7 Days Magical of Türkiye – Elite Turkey Tours
General price:
$

2150.00 / ticket
5
7 Days Magical of Türkiye – Elite Turkey Tours
General price:
$

2150.00 / ticket
6
7 Days Magical of Türkiye – Elite Turkey Tours
General price:
$

2150.00 / ticket
7
7 Days Magical of Türkiye – Elite Turkey Tours
General price:
$

2150.00 / ticket
8
7 Days Magical of Türkiye – Elite Turkey Tours
General price:
$

2150.00 / ticket
9
7 Days Magical of Türkiye – Elite Turkey Tours
General price:
$

2150.00 / ticket
10
7 Days Magical of Türkiye – Elite Turkey Tours
General price:
$

2150.00 / ticket
11
7 Days Magical of Türkiye – Elite Turkey Tours
General price:
$

2150.00 / ticket
12
7 Days Magical of Türkiye – Elite Turkey Tours
General price:
$

2150.00 / ticket
13
7 Days Magical of Türkiye – Elite Turkey Tours
General price:
$

2150.00 / ticket
14
7 Days Magical of Türkiye – Elite Turkey Tours
General price:
$

2150.00 / ticket
15
7 Days Magical of Türkiye – Elite Turkey Tours
General price:
$

2150.00 / ticket
16
7 Days Magical of Türkiye – Elite Turkey Tours
General price:
$

2150.00 / ticket
17
7 Days Magical of Türkiye – Elite Turkey Tours
General price:
$

2150.00 / ticket
18
7 Days Magical of Türkiye – Elite Turkey Tours
General price:
$

2150.00 / ticket
19
7 Days Magical of Türkiye – Elite Turkey Tours
General price:
$

2150.00 / ticket
20
7 Days Magical of Türkiye – Elite Turkey Tours
General price:
$

2150.00 / ticket
21
7 Days Magical of Türkiye – Elite Turkey Tours
General price:
$

2150.00 / ticket
22
7 Days Magical of Türkiye – Elite Turkey Tours
General price:
$

2150.00 / ticket
23
7 Days Magical of Türkiye – Elite Turkey Tours
General price:
$

2150.00 / ticket
24
7 Days Magical of Türkiye – Elite Turkey Tours
General price:
$

2150.00 / ticket
25
7 Days Magical of Türkiye – Elite Turkey Tours
General price:
$

2150.00 / ticket
26
7 Days Magical of Türkiye – Elite Turkey Tours
General price:
$

2150.00 / ticket
27
7 Days Magical of Türkiye – Elite Turkey Tours
General price:
$

2150.00 / ticket
28
7 Days Magical of Türkiye – Elite Turkey Tours
General price:
$

2150.00 / ticket
29
7 Days Magical of Türkiye – Elite Turkey Tours
General price:
$

2150.00 / ticket
1
7 Days Magical of Türkiye – Elite Turkey Tours
General price:
$

2150.00 / ticket
2
7 Days Magical of Türkiye – Elite Turkey Tours
General price:
$

2150.00 / ticket
3
7 Days Magical of Türkiye – Elite Turkey Tours
General price:
$

2150.00 / ticket
26
7 Days Magical of Türkiye – Elite Turkey Tours
General price:
$

2150.00 / ticket
27
7 Days Magical of Türkiye – Elite Turkey Tours
General price:
$

2150.00 / ticket
28
7 Days Magical of Türkiye – Elite Turkey Tours
General price:
$

2150.00 / ticket
29
7 Days Magical of Türkiye – Elite Turkey Tours
General price:
$

2150.00 / ticket
1
7 Days Magical of Türkiye – Elite Turkey Tours
General price:
$

2150.00 / ticket
2
7 Days Magical of Türkiye – Elite Turkey Tours
General price:
$

2150.00 / ticket
3
7 Days Magical of Türkiye – Elite Turkey Tours
General price:
$

2150.00 / ticket
4
7 Days Magical of Türkiye – Elite Turkey Tours
General price:
$

2150.00 / ticket
5
7 Days Magical of Türkiye – Elite Turkey Tours
General price:
$

2150.00 / ticket
6
7 Days Magical of Türkiye – Elite Turkey Tours
General price:
$

2150.00 / ticket
7
7 Days Magical of Türkiye – Elite Turkey Tours
General price:
$

2150.00 / ticket
8
7 Days Magical of Türkiye – Elite Turkey Tours
General price:
$

2150.00 / ticket
9
7 Days Magical of Türkiye – Elite Turkey Tours
General price:
$

2150.00 / ticket
10
7 Days Magical of Türkiye – Elite Turkey Tours
General price:
$

2150.00 / ticket
11
7 Days Magical of Türkiye – Elite Turkey Tours
General price:
$

2150.00 / ticket
12
7 Days Magical of Türkiye – Elite Turkey Tours
General price:
$

2150.00 / ticket
13
7 Days Magical of Türkiye – Elite Turkey Tours
General price:
$

2150.00 / ticket
14
7 Days Magical of Türkiye – Elite Turkey Tours
General price:
$

2150.00 / ticket
15
7 Days Magical of Türkiye – Elite Turkey Tours
General price:
$

2150.00 / ticket
16
7 Days Magical of Türkiye – Elite Turkey Tours
General price:
$

2150.00 / ticket
17
7 Days Magical of Türkiye – Elite Turkey Tours
General price:
$

2150.00 / ticket
18
7 Days Magical of Türkiye – Elite Turkey Tours
General price:
$

2150.00 / ticket
19
7 Days Magical of Türkiye – Elite Turkey Tours
General price:
$

2150.00 / ticket
20
7 Days Magical of Türkiye – Elite Turkey Tours
General price:
$

2150.00 / ticket
21
7 Days Magical of Türkiye – Elite Turkey Tours
General price:
$

2150.00 / ticket
22
7 Days Magical of Türkiye – Elite Turkey Tours
General price:
$

2150.00 / ticket
23
7 Days Magical of Türkiye – Elite Turkey Tours
General price:
$

2150.00 / ticket
24
7 Days Magical of Türkiye – Elite Turkey Tours
General price:
$

2150.00 / ticket
25
7 Days Magical of Türkiye – Elite Turkey Tours
General price:
$

2150.00 / ticket
26
7 Days Magical of Türkiye – Elite Turkey Tours
General price:
$

2150.00 / ticket
27
7 Days Magical of Türkiye – Elite Turkey Tours
General price:
$

2150.00 / ticket
28
7 Days Magical of Türkiye – Elite Turkey Tours
General price:
$

2150.00 / ticket
29
7 Days Magical of Türkiye – Elite Turkey Tours
General price:
$

2150.00 / ticket
30
7 Days Magical of Türkiye – Elite Turkey Tours
General price:
$

2150.00 / ticket
31
7 Days Magical of Türkiye – Elite Turkey Tours
General price:
$

2150.00 / ticket
1
7 Days Magical of Türkiye – Elite Turkey Tours
General price:
$

2150.00 / ticket
2
7 Days Magical of Türkiye – Elite Turkey Tours
General price:
$

2150.00 / ticket
3
7 Days Magical of Türkiye – Elite Turkey Tours
General price:
$

2150.00 / ticket
4
7 Days Magical of Türkiye – Elite Turkey Tours
General price:
$

2150.00 / ticket
5
7 Days Magical of Türkiye – Elite Turkey Tours
General price:
$

2150.00 / ticket
6
7 Days Magical of Türkiye – Elite Turkey Tours
General price:
$

2150.00 / ticket
7
7 Days Magical of Türkiye – Elite Turkey Tours
General price:
$

2150.00 / ticket
8
7 Days Magical of Türkiye – Elite Turkey Tours
General price:
$

2150.00 / ticket
9
7 Days Magical of Türkiye – Elite Turkey Tours
General price:
$

2150.00 / ticket
10
7 Days Magical of Türkiye – Elite Turkey Tours
General price:
$

2150.00 / ticket
11
7 Days Magical of Türkiye – Elite Turkey Tours
General price:
$

2150.00 / ticket
12
7 Days Magical of Türkiye – Elite Turkey Tours
General price:
$

2150.00 / ticket
13
7 Days Magical of Türkiye – Elite Turkey Tours
General price:
$

2150.00 / ticket
14
7 Days Magical of Türkiye – Elite Turkey Tours
General price:
$

2150.00 / ticket
15
7 Days Magical of Türkiye – Elite Turkey Tours
General price:
$

2150.00 / ticket
16
7 Days Magical of Türkiye – Elite Turkey Tours
General price:
$

2150.00 / ticket
17
7 Days Magical of Türkiye – Elite Turkey Tours
General price:
$

2150.00 / ticket
18
7 Days Magical of Türkiye – Elite Turkey Tours
General price:
$

2150.00 / ticket
19
7 Days Magical of Türkiye – Elite Turkey Tours
General price:
$

2150.00 / ticket
20
7 Days Magical of Türkiye – Elite Turkey Tours
General price:
$

2150.00 / ticket
21
7 Days Magical of Türkiye – Elite Turkey Tours
General price:
$

2150.00 / ticket
22
7 Days Magical of Türkiye – Elite Turkey Tours
General price:
$

2150.00 / ticket
23
7 Days Magical of Türkiye – Elite Turkey Tours
General price:
$

2150.00 / ticket
24
7 Days Magical of Türkiye – Elite Turkey Tours
General price:
$

2150.00 / ticket
25
7 Days Magical of Türkiye – Elite Turkey Tours
General price:
$

2150.00 / ticket
26
7 Days Magical of Türkiye – Elite Turkey Tours
General price:
$

2150.00 / ticket
27
7 Days Magical of Türkiye – Elite Turkey Tours
General price:
$

2150.00 / ticket
28
7 Days Magical of Türkiye – Elite Turkey Tours
General price:
$

2150.00 / ticket
29
7 Days Magical of Türkiye – Elite Turkey Tours
General price:
$

2150.00 / ticket
30
7 Days Magical of Türkiye – Elite Turkey Tours
General price:
$

2150.00 / ticket
1
7 Days Magical of Türkiye – Elite Turkey Tours
General price:
$

2150.00 / ticket
2
7 Days Magical of Türkiye – Elite Turkey Tours
General price:
$

2150.00 / ticket
3
7 Days Magical of Türkiye – Elite Turkey Tours
General price:
$

2150.00 / ticket
4
7 Days Magical of Türkiye – Elite Turkey Tours
General price:
$

2150.00 / ticket
5
7 Days Magical of Türkiye – Elite Turkey Tours
General price:
$

2150.00 / ticket
29
7 Days Magical of Türkiye – Elite Turkey Tours
General price:
$

2150.00 / ticket
30
7 Days Magical of Türkiye – Elite Turkey Tours
General price:
$

2150.00 / ticket
1
7 Days Magical of Türkiye – Elite Turkey Tours
General price:
$

2150.00 / ticket
2
7 Days Magical of Türkiye – Elite Turkey Tours
General price:
$

2150.00 / ticket
3
7 Days Magical of Türkiye – Elite Turkey Tours
General price:
$

2150.00 / ticket
4
7 Days Magical of Türkiye – Elite Turkey Tours
General price:
$

2150.00 / ticket
5
7 Days Magical of Türkiye – Elite Turkey Tours
General price:
$

2150.00 / ticket
6
7 Days Magical of Türkiye – Elite Turkey Tours
General price:
$

2150.00 / ticket
7
7 Days Magical of Türkiye – Elite Turkey Tours
General price:
$

2150.00 / ticket
8
7 Days Magical of Türkiye – Elite Turkey Tours
General price:
$

2150.00 / ticket
9
7 Days Magical of Türkiye – Elite Turkey Tours
General price:
$

2150.00 / ticket
10
7 Days Magical of Türkiye – Elite Turkey Tours
General price:
$

2150.00 / ticket
11
7 Days Magical of Türkiye – Elite Turkey Tours
General price:
$

2150.00 / ticket
12
7 Days Magical of Türkiye – Elite Turkey Tours
General price:
$

2150.00 / ticket
13
7 Days Magical of Türkiye – Elite Turkey Tours
General price:
$

2150.00 / ticket
14
7 Days Magical of Türkiye – Elite Turkey Tours
General price:
$

2150.00 / ticket
15
7 Days Magical of Türkiye – Elite Turkey Tours
General price:
$

2150.00 / ticket
16
7 Days Magical of Türkiye – Elite Turkey Tours
General price:
$

2150.00 / ticket
17
7 Days Magical of Türkiye – Elite Turkey Tours
General price:
$

2150.00 / ticket
18
7 Days Magical of Türkiye – Elite Turkey Tours
General price:
$

2150.00 / ticket
19
7 Days Magical of Türkiye – Elite Turkey Tours
General price:
$

2150.00 / ticket
20
7 Days Magical of Türkiye – Elite Turkey Tours
General price:
$

2150.00 / ticket
21
7 Days Magical of Türkiye – Elite Turkey Tours
General price:
$

2150.00 / ticket
22
7 Days Magical of Türkiye – Elite Turkey Tours
General price:
$

2150.00 / ticket
23
7 Days Magical of Türkiye – Elite Turkey Tours
General price:
$

2150.00 / ticket
24
7 Days Magical of Türkiye – Elite Turkey Tours
General price:
$

2150.00 / ticket
25
7 Days Magical of Türkiye – Elite Turkey Tours
General price:
$

2150.00 / ticket
26
7 Days Magical of Türkiye – Elite Turkey Tours
General price:
$

2150.00 / ticket
27
7 Days Magical of Türkiye – Elite Turkey Tours
General price:
$

2150.00 / ticket
28
7 Days Magical of Türkiye – Elite Turkey Tours
General price:
$

2150.00 / ticket
29
7 Days Magical of Türkiye – Elite Turkey Tours
General price:
$

2150.00 / ticket
30
7 Days Magical of Türkiye – Elite Turkey Tours
General price:
$

2150.00 / ticket
31
7 Days Magical of Türkiye – Elite Turkey Tours
General price:
$

2150.00 / ticket
1
7 Days Magical of Türkiye – Elite Turkey Tours
General price:
$

2150.00 / ticket
2
7 Days Magical of Türkiye – Elite Turkey Tours
General price:
$

2150.00 / ticket
27
7 Days Magical of Türkiye – Elite Turkey Tours
General price:
$

2150.00 / ticket
28
7 Days Magical of Türkiye – Elite Turkey Tours
General price:
$

2150.00 / ticket
29
7 Days Magical of Türkiye – Elite Turkey Tours
General price:
$

2150.00 / ticket
30
7 Days Magical of Türkiye – Elite Turkey Tours
General price:
$

2150.00 / ticket
31
7 Days Magical of Türkiye – Elite Turkey Tours
General price:
$

2150.00 / ticket
1
7 Days Magical of Türkiye – Elite Turkey Tours
General price:
$

2150.00 / ticket
2
7 Days Magical of Türkiye – Elite Turkey Tours
General price:
$

2150.00 / ticket
3
7 Days Magical of Türkiye – Elite Turkey Tours
General price:
$

2150.00 / ticket
4
7 Days Magical of Türkiye – Elite Turkey Tours
General price:
$

2150.00 / ticket
5
7 Days Magical of Türkiye – Elite Turkey Tours
General price:
$

2150.00 / ticket
6
7 Days Magical of Türkiye – Elite Turkey Tours
General price:
$

2150.00 / ticket
7
7 Days Magical of Türkiye – Elite Turkey Tours
General price:
$

2150.00 / ticket
8
7 Days Magical of Türkiye – Elite Turkey Tours
General price:
$

2150.00 / ticket
9
7 Days Magical of Türkiye – Elite Turkey Tours
General price:
$

2150.00 / ticket
10
7 Days Magical of Türkiye – Elite Turkey Tours
General price:
$

2150.00 / ticket
11
7 Days Magical of Türkiye – Elite Turkey Tours
General price:
$

2150.00 / ticket
12
7 Days Magical of Türkiye – Elite Turkey Tours
General price:
$

2150.00 / ticket
13
7 Days Magical of Türkiye – Elite Turkey Tours
General price:
$

2150.00 / ticket
14
7 Days Magical of Türkiye – Elite Turkey Tours
General price:
$

2150.00 / ticket
15
7 Days Magical of Türkiye – Elite Turkey Tours
General price:
$

2150.00 / ticket
16
7 Days Magical of Türkiye – Elite Turkey Tours
General price:
$

2150.00 / ticket
17
7 Days Magical of Türkiye – Elite Turkey Tours
General price:
$

2150.00 / ticket
18
7 Days Magical of Türkiye – Elite Turkey Tours
General price:
$

2150.00 / ticket
19
7 Days Magical of Türkiye – Elite Turkey Tours
General price:
$

2150.00 / ticket
20
7 Days Magical of Türkiye – Elite Turkey Tours
General price:
$

2150.00 / ticket
21
7 Days Magical of Türkiye – Elite Turkey Tours
General price:
$

2150.00 / ticket
22
7 Days Magical of Türkiye – Elite Turkey Tours
General price:
$

2150.00 / ticket
23
7 Days Magical of Türkiye – Elite Turkey Tours
General price:
$

2150.00 / ticket
24
7 Days Magical of Türkiye – Elite Turkey Tours
General price:
$

2150.00 / ticket
25
7 Days Magical of Türkiye – Elite Turkey Tours
General price:
$

2150.00 / ticket
26
7 Days Magical of Türkiye – Elite Turkey Tours
General price:
$

2150.00 / ticket
27
7 Days Magical of Türkiye – Elite Turkey Tours
General price:
$

2150.00 / ticket
28
7 Days Magical of Türkiye – Elite Turkey Tours
General price:
$

2150.00 / ticket
29
7 Days Magical of Türkiye – Elite Turkey Tours
General price:
$

2150.00 / ticket
30
7 Days Magical of Türkiye – Elite Turkey Tours
General price:
$

2150.00 / ticket
1
7 Days Magical of Türkiye – Elite Turkey Tours
General price:
$

2150.00 / ticket
2
7 Days Magical of Türkiye – Elite Turkey Tours
General price:
$

2150.00 / ticket
3
7 Days Magical of Türkiye – Elite Turkey Tours
General price:
$

2150.00 / ticket
4
7 Days Magical of Türkiye – Elite Turkey Tours
General price:
$

2150.00 / ticket
5
7 Days Magical of Türkiye – Elite Turkey Tours
General price:
$

2150.00 / ticket
6
7 Days Magical of Türkiye – Elite Turkey Tours
General price:
$

2150.00 / ticket
7
7 Days Magical of Türkiye – Elite Turkey Tours
General price:
$

2150.00 / ticket
8
7 Days Magical of Türkiye – Elite Turkey Tours
General price:
$

2150.00 / ticket
9
7 Days Magical of Türkiye – Elite Turkey Tours
General price:
$

2150.00 / ticket
10
7 Days Magical of Türkiye – Elite Turkey Tours
General price:
$

2150.00 / ticket
11
7 Days Magical of Türkiye – Elite Turkey Tours
General price:
$

2150.00 / ticket
12
7 Days Magical of Türkiye – Elite Turkey Tours
General price:
$

2150.00 / ticket
13
7 Days Magical of Türkiye – Elite Turkey Tours
General price:
$

2150.00 / ticket
14
7 Days Magical of Türkiye – Elite Turkey Tours
General price:
$

2150.00 / ticket
15
7 Days Magical of Türkiye – Elite Turkey Tours
General price:
$

2150.00 / ticket
16
7 Days Magical of Türkiye – Elite Turkey Tours
General price:
$

2150.00 / ticket
17
7 Days Magical of Türkiye – Elite Turkey Tours
General price:
$

2150.00 / ticket
18
7 Days Magical of Türkiye – Elite Turkey Tours
General price:
$

2150.00 / ticket
19
7 Days Magical of Türkiye – Elite Turkey Tours
General price:
$

2150.00 / ticket
20
7 Days Magical of Türkiye – Elite Turkey Tours
General price:
$

2150.00 / ticket
21
7 Days Magical of Türkiye – Elite Turkey Tours
General price:
$

2150.00 / ticket
22
7 Days Magical of Türkiye – Elite Turkey Tours
General price:
$

2150.00 / ticket
23
7 Days Magical of Türkiye – Elite Turkey Tours
General price:
$

2150.00 / ticket
24
7 Days Magical of Türkiye – Elite Turkey Tours
General price:
$

2150.00 / ticket
25
7 Days Magical of Türkiye – Elite Turkey Tours
General price:
$

2150.00 / ticket
26
7 Days Magical of Türkiye – Elite Turkey Tours
General price:
$

2150.00 / ticket
27
7 Days Magical of Türkiye – Elite Turkey Tours
General price:
$

2150.00 / ticket
28
7 Days Magical of Türkiye – Elite Turkey Tours
General price:
$

2150.00 / ticket
29
7 Days Magical of Türkiye – Elite Turkey Tours
General price:
$

2150.00 / ticket
30
7 Days Magical of Türkiye – Elite Turkey Tours
General price:
$

2150.00 / ticket
31
7 Days Magical of Türkiye – Elite Turkey Tours
General price:
$

2150.00 / ticket
1
7 Days Magical of Türkiye – Elite Turkey Tours
General price:
$

2150.00 / ticket
2
7 Days Magical of Türkiye – Elite Turkey Tours
General price:
$

2150.00 / ticket
3
7 Days Magical of Türkiye – Elite Turkey Tours
General price:
$

2150.00 / ticket
4
7 Days Magical of Türkiye – Elite Turkey Tours
General price:
$

2150.00 / ticket
29
7 Days Magical of Türkiye – Elite Turkey Tours
General price:
$

2150.00 / ticket
30
7 Days Magical of Türkiye – Elite Turkey Tours
General price:
$

2150.00 / ticket
31
7 Days Magical of Türkiye – Elite Turkey Tours
General price:
$

2150.00 / ticket
1
7 Days Magical of Türkiye – Elite Turkey Tours
General price:
$

2150.00 / ticket
2
7 Days Magical of Türkiye – Elite Turkey Tours
General price:
$

2150.00 / ticket
3
7 Days Magical of Türkiye – Elite Turkey Tours
General price:
$

2150.00 / ticket
4
7 Days Magical of Türkiye – Elite Turkey Tours
General price:
$

2150.00 / ticket
5
7 Days Magical of Türkiye – Elite Turkey Tours
General price:
$

2150.00 / ticket
6
7 Days Magical of Türkiye – Elite Turkey Tours
General price:
$

2150.00 / ticket
7
7 Days Magical of Türkiye – Elite Turkey Tours
General price:
$

2150.00 / ticket
8
7 Days Magical of Türkiye – Elite Turkey Tours
General price:
$

2150.00 / ticket
9
7 Days Magical of Türkiye – Elite Turkey Tours
General price:
$

2150.00 / ticket
10
7 Days Magical of Türkiye – Elite Turkey Tours
General price:
$

2150.00 / ticket
11
7 Days Magical of Türkiye – Elite Turkey Tours
General price:
$

2150.00 / ticket
12
7 Days Magical of Türkiye – Elite Turkey Tours
General price:
$

2150.00 / ticket
13
7 Days Magical of Türkiye – Elite Turkey Tours
General price:
$

2150.00 / ticket
14
7 Days Magical of Türkiye – Elite Turkey Tours
General price:
$

2150.00 / ticket
15
7 Days Magical of Türkiye – Elite Turkey Tours
General price:
$

2150.00 / ticket
16
7 Days Magical of Türkiye – Elite Turkey Tours
General price:
$

2150.00 / ticket
17
7 Days Magical of Türkiye – Elite Turkey Tours
General price:
$

2150.00 / ticket
18
7 Days Magical of Türkiye – Elite Turkey Tours
General price:
$

2150.00 / ticket
19
7 Days Magical of Türkiye – Elite Turkey Tours
General price:
$

2150.00 / ticket
20
7 Days Magical of Türkiye – Elite Turkey Tours
General price:
$

2150.00 / ticket
21
7 Days Magical of Türkiye – Elite Turkey Tours
General price:
$

2150.00 / ticket
22
7 Days Magical of Türkiye – Elite Turkey Tours
General price:
$

2150.00 / ticket
23
7 Days Magical of Türkiye – Elite Turkey Tours
General price:
$

2150.00 / ticket
24
7 Days Magical of Türkiye – Elite Turkey Tours
General price:
$

2150.00 / ticket
25
7 Days Magical of Türkiye – Elite Turkey Tours
General price:
$

2150.00 / ticket
26
7 Days Magical of Türkiye – Elite Turkey Tours
General price:
$

2150.00 / ticket
27
7 Days Magical of Türkiye – Elite Turkey Tours
General price:
$

2150.00 / ticket
28
7 Days Magical of Türkiye – Elite Turkey Tours
General price:
$

2150.00 / ticket
29
7 Days Magical of Türkiye – Elite Turkey Tours
General price:
$

2150.00 / ticket
30
7 Days Magical of Türkiye – Elite Turkey Tours
General price:
$

2150.00 / ticket
31
7 Days Magical of Türkiye – Elite Turkey Tours
General price:
$

2150.00 / ticket
1
7 Days Magical of Türkiye – Elite Turkey Tours
General price:
$

2150.00 / ticket