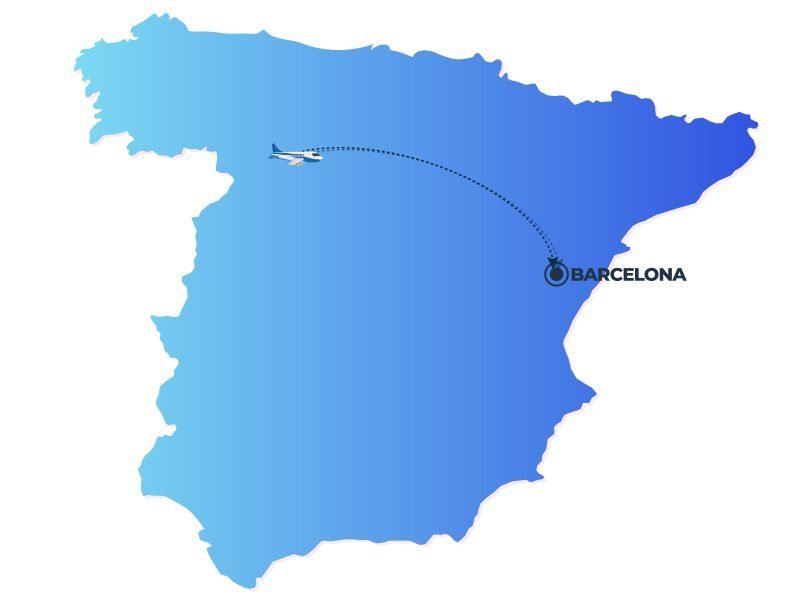 TOUR PLAN

1 st DAY
BARCELONA
The Adventure Begins
Meet your driver and vehicle to arrange a transfer from the airport.
An English-speaking assistant will be waiting for you in the lobby of your hotel to guide you through your welcome pack and help you with check-in.
Welcome package with a map of the city, tickets for trains (if applicable) and any other information we have.
Any you might find useful will be waiting at your hotel upon your arrival.
Where you'll be staying
Condes de Barcelona
Condal Paseo de Gracia
2nd DAY
BARCELONA
Sagrada Familia – Audacious Architecture
Begin your half-day walking tour through Old Barcelona's Gothic Quarter with your private guide. You will be transported back in time as you discover Roman remains and medieval palaces right in the center of the city. Walk past the ancient Roman walls and towers, meander through the narrow streets of the Old Jewish Quarter, and end up at the Placa de Sant Jume, the central square of government. You will pass the Casa de l'Ardiaca (15th century), former residence of archdeacon. Next, you'll visit the Basilica of Santa Maria del Mar (14th century), which is a Gothic Art architectural masterpiece with its magnificent interior, including a stunning central nave. After taking in Barcelona's historical core, your guide will hail a taxi to take you to Antoni Gaudi's famous Sagrada Familia, a UNESCO World Heritage Site that is still being built over 100 years later. It is a must-see site in Barcelona. It's the largest unfinished Roman Catholic Church in the world. You'll be returning to your hotel by taxi again after your visit. However, you have the option to explore on your own.
Where you'll be staying
Condes de Barcelona
Condal Paseo de Gracia
3rd DAY
BARCELONA
A Journey Back in Time
Today's small group tour takes you through Catalunya to Montserrat, a sacred mountaintop monastery. Montserrat is located just an hour from Barcelona and has been a significant Spanish pilgrimage destination for almost 1,000 years. It is home to approximately eighty Benedictine monks. The guide will give you suggestions on how to spend your time there, including scenic walks, entry to the Montserrat Museum or a ride on the cable car or rack railway. It is a must to visit the sanctuary where the "Moreneta" (black virgin) is kept. It's always an unforgettable experience to see the La Escolania de Montserrat boys chorus perform (usually at noon on weekends and 1:00 on weekdays). Afternoon:
You'll leave Montserrat to visit a winery in Sant Sadurni d'Anoia in the Penedes wine-growing area. Enjoy a tour of the winery, followed by a tasting of Cava from the region. This will make your day a pleasant and bubbly one.
Where you'll be staying
Condes de Barcelona
Condal Paseo de Gracia
4th DAY
BARCELONA
Cultural Immersion
Learn the secrets of Spanish cuisine with an English-speaking chef as you prepare traditional dishes such as paella, gazpacho and tapas. You will start your tour at the La Boqueria Market. Your chef will provide tips and tricks on how to pick the best seasonal produce and freshest ingredients. You'll then return to the kitchen, where you will begin your culinary journey under the direction of the chef. Enjoy the delicious Spanish wine and the aromas and flavors as you enjoy the creations.
Where you'll be staying
Condes de Barcelona
Condal Paseo de Gracia
5th DAY
BARCELONA
Until Next Time…
Meet your driver and vehicle to transfer you to the airport.
Calendar & Prices
1
5 Days Dream of Barcelona Premium Custom Designed Tour
General price:
$

2900.00 / ticket
2
5 Days Dream of Barcelona Premium Custom Designed Tour
General price:
$

2900.00 / ticket
3
5 Days Dream of Barcelona Premium Custom Designed Tour
General price:
$

2900.00 / ticket
4
5 Days Dream of Barcelona Premium Custom Designed Tour
General price:
$

2900.00 / ticket
5
5 Days Dream of Barcelona Premium Custom Designed Tour
General price:
$

2900.00 / ticket
6
5 Days Dream of Barcelona Premium Custom Designed Tour
General price:
$

2900.00 / ticket
7
5 Days Dream of Barcelona Premium Custom Designed Tour
General price:
$

2900.00 / ticket
8
5 Days Dream of Barcelona Premium Custom Designed Tour
General price:
$

2900.00 / ticket
9
5 Days Dream of Barcelona Premium Custom Designed Tour
General price:
$

2900.00 / ticket
10
5 Days Dream of Barcelona Premium Custom Designed Tour
General price:
$

2900.00 / ticket
11
5 Days Dream of Barcelona Premium Custom Designed Tour
General price:
$

2900.00 / ticket
12
5 Days Dream of Barcelona Premium Custom Designed Tour
General price:
$

2900.00 / ticket
13
5 Days Dream of Barcelona Premium Custom Designed Tour
General price:
$

2900.00 / ticket
14
5 Days Dream of Barcelona Premium Custom Designed Tour
General price:
$

2900.00 / ticket
15
5 Days Dream of Barcelona Premium Custom Designed Tour
General price:
$

2900.00 / ticket
16
5 Days Dream of Barcelona Premium Custom Designed Tour
General price:
$

2900.00 / ticket
17
5 Days Dream of Barcelona Premium Custom Designed Tour
General price:
$

2900.00 / ticket
18
5 Days Dream of Barcelona Premium Custom Designed Tour
General price:
$

2900.00 / ticket
19
5 Days Dream of Barcelona Premium Custom Designed Tour
General price:
$

2900.00 / ticket
20
5 Days Dream of Barcelona Premium Custom Designed Tour
General price:
$

2900.00 / ticket
21
5 Days Dream of Barcelona Premium Custom Designed Tour
General price:
$

2900.00 / ticket
22
5 Days Dream of Barcelona Premium Custom Designed Tour
General price:
$

2900.00 / ticket
23
5 Days Dream of Barcelona Premium Custom Designed Tour
General price:
$

2900.00 / ticket
24
5 Days Dream of Barcelona Premium Custom Designed Tour
General price:
$

2900.00 / ticket
25
5 Days Dream of Barcelona Premium Custom Designed Tour
General price:
$

2900.00 / ticket
26
5 Days Dream of Barcelona Premium Custom Designed Tour
General price:
$

2900.00 / ticket
27
5 Days Dream of Barcelona Premium Custom Designed Tour
General price:
$

2900.00 / ticket
28
5 Days Dream of Barcelona Premium Custom Designed Tour
General price:
$

2900.00 / ticket
29
5 Days Dream of Barcelona Premium Custom Designed Tour
General price:
$

2900.00 / ticket
30
5 Days Dream of Barcelona Premium Custom Designed Tour
General price:
$

2900.00 / ticket
31
5 Days Dream of Barcelona Premium Custom Designed Tour
General price:
$

2900.00 / ticket
1
5 Days Dream of Barcelona Premium Custom Designed Tour
General price:
$

2900.00 / ticket
2
5 Days Dream of Barcelona Premium Custom Designed Tour
General price:
$

2900.00 / ticket
3
5 Days Dream of Barcelona Premium Custom Designed Tour
General price:
$

2900.00 / ticket
4
5 Days Dream of Barcelona Premium Custom Designed Tour
General price:
$

2900.00 / ticket
5
5 Days Dream of Barcelona Premium Custom Designed Tour
General price:
$

2900.00 / ticket
6
5 Days Dream of Barcelona Premium Custom Designed Tour
General price:
$

2900.00 / ticket
7
5 Days Dream of Barcelona Premium Custom Designed Tour
General price:
$

2900.00 / ticket
8
5 Days Dream of Barcelona Premium Custom Designed Tour
General price:
$

2900.00 / ticket
9
5 Days Dream of Barcelona Premium Custom Designed Tour
General price:
$

2900.00 / ticket
10
5 Days Dream of Barcelona Premium Custom Designed Tour
General price:
$

2900.00 / ticket
11
5 Days Dream of Barcelona Premium Custom Designed Tour
General price:
$

2900.00 / ticket
12
5 Days Dream of Barcelona Premium Custom Designed Tour
General price:
$

2900.00 / ticket
13
5 Days Dream of Barcelona Premium Custom Designed Tour
General price:
$

2900.00 / ticket
14
5 Days Dream of Barcelona Premium Custom Designed Tour
General price:
$

2900.00 / ticket
15
5 Days Dream of Barcelona Premium Custom Designed Tour
General price:
$

2900.00 / ticket
16
5 Days Dream of Barcelona Premium Custom Designed Tour
General price:
$

2900.00 / ticket
17
5 Days Dream of Barcelona Premium Custom Designed Tour
General price:
$

2900.00 / ticket
18
5 Days Dream of Barcelona Premium Custom Designed Tour
General price:
$

2900.00 / ticket
19
5 Days Dream of Barcelona Premium Custom Designed Tour
General price:
$

2900.00 / ticket
20
5 Days Dream of Barcelona Premium Custom Designed Tour
General price:
$

2900.00 / ticket
21
5 Days Dream of Barcelona Premium Custom Designed Tour
General price:
$

2900.00 / ticket
22
5 Days Dream of Barcelona Premium Custom Designed Tour
General price:
$

2900.00 / ticket
23
5 Days Dream of Barcelona Premium Custom Designed Tour
General price:
$

2900.00 / ticket
24
5 Days Dream of Barcelona Premium Custom Designed Tour
General price:
$

2900.00 / ticket
25
5 Days Dream of Barcelona Premium Custom Designed Tour
General price:
$

2900.00 / ticket
26
5 Days Dream of Barcelona Premium Custom Designed Tour
General price:
$

2900.00 / ticket
27
5 Days Dream of Barcelona Premium Custom Designed Tour
General price:
$

2900.00 / ticket
28
5 Days Dream of Barcelona Premium Custom Designed Tour
General price:
$

2900.00 / ticket
29
5 Days Dream of Barcelona Premium Custom Designed Tour
General price:
$

2900.00 / ticket
30
5 Days Dream of Barcelona Premium Custom Designed Tour
General price:
$

2900.00 / ticket
31
5 Days Dream of Barcelona Premium Custom Designed Tour
General price:
$

2900.00 / ticket
1
5 Days Dream of Barcelona Premium Custom Designed Tour
General price:
$

2900.00 / ticket
2
5 Days Dream of Barcelona Premium Custom Designed Tour
General price:
$

2900.00 / ticket
3
5 Days Dream of Barcelona Premium Custom Designed Tour
General price:
$

2900.00 / ticket
4
5 Days Dream of Barcelona Premium Custom Designed Tour
General price:
$

2900.00 / ticket
29
5 Days Dream of Barcelona Premium Custom Designed Tour
General price:
$

2900.00 / ticket
30
5 Days Dream of Barcelona Premium Custom Designed Tour
General price:
$

2900.00 / ticket
31
5 Days Dream of Barcelona Premium Custom Designed Tour
General price:
$

2900.00 / ticket
1
5 Days Dream of Barcelona Premium Custom Designed Tour
General price:
$

2900.00 / ticket
2
5 Days Dream of Barcelona Premium Custom Designed Tour
General price:
$

2900.00 / ticket
3
5 Days Dream of Barcelona Premium Custom Designed Tour
General price:
$

2900.00 / ticket
4
5 Days Dream of Barcelona Premium Custom Designed Tour
General price:
$

2900.00 / ticket
5
5 Days Dream of Barcelona Premium Custom Designed Tour
General price:
$

2900.00 / ticket
6
5 Days Dream of Barcelona Premium Custom Designed Tour
General price:
$

2900.00 / ticket
7
5 Days Dream of Barcelona Premium Custom Designed Tour
General price:
$

2900.00 / ticket
8
5 Days Dream of Barcelona Premium Custom Designed Tour
General price:
$

2900.00 / ticket
9
5 Days Dream of Barcelona Premium Custom Designed Tour
General price:
$

2900.00 / ticket
10
5 Days Dream of Barcelona Premium Custom Designed Tour
General price:
$

2900.00 / ticket
11
5 Days Dream of Barcelona Premium Custom Designed Tour
General price:
$

2900.00 / ticket
12
5 Days Dream of Barcelona Premium Custom Designed Tour
General price:
$

2900.00 / ticket
13
5 Days Dream of Barcelona Premium Custom Designed Tour
General price:
$

2900.00 / ticket
14
5 Days Dream of Barcelona Premium Custom Designed Tour
General price:
$

2900.00 / ticket
15
5 Days Dream of Barcelona Premium Custom Designed Tour
General price:
$

2900.00 / ticket
16
5 Days Dream of Barcelona Premium Custom Designed Tour
General price:
$

2900.00 / ticket
17
5 Days Dream of Barcelona Premium Custom Designed Tour
General price:
$

2900.00 / ticket
18
5 Days Dream of Barcelona Premium Custom Designed Tour
General price:
$

2900.00 / ticket
19
5 Days Dream of Barcelona Premium Custom Designed Tour
General price:
$

2900.00 / ticket
20
5 Days Dream of Barcelona Premium Custom Designed Tour
General price:
$

2900.00 / ticket
21
5 Days Dream of Barcelona Premium Custom Designed Tour
General price:
$

2900.00 / ticket
22
5 Days Dream of Barcelona Premium Custom Designed Tour
General price:
$

2900.00 / ticket
23
5 Days Dream of Barcelona Premium Custom Designed Tour
General price:
$

2900.00 / ticket
24
5 Days Dream of Barcelona Premium Custom Designed Tour
General price:
$

2900.00 / ticket
25
5 Days Dream of Barcelona Premium Custom Designed Tour
General price:
$

2900.00 / ticket
26
5 Days Dream of Barcelona Premium Custom Designed Tour
General price:
$

2900.00 / ticket
27
5 Days Dream of Barcelona Premium Custom Designed Tour
General price:
$

2900.00 / ticket
28
5 Days Dream of Barcelona Premium Custom Designed Tour
General price:
$

2900.00 / ticket
29
5 Days Dream of Barcelona Premium Custom Designed Tour
General price:
$

2900.00 / ticket
1
5 Days Dream of Barcelona Premium Custom Designed Tour
General price:
$

2900.00 / ticket
2
5 Days Dream of Barcelona Premium Custom Designed Tour
General price:
$

2900.00 / ticket
3
5 Days Dream of Barcelona Premium Custom Designed Tour
General price:
$

2900.00 / ticket
26
5 Days Dream of Barcelona Premium Custom Designed Tour
General price:
$

2900.00 / ticket
27
5 Days Dream of Barcelona Premium Custom Designed Tour
General price:
$

2900.00 / ticket
28
5 Days Dream of Barcelona Premium Custom Designed Tour
General price:
$

2900.00 / ticket
29
5 Days Dream of Barcelona Premium Custom Designed Tour
General price:
$

2900.00 / ticket
1
5 Days Dream of Barcelona Premium Custom Designed Tour
General price:
$

2900.00 / ticket
2
5 Days Dream of Barcelona Premium Custom Designed Tour
General price:
$

2900.00 / ticket
3
5 Days Dream of Barcelona Premium Custom Designed Tour
General price:
$

2900.00 / ticket
4
5 Days Dream of Barcelona Premium Custom Designed Tour
General price:
$

2900.00 / ticket
5
5 Days Dream of Barcelona Premium Custom Designed Tour
General price:
$

2900.00 / ticket
6
5 Days Dream of Barcelona Premium Custom Designed Tour
General price:
$

2900.00 / ticket
7
5 Days Dream of Barcelona Premium Custom Designed Tour
General price:
$

2900.00 / ticket
8
5 Days Dream of Barcelona Premium Custom Designed Tour
General price:
$

2900.00 / ticket
9
5 Days Dream of Barcelona Premium Custom Designed Tour
General price:
$

2900.00 / ticket
10
5 Days Dream of Barcelona Premium Custom Designed Tour
General price:
$

2900.00 / ticket
11
5 Days Dream of Barcelona Premium Custom Designed Tour
General price:
$

2900.00 / ticket
12
5 Days Dream of Barcelona Premium Custom Designed Tour
General price:
$

2900.00 / ticket
13
5 Days Dream of Barcelona Premium Custom Designed Tour
General price:
$

2900.00 / ticket
14
5 Days Dream of Barcelona Premium Custom Designed Tour
General price:
$

2900.00 / ticket
15
5 Days Dream of Barcelona Premium Custom Designed Tour
General price:
$

2900.00 / ticket
16
5 Days Dream of Barcelona Premium Custom Designed Tour
General price:
$

2900.00 / ticket
17
5 Days Dream of Barcelona Premium Custom Designed Tour
General price:
$

2900.00 / ticket
18
5 Days Dream of Barcelona Premium Custom Designed Tour
General price:
$

2900.00 / ticket
19
5 Days Dream of Barcelona Premium Custom Designed Tour
General price:
$

2900.00 / ticket
20
5 Days Dream of Barcelona Premium Custom Designed Tour
General price:
$

2900.00 / ticket
21
5 Days Dream of Barcelona Premium Custom Designed Tour
General price:
$

2900.00 / ticket
22
5 Days Dream of Barcelona Premium Custom Designed Tour
General price:
$

2900.00 / ticket
23
5 Days Dream of Barcelona Premium Custom Designed Tour
General price:
$

2900.00 / ticket
24
5 Days Dream of Barcelona Premium Custom Designed Tour
General price:
$

2900.00 / ticket
25
5 Days Dream of Barcelona Premium Custom Designed Tour
General price:
$

2900.00 / ticket
26
5 Days Dream of Barcelona Premium Custom Designed Tour
General price:
$

2900.00 / ticket
27
5 Days Dream of Barcelona Premium Custom Designed Tour
General price:
$

2900.00 / ticket
28
5 Days Dream of Barcelona Premium Custom Designed Tour
General price:
$

2900.00 / ticket
29
5 Days Dream of Barcelona Premium Custom Designed Tour
General price:
$

2900.00 / ticket
30
5 Days Dream of Barcelona Premium Custom Designed Tour
General price:
$

2900.00 / ticket
31
5 Days Dream of Barcelona Premium Custom Designed Tour
General price:
$

2900.00 / ticket
1
5 Days Dream of Barcelona Premium Custom Designed Tour
General price:
$

2900.00 / ticket
2
5 Days Dream of Barcelona Premium Custom Designed Tour
General price:
$

2900.00 / ticket
3
5 Days Dream of Barcelona Premium Custom Designed Tour
General price:
$

2900.00 / ticket
4
5 Days Dream of Barcelona Premium Custom Designed Tour
General price:
$

2900.00 / ticket
5
5 Days Dream of Barcelona Premium Custom Designed Tour
General price:
$

2900.00 / ticket
6
5 Days Dream of Barcelona Premium Custom Designed Tour
General price:
$

2900.00 / ticket
7
5 Days Dream of Barcelona Premium Custom Designed Tour
General price:
$

2900.00 / ticket
8
5 Days Dream of Barcelona Premium Custom Designed Tour
General price:
$

2900.00 / ticket
9
5 Days Dream of Barcelona Premium Custom Designed Tour
General price:
$

2900.00 / ticket
10
5 Days Dream of Barcelona Premium Custom Designed Tour
General price:
$

2900.00 / ticket
11
5 Days Dream of Barcelona Premium Custom Designed Tour
General price:
$

2900.00 / ticket
12
5 Days Dream of Barcelona Premium Custom Designed Tour
General price:
$

2900.00 / ticket
13
5 Days Dream of Barcelona Premium Custom Designed Tour
General price:
$

2900.00 / ticket
14
5 Days Dream of Barcelona Premium Custom Designed Tour
General price:
$

2900.00 / ticket
15
5 Days Dream of Barcelona Premium Custom Designed Tour
General price:
$

2900.00 / ticket
16
5 Days Dream of Barcelona Premium Custom Designed Tour
General price:
$

2900.00 / ticket
17
5 Days Dream of Barcelona Premium Custom Designed Tour
General price:
$

2900.00 / ticket
18
5 Days Dream of Barcelona Premium Custom Designed Tour
General price:
$

2900.00 / ticket
19
5 Days Dream of Barcelona Premium Custom Designed Tour
General price:
$

2900.00 / ticket
20
5 Days Dream of Barcelona Premium Custom Designed Tour
General price:
$

2900.00 / ticket
21
5 Days Dream of Barcelona Premium Custom Designed Tour
General price:
$

2900.00 / ticket
22
5 Days Dream of Barcelona Premium Custom Designed Tour
General price:
$

2900.00 / ticket
23
5 Days Dream of Barcelona Premium Custom Designed Tour
General price:
$

2900.00 / ticket
24
5 Days Dream of Barcelona Premium Custom Designed Tour
General price:
$

2900.00 / ticket
25
5 Days Dream of Barcelona Premium Custom Designed Tour
General price:
$

2900.00 / ticket
26
5 Days Dream of Barcelona Premium Custom Designed Tour
General price:
$

2900.00 / ticket
27
5 Days Dream of Barcelona Premium Custom Designed Tour
General price:
$

2900.00 / ticket
28
5 Days Dream of Barcelona Premium Custom Designed Tour
General price:
$

2900.00 / ticket
29
5 Days Dream of Barcelona Premium Custom Designed Tour
General price:
$

2900.00 / ticket
30
5 Days Dream of Barcelona Premium Custom Designed Tour
General price:
$

2900.00 / ticket
1
5 Days Dream of Barcelona Premium Custom Designed Tour
General price:
$

2900.00 / ticket
2
5 Days Dream of Barcelona Premium Custom Designed Tour
General price:
$

2900.00 / ticket
3
5 Days Dream of Barcelona Premium Custom Designed Tour
General price:
$

2900.00 / ticket
4
5 Days Dream of Barcelona Premium Custom Designed Tour
General price:
$

2900.00 / ticket
5
5 Days Dream of Barcelona Premium Custom Designed Tour
General price:
$

2900.00 / ticket
29
5 Days Dream of Barcelona Premium Custom Designed Tour
General price:
$

2900.00 / ticket
30
5 Days Dream of Barcelona Premium Custom Designed Tour
General price:
$

2900.00 / ticket
1
5 Days Dream of Barcelona Premium Custom Designed Tour
General price:
$

2900.00 / ticket
2
5 Days Dream of Barcelona Premium Custom Designed Tour
General price:
$

2900.00 / ticket
3
5 Days Dream of Barcelona Premium Custom Designed Tour
General price:
$

2900.00 / ticket
4
5 Days Dream of Barcelona Premium Custom Designed Tour
General price:
$

2900.00 / ticket
5
5 Days Dream of Barcelona Premium Custom Designed Tour
General price:
$

2900.00 / ticket
6
5 Days Dream of Barcelona Premium Custom Designed Tour
General price:
$

2900.00 / ticket
7
5 Days Dream of Barcelona Premium Custom Designed Tour
General price:
$

2900.00 / ticket
8
5 Days Dream of Barcelona Premium Custom Designed Tour
General price:
$

2900.00 / ticket
9
5 Days Dream of Barcelona Premium Custom Designed Tour
General price:
$

2900.00 / ticket
10
5 Days Dream of Barcelona Premium Custom Designed Tour
General price:
$

2900.00 / ticket
11
5 Days Dream of Barcelona Premium Custom Designed Tour
General price:
$

2900.00 / ticket
12
5 Days Dream of Barcelona Premium Custom Designed Tour
General price:
$

2900.00 / ticket
13
5 Days Dream of Barcelona Premium Custom Designed Tour
General price:
$

2900.00 / ticket
14
5 Days Dream of Barcelona Premium Custom Designed Tour
General price:
$

2900.00 / ticket
15
5 Days Dream of Barcelona Premium Custom Designed Tour
General price:
$

2900.00 / ticket
16
5 Days Dream of Barcelona Premium Custom Designed Tour
General price:
$

2900.00 / ticket
17
5 Days Dream of Barcelona Premium Custom Designed Tour
General price:
$

2900.00 / ticket
18
5 Days Dream of Barcelona Premium Custom Designed Tour
General price:
$

2900.00 / ticket
19
5 Days Dream of Barcelona Premium Custom Designed Tour
General price:
$

2900.00 / ticket
20
5 Days Dream of Barcelona Premium Custom Designed Tour
General price:
$

2900.00 / ticket
21
5 Days Dream of Barcelona Premium Custom Designed Tour
General price:
$

2900.00 / ticket
22
5 Days Dream of Barcelona Premium Custom Designed Tour
General price:
$

2900.00 / ticket
23
5 Days Dream of Barcelona Premium Custom Designed Tour
General price:
$

2900.00 / ticket
24
5 Days Dream of Barcelona Premium Custom Designed Tour
General price:
$

2900.00 / ticket
25
5 Days Dream of Barcelona Premium Custom Designed Tour
General price:
$

2900.00 / ticket
26
5 Days Dream of Barcelona Premium Custom Designed Tour
General price:
$

2900.00 / ticket
27
5 Days Dream of Barcelona Premium Custom Designed Tour
General price:
$

2900.00 / ticket
28
5 Days Dream of Barcelona Premium Custom Designed Tour
General price:
$

2900.00 / ticket
29
5 Days Dream of Barcelona Premium Custom Designed Tour
General price:
$

2900.00 / ticket
30
5 Days Dream of Barcelona Premium Custom Designed Tour
General price:
$

2900.00 / ticket
31
5 Days Dream of Barcelona Premium Custom Designed Tour
General price:
$

2900.00 / ticket
1
5 Days Dream of Barcelona Premium Custom Designed Tour
General price:
$

2900.00 / ticket
2
5 Days Dream of Barcelona Premium Custom Designed Tour
General price:
$

2900.00 / ticket
27
5 Days Dream of Barcelona Premium Custom Designed Tour
General price:
$

2900.00 / ticket
28
5 Days Dream of Barcelona Premium Custom Designed Tour
General price:
$

2900.00 / ticket
29
5 Days Dream of Barcelona Premium Custom Designed Tour
General price:
$

2900.00 / ticket
30
5 Days Dream of Barcelona Premium Custom Designed Tour
General price:
$

2900.00 / ticket
31
5 Days Dream of Barcelona Premium Custom Designed Tour
General price:
$

2900.00 / ticket
1
5 Days Dream of Barcelona Premium Custom Designed Tour
General price:
$

2900.00 / ticket
2
5 Days Dream of Barcelona Premium Custom Designed Tour
General price:
$

2900.00 / ticket
3
5 Days Dream of Barcelona Premium Custom Designed Tour
General price:
$

2900.00 / ticket
4
5 Days Dream of Barcelona Premium Custom Designed Tour
General price:
$

2900.00 / ticket
5
5 Days Dream of Barcelona Premium Custom Designed Tour
General price:
$

2900.00 / ticket
6
5 Days Dream of Barcelona Premium Custom Designed Tour
General price:
$

2900.00 / ticket
7
5 Days Dream of Barcelona Premium Custom Designed Tour
General price:
$

2900.00 / ticket
8
5 Days Dream of Barcelona Premium Custom Designed Tour
General price:
$

2900.00 / ticket
9
5 Days Dream of Barcelona Premium Custom Designed Tour
General price:
$

2900.00 / ticket
10
5 Days Dream of Barcelona Premium Custom Designed Tour
General price:
$

2900.00 / ticket
11
5 Days Dream of Barcelona Premium Custom Designed Tour
General price:
$

2900.00 / ticket
12
5 Days Dream of Barcelona Premium Custom Designed Tour
General price:
$

2900.00 / ticket
13
5 Days Dream of Barcelona Premium Custom Designed Tour
General price:
$

2900.00 / ticket
14
5 Days Dream of Barcelona Premium Custom Designed Tour
General price:
$

2900.00 / ticket
15
5 Days Dream of Barcelona Premium Custom Designed Tour
General price:
$

2900.00 / ticket
16
5 Days Dream of Barcelona Premium Custom Designed Tour
General price:
$

2900.00 / ticket
17
5 Days Dream of Barcelona Premium Custom Designed Tour
General price:
$

2900.00 / ticket
18
5 Days Dream of Barcelona Premium Custom Designed Tour
General price:
$

2900.00 / ticket
19
5 Days Dream of Barcelona Premium Custom Designed Tour
General price:
$

2900.00 / ticket
20
5 Days Dream of Barcelona Premium Custom Designed Tour
General price:
$

2900.00 / ticket
21
5 Days Dream of Barcelona Premium Custom Designed Tour
General price:
$

2900.00 / ticket
22
5 Days Dream of Barcelona Premium Custom Designed Tour
General price:
$

2900.00 / ticket
23
5 Days Dream of Barcelona Premium Custom Designed Tour
General price:
$

2900.00 / ticket
24
5 Days Dream of Barcelona Premium Custom Designed Tour
General price:
$

2900.00 / ticket
25
5 Days Dream of Barcelona Premium Custom Designed Tour
General price:
$

2900.00 / ticket
26
5 Days Dream of Barcelona Premium Custom Designed Tour
General price:
$

2900.00 / ticket
27
5 Days Dream of Barcelona Premium Custom Designed Tour
General price:
$

2900.00 / ticket
28
5 Days Dream of Barcelona Premium Custom Designed Tour
General price:
$

2900.00 / ticket
29
5 Days Dream of Barcelona Premium Custom Designed Tour
General price:
$

2900.00 / ticket
30
5 Days Dream of Barcelona Premium Custom Designed Tour
General price:
$

2900.00 / ticket
1
5 Days Dream of Barcelona Premium Custom Designed Tour
General price:
$

2900.00 / ticket
2
5 Days Dream of Barcelona Premium Custom Designed Tour
General price:
$

2900.00 / ticket
3
5 Days Dream of Barcelona Premium Custom Designed Tour
General price:
$

2900.00 / ticket
4
5 Days Dream of Barcelona Premium Custom Designed Tour
General price:
$

2900.00 / ticket
5
5 Days Dream of Barcelona Premium Custom Designed Tour
General price:
$

2900.00 / ticket
6
5 Days Dream of Barcelona Premium Custom Designed Tour
General price:
$

2900.00 / ticket
7
5 Days Dream of Barcelona Premium Custom Designed Tour
General price:
$

2900.00 / ticket
8
5 Days Dream of Barcelona Premium Custom Designed Tour
General price:
$

2900.00 / ticket
9
5 Days Dream of Barcelona Premium Custom Designed Tour
General price:
$

2900.00 / ticket
10
5 Days Dream of Barcelona Premium Custom Designed Tour
General price:
$

2900.00 / ticket
11
5 Days Dream of Barcelona Premium Custom Designed Tour
General price:
$

2900.00 / ticket
12
5 Days Dream of Barcelona Premium Custom Designed Tour
General price:
$

2900.00 / ticket
13
5 Days Dream of Barcelona Premium Custom Designed Tour
General price:
$

2900.00 / ticket
14
5 Days Dream of Barcelona Premium Custom Designed Tour
General price:
$

2900.00 / ticket
15
5 Days Dream of Barcelona Premium Custom Designed Tour
General price:
$

2900.00 / ticket
16
5 Days Dream of Barcelona Premium Custom Designed Tour
General price:
$

2900.00 / ticket
17
5 Days Dream of Barcelona Premium Custom Designed Tour
General price:
$

2900.00 / ticket
18
5 Days Dream of Barcelona Premium Custom Designed Tour
General price:
$

2900.00 / ticket
19
5 Days Dream of Barcelona Premium Custom Designed Tour
General price:
$

2900.00 / ticket
20
5 Days Dream of Barcelona Premium Custom Designed Tour
General price:
$

2900.00 / ticket
21
5 Days Dream of Barcelona Premium Custom Designed Tour
General price:
$

2900.00 / ticket
22
5 Days Dream of Barcelona Premium Custom Designed Tour
General price:
$

2900.00 / ticket
23
5 Days Dream of Barcelona Premium Custom Designed Tour
General price:
$

2900.00 / ticket
24
5 Days Dream of Barcelona Premium Custom Designed Tour
General price:
$

2900.00 / ticket
25
5 Days Dream of Barcelona Premium Custom Designed Tour
General price:
$

2900.00 / ticket
26
5 Days Dream of Barcelona Premium Custom Designed Tour
General price:
$

2900.00 / ticket
27
5 Days Dream of Barcelona Premium Custom Designed Tour
General price:
$

2900.00 / ticket
28
5 Days Dream of Barcelona Premium Custom Designed Tour
General price:
$

2900.00 / ticket
29
5 Days Dream of Barcelona Premium Custom Designed Tour
General price:
$

2900.00 / ticket
30
5 Days Dream of Barcelona Premium Custom Designed Tour
General price:
$

2900.00 / ticket
31
5 Days Dream of Barcelona Premium Custom Designed Tour
General price:
$

2900.00 / ticket
1
5 Days Dream of Barcelona Premium Custom Designed Tour
General price:
$

2900.00 / ticket
2
5 Days Dream of Barcelona Premium Custom Designed Tour
General price:
$

2900.00 / ticket
3
5 Days Dream of Barcelona Premium Custom Designed Tour
General price:
$

2900.00 / ticket
4
5 Days Dream of Barcelona Premium Custom Designed Tour
General price:
$

2900.00 / ticket
29
5 Days Dream of Barcelona Premium Custom Designed Tour
General price:
$

2900.00 / ticket
30
5 Days Dream of Barcelona Premium Custom Designed Tour
General price:
$

2900.00 / ticket
31
5 Days Dream of Barcelona Premium Custom Designed Tour
General price:
$

2900.00 / ticket
1
5 Days Dream of Barcelona Premium Custom Designed Tour
General price:
$

2900.00 / ticket
2
5 Days Dream of Barcelona Premium Custom Designed Tour
General price:
$

2900.00 / ticket
3
5 Days Dream of Barcelona Premium Custom Designed Tour
General price:
$

2900.00 / ticket
4
5 Days Dream of Barcelona Premium Custom Designed Tour
General price:
$

2900.00 / ticket
5
5 Days Dream of Barcelona Premium Custom Designed Tour
General price:
$

2900.00 / ticket
6
5 Days Dream of Barcelona Premium Custom Designed Tour
General price:
$

2900.00 / ticket
7
5 Days Dream of Barcelona Premium Custom Designed Tour
General price:
$

2900.00 / ticket
8
5 Days Dream of Barcelona Premium Custom Designed Tour
General price:
$

2900.00 / ticket
9
5 Days Dream of Barcelona Premium Custom Designed Tour
General price:
$

2900.00 / ticket
10
5 Days Dream of Barcelona Premium Custom Designed Tour
General price:
$

2900.00 / ticket
11
5 Days Dream of Barcelona Premium Custom Designed Tour
General price:
$

2900.00 / ticket
12
5 Days Dream of Barcelona Premium Custom Designed Tour
General price:
$

2900.00 / ticket
13
5 Days Dream of Barcelona Premium Custom Designed Tour
General price:
$

2900.00 / ticket
14
5 Days Dream of Barcelona Premium Custom Designed Tour
General price:
$

2900.00 / ticket
15
5 Days Dream of Barcelona Premium Custom Designed Tour
General price:
$

2900.00 / ticket
16
5 Days Dream of Barcelona Premium Custom Designed Tour
General price:
$

2900.00 / ticket
17
5 Days Dream of Barcelona Premium Custom Designed Tour
General price:
$

2900.00 / ticket
18
5 Days Dream of Barcelona Premium Custom Designed Tour
General price:
$

2900.00 / ticket
19
5 Days Dream of Barcelona Premium Custom Designed Tour
General price:
$

2900.00 / ticket
20
5 Days Dream of Barcelona Premium Custom Designed Tour
General price:
$

2900.00 / ticket
21
5 Days Dream of Barcelona Premium Custom Designed Tour
General price:
$

2900.00 / ticket
22
5 Days Dream of Barcelona Premium Custom Designed Tour
General price:
$

2900.00 / ticket
23
5 Days Dream of Barcelona Premium Custom Designed Tour
General price:
$

2900.00 / ticket
24
5 Days Dream of Barcelona Premium Custom Designed Tour
General price:
$

2900.00 / ticket
25
5 Days Dream of Barcelona Premium Custom Designed Tour
General price:
$

2900.00 / ticket
26
5 Days Dream of Barcelona Premium Custom Designed Tour
General price:
$

2900.00 / ticket
27
5 Days Dream of Barcelona Premium Custom Designed Tour
General price:
$

2900.00 / ticket
28
5 Days Dream of Barcelona Premium Custom Designed Tour
General price:
$

2900.00 / ticket
29
5 Days Dream of Barcelona Premium Custom Designed Tour
General price:
$

2900.00 / ticket
30
5 Days Dream of Barcelona Premium Custom Designed Tour
General price:
$

2900.00 / ticket
31
5 Days Dream of Barcelona Premium Custom Designed Tour
General price:
$

2900.00 / ticket
1
5 Days Dream of Barcelona Premium Custom Designed Tour
General price:
$

2900.00 / ticket
26
5 Days Dream of Barcelona Premium Custom Designed Tour
General price:
$

2900.00 / ticket
27
5 Days Dream of Barcelona Premium Custom Designed Tour
General price:
$

2900.00 / ticket
28
5 Days Dream of Barcelona Premium Custom Designed Tour
General price:
$

2900.00 / ticket
29
5 Days Dream of Barcelona Premium Custom Designed Tour
General price:
$

2900.00 / ticket
30
5 Days Dream of Barcelona Premium Custom Designed Tour
General price:
$

2900.00 / ticket
31
5 Days Dream of Barcelona Premium Custom Designed Tour
General price:
$

2900.00 / ticket
1
5 Days Dream of Barcelona Premium Custom Designed Tour
General price:
$

2900.00 / ticket
2
5 Days Dream of Barcelona Premium Custom Designed Tour
General price:
$

2900.00 / ticket
3
5 Days Dream of Barcelona Premium Custom Designed Tour
General price:
$

2900.00 / ticket
4
5 Days Dream of Barcelona Premium Custom Designed Tour
General price:
$

2900.00 / ticket
5
5 Days Dream of Barcelona Premium Custom Designed Tour
General price:
$

2900.00 / ticket
6
5 Days Dream of Barcelona Premium Custom Designed Tour
General price:
$

2900.00 / ticket
7
5 Days Dream of Barcelona Premium Custom Designed Tour
General price:
$

2900.00 / ticket
8
5 Days Dream of Barcelona Premium Custom Designed Tour
General price:
$

2900.00 / ticket
9
5 Days Dream of Barcelona Premium Custom Designed Tour
General price:
$

2900.00 / ticket
10
5 Days Dream of Barcelona Premium Custom Designed Tour
General price:
$

2900.00 / ticket
11
5 Days Dream of Barcelona Premium Custom Designed Tour
General price:
$

2900.00 / ticket
12
5 Days Dream of Barcelona Premium Custom Designed Tour
General price:
$

2900.00 / ticket
13
5 Days Dream of Barcelona Premium Custom Designed Tour
General price:
$

2900.00 / ticket
14
5 Days Dream of Barcelona Premium Custom Designed Tour
General price:
$

2900.00 / ticket
15
5 Days Dream of Barcelona Premium Custom Designed Tour
General price:
$

2900.00 / ticket
16
5 Days Dream of Barcelona Premium Custom Designed Tour
General price:
$

2900.00 / ticket
17
5 Days Dream of Barcelona Premium Custom Designed Tour
General price:
$

2900.00 / ticket
18
5 Days Dream of Barcelona Premium Custom Designed Tour
General price:
$

2900.00 / ticket
19
5 Days Dream of Barcelona Premium Custom Designed Tour
General price:
$

2900.00 / ticket
20
5 Days Dream of Barcelona Premium Custom Designed Tour
General price:
$

2900.00 / ticket
21
5 Days Dream of Barcelona Premium Custom Designed Tour
General price:
$

2900.00 / ticket
22
5 Days Dream of Barcelona Premium Custom Designed Tour
General price:
$

2900.00 / ticket
23
5 Days Dream of Barcelona Premium Custom Designed Tour
General price:
$

2900.00 / ticket
24
5 Days Dream of Barcelona Premium Custom Designed Tour
General price:
$

2900.00 / ticket
25
5 Days Dream of Barcelona Premium Custom Designed Tour
General price:
$

2900.00 / ticket
26
5 Days Dream of Barcelona Premium Custom Designed Tour
General price:
$

2900.00 / ticket
27
5 Days Dream of Barcelona Premium Custom Designed Tour
General price:
$

2900.00 / ticket
28
5 Days Dream of Barcelona Premium Custom Designed Tour
General price:
$

2900.00 / ticket
29
5 Days Dream of Barcelona Premium Custom Designed Tour
General price:
$

2900.00 / ticket
30
5 Days Dream of Barcelona Premium Custom Designed Tour
General price:
$

2900.00 / ticket
1
5 Days Dream of Barcelona Premium Custom Designed Tour
General price:
$

2900.00 / ticket
2
5 Days Dream of Barcelona Premium Custom Designed Tour
General price:
$

2900.00 / ticket
3
5 Days Dream of Barcelona Premium Custom Designed Tour
General price:
$

2900.00 / ticket
4
5 Days Dream of Barcelona Premium Custom Designed Tour
General price:
$

2900.00 / ticket
5
5 Days Dream of Barcelona Premium Custom Designed Tour
General price:
$

2900.00 / ticket
6
5 Days Dream of Barcelona Premium Custom Designed Tour
General price:
$

2900.00 / ticket
30
5 Days Dream of Barcelona Premium Custom Designed Tour
General price:
$

2900.00 / ticket
1
5 Days Dream of Barcelona Premium Custom Designed Tour
General price:
$

2900.00 / ticket
2
5 Days Dream of Barcelona Premium Custom Designed Tour
General price:
$

2900.00 / ticket
3
5 Days Dream of Barcelona Premium Custom Designed Tour
General price:
$

2900.00 / ticket
4
5 Days Dream of Barcelona Premium Custom Designed Tour
General price:
$

2900.00 / ticket
5
5 Days Dream of Barcelona Premium Custom Designed Tour
General price:
$

2900.00 / ticket
6
5 Days Dream of Barcelona Premium Custom Designed Tour
General price:
$

2900.00 / ticket
7
5 Days Dream of Barcelona Premium Custom Designed Tour
General price:
$

2900.00 / ticket
8
5 Days Dream of Barcelona Premium Custom Designed Tour
General price:
$

2900.00 / ticket
9
5 Days Dream of Barcelona Premium Custom Designed Tour
General price:
$

2900.00 / ticket
10
5 Days Dream of Barcelona Premium Custom Designed Tour
General price:
$

2900.00 / ticket
11
5 Days Dream of Barcelona Premium Custom Designed Tour
General price:
$

2900.00 / ticket
12
5 Days Dream of Barcelona Premium Custom Designed Tour
General price:
$

2900.00 / ticket
13
5 Days Dream of Barcelona Premium Custom Designed Tour
General price:
$

2900.00 / ticket
14
5 Days Dream of Barcelona Premium Custom Designed Tour
General price:
$

2900.00 / ticket
15
5 Days Dream of Barcelona Premium Custom Designed Tour
General price:
$

2900.00 / ticket
16
5 Days Dream of Barcelona Premium Custom Designed Tour
General price:
$

2900.00 / ticket
17
5 Days Dream of Barcelona Premium Custom Designed Tour
General price:
$

2900.00 / ticket
18
5 Days Dream of Barcelona Premium Custom Designed Tour
General price:
$

2900.00 / ticket
19
5 Days Dream of Barcelona Premium Custom Designed Tour
General price:
$

2900.00 / ticket
20
5 Days Dream of Barcelona Premium Custom Designed Tour
General price:
$

2900.00 / ticket
21
5 Days Dream of Barcelona Premium Custom Designed Tour
General price:
$

2900.00 / ticket
22
5 Days Dream of Barcelona Premium Custom Designed Tour
General price:
$

2900.00 / ticket
23
5 Days Dream of Barcelona Premium Custom Designed Tour
General price:
$

2900.00 / ticket
24
5 Days Dream of Barcelona Premium Custom Designed Tour
General price:
$

2900.00 / ticket
25
5 Days Dream of Barcelona Premium Custom Designed Tour
General price:
$

2900.00 / ticket
26
5 Days Dream of Barcelona Premium Custom Designed Tour
General price:
$

2900.00 / ticket
27
5 Days Dream of Barcelona Premium Custom Designed Tour
General price:
$

2900.00 / ticket
28
5 Days Dream of Barcelona Premium Custom Designed Tour
General price:
$

2900.00 / ticket
29
5 Days Dream of Barcelona Premium Custom Designed Tour
General price:
$

2900.00 / ticket
30
5 Days Dream of Barcelona Premium Custom Designed Tour
General price:
$

2900.00 / ticket
31
5 Days Dream of Barcelona Premium Custom Designed Tour
General price:
$

2900.00 / ticket
1
5 Days Dream of Barcelona Premium Custom Designed Tour
General price:
$

2900.00 / ticket
2
5 Days Dream of Barcelona Premium Custom Designed Tour
General price:
$

2900.00 / ticket
3
5 Days Dream of Barcelona Premium Custom Designed Tour
General price:
$

2900.00 / ticket
28
5 Days Dream of Barcelona Premium Custom Designed Tour
General price:
$

2900.00 / ticket
29
5 Days Dream of Barcelona Premium Custom Designed Tour
General price:
$

2900.00 / ticket
30
5 Days Dream of Barcelona Premium Custom Designed Tour
General price:
$

2900.00 / ticket
31
5 Days Dream of Barcelona Premium Custom Designed Tour
General price:
$

2900.00 / ticket
1
5 Days Dream of Barcelona Premium Custom Designed Tour
General price:
$

2900.00 / ticket
2
5 Days Dream of Barcelona Premium Custom Designed Tour
General price:
$

2900.00 / ticket
3
5 Days Dream of Barcelona Premium Custom Designed Tour
General price:
$

2900.00 / ticket
4
5 Days Dream of Barcelona Premium Custom Designed Tour
General price:
$

2900.00 / ticket
5
5 Days Dream of Barcelona Premium Custom Designed Tour
General price:
$

2900.00 / ticket
6
5 Days Dream of Barcelona Premium Custom Designed Tour
General price:
$

2900.00 / ticket
7
5 Days Dream of Barcelona Premium Custom Designed Tour
General price:
$

2900.00 / ticket
8
5 Days Dream of Barcelona Premium Custom Designed Tour
General price:
$

2900.00 / ticket
9
5 Days Dream of Barcelona Premium Custom Designed Tour
General price:
$

2900.00 / ticket
10
5 Days Dream of Barcelona Premium Custom Designed Tour
General price:
$

2900.00 / ticket
11
5 Days Dream of Barcelona Premium Custom Designed Tour
General price:
$

2900.00 / ticket
12
5 Days Dream of Barcelona Premium Custom Designed Tour
General price:
$

2900.00 / ticket
13
5 Days Dream of Barcelona Premium Custom Designed Tour
General price:
$

2900.00 / ticket
14
5 Days Dream of Barcelona Premium Custom Designed Tour
General price:
$

2900.00 / ticket
15
5 Days Dream of Barcelona Premium Custom Designed Tour
General price:
$

2900.00 / ticket
16
5 Days Dream of Barcelona Premium Custom Designed Tour
General price:
$

2900.00 / ticket
17
5 Days Dream of Barcelona Premium Custom Designed Tour
General price:
$

2900.00 / ticket
18
5 Days Dream of Barcelona Premium Custom Designed Tour
General price:
$

2900.00 / ticket
19
5 Days Dream of Barcelona Premium Custom Designed Tour
General price:
$

2900.00 / ticket
20
5 Days Dream of Barcelona Premium Custom Designed Tour
General price:
$

2900.00 / ticket
21
5 Days Dream of Barcelona Premium Custom Designed Tour
General price:
$

2900.00 / ticket
22
5 Days Dream of Barcelona Premium Custom Designed Tour
General price:
$

2900.00 / ticket
23
5 Days Dream of Barcelona Premium Custom Designed Tour
General price:
$

2900.00 / ticket
24
5 Days Dream of Barcelona Premium Custom Designed Tour
General price:
$

2900.00 / ticket
25
5 Days Dream of Barcelona Premium Custom Designed Tour
General price:
$

2900.00 / ticket
26
5 Days Dream of Barcelona Premium Custom Designed Tour
General price:
$

2900.00 / ticket
27
5 Days Dream of Barcelona Premium Custom Designed Tour
General price:
$

2900.00 / ticket
28
5 Days Dream of Barcelona Premium Custom Designed Tour
General price:
$

2900.00 / ticket
29
5 Days Dream of Barcelona Premium Custom Designed Tour
General price:
$

2900.00 / ticket
30
5 Days Dream of Barcelona Premium Custom Designed Tour
General price:
$

2900.00 / ticket