Overview
Private tours allow you to explore the Maltese islands. You will also be able to visit Valletta, Malta's sister island, Gozo and Mdina, which are the smallest capital cities in Europe. Surprised by the rich history, monuments, megalithic Temples, Baroque Churches and local stories, you will find Malta to be a crossroads of civilizations over the centuries.
Notes:
Comfortable shoes recommended
No Minimum Number of Participants
Private Tour
Semi-escorted tour
Upgrade at a Valletta Hotel on Request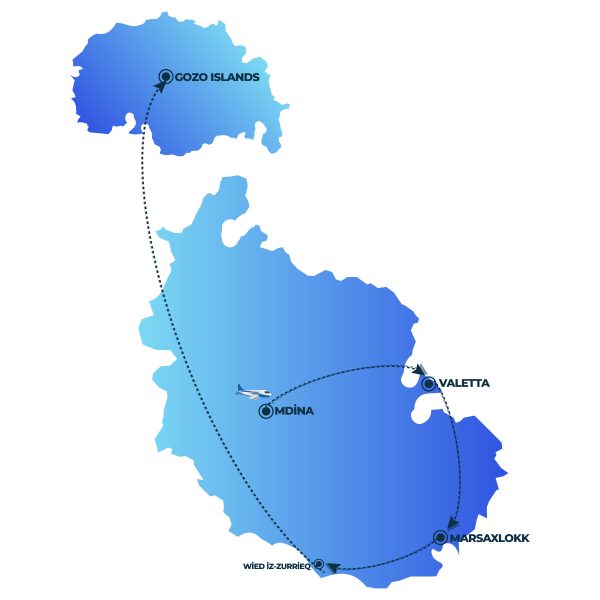 Day 1 – Malta, Arrival
Arrival at Valletta Airport/Port. Private transfer to the Hotel. Enjoy a free dinner and Overnight.
 Day 2 – Valletta, Mdina
Breakfast at the Hotel Breakfast at the hotel Then, we will stop at a local cafe in the downtown area to try traditional Maltese pastries like Pastizzi or Qassata. There is plenty of time to shop and eat lunch. Transfer to the middle of the island to see the charming walled town of Mdina, one of the oldest capitals of Malta during the Arab dominance. You will also visit the St. Paul's Church (entrance not included). There will be plenty of time to stroll through the narrow streets and take in panoramic views from Mdina's Belvedere. Transfer to and from Hotel.
 Day 3 – Three Cities, Marsaxlokk, Blue Grotto,Dingli Cliffs
You will be met by your driver at the Hotel. He will take you to the beautiful Cottonera Area. The tour includes Senglea,Vittoriosa, and Cospicua. From there, you will travel to Marsaxlokk, a fishing village. This waterfront is lined with traditional fishing vessels known as "luzzus" and brightly painted in red and blue.
This tranquil bay is alive with vibrancy. You will have plenty of time to stroll the streets or browse the local markets. In a traditional seafood restaurant, you can have lunch in Marsaxlokk. The tour continues on to the west coast of Malta, where you will visit Wied iz-Zurrieq. You will then board a boat for the Blue Grotto, which is a deep-sea cave where the waters are so pure and beautiful.
Although the Blue Grotto is steep and precipitous, there are some areas where the cliffs drop to sea level. Wied iz-Zurrieq is one of these small fjords. This narrow arm of sea is used as an anchorage for boats during calm weather. Many fishermen use boats today to transport visitors to the Deep Sea cave. The boat fee is paid locally. We then travel along a scenic route to the Dingli Cliffs, passing through the maltese countryside. The tour ends with a coach ride through beautiful coastal roads back to the Hotel. Overnight.
 Day 4 – Gozo Island Private Tour
Breakfast at the Hotel Transfer to Cirkewwa Ferry Terminal. After a 20-minute ferry crossing, you will arrive on the Island of Gozo with a private English-speaking driver. You will travel along the island of Comino before arriving at the Gozitan port Mgarr. From there, you will reach the Ggantija MegalithicTemples. This is a UNESCO World Heritage Site that is one of the most well-preserved Megalithic Temples in Malta. We begin a five-hour tour in Gozo that includes Ta' Pinu and Dwejra Bay, Gozo's main attraction. We will then stop at the charming Xlendi Bay for a quick break. Here you can enjoy some time walking or stopping by one of the many restaurants along the coast. We will then take a walking tour of Victoria in the afternoon.
Gozo's main attraction is Ta' Pinu and Dwejra Bay. We will then take a break at the charming Xlendi Bay where you can stroll around or enjoy delicious seafood at any of the many restaurants along the coast. After lunch, we will walk around Victoria exploring its narrow streets, markets and shops, before ascending to the Citadel of Gozo which is a medieval fortress that overlooks the entire island. Admire the breathtaking views of the countryside, and surrounding villages before you board your ferry to Malta. Arrival to Malta at around 4.00 to 3.30pm. Transfer to the hotel. The tour lasts approximately 6 hours. Overnight.
 Day 5 – Departure
Breakfast at Hotel Check out. Transfer to the Airport/Seaport You have the option to extend your stay by staying an additional night in Malta.
Calendar & Prices
30
4 Nights Malta Discovery Private Tour
General price:
$

1450.00 / ticket
1
4 Nights Malta Discovery Private Tour
General price:
$

1450.00 / ticket
30
4 Nights Malta Discovery Private Tour
General price:
$

1450.00 / ticket
1
4 Nights Malta Discovery Private Tour
General price:
$

1450.00 / ticket
2
4 Nights Malta Discovery Private Tour
General price:
$

1450.00 / ticket
3
4 Nights Malta Discovery Private Tour
General price:
$

1450.00 / ticket
4
4 Nights Malta Discovery Private Tour
General price:
$

1450.00 / ticket
5
4 Nights Malta Discovery Private Tour
General price:
$

1450.00 / ticket
6
4 Nights Malta Discovery Private Tour
General price:
$

1450.00 / ticket
7
4 Nights Malta Discovery Private Tour
General price:
$

1450.00 / ticket
8
4 Nights Malta Discovery Private Tour
General price:
$

1450.00 / ticket
9
4 Nights Malta Discovery Private Tour
General price:
$

1450.00 / ticket
10
4 Nights Malta Discovery Private Tour
General price:
$

1450.00 / ticket
11
4 Nights Malta Discovery Private Tour
General price:
$

1450.00 / ticket
12
4 Nights Malta Discovery Private Tour
General price:
$

1450.00 / ticket
13
4 Nights Malta Discovery Private Tour
General price:
$

1450.00 / ticket
14
4 Nights Malta Discovery Private Tour
General price:
$

1450.00 / ticket
15
4 Nights Malta Discovery Private Tour
General price:
$

1450.00 / ticket
16
4 Nights Malta Discovery Private Tour
General price:
$

1450.00 / ticket
17
4 Nights Malta Discovery Private Tour
General price:
$

1450.00 / ticket
18
4 Nights Malta Discovery Private Tour
General price:
$

1450.00 / ticket
19
4 Nights Malta Discovery Private Tour
General price:
$

1450.00 / ticket
20
4 Nights Malta Discovery Private Tour
General price:
$

1450.00 / ticket
21
4 Nights Malta Discovery Private Tour
General price:
$

1450.00 / ticket
22
4 Nights Malta Discovery Private Tour
General price:
$

1450.00 / ticket
23
4 Nights Malta Discovery Private Tour
General price:
$

1450.00 / ticket
24
4 Nights Malta Discovery Private Tour
General price:
$

1450.00 / ticket
25
4 Nights Malta Discovery Private Tour
General price:
$

1450.00 / ticket
26
4 Nights Malta Discovery Private Tour
General price:
$

1450.00 / ticket
27
4 Nights Malta Discovery Private Tour
General price:
$

1450.00 / ticket
28
4 Nights Malta Discovery Private Tour
General price:
$

1450.00 / ticket
29
4 Nights Malta Discovery Private Tour
General price:
$

1450.00 / ticket
30
4 Nights Malta Discovery Private Tour
General price:
$

1450.00 / ticket
31
4 Nights Malta Discovery Private Tour
General price:
$

1450.00 / ticket
1
4 Nights Malta Discovery Private Tour
General price:
$

1450.00 / ticket
2
4 Nights Malta Discovery Private Tour
General price:
$

1450.00 / ticket
3
4 Nights Malta Discovery Private Tour
General price:
$

1450.00 / ticket
4
4 Nights Malta Discovery Private Tour
General price:
$

1450.00 / ticket
5
4 Nights Malta Discovery Private Tour
General price:
$

1450.00 / ticket
30
4 Nights Malta Discovery Private Tour
General price:
$

1450.00 / ticket
31
4 Nights Malta Discovery Private Tour
General price:
$

1450.00 / ticket
1
4 Nights Malta Discovery Private Tour
General price:
$

1450.00 / ticket
2
4 Nights Malta Discovery Private Tour
General price:
$

1450.00 / ticket
3
4 Nights Malta Discovery Private Tour
General price:
$

1450.00 / ticket
4
4 Nights Malta Discovery Private Tour
General price:
$

1450.00 / ticket
5
4 Nights Malta Discovery Private Tour
General price:
$

1450.00 / ticket
6
4 Nights Malta Discovery Private Tour
General price:
$

1450.00 / ticket
7
4 Nights Malta Discovery Private Tour
General price:
$

1450.00 / ticket
8
4 Nights Malta Discovery Private Tour
General price:
$

1450.00 / ticket
9
4 Nights Malta Discovery Private Tour
General price:
$

1450.00 / ticket
10
4 Nights Malta Discovery Private Tour
General price:
$

1450.00 / ticket
11
4 Nights Malta Discovery Private Tour
General price:
$

1450.00 / ticket
12
4 Nights Malta Discovery Private Tour
General price:
$

1450.00 / ticket
13
4 Nights Malta Discovery Private Tour
General price:
$

1450.00 / ticket
14
4 Nights Malta Discovery Private Tour
General price:
$

1450.00 / ticket
15
4 Nights Malta Discovery Private Tour
General price:
$

1450.00 / ticket
16
4 Nights Malta Discovery Private Tour
General price:
$

1450.00 / ticket
17
4 Nights Malta Discovery Private Tour
General price:
$

1450.00 / ticket
18
4 Nights Malta Discovery Private Tour
General price:
$

1450.00 / ticket
19
4 Nights Malta Discovery Private Tour
General price:
$

1450.00 / ticket
20
4 Nights Malta Discovery Private Tour
General price:
$

1450.00 / ticket
21
4 Nights Malta Discovery Private Tour
General price:
$

1450.00 / ticket
22
4 Nights Malta Discovery Private Tour
General price:
$

1450.00 / ticket
23
4 Nights Malta Discovery Private Tour
General price:
$

1450.00 / ticket
24
4 Nights Malta Discovery Private Tour
General price:
$

1450.00 / ticket
25
4 Nights Malta Discovery Private Tour
General price:
$

1450.00 / ticket
26
4 Nights Malta Discovery Private Tour
General price:
$

1450.00 / ticket
27
4 Nights Malta Discovery Private Tour
General price:
$

1450.00 / ticket
28
4 Nights Malta Discovery Private Tour
General price:
$

1450.00 / ticket
29
4 Nights Malta Discovery Private Tour
General price:
$

1450.00 / ticket
30
4 Nights Malta Discovery Private Tour
General price:
$

1450.00 / ticket
1
4 Nights Malta Discovery Private Tour
General price:
$

1450.00 / ticket
2
4 Nights Malta Discovery Private Tour
General price:
$

1450.00 / ticket
3
4 Nights Malta Discovery Private Tour
General price:
$

1450.00 / ticket
27
4 Nights Malta Discovery Private Tour
General price:
$

1450.00 / ticket
28
4 Nights Malta Discovery Private Tour
General price:
$

1450.00 / ticket
29
4 Nights Malta Discovery Private Tour
General price:
$

1450.00 / ticket
30
4 Nights Malta Discovery Private Tour
General price:
$

1450.00 / ticket
1
4 Nights Malta Discovery Private Tour
General price:
$

1450.00 / ticket
2
4 Nights Malta Discovery Private Tour
General price:
$

1450.00 / ticket
3
4 Nights Malta Discovery Private Tour
General price:
$

1450.00 / ticket
4
4 Nights Malta Discovery Private Tour
General price:
$

1450.00 / ticket
5
4 Nights Malta Discovery Private Tour
General price:
$

1450.00 / ticket
6
4 Nights Malta Discovery Private Tour
General price:
$

1450.00 / ticket
7
4 Nights Malta Discovery Private Tour
General price:
$

1450.00 / ticket
8
4 Nights Malta Discovery Private Tour
General price:
$

1450.00 / ticket
9
4 Nights Malta Discovery Private Tour
General price:
$

1450.00 / ticket
10
4 Nights Malta Discovery Private Tour
General price:
$

1450.00 / ticket
11
4 Nights Malta Discovery Private Tour
General price:
$

1450.00 / ticket
12
4 Nights Malta Discovery Private Tour
General price:
$

1450.00 / ticket
13
4 Nights Malta Discovery Private Tour
General price:
$

1450.00 / ticket
14
4 Nights Malta Discovery Private Tour
General price:
$

1450.00 / ticket
15
4 Nights Malta Discovery Private Tour
General price:
$

1450.00 / ticket
16
4 Nights Malta Discovery Private Tour
General price:
$

1450.00 / ticket
17
4 Nights Malta Discovery Private Tour
General price:
$

1450.00 / ticket
18
4 Nights Malta Discovery Private Tour
General price:
$

1450.00 / ticket
19
4 Nights Malta Discovery Private Tour
General price:
$

1450.00 / ticket
20
4 Nights Malta Discovery Private Tour
General price:
$

1450.00 / ticket
21
4 Nights Malta Discovery Private Tour
General price:
$

1450.00 / ticket
22
4 Nights Malta Discovery Private Tour
General price:
$

1450.00 / ticket
23
4 Nights Malta Discovery Private Tour
General price:
$

1450.00 / ticket
24
4 Nights Malta Discovery Private Tour
General price:
$

1450.00 / ticket
25
4 Nights Malta Discovery Private Tour
General price:
$

1450.00 / ticket
26
4 Nights Malta Discovery Private Tour
General price:
$

1450.00 / ticket
27
4 Nights Malta Discovery Private Tour
General price:
$

1450.00 / ticket
28
4 Nights Malta Discovery Private Tour
General price:
$

1450.00 / ticket
29
4 Nights Malta Discovery Private Tour
General price:
$

1450.00 / ticket
30
4 Nights Malta Discovery Private Tour
General price:
$

1450.00 / ticket
31
4 Nights Malta Discovery Private Tour
General price:
$

1450.00 / ticket
1
4 Nights Malta Discovery Private Tour
General price:
$

1450.00 / ticket
2
4 Nights Malta Discovery Private Tour
General price:
$

1450.00 / ticket
3
4 Nights Malta Discovery Private Tour
General price:
$

1450.00 / ticket
4
4 Nights Malta Discovery Private Tour
General price:
$

1450.00 / ticket
5
4 Nights Malta Discovery Private Tour
General price:
$

1450.00 / ticket
6
4 Nights Malta Discovery Private Tour
General price:
$

1450.00 / ticket
7
4 Nights Malta Discovery Private Tour
General price:
$

1450.00 / ticket
8
4 Nights Malta Discovery Private Tour
General price:
$

1450.00 / ticket
9
4 Nights Malta Discovery Private Tour
General price:
$

1450.00 / ticket
10
4 Nights Malta Discovery Private Tour
General price:
$

1450.00 / ticket
11
4 Nights Malta Discovery Private Tour
General price:
$

1450.00 / ticket
12
4 Nights Malta Discovery Private Tour
General price:
$

1450.00 / ticket
13
4 Nights Malta Discovery Private Tour
General price:
$

1450.00 / ticket
14
4 Nights Malta Discovery Private Tour
General price:
$

1450.00 / ticket
15
4 Nights Malta Discovery Private Tour
General price:
$

1450.00 / ticket
16
4 Nights Malta Discovery Private Tour
General price:
$

1450.00 / ticket
17
4 Nights Malta Discovery Private Tour
General price:
$

1450.00 / ticket
18
4 Nights Malta Discovery Private Tour
General price:
$

1450.00 / ticket
19
4 Nights Malta Discovery Private Tour
General price:
$

1450.00 / ticket
20
4 Nights Malta Discovery Private Tour
General price:
$

1450.00 / ticket
21
4 Nights Malta Discovery Private Tour
General price:
$

1450.00 / ticket
22
4 Nights Malta Discovery Private Tour
General price:
$

1450.00 / ticket
23
4 Nights Malta Discovery Private Tour
General price:
$

1450.00 / ticket
24
4 Nights Malta Discovery Private Tour
General price:
$

1450.00 / ticket
25
4 Nights Malta Discovery Private Tour
General price:
$

1450.00 / ticket
26
4 Nights Malta Discovery Private Tour
General price:
$

1450.00 / ticket
27
4 Nights Malta Discovery Private Tour
General price:
$

1450.00 / ticket
28
4 Nights Malta Discovery Private Tour
General price:
$

1450.00 / ticket
29
4 Nights Malta Discovery Private Tour
General price:
$

1450.00 / ticket
30
4 Nights Malta Discovery Private Tour
General price:
$

1450.00 / ticket
31
4 Nights Malta Discovery Private Tour
General price:
$

1450.00 / ticket
1
4 Nights Malta Discovery Private Tour
General price:
$

1450.00 / ticket
2
4 Nights Malta Discovery Private Tour
General price:
$

1450.00 / ticket
3
4 Nights Malta Discovery Private Tour
General price:
$

1450.00 / ticket
4
4 Nights Malta Discovery Private Tour
General price:
$

1450.00 / ticket
29
4 Nights Malta Discovery Private Tour
General price:
$

1450.00 / ticket
30
4 Nights Malta Discovery Private Tour
General price:
$

1450.00 / ticket
31
4 Nights Malta Discovery Private Tour
General price:
$

1450.00 / ticket
1
4 Nights Malta Discovery Private Tour
General price:
$

1450.00 / ticket
2
4 Nights Malta Discovery Private Tour
General price:
$

1450.00 / ticket
3
4 Nights Malta Discovery Private Tour
General price:
$

1450.00 / ticket
4
4 Nights Malta Discovery Private Tour
General price:
$

1450.00 / ticket
5
4 Nights Malta Discovery Private Tour
General price:
$

1450.00 / ticket
6
4 Nights Malta Discovery Private Tour
General price:
$

1450.00 / ticket
7
4 Nights Malta Discovery Private Tour
General price:
$

1450.00 / ticket
8
4 Nights Malta Discovery Private Tour
General price:
$

1450.00 / ticket
9
4 Nights Malta Discovery Private Tour
General price:
$

1450.00 / ticket
10
4 Nights Malta Discovery Private Tour
General price:
$

1450.00 / ticket
11
4 Nights Malta Discovery Private Tour
General price:
$

1450.00 / ticket
12
4 Nights Malta Discovery Private Tour
General price:
$

1450.00 / ticket
13
4 Nights Malta Discovery Private Tour
General price:
$

1450.00 / ticket
14
4 Nights Malta Discovery Private Tour
General price:
$

1450.00 / ticket
15
4 Nights Malta Discovery Private Tour
General price:
$

1450.00 / ticket
16
4 Nights Malta Discovery Private Tour
General price:
$

1450.00 / ticket
17
4 Nights Malta Discovery Private Tour
General price:
$

1450.00 / ticket
18
4 Nights Malta Discovery Private Tour
General price:
$

1450.00 / ticket
19
4 Nights Malta Discovery Private Tour
General price:
$

1450.00 / ticket
20
4 Nights Malta Discovery Private Tour
General price:
$

1450.00 / ticket
21
4 Nights Malta Discovery Private Tour
General price:
$

1450.00 / ticket
22
4 Nights Malta Discovery Private Tour
General price:
$

1450.00 / ticket
23
4 Nights Malta Discovery Private Tour
General price:
$

1450.00 / ticket
24
4 Nights Malta Discovery Private Tour
General price:
$

1450.00 / ticket
25
4 Nights Malta Discovery Private Tour
General price:
$

1450.00 / ticket
26
4 Nights Malta Discovery Private Tour
General price:
$

1450.00 / ticket
27
4 Nights Malta Discovery Private Tour
General price:
$

1450.00 / ticket
28
4 Nights Malta Discovery Private Tour
General price:
$

1450.00 / ticket
29
4 Nights Malta Discovery Private Tour
General price:
$

1450.00 / ticket
1
4 Nights Malta Discovery Private Tour
General price:
$

1450.00 / ticket
2
4 Nights Malta Discovery Private Tour
General price:
$

1450.00 / ticket
3
4 Nights Malta Discovery Private Tour
General price:
$

1450.00 / ticket
26
4 Nights Malta Discovery Private Tour
General price:
$

1450.00 / ticket
27
4 Nights Malta Discovery Private Tour
General price:
$

1450.00 / ticket
28
4 Nights Malta Discovery Private Tour
General price:
$

1450.00 / ticket
29
4 Nights Malta Discovery Private Tour
General price:
$

1450.00 / ticket
1
4 Nights Malta Discovery Private Tour
General price:
$

1450.00 / ticket
2
4 Nights Malta Discovery Private Tour
General price:
$

1450.00 / ticket
3
4 Nights Malta Discovery Private Tour
General price:
$

1450.00 / ticket
4
4 Nights Malta Discovery Private Tour
General price:
$

1450.00 / ticket
5
4 Nights Malta Discovery Private Tour
General price:
$

1450.00 / ticket
6
4 Nights Malta Discovery Private Tour
General price:
$

1450.00 / ticket
7
4 Nights Malta Discovery Private Tour
General price:
$

1450.00 / ticket
8
4 Nights Malta Discovery Private Tour
General price:
$

1450.00 / ticket
9
4 Nights Malta Discovery Private Tour
General price:
$

1450.00 / ticket
10
4 Nights Malta Discovery Private Tour
General price:
$

1450.00 / ticket
11
4 Nights Malta Discovery Private Tour
General price:
$

1450.00 / ticket
12
4 Nights Malta Discovery Private Tour
General price:
$

1450.00 / ticket
13
4 Nights Malta Discovery Private Tour
General price:
$

1450.00 / ticket
14
4 Nights Malta Discovery Private Tour
General price:
$

1450.00 / ticket
15
4 Nights Malta Discovery Private Tour
General price:
$

1450.00 / ticket
16
4 Nights Malta Discovery Private Tour
General price:
$

1450.00 / ticket
17
4 Nights Malta Discovery Private Tour
General price:
$

1450.00 / ticket
18
4 Nights Malta Discovery Private Tour
General price:
$

1450.00 / ticket
19
4 Nights Malta Discovery Private Tour
General price:
$

1450.00 / ticket
20
4 Nights Malta Discovery Private Tour
General price:
$

1450.00 / ticket
21
4 Nights Malta Discovery Private Tour
General price:
$

1450.00 / ticket
22
4 Nights Malta Discovery Private Tour
General price:
$

1450.00 / ticket
23
4 Nights Malta Discovery Private Tour
General price:
$

1450.00 / ticket
24
4 Nights Malta Discovery Private Tour
General price:
$

1450.00 / ticket
25
4 Nights Malta Discovery Private Tour
General price:
$

1450.00 / ticket
26
4 Nights Malta Discovery Private Tour
General price:
$

1450.00 / ticket
27
4 Nights Malta Discovery Private Tour
General price:
$

1450.00 / ticket
28
4 Nights Malta Discovery Private Tour
General price:
$

1450.00 / ticket
29
4 Nights Malta Discovery Private Tour
General price:
$

1450.00 / ticket
30
4 Nights Malta Discovery Private Tour
General price:
$

1450.00 / ticket
31
4 Nights Malta Discovery Private Tour
General price:
$

1450.00 / ticket
1
4 Nights Malta Discovery Private Tour
General price:
$

1450.00 / ticket
2
4 Nights Malta Discovery Private Tour
General price:
$

1450.00 / ticket
3
4 Nights Malta Discovery Private Tour
General price:
$

1450.00 / ticket
4
4 Nights Malta Discovery Private Tour
General price:
$

1450.00 / ticket
5
4 Nights Malta Discovery Private Tour
General price:
$

1450.00 / ticket
6
4 Nights Malta Discovery Private Tour
General price:
$

1450.00 / ticket
7
4 Nights Malta Discovery Private Tour
General price:
$

1450.00 / ticket
8
4 Nights Malta Discovery Private Tour
General price:
$

1450.00 / ticket
9
4 Nights Malta Discovery Private Tour
General price:
$

1450.00 / ticket
10
4 Nights Malta Discovery Private Tour
General price:
$

1450.00 / ticket
11
4 Nights Malta Discovery Private Tour
General price:
$

1450.00 / ticket
12
4 Nights Malta Discovery Private Tour
General price:
$

1450.00 / ticket
13
4 Nights Malta Discovery Private Tour
General price:
$

1450.00 / ticket
14
4 Nights Malta Discovery Private Tour
General price:
$

1450.00 / ticket
15
4 Nights Malta Discovery Private Tour
General price:
$

1450.00 / ticket
16
4 Nights Malta Discovery Private Tour
General price:
$

1450.00 / ticket
17
4 Nights Malta Discovery Private Tour
General price:
$

1450.00 / ticket
18
4 Nights Malta Discovery Private Tour
General price:
$

1450.00 / ticket
19
4 Nights Malta Discovery Private Tour
General price:
$

1450.00 / ticket
20
4 Nights Malta Discovery Private Tour
General price:
$

1450.00 / ticket
21
4 Nights Malta Discovery Private Tour
General price:
$

1450.00 / ticket
22
4 Nights Malta Discovery Private Tour
General price:
$

1450.00 / ticket
23
4 Nights Malta Discovery Private Tour
General price:
$

1450.00 / ticket
24
4 Nights Malta Discovery Private Tour
General price:
$

1450.00 / ticket
25
4 Nights Malta Discovery Private Tour
General price:
$

1450.00 / ticket
26
4 Nights Malta Discovery Private Tour
General price:
$

1450.00 / ticket
27
4 Nights Malta Discovery Private Tour
General price:
$

1450.00 / ticket
28
4 Nights Malta Discovery Private Tour
General price:
$

1450.00 / ticket
29
4 Nights Malta Discovery Private Tour
General price:
$

1450.00 / ticket
30
4 Nights Malta Discovery Private Tour
General price:
$

1450.00 / ticket
1
4 Nights Malta Discovery Private Tour
General price:
$

1450.00 / ticket
2
4 Nights Malta Discovery Private Tour
General price:
$

1450.00 / ticket
3
4 Nights Malta Discovery Private Tour
General price:
$

1450.00 / ticket
4
4 Nights Malta Discovery Private Tour
General price:
$

1450.00 / ticket
5
4 Nights Malta Discovery Private Tour
General price:
$

1450.00 / ticket
29
4 Nights Malta Discovery Private Tour
General price:
$

1450.00 / ticket
30
4 Nights Malta Discovery Private Tour
General price:
$

1450.00 / ticket
1
4 Nights Malta Discovery Private Tour
General price:
$

1450.00 / ticket
2
4 Nights Malta Discovery Private Tour
General price:
$

1450.00 / ticket
3
4 Nights Malta Discovery Private Tour
General price:
$

1450.00 / ticket
4
4 Nights Malta Discovery Private Tour
General price:
$

1450.00 / ticket
5
4 Nights Malta Discovery Private Tour
General price:
$

1450.00 / ticket
6
4 Nights Malta Discovery Private Tour
General price:
$

1450.00 / ticket
7
4 Nights Malta Discovery Private Tour
General price:
$

1450.00 / ticket
8
4 Nights Malta Discovery Private Tour
General price:
$

1450.00 / ticket
9
4 Nights Malta Discovery Private Tour
General price:
$

1450.00 / ticket
10
4 Nights Malta Discovery Private Tour
General price:
$

1450.00 / ticket
11
4 Nights Malta Discovery Private Tour
General price:
$

1450.00 / ticket
12
4 Nights Malta Discovery Private Tour
General price:
$

1450.00 / ticket
13
4 Nights Malta Discovery Private Tour
General price:
$

1450.00 / ticket
14
4 Nights Malta Discovery Private Tour
General price:
$

1450.00 / ticket
15
4 Nights Malta Discovery Private Tour
General price:
$

1450.00 / ticket
16
4 Nights Malta Discovery Private Tour
General price:
$

1450.00 / ticket
17
4 Nights Malta Discovery Private Tour
General price:
$

1450.00 / ticket
18
4 Nights Malta Discovery Private Tour
General price:
$

1450.00 / ticket
19
4 Nights Malta Discovery Private Tour
General price:
$

1450.00 / ticket
20
4 Nights Malta Discovery Private Tour
General price:
$

1450.00 / ticket
21
4 Nights Malta Discovery Private Tour
General price:
$

1450.00 / ticket
22
4 Nights Malta Discovery Private Tour
General price:
$

1450.00 / ticket
23
4 Nights Malta Discovery Private Tour
General price:
$

1450.00 / ticket
24
4 Nights Malta Discovery Private Tour
General price:
$

1450.00 / ticket
25
4 Nights Malta Discovery Private Tour
General price:
$

1450.00 / ticket
26
4 Nights Malta Discovery Private Tour
General price:
$

1450.00 / ticket
27
4 Nights Malta Discovery Private Tour
General price:
$

1450.00 / ticket
28
4 Nights Malta Discovery Private Tour
General price:
$

1450.00 / ticket
29
4 Nights Malta Discovery Private Tour
General price:
$

1450.00 / ticket
30
4 Nights Malta Discovery Private Tour
General price:
$

1450.00 / ticket
31
4 Nights Malta Discovery Private Tour
General price:
$

1450.00 / ticket
1
4 Nights Malta Discovery Private Tour
General price:
$

1450.00 / ticket
2
4 Nights Malta Discovery Private Tour
General price:
$

1450.00 / ticket
27
4 Nights Malta Discovery Private Tour
General price:
$

1450.00 / ticket
28
4 Nights Malta Discovery Private Tour
General price:
$

1450.00 / ticket
29
4 Nights Malta Discovery Private Tour
General price:
$

1450.00 / ticket
30
4 Nights Malta Discovery Private Tour
General price:
$

1450.00 / ticket
31
4 Nights Malta Discovery Private Tour
General price:
$

1450.00 / ticket
1
4 Nights Malta Discovery Private Tour
General price:
$

1450.00 / ticket
2
4 Nights Malta Discovery Private Tour
General price:
$

1450.00 / ticket
3
4 Nights Malta Discovery Private Tour
General price:
$

1450.00 / ticket
4
4 Nights Malta Discovery Private Tour
General price:
$

1450.00 / ticket
5
4 Nights Malta Discovery Private Tour
General price:
$

1450.00 / ticket
6
4 Nights Malta Discovery Private Tour
General price:
$

1450.00 / ticket
7
4 Nights Malta Discovery Private Tour
General price:
$

1450.00 / ticket
8
4 Nights Malta Discovery Private Tour
General price:
$

1450.00 / ticket
9
4 Nights Malta Discovery Private Tour
General price:
$

1450.00 / ticket
10
4 Nights Malta Discovery Private Tour
General price:
$

1450.00 / ticket
11
4 Nights Malta Discovery Private Tour
General price:
$

1450.00 / ticket
12
4 Nights Malta Discovery Private Tour
General price:
$

1450.00 / ticket
13
4 Nights Malta Discovery Private Tour
General price:
$

1450.00 / ticket
14
4 Nights Malta Discovery Private Tour
General price:
$

1450.00 / ticket
15
4 Nights Malta Discovery Private Tour
General price:
$

1450.00 / ticket
16
4 Nights Malta Discovery Private Tour
General price:
$

1450.00 / ticket
17
4 Nights Malta Discovery Private Tour
General price:
$

1450.00 / ticket
18
4 Nights Malta Discovery Private Tour
General price:
$

1450.00 / ticket
19
4 Nights Malta Discovery Private Tour
General price:
$

1450.00 / ticket
20
4 Nights Malta Discovery Private Tour
General price:
$

1450.00 / ticket
21
4 Nights Malta Discovery Private Tour
General price:
$

1450.00 / ticket
22
4 Nights Malta Discovery Private Tour
General price:
$

1450.00 / ticket
23
4 Nights Malta Discovery Private Tour
General price:
$

1450.00 / ticket
24
4 Nights Malta Discovery Private Tour
General price:
$

1450.00 / ticket
25
4 Nights Malta Discovery Private Tour
General price:
$

1450.00 / ticket
26
4 Nights Malta Discovery Private Tour
General price:
$

1450.00 / ticket
27
4 Nights Malta Discovery Private Tour
General price:
$

1450.00 / ticket
28
4 Nights Malta Discovery Private Tour
General price:
$

1450.00 / ticket
29
4 Nights Malta Discovery Private Tour
General price:
$

1450.00 / ticket
30
4 Nights Malta Discovery Private Tour
General price:
$

1450.00 / ticket
1
4 Nights Malta Discovery Private Tour
General price:
$

1450.00 / ticket
2
4 Nights Malta Discovery Private Tour
General price:
$

1450.00 / ticket
3
4 Nights Malta Discovery Private Tour
General price:
$

1450.00 / ticket
4
4 Nights Malta Discovery Private Tour
General price:
$

1450.00 / ticket
5
4 Nights Malta Discovery Private Tour
General price:
$

1450.00 / ticket
6
4 Nights Malta Discovery Private Tour
General price:
$

1450.00 / ticket
7
4 Nights Malta Discovery Private Tour
General price:
$

1450.00 / ticket
8
4 Nights Malta Discovery Private Tour
General price:
$

1450.00 / ticket
9
4 Nights Malta Discovery Private Tour
General price:
$

1450.00 / ticket
10
4 Nights Malta Discovery Private Tour
General price:
$

1450.00 / ticket
11
4 Nights Malta Discovery Private Tour
General price:
$

1450.00 / ticket
12
4 Nights Malta Discovery Private Tour
General price:
$

1450.00 / ticket
13
4 Nights Malta Discovery Private Tour
General price:
$

1450.00 / ticket
14
4 Nights Malta Discovery Private Tour
General price:
$

1450.00 / ticket
15
4 Nights Malta Discovery Private Tour
General price:
$

1450.00 / ticket
16
4 Nights Malta Discovery Private Tour
General price:
$

1450.00 / ticket
17
4 Nights Malta Discovery Private Tour
General price:
$

1450.00 / ticket
18
4 Nights Malta Discovery Private Tour
General price:
$

1450.00 / ticket
19
4 Nights Malta Discovery Private Tour
General price:
$

1450.00 / ticket
20
4 Nights Malta Discovery Private Tour
General price:
$

1450.00 / ticket
21
4 Nights Malta Discovery Private Tour
General price:
$

1450.00 / ticket
22
4 Nights Malta Discovery Private Tour
General price:
$

1450.00 / ticket
23
4 Nights Malta Discovery Private Tour
General price:
$

1450.00 / ticket
24
4 Nights Malta Discovery Private Tour
General price:
$

1450.00 / ticket
25
4 Nights Malta Discovery Private Tour
General price:
$

1450.00 / ticket
26
4 Nights Malta Discovery Private Tour
General price:
$

1450.00 / ticket
27
4 Nights Malta Discovery Private Tour
General price:
$

1450.00 / ticket
28
4 Nights Malta Discovery Private Tour
General price:
$

1450.00 / ticket
29
4 Nights Malta Discovery Private Tour
General price:
$

1450.00 / ticket
30
4 Nights Malta Discovery Private Tour
General price:
$

1450.00 / ticket
31
4 Nights Malta Discovery Private Tour
General price:
$

1450.00 / ticket
1
4 Nights Malta Discovery Private Tour
General price:
$

1450.00 / ticket
2
4 Nights Malta Discovery Private Tour
General price:
$

1450.00 / ticket
3
4 Nights Malta Discovery Private Tour
General price:
$

1450.00 / ticket
4
4 Nights Malta Discovery Private Tour
General price:
$

1450.00 / ticket
29
4 Nights Malta Discovery Private Tour
General price:
$

1450.00 / ticket
30
4 Nights Malta Discovery Private Tour
General price:
$

1450.00 / ticket
31
4 Nights Malta Discovery Private Tour
General price:
$

1450.00 / ticket
1
4 Nights Malta Discovery Private Tour
General price:
$

1450.00 / ticket
2
4 Nights Malta Discovery Private Tour
General price:
$

1450.00 / ticket
3
4 Nights Malta Discovery Private Tour
General price:
$

1450.00 / ticket
4
4 Nights Malta Discovery Private Tour
General price:
$

1450.00 / ticket
5
4 Nights Malta Discovery Private Tour
General price:
$

1450.00 / ticket
6
4 Nights Malta Discovery Private Tour
General price:
$

1450.00 / ticket
7
4 Nights Malta Discovery Private Tour
General price:
$

1450.00 / ticket
8
4 Nights Malta Discovery Private Tour
General price:
$

1450.00 / ticket
9
4 Nights Malta Discovery Private Tour
General price:
$

1450.00 / ticket
10
4 Nights Malta Discovery Private Tour
General price:
$

1450.00 / ticket
11
4 Nights Malta Discovery Private Tour
General price:
$

1450.00 / ticket
12
4 Nights Malta Discovery Private Tour
General price:
$

1450.00 / ticket
13
4 Nights Malta Discovery Private Tour
General price:
$

1450.00 / ticket
14
4 Nights Malta Discovery Private Tour
General price:
$

1450.00 / ticket
15
4 Nights Malta Discovery Private Tour
General price:
$

1450.00 / ticket
16
4 Nights Malta Discovery Private Tour
General price:
$

1450.00 / ticket
17
4 Nights Malta Discovery Private Tour
General price:
$

1450.00 / ticket
18
4 Nights Malta Discovery Private Tour
General price:
$

1450.00 / ticket
19
4 Nights Malta Discovery Private Tour
General price:
$

1450.00 / ticket
20
4 Nights Malta Discovery Private Tour
General price:
$

1450.00 / ticket
21
4 Nights Malta Discovery Private Tour
General price:
$

1450.00 / ticket
22
4 Nights Malta Discovery Private Tour
General price:
$

1450.00 / ticket
23
4 Nights Malta Discovery Private Tour
General price:
$

1450.00 / ticket
24
4 Nights Malta Discovery Private Tour
General price:
$

1450.00 / ticket
25
4 Nights Malta Discovery Private Tour
General price:
$

1450.00 / ticket
26
4 Nights Malta Discovery Private Tour
General price:
$

1450.00 / ticket
27
4 Nights Malta Discovery Private Tour
General price:
$

1450.00 / ticket
28
4 Nights Malta Discovery Private Tour
General price:
$

1450.00 / ticket
29
4 Nights Malta Discovery Private Tour
General price:
$

1450.00 / ticket
30
4 Nights Malta Discovery Private Tour
General price:
$

1450.00 / ticket
31
4 Nights Malta Discovery Private Tour
General price:
$

1450.00 / ticket
1
4 Nights Malta Discovery Private Tour
General price:
$

1450.00 / ticket