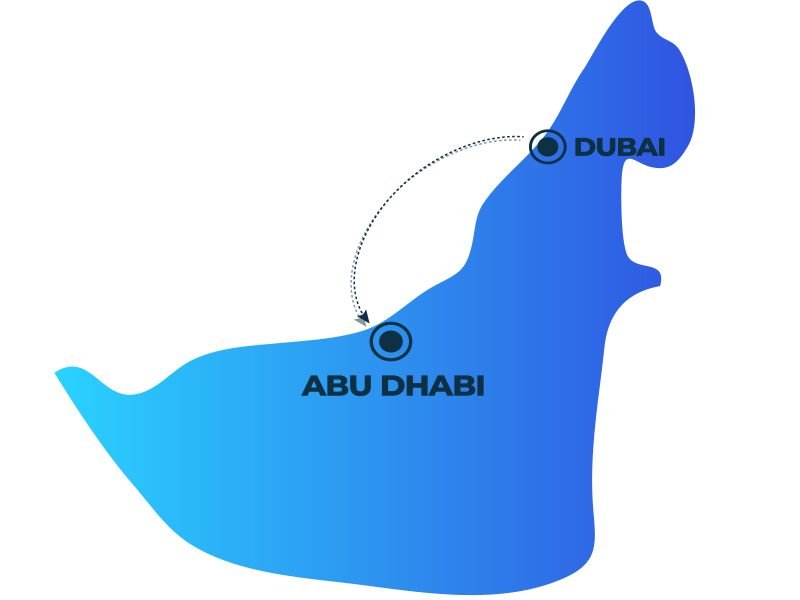 DAY  1
Prepare for a warm welcome like no other! An affable English-speaking assistant will be patiently waiting for your arrival at the gate. You won't miss them – they'll be holding a board with your name on it. You can rest easy knowing that your immigration and airport security experience will go smoothly, thanks to the dedicated and efficient fast track counter. Once you've landed, there's no need to heave those heavy suitcases around – porter service is at your disposal, conveniently located at the luggage belt area. As if that wasn't enough, you'll also receive a voucher for entry to the illustrious Marhaba departure lounge. All in all, this is an unforgettable experience that'll leave you feeling pampered and pampered.
A private vehicle and driver will provide a transfer between the airport and hotel.
Where you'll be staying
Manzil Downtown
Deluxue room
DAY 2
Explore a City of Contrasts
Prepare to experience the ultimate indulgence and elegance of Modern Dubai like never before! With your private guide and driver by your side, embark on a captivating half-day tour of the city's most impressive sights. Get ready to be blown away by the sheer magnificence of Palm Jumeirah, an awe-inspiring human-made island that stands tall as a testament to Dubai's avant-garde vision. Take in the breathtaking views from the 52nd floor lookout platform of the Palm Tower and marvel at the stunning palm-tree-shaped island below. Don't forget to capture the perfect shot of the iconic Burj Al Arab, which shines like a beacon from its private island off the Jumeirah Coast. Finally, explore the Dubai Mall, an unrivaled shopping paradise that will leave you in complete awe. Are you ready to experience the ultimate luxurious adventure in the heart of Dubai? Step into a world of grandeur and excitement as you explore the buzzing epicentre of Dubai. Take in the sheer scale of the towering Burj Khalifa, the world's tallest building, and indulge in coveted luxury brands and epicurean delights. But the real highlight lies in the heart-stopping ascent to the top! Make your way to the 124th floor observation deck and marvel at the breathtaking 360-degree views that await you. The floor-to-ceiling glass walls offer an unprecedented view of the city, the desert, and the ocean, making it an experience you will never forget. And don't forget to experience the four-floor Human Waterfall, a true masterpiece of art and engineering that is sure to leave you in awe. This is a journey to be savoured and remembered forever. Escape the hustle and bustle of the city this afternoon and discover the ancient allure of the Arabian Desert. Embark on a thrilling adventure complete with camel rides, a mouth-watering Arabian feast, and live entertainment that will leave you in awe. Cruise through the mystical sands in an air-conditioned 4×4 vehicle with your own private driver-guide and experience the adrenaline-pumping dune-bashing activity. As the sun sets over the sprawling desert, pause to marvel at the breathtaking views before continuing on to an authentic Bedouin campsite. Here, indulge in a variety of refreshments and adorn yourself with traditional attire while a henna designer works their magic. Then, mount your camel and journey in the footsteps of the ancients on a true Arabian experience. Return back to the camp and dine on a delicious barbecue dinner as the stars come out, an atmosphere perfectly enhanced by live cultural entertainment. Conclude your evening with a return transfer to your hotel.
Where you'll be staying
Manzil Downtown
Deluxe Room
DAY 3 DUBAI TO ABU DHABI
Sights and Insights
Embark on a journey of wonder and exploration with a knowledgeable private guide and driver as you discover the mystical marvels of Abu Dhabi. Marvel at the awe-inspiring Sheikh Zayed Grand Mosque, a 21st century masterpiece that exudes a fusion of Islamic architectural styles. Adorned with gold accents and pristine white arcades, it offers stunning symmetrical sights that are picture-perfect. You'll also get an exclusive glimpse into Emirati governance with a visit to the grand Presidential Palace, Qasr Al-Watan. With its impressive Great Hall and a treasure trove of rare literature and artifacts housed in the Library and House of Knowledge, it's an experience that is sure to leave you in awe. To add to the excitement, you'll also make a quick stop at Abu Dhabi's oldest stone building, the 18th century Qasr Al-Hosn, a striking contrast to the modern developments that surround it.
Get ready to tantalize your taste buds with a scrumptious buffet lunch at the elegant Le Vendome on the 4th floor of the Emirates Palace hotel. With breathtaking views of the Arabian Gulf, indulge in delectable local and international dishes that will leave you wanting more. Afterward, immerse yourself in the cultural splendor of The Louvre Abu Dhabi, a stalwart for the UAE. Take your time to explore a fascinating collection of art, design, and world history. Wrap up your day in style with a tranquil transfer back to your hotel.
Where you'll be staying
Manzil Downtown
Deluxe room
DAY 4  DUBAI
Jet Off
A private vehicle and driver will provide a transfer between the airport and hotel.
Calendar & Prices
30
4 Days Dubai Private Tours
General price:
$

2850.00 / ticket
1
4 Days Dubai Private Tours
General price:
$

2850.00 / ticket
30
4 Days Dubai Private Tours
General price:
$

2850.00 / ticket
1
4 Days Dubai Private Tours
General price:
$

2850.00 / ticket
2
4 Days Dubai Private Tours
General price:
$

2850.00 / ticket
3
4 Days Dubai Private Tours
General price:
$

2850.00 / ticket
4
4 Days Dubai Private Tours
General price:
$

2850.00 / ticket
5
4 Days Dubai Private Tours
General price:
$

2850.00 / ticket
6
4 Days Dubai Private Tours
General price:
$

2850.00 / ticket
7
4 Days Dubai Private Tours
General price:
$

2850.00 / ticket
8
4 Days Dubai Private Tours
General price:
$

2850.00 / ticket
9
4 Days Dubai Private Tours
General price:
$

2850.00 / ticket
10
4 Days Dubai Private Tours
General price:
$

2850.00 / ticket
11
4 Days Dubai Private Tours
General price:
$

2850.00 / ticket
12
4 Days Dubai Private Tours
General price:
$

2850.00 / ticket
13
4 Days Dubai Private Tours
General price:
$

2850.00 / ticket
14
4 Days Dubai Private Tours
General price:
$

2850.00 / ticket
15
4 Days Dubai Private Tours
General price:
$

2850.00 / ticket
16
4 Days Dubai Private Tours
General price:
$

2850.00 / ticket
17
4 Days Dubai Private Tours
General price:
$

2850.00 / ticket
18
4 Days Dubai Private Tours
General price:
$

2850.00 / ticket
19
4 Days Dubai Private Tours
General price:
$

2850.00 / ticket
20
4 Days Dubai Private Tours
General price:
$

2850.00 / ticket
21
4 Days Dubai Private Tours
General price:
$

2850.00 / ticket
22
4 Days Dubai Private Tours
General price:
$

2850.00 / ticket
23
4 Days Dubai Private Tours
General price:
$

2850.00 / ticket
24
4 Days Dubai Private Tours
General price:
$

2850.00 / ticket
25
4 Days Dubai Private Tours
General price:
$

2850.00 / ticket
26
4 Days Dubai Private Tours
General price:
$

2850.00 / ticket
27
4 Days Dubai Private Tours
General price:
$

2850.00 / ticket
28
4 Days Dubai Private Tours
General price:
$

2850.00 / ticket
29
4 Days Dubai Private Tours
General price:
$

2850.00 / ticket
30
4 Days Dubai Private Tours
General price:
$

2850.00 / ticket
31
4 Days Dubai Private Tours
General price:
$

2850.00 / ticket
1
4 Days Dubai Private Tours
General price:
$

2850.00 / ticket
2
4 Days Dubai Private Tours
General price:
$

2850.00 / ticket
3
4 Days Dubai Private Tours
General price:
$

2850.00 / ticket
4
4 Days Dubai Private Tours
General price:
$

2850.00 / ticket
5
4 Days Dubai Private Tours
General price:
$

2850.00 / ticket
30
4 Days Dubai Private Tours
General price:
$

2850.00 / ticket
31
4 Days Dubai Private Tours
General price:
$

2850.00 / ticket
1
4 Days Dubai Private Tours
General price:
$

2850.00 / ticket
2
4 Days Dubai Private Tours
General price:
$

2850.00 / ticket
3
4 Days Dubai Private Tours
General price:
$

2850.00 / ticket
4
4 Days Dubai Private Tours
General price:
$

2850.00 / ticket
5
4 Days Dubai Private Tours
General price:
$

2850.00 / ticket
6
4 Days Dubai Private Tours
General price:
$

2850.00 / ticket
7
4 Days Dubai Private Tours
General price:
$

2850.00 / ticket
8
4 Days Dubai Private Tours
General price:
$

2850.00 / ticket
9
4 Days Dubai Private Tours
General price:
$

2850.00 / ticket
10
4 Days Dubai Private Tours
General price:
$

2850.00 / ticket
11
4 Days Dubai Private Tours
General price:
$

2850.00 / ticket
12
4 Days Dubai Private Tours
General price:
$

2850.00 / ticket
13
4 Days Dubai Private Tours
General price:
$

2850.00 / ticket
14
4 Days Dubai Private Tours
General price:
$

2850.00 / ticket
15
4 Days Dubai Private Tours
General price:
$

2850.00 / ticket
16
4 Days Dubai Private Tours
General price:
$

2850.00 / ticket
17
4 Days Dubai Private Tours
General price:
$

2850.00 / ticket
18
4 Days Dubai Private Tours
General price:
$

2850.00 / ticket
19
4 Days Dubai Private Tours
General price:
$

2850.00 / ticket
20
4 Days Dubai Private Tours
General price:
$

2850.00 / ticket
21
4 Days Dubai Private Tours
General price:
$

2850.00 / ticket
22
4 Days Dubai Private Tours
General price:
$

2850.00 / ticket
23
4 Days Dubai Private Tours
General price:
$

2850.00 / ticket
24
4 Days Dubai Private Tours
General price:
$

2850.00 / ticket
25
4 Days Dubai Private Tours
General price:
$

2850.00 / ticket
26
4 Days Dubai Private Tours
General price:
$

2850.00 / ticket
27
4 Days Dubai Private Tours
General price:
$

2850.00 / ticket
28
4 Days Dubai Private Tours
General price:
$

2850.00 / ticket
29
4 Days Dubai Private Tours
General price:
$

2850.00 / ticket
30
4 Days Dubai Private Tours
General price:
$

2850.00 / ticket
1
4 Days Dubai Private Tours
General price:
$

2850.00 / ticket
2
4 Days Dubai Private Tours
General price:
$

2850.00 / ticket
3
4 Days Dubai Private Tours
General price:
$

2850.00 / ticket
27
4 Days Dubai Private Tours
General price:
$

2850.00 / ticket
28
4 Days Dubai Private Tours
General price:
$

2850.00 / ticket
29
4 Days Dubai Private Tours
General price:
$

2850.00 / ticket
30
4 Days Dubai Private Tours
General price:
$

2850.00 / ticket
1
4 Days Dubai Private Tours
General price:
$

2850.00 / ticket
2
4 Days Dubai Private Tours
General price:
$

2850.00 / ticket
3
4 Days Dubai Private Tours
General price:
$

2850.00 / ticket
4
4 Days Dubai Private Tours
General price:
$

2850.00 / ticket
5
4 Days Dubai Private Tours
General price:
$

2850.00 / ticket
6
4 Days Dubai Private Tours
General price:
$

2850.00 / ticket
7
4 Days Dubai Private Tours
General price:
$

2850.00 / ticket
8
4 Days Dubai Private Tours
General price:
$

2850.00 / ticket
9
4 Days Dubai Private Tours
General price:
$

2850.00 / ticket
10
4 Days Dubai Private Tours
General price:
$

2850.00 / ticket
11
4 Days Dubai Private Tours
General price:
$

2850.00 / ticket
12
4 Days Dubai Private Tours
General price:
$

2850.00 / ticket
13
4 Days Dubai Private Tours
General price:
$

2850.00 / ticket
14
4 Days Dubai Private Tours
General price:
$

2850.00 / ticket
15
4 Days Dubai Private Tours
General price:
$

2850.00 / ticket
16
4 Days Dubai Private Tours
General price:
$

2850.00 / ticket
17
4 Days Dubai Private Tours
General price:
$

2850.00 / ticket
18
4 Days Dubai Private Tours
General price:
$

2850.00 / ticket
19
4 Days Dubai Private Tours
General price:
$

2850.00 / ticket
20
4 Days Dubai Private Tours
General price:
$

2850.00 / ticket
21
4 Days Dubai Private Tours
General price:
$

2850.00 / ticket
22
4 Days Dubai Private Tours
General price:
$

2850.00 / ticket
23
4 Days Dubai Private Tours
General price:
$

2850.00 / ticket
24
4 Days Dubai Private Tours
General price:
$

2850.00 / ticket
25
4 Days Dubai Private Tours
General price:
$

2850.00 / ticket
26
4 Days Dubai Private Tours
General price:
$

2850.00 / ticket
27
4 Days Dubai Private Tours
General price:
$

2850.00 / ticket
28
4 Days Dubai Private Tours
General price:
$

2850.00 / ticket
29
4 Days Dubai Private Tours
General price:
$

2850.00 / ticket
30
4 Days Dubai Private Tours
General price:
$

2850.00 / ticket
31
4 Days Dubai Private Tours
General price:
$

2850.00 / ticket
1
4 Days Dubai Private Tours
General price:
$

2850.00 / ticket
2
4 Days Dubai Private Tours
General price:
$

2850.00 / ticket
3
4 Days Dubai Private Tours
General price:
$

2850.00 / ticket
4
4 Days Dubai Private Tours
General price:
$

2850.00 / ticket
5
4 Days Dubai Private Tours
General price:
$

2850.00 / ticket
6
4 Days Dubai Private Tours
General price:
$

2850.00 / ticket
7
4 Days Dubai Private Tours
General price:
$

2850.00 / ticket
8
4 Days Dubai Private Tours
General price:
$

2850.00 / ticket
9
4 Days Dubai Private Tours
General price:
$

2850.00 / ticket
10
4 Days Dubai Private Tours
General price:
$

2850.00 / ticket
11
4 Days Dubai Private Tours
General price:
$

2850.00 / ticket
12
4 Days Dubai Private Tours
General price:
$

2850.00 / ticket
13
4 Days Dubai Private Tours
General price:
$

2850.00 / ticket
14
4 Days Dubai Private Tours
General price:
$

2850.00 / ticket
15
4 Days Dubai Private Tours
General price:
$

2850.00 / ticket
16
4 Days Dubai Private Tours
General price:
$

2850.00 / ticket
17
4 Days Dubai Private Tours
General price:
$

2850.00 / ticket
18
4 Days Dubai Private Tours
General price:
$

2850.00 / ticket
19
4 Days Dubai Private Tours
General price:
$

2850.00 / ticket
20
4 Days Dubai Private Tours
General price:
$

2850.00 / ticket
21
4 Days Dubai Private Tours
General price:
$

2850.00 / ticket
22
4 Days Dubai Private Tours
General price:
$

2850.00 / ticket
23
4 Days Dubai Private Tours
General price:
$

2850.00 / ticket
24
4 Days Dubai Private Tours
General price:
$

2850.00 / ticket
25
4 Days Dubai Private Tours
General price:
$

2850.00 / ticket
26
4 Days Dubai Private Tours
General price:
$

2850.00 / ticket
27
4 Days Dubai Private Tours
General price:
$

2850.00 / ticket
28
4 Days Dubai Private Tours
General price:
$

2850.00 / ticket
29
4 Days Dubai Private Tours
General price:
$

2850.00 / ticket
30
4 Days Dubai Private Tours
General price:
$

2850.00 / ticket
31
4 Days Dubai Private Tours
General price:
$

2850.00 / ticket
1
4 Days Dubai Private Tours
General price:
$

2850.00 / ticket
2
4 Days Dubai Private Tours
General price:
$

2850.00 / ticket
3
4 Days Dubai Private Tours
General price:
$

2850.00 / ticket
4
4 Days Dubai Private Tours
General price:
$

2850.00 / ticket
29
4 Days Dubai Private Tours
General price:
$

2850.00 / ticket
30
4 Days Dubai Private Tours
General price:
$

2850.00 / ticket
31
4 Days Dubai Private Tours
General price:
$

2850.00 / ticket
1
4 Days Dubai Private Tours
General price:
$

2850.00 / ticket
2
4 Days Dubai Private Tours
General price:
$

2850.00 / ticket
3
4 Days Dubai Private Tours
General price:
$

2850.00 / ticket
4
4 Days Dubai Private Tours
General price:
$

2850.00 / ticket
5
4 Days Dubai Private Tours
General price:
$

2850.00 / ticket
6
4 Days Dubai Private Tours
General price:
$

2850.00 / ticket
7
4 Days Dubai Private Tours
General price:
$

2850.00 / ticket
8
4 Days Dubai Private Tours
General price:
$

2850.00 / ticket
9
4 Days Dubai Private Tours
General price:
$

2850.00 / ticket
10
4 Days Dubai Private Tours
General price:
$

2850.00 / ticket
11
4 Days Dubai Private Tours
General price:
$

2850.00 / ticket
12
4 Days Dubai Private Tours
General price:
$

2850.00 / ticket
13
4 Days Dubai Private Tours
General price:
$

2850.00 / ticket
14
4 Days Dubai Private Tours
General price:
$

2850.00 / ticket
15
4 Days Dubai Private Tours
General price:
$

2850.00 / ticket
16
4 Days Dubai Private Tours
General price:
$

2850.00 / ticket
17
4 Days Dubai Private Tours
General price:
$

2850.00 / ticket
18
4 Days Dubai Private Tours
General price:
$

2850.00 / ticket
19
4 Days Dubai Private Tours
General price:
$

2850.00 / ticket
20
4 Days Dubai Private Tours
General price:
$

2850.00 / ticket
21
4 Days Dubai Private Tours
General price:
$

2850.00 / ticket
22
4 Days Dubai Private Tours
General price:
$

2850.00 / ticket
23
4 Days Dubai Private Tours
General price:
$

2850.00 / ticket
24
4 Days Dubai Private Tours
General price:
$

2850.00 / ticket
25
4 Days Dubai Private Tours
General price:
$

2850.00 / ticket
26
4 Days Dubai Private Tours
General price:
$

2850.00 / ticket
27
4 Days Dubai Private Tours
General price:
$

2850.00 / ticket
28
4 Days Dubai Private Tours
General price:
$

2850.00 / ticket
29
4 Days Dubai Private Tours
General price:
$

2850.00 / ticket
1
4 Days Dubai Private Tours
General price:
$

2850.00 / ticket
2
4 Days Dubai Private Tours
General price:
$

2850.00 / ticket
3
4 Days Dubai Private Tours
General price:
$

2850.00 / ticket
26
4 Days Dubai Private Tours
General price:
$

2850.00 / ticket
27
4 Days Dubai Private Tours
General price:
$

2850.00 / ticket
28
4 Days Dubai Private Tours
General price:
$

2850.00 / ticket
29
4 Days Dubai Private Tours
General price:
$

2850.00 / ticket
1
4 Days Dubai Private Tours
General price:
$

2850.00 / ticket
2
4 Days Dubai Private Tours
General price:
$

2850.00 / ticket
3
4 Days Dubai Private Tours
General price:
$

2850.00 / ticket
4
4 Days Dubai Private Tours
General price:
$

2850.00 / ticket
5
4 Days Dubai Private Tours
General price:
$

2850.00 / ticket
6
4 Days Dubai Private Tours
General price:
$

2850.00 / ticket
7
4 Days Dubai Private Tours
General price:
$

2850.00 / ticket
8
4 Days Dubai Private Tours
General price:
$

2850.00 / ticket
9
4 Days Dubai Private Tours
General price:
$

2850.00 / ticket
10
4 Days Dubai Private Tours
General price:
$

2850.00 / ticket
11
4 Days Dubai Private Tours
General price:
$

2850.00 / ticket
12
4 Days Dubai Private Tours
General price:
$

2850.00 / ticket
13
4 Days Dubai Private Tours
General price:
$

2850.00 / ticket
14
4 Days Dubai Private Tours
General price:
$

2850.00 / ticket
15
4 Days Dubai Private Tours
General price:
$

2850.00 / ticket
16
4 Days Dubai Private Tours
General price:
$

2850.00 / ticket
17
4 Days Dubai Private Tours
General price:
$

2850.00 / ticket
18
4 Days Dubai Private Tours
General price:
$

2850.00 / ticket
19
4 Days Dubai Private Tours
General price:
$

2850.00 / ticket
20
4 Days Dubai Private Tours
General price:
$

2850.00 / ticket
21
4 Days Dubai Private Tours
General price:
$

2850.00 / ticket
22
4 Days Dubai Private Tours
General price:
$

2850.00 / ticket
23
4 Days Dubai Private Tours
General price:
$

2850.00 / ticket
24
4 Days Dubai Private Tours
General price:
$

2850.00 / ticket
25
4 Days Dubai Private Tours
General price:
$

2850.00 / ticket
26
4 Days Dubai Private Tours
General price:
$

2850.00 / ticket
27
4 Days Dubai Private Tours
General price:
$

2850.00 / ticket
28
4 Days Dubai Private Tours
General price:
$

2850.00 / ticket
29
4 Days Dubai Private Tours
General price:
$

2850.00 / ticket
30
4 Days Dubai Private Tours
General price:
$

2850.00 / ticket
31
4 Days Dubai Private Tours
General price:
$

2850.00 / ticket
1
4 Days Dubai Private Tours
General price:
$

2850.00 / ticket
2
4 Days Dubai Private Tours
General price:
$

2850.00 / ticket
3
4 Days Dubai Private Tours
General price:
$

2850.00 / ticket
4
4 Days Dubai Private Tours
General price:
$

2850.00 / ticket
5
4 Days Dubai Private Tours
General price:
$

2850.00 / ticket
6
4 Days Dubai Private Tours
General price:
$

2850.00 / ticket
7
4 Days Dubai Private Tours
General price:
$

2850.00 / ticket
8
4 Days Dubai Private Tours
General price:
$

2850.00 / ticket
9
4 Days Dubai Private Tours
General price:
$

2850.00 / ticket
10
4 Days Dubai Private Tours
General price:
$

2850.00 / ticket
11
4 Days Dubai Private Tours
General price:
$

2850.00 / ticket
12
4 Days Dubai Private Tours
General price:
$

2850.00 / ticket
13
4 Days Dubai Private Tours
General price:
$

2850.00 / ticket
14
4 Days Dubai Private Tours
General price:
$

2850.00 / ticket
15
4 Days Dubai Private Tours
General price:
$

2850.00 / ticket
16
4 Days Dubai Private Tours
General price:
$

2850.00 / ticket
17
4 Days Dubai Private Tours
General price:
$

2850.00 / ticket
18
4 Days Dubai Private Tours
General price:
$

2850.00 / ticket
19
4 Days Dubai Private Tours
General price:
$

2850.00 / ticket
20
4 Days Dubai Private Tours
General price:
$

2850.00 / ticket
21
4 Days Dubai Private Tours
General price:
$

2850.00 / ticket
22
4 Days Dubai Private Tours
General price:
$

2850.00 / ticket
23
4 Days Dubai Private Tours
General price:
$

2850.00 / ticket
24
4 Days Dubai Private Tours
General price:
$

2850.00 / ticket
25
4 Days Dubai Private Tours
General price:
$

2850.00 / ticket
26
4 Days Dubai Private Tours
General price:
$

2850.00 / ticket
27
4 Days Dubai Private Tours
General price:
$

2850.00 / ticket
28
4 Days Dubai Private Tours
General price:
$

2850.00 / ticket
29
4 Days Dubai Private Tours
General price:
$

2850.00 / ticket
30
4 Days Dubai Private Tours
General price:
$

2850.00 / ticket
1
4 Days Dubai Private Tours
General price:
$

2850.00 / ticket
2
4 Days Dubai Private Tours
General price:
$

2850.00 / ticket
3
4 Days Dubai Private Tours
General price:
$

2850.00 / ticket
4
4 Days Dubai Private Tours
General price:
$

2850.00 / ticket
5
4 Days Dubai Private Tours
General price:
$

2850.00 / ticket
29
4 Days Dubai Private Tours
General price:
$

2850.00 / ticket
30
4 Days Dubai Private Tours
General price:
$

2850.00 / ticket
1
4 Days Dubai Private Tours
General price:
$

2850.00 / ticket
2
4 Days Dubai Private Tours
General price:
$

2850.00 / ticket
3
4 Days Dubai Private Tours
General price:
$

2850.00 / ticket
4
4 Days Dubai Private Tours
General price:
$

2850.00 / ticket
5
4 Days Dubai Private Tours
General price:
$

2850.00 / ticket
6
4 Days Dubai Private Tours
General price:
$

2850.00 / ticket
7
4 Days Dubai Private Tours
General price:
$

2850.00 / ticket
8
4 Days Dubai Private Tours
General price:
$

2850.00 / ticket
9
4 Days Dubai Private Tours
General price:
$

2850.00 / ticket
10
4 Days Dubai Private Tours
General price:
$

2850.00 / ticket
11
4 Days Dubai Private Tours
General price:
$

2850.00 / ticket
12
4 Days Dubai Private Tours
General price:
$

2850.00 / ticket
13
4 Days Dubai Private Tours
General price:
$

2850.00 / ticket
14
4 Days Dubai Private Tours
General price:
$

2850.00 / ticket
15
4 Days Dubai Private Tours
General price:
$

2850.00 / ticket
16
4 Days Dubai Private Tours
General price:
$

2850.00 / ticket
17
4 Days Dubai Private Tours
General price:
$

2850.00 / ticket
18
4 Days Dubai Private Tours
General price:
$

2850.00 / ticket
19
4 Days Dubai Private Tours
General price:
$

2850.00 / ticket
20
4 Days Dubai Private Tours
General price:
$

2850.00 / ticket
21
4 Days Dubai Private Tours
General price:
$

2850.00 / ticket
22
4 Days Dubai Private Tours
General price:
$

2850.00 / ticket
23
4 Days Dubai Private Tours
General price:
$

2850.00 / ticket
24
4 Days Dubai Private Tours
General price:
$

2850.00 / ticket
25
4 Days Dubai Private Tours
General price:
$

2850.00 / ticket
26
4 Days Dubai Private Tours
General price:
$

2850.00 / ticket
27
4 Days Dubai Private Tours
General price:
$

2850.00 / ticket
28
4 Days Dubai Private Tours
General price:
$

2850.00 / ticket
29
4 Days Dubai Private Tours
General price:
$

2850.00 / ticket
30
4 Days Dubai Private Tours
General price:
$

2850.00 / ticket
31
4 Days Dubai Private Tours
General price:
$

2850.00 / ticket
1
4 Days Dubai Private Tours
General price:
$

2850.00 / ticket
2
4 Days Dubai Private Tours
General price:
$

2850.00 / ticket
27
4 Days Dubai Private Tours
General price:
$

2850.00 / ticket
28
4 Days Dubai Private Tours
General price:
$

2850.00 / ticket
29
4 Days Dubai Private Tours
General price:
$

2850.00 / ticket
30
4 Days Dubai Private Tours
General price:
$

2850.00 / ticket
31
4 Days Dubai Private Tours
General price:
$

2850.00 / ticket
1
4 Days Dubai Private Tours
General price:
$

2850.00 / ticket
2
4 Days Dubai Private Tours
General price:
$

2850.00 / ticket
3
4 Days Dubai Private Tours
General price:
$

2850.00 / ticket
4
4 Days Dubai Private Tours
General price:
$

2850.00 / ticket
5
4 Days Dubai Private Tours
General price:
$

2850.00 / ticket
6
4 Days Dubai Private Tours
General price:
$

2850.00 / ticket
7
4 Days Dubai Private Tours
General price:
$

2850.00 / ticket
8
4 Days Dubai Private Tours
General price:
$

2850.00 / ticket
9
4 Days Dubai Private Tours
General price:
$

2850.00 / ticket
10
4 Days Dubai Private Tours
General price:
$

2850.00 / ticket
11
4 Days Dubai Private Tours
General price:
$

2850.00 / ticket
12
4 Days Dubai Private Tours
General price:
$

2850.00 / ticket
13
4 Days Dubai Private Tours
General price:
$

2850.00 / ticket
14
4 Days Dubai Private Tours
General price:
$

2850.00 / ticket
15
4 Days Dubai Private Tours
General price:
$

2850.00 / ticket
16
4 Days Dubai Private Tours
General price:
$

2850.00 / ticket
17
4 Days Dubai Private Tours
General price:
$

2850.00 / ticket
18
4 Days Dubai Private Tours
General price:
$

2850.00 / ticket
19
4 Days Dubai Private Tours
General price:
$

2850.00 / ticket
20
4 Days Dubai Private Tours
General price:
$

2850.00 / ticket
21
4 Days Dubai Private Tours
General price:
$

2850.00 / ticket
22
4 Days Dubai Private Tours
General price:
$

2850.00 / ticket
23
4 Days Dubai Private Tours
General price:
$

2850.00 / ticket
24
4 Days Dubai Private Tours
General price:
$

2850.00 / ticket
25
4 Days Dubai Private Tours
General price:
$

2850.00 / ticket
26
4 Days Dubai Private Tours
General price:
$

2850.00 / ticket
27
4 Days Dubai Private Tours
General price:
$

2850.00 / ticket
28
4 Days Dubai Private Tours
General price:
$

2850.00 / ticket
29
4 Days Dubai Private Tours
General price:
$

2850.00 / ticket
30
4 Days Dubai Private Tours
General price:
$

2850.00 / ticket
1
4 Days Dubai Private Tours
General price:
$

2850.00 / ticket
2
4 Days Dubai Private Tours
General price:
$

2850.00 / ticket
3
4 Days Dubai Private Tours
General price:
$

2850.00 / ticket
4
4 Days Dubai Private Tours
General price:
$

2850.00 / ticket
5
4 Days Dubai Private Tours
General price:
$

2850.00 / ticket
6
4 Days Dubai Private Tours
General price:
$

2850.00 / ticket
7
4 Days Dubai Private Tours
General price:
$

2850.00 / ticket
8
4 Days Dubai Private Tours
General price:
$

2850.00 / ticket
9
4 Days Dubai Private Tours
General price:
$

2850.00 / ticket
10
4 Days Dubai Private Tours
General price:
$

2850.00 / ticket
11
4 Days Dubai Private Tours
General price:
$

2850.00 / ticket
12
4 Days Dubai Private Tours
General price:
$

2850.00 / ticket
13
4 Days Dubai Private Tours
General price:
$

2850.00 / ticket
14
4 Days Dubai Private Tours
General price:
$

2850.00 / ticket
15
4 Days Dubai Private Tours
General price:
$

2850.00 / ticket
16
4 Days Dubai Private Tours
General price:
$

2850.00 / ticket
17
4 Days Dubai Private Tours
General price:
$

2850.00 / ticket
18
4 Days Dubai Private Tours
General price:
$

2850.00 / ticket
19
4 Days Dubai Private Tours
General price:
$

2850.00 / ticket
20
4 Days Dubai Private Tours
General price:
$

2850.00 / ticket
21
4 Days Dubai Private Tours
General price:
$

2850.00 / ticket
22
4 Days Dubai Private Tours
General price:
$

2850.00 / ticket
23
4 Days Dubai Private Tours
General price:
$

2850.00 / ticket
24
4 Days Dubai Private Tours
General price:
$

2850.00 / ticket
25
4 Days Dubai Private Tours
General price:
$

2850.00 / ticket
26
4 Days Dubai Private Tours
General price:
$

2850.00 / ticket
27
4 Days Dubai Private Tours
General price:
$

2850.00 / ticket
28
4 Days Dubai Private Tours
General price:
$

2850.00 / ticket
29
4 Days Dubai Private Tours
General price:
$

2850.00 / ticket
30
4 Days Dubai Private Tours
General price:
$

2850.00 / ticket
31
4 Days Dubai Private Tours
General price:
$

2850.00 / ticket
1
4 Days Dubai Private Tours
General price:
$

2850.00 / ticket
2
4 Days Dubai Private Tours
General price:
$

2850.00 / ticket
3
4 Days Dubai Private Tours
General price:
$

2850.00 / ticket
4
4 Days Dubai Private Tours
General price:
$

2850.00 / ticket
29
4 Days Dubai Private Tours
General price:
$

2850.00 / ticket
30
4 Days Dubai Private Tours
General price:
$

2850.00 / ticket
31
4 Days Dubai Private Tours
General price:
$

2850.00 / ticket
1
4 Days Dubai Private Tours
General price:
$

2850.00 / ticket
2
4 Days Dubai Private Tours
General price:
$

2850.00 / ticket
3
4 Days Dubai Private Tours
General price:
$

2850.00 / ticket
4
4 Days Dubai Private Tours
General price:
$

2850.00 / ticket
5
4 Days Dubai Private Tours
General price:
$

2850.00 / ticket
6
4 Days Dubai Private Tours
General price:
$

2850.00 / ticket
7
4 Days Dubai Private Tours
General price:
$

2850.00 / ticket
8
4 Days Dubai Private Tours
General price:
$

2850.00 / ticket
9
4 Days Dubai Private Tours
General price:
$

2850.00 / ticket
10
4 Days Dubai Private Tours
General price:
$

2850.00 / ticket
11
4 Days Dubai Private Tours
General price:
$

2850.00 / ticket
12
4 Days Dubai Private Tours
General price:
$

2850.00 / ticket
13
4 Days Dubai Private Tours
General price:
$

2850.00 / ticket
14
4 Days Dubai Private Tours
General price:
$

2850.00 / ticket
15
4 Days Dubai Private Tours
General price:
$

2850.00 / ticket
16
4 Days Dubai Private Tours
General price:
$

2850.00 / ticket
17
4 Days Dubai Private Tours
General price:
$

2850.00 / ticket
18
4 Days Dubai Private Tours
General price:
$

2850.00 / ticket
19
4 Days Dubai Private Tours
General price:
$

2850.00 / ticket
20
4 Days Dubai Private Tours
General price:
$

2850.00 / ticket
21
4 Days Dubai Private Tours
General price:
$

2850.00 / ticket
22
4 Days Dubai Private Tours
General price:
$

2850.00 / ticket
23
4 Days Dubai Private Tours
General price:
$

2850.00 / ticket
24
4 Days Dubai Private Tours
General price:
$

2850.00 / ticket
25
4 Days Dubai Private Tours
General price:
$

2850.00 / ticket
26
4 Days Dubai Private Tours
General price:
$

2850.00 / ticket
27
4 Days Dubai Private Tours
General price:
$

2850.00 / ticket
28
4 Days Dubai Private Tours
General price:
$

2850.00 / ticket
29
4 Days Dubai Private Tours
General price:
$

2850.00 / ticket
30
4 Days Dubai Private Tours
General price:
$

2850.00 / ticket
31
4 Days Dubai Private Tours
General price:
$

2850.00 / ticket
1
4 Days Dubai Private Tours
General price:
$

2850.00 / ticket