4 Day Deluxe Private Istanbul Tours



Overview
As Elite Turkey Tour, we offer you a holiday opportunity in Turkey, one of the most beautiful countries in Asia and Europe. Get ready to spend your Turkey holiday in the best way, where you can visit many cities. Mediterranean climate, beaches, many local cuisines, and historical artifacts await you.
You can make a perfect Turkey tour that you will not regret, following your budget. Therefore, apply to us with the privilege of Elite Turkey Tour and start visiting the most beautiful places in Turkey.
4-Day Deluxe Private Istanbul Tours awaits you with prices starting from $975.
Day1- Istanbul Tour
When you arrive at Istanbul Airport, our driver and guide, one of our team members, will be waiting for you at the airport. We will pick you up with a sign with your name on it. Thus, we direct you to our vehicle to place you in your hotel. Our experienced guide will provide you with general information about Istanbul throughout your journey. In this way, you will have information about Istanbul. When you reach your hotel in Sultanahmet, you will stay in Istanbul.
Day 2 – Istanbul, Old City Sights
On the second day of your tour, a detailed tour of Istanbul will be waiting for you. Especially in Istanbul, you will visit well-known places like the Hippodrome and Sultanahmet. When you visit the most famous mosques of Istanbul, you will have the opportunity to examine the architectural designs.
In addition, one of the most important places to visit will be the Hagia Sophia Mosque. This place, which has come from ancient times to the present, will attract your attention. You can continue your tour by having your lunch with the most delicious dishes in Istanbul. After the meal, you will listen to the history of Topkapi Palace from your guides. It is also possible to shop at the Grand Bazaar at the end of your tour. End the day with an overnight stay in Istanbul.
Day 3 – Bazaars and Bosphorus Tour
If you are continuing your tour in Istanbul from where you left off, you should not stop without looking at the Spice Market that awaits you. With its famous trading history, the Spice market will offer you many items such as various spices, herbs, sweets, olive oils, soaps, and souvenirs.
It is possible to buy items that will appeal to you by visiting the shops. After you complete your shopping, you will drive to Beylerbeyi Palace, one of the most amazing places in Istanbul. The details of this place, which has a history of sultans, will be conveyed to you by your guide.
You can go to Çamlıca Hill, one of the symbols of Istanbul. You will be transferred to your hotel and spend your last night in Istanbul.
Day4- End of Istanbul Tour

Your Istanbul tour ends on this day. If you plan to leave Turkey after having your breakfast in the morning, as Elite Turkey Tour, our professional teams and drivers will transfer you to the airport.
3 breakfasts and 2 lunches
 Istanbul Ataturk International Airport transfer
 Qualified English-speaking tour guide
 vehicle in a modern and air-conditioned environment
 Guided tour of Istanbul
 Related transfers and transportation
 Places to go with entrance fees
Tip, totally personalized gesture
 International flights and visa
 3 nights hotel
Why Elite Turkey Tours
Verified Reviews
25000+ Pictures and Reviews on the platform.

10000+ Tours and Activities
We have activities across 17 countries, across every category so that you never miss best things to do anywhere.

Customer Delight
We are always able to support you so that you have a hassle free experience.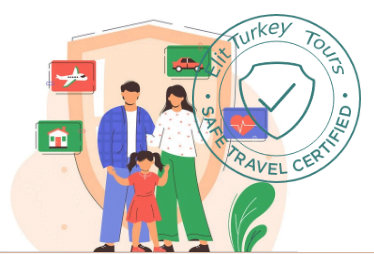 Our first priority is always to protect the health and safety of our clients and local teams  
Elite Turkey Tours  has received the World Travel and Tourism Council's Safe Travels stamp, which provides travelers with assurance that we have adopted health and hygiene global standardized protocols – so you can experience 'Safe Travels'.