3 Days Deluxe Private Istanbul Tours



Overview
Turkey is a treasure chest. Being in Turkey is like being in a candy shop. On this trip, you will reward yourself for being in such an amazing country with all the stories you heard in history classes taking action in this country. You will witness how lucky the Turks are and leave the country by drying your appetite.
NOTE: If your accommodation is not in the Sultanahmet area, the price will be USD 70 more per person.
Day 1 Arrival & Hotel Check-in
Welcome to Turkey! Upon your arrival at Istanbul Airport, our transferman will welcome you and take you to your hotel. After you check-in to your hotel and rest a little bit, our guide will meet you in the lobby and give you an orientation about Istanbul.
• Overnight in Istanbul
Day 2 Istanbul (Walking Tour)
• Blue Mosque
Our first stop will be the Blue Mosque, which was built in 1616 by the Ottoman Sultan Ahmet I.
• Topkapi Palace
We will continue our tour by visiting the great Ottoman Palace, Topkapi where Sultans lived for five centuries.
• Lunch at a local restaurant
• Grand Bazaar
Following lunch, we will stop at the Grand Bazaar, one of the oldest shopping malls in the world, which dates back to the 16th century.
• Spice Market
We will walk down to Spice Market where you can find the great amount of spices from all over the world and Turkey.
After the tour finishes for the day, you will be transferred back to your hotel.
• Overnight in Istanbul
Estimated Time: 6 to 8 hours.
(This time range can be changed depending on crowd of the area and timing of the departure)
Day 3 Istanbul (Walking Tour & Private Van)
• Hippodrome
Our first stop will be great Roman Hippodrome, which dates back to 2nd century A.D. In the Hippodrome, you can see the Obelisk of the Tuthmosis the third, German Fountain, Serpent Column and the Obelisk of Constantine
• Hagia Sophia
We will visit Hagia Sophia, the great church built in 537 by Justinianus.
• Lunch at a local restaurant
• Chora Church
We will then go to the Chora Church, built in 6th century A.C., to see the spectacular, one-of-a-kind mosaics and some frescoes.
If you plan to depart, we will transfer you to the airport.
• Transfer to Airport
Estimated Time: 6 to 8 hours
(This time range is subject to change, depending on crowds and timing of the departure)
Return private airport transfers
 Private A/C minivan for the tours and transfers
 All admission fees to the sites and museums on tour
 Lunches on tour
 - Private guiding on tours
 Local taxes and 18 % VAT
Personal expenses
 Drinks at lunches
 Dinners
 Gratuities for the guide and driver
Why Elite Turkey Tours
Verified Reviews
25000+ Pictures and Reviews on the platform.

10000+ Tours and Activities
We have activities across 17 countries, across every category so that you never miss best things to do anywhere.

Customer Delight
We are always able to support you so that you have a hassle free experience.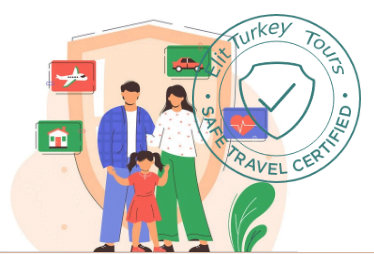 Our first priority is always to protect the health and safety of our clients and local teams  
Elite Turkey Tours  has received the World Travel and Tourism Council's Safe Travels stamp, which provides travelers with assurance that we have adopted health and hygiene global standardized protocols – so you can experience 'Safe Travels'.