2 Days Deluxe Private Istanbul Tours



Overview
Are you ready to discover Istanbul, which contains centuries of past history and rich natural beauties? Join our Istanbul Private 2-Day Tour plan with Elite Turkey Tours now and enjoy the privileges.
Istanbul is a beautiful city where days or even weeks are not enough to visit. It is a city where you can find historical places, natural beauties or cultural trips. It served as the capital of the Byzantine and Ottoman empires for many years, and is also the commercial and cultural capital of Turkey. It is the fifth largest city in the world with a population of over 14 million.
Istanbul has many historical artifacts from the Byzantine and Ottoman periods. It has numerous churches and mosques. At the same time, there are also works belonging to the Jewish religion, which is one of the three monotheistic religions. In addition to the places of worship belonging to these three religions, their palaces and museums are also remarkable.
Places to Visit in Istanbul and Its Historical Background
1. Hagia Sophia
Hagia Sophia, whose construction started in 532, is called the 8th wonder of the world. Hagia Sophia, which still draws attention with its majestic dome, has been converted into a museum after its use as a church and mosque. It is located in Sultanahmet square.
2. Topkapi Palace
It is the palace where the Ottoman Empire lived, of which Istanbul was the capital. There are sections such as haremlik, selamlik, holy relics.
3. Bosphorus
The Bosphorus passing through the middle of Istanbul is decorated with mansions surrounding it. You can watch this delightful view, especially by taking a Bosphorus tour from the sea.
4. Blue Mosque
It is one of the important mosques of the city, located opposite Hagia Sophia. Sultan Ahmet built it between 1609 and 1616. It is also called the Blue Mosque, mainly because of its blue tiles and stained glass.
5. Suleymaniye Mosque
Mimar Sinan was built by Suleiman the Magnificent. It has four minarets because Kanuni was the 4th sultan after the conquest of Istanbul, and ten balconies, as he was the 10th Ottoman sultan in total.
6. Grand Bazaar
One of the oldest covered bazaars globally, the Grand Bazaar is where valuable products such as gold, precious goods, and handmade carpets are sold.
7. Dolmabahce
It is the place where the Ottoman Empire resides after Topkapı Palace. It is by the sea.
8. Pierre Loti
It is located on a hill against the Golden Horn, where an old coffee house is located.
9. Basilica Cistern
The Byzantine emperor built it in the 6th century to meet the city's water needs.
10. Beylerbeyi Palace
It is an Ottoman palace built in the Beylerbeyi district on the Anatolian side of Istanbul.
11. Beyoglu
Beyoğlu is one of the most touristic places in Istanbul with its bars, cafes, restaurants, and entertainment halls.
12. Ortakoy
Ortaköy is a cute district on the Bosphorus side of Istanbul. There are many cafes, restaurants, and handmade jewelry is sold.
13. Maiden's Tower
It is a historical building built on an island above the sea on the Salacak coast of Üsküdar. You can go by motorboats departing from Salacak and Kabataş.
Museums
There are many museums in Istanbul. Many museums can be visited, and the most important are the Istanbul Archeology Museum, Islamic Art Museum, Topkapı Museum, Kariye Museum, Sabancı Museum, Rahmi Koç Museum, Istanbul Modern Museum.
Islands
It is one of the summer resorts of Istanbul. Transportation is provided by sea only. It is known as the Prince Islands and consists of 4 islands: Büyükada, Heybeliada, Kanlıca, and Burgaz Ada.
Day 1 – Istanbul
• Blue Mosque
Our first stop will be the Blue Mosque, which was built in 1616 by the Ottoman Sultan Ahmet I.
• Topkapi Palace
We will continue our tour by visiting the great Ottoman Palace, Topkapi where Sultans lived for five centuries.
• Lunch at a local restaurant
• Grand Bazaar
Following lunch, we will stop at the Grand Bazaar, one of the oldest shopping malls in the world, which dates back to the 16th century.
• Spice Market
We will walk down to Spice Market where you can find the great amount of spices from all over the world and Turkey.
After the tour finishes for the day, you will be transferred back to your hotel.
• Overnight in Istanbul
Estimated Time: 6 to 8 hours.
(This time range can be changed depending on crowd of the area and timing of the departure)
Day 2 Istanbul (Walking Tour & Private Van)
• Hippodrome
Our first stop will be great Roman Hippodrome, which dates back to 2nd century A.D. In the Hippodrome, you can see the Obelisk of the Tuthmosis the third, German Fountain, Serpent Column and the Obelisk of Constantine
• Underground Cistern (Basilical Cistern)
We will stop and see the Basilica Cistern, which was built at the same time as Hagia Sofia. In this 6th century structure, you will be able to see the heads of Medusa, which brought here from the temples of Constantinople.
• Hagia Sophia
We will visit Hagia Sophia, the great church built in 537 by Justinianus.
• Lunch at a local restaurant
• Chora Church
We will then go to the Chora Church, built in 6th century A.C., to see the spectacular, one-of-a-kind mosaics and some frescoes.
Estimated Time: 6 to 8 hours
(This time range is subject to change, depending on crowds and timing of the departure)
 Private A/C minivan for the tours
 All admission fees to the sites and museums on tour
 Lunches on tour
 Private guiding on tours
 Local taxes and 18 % VAT
Personal expenses
 Drinks at lunches
 Accommodation
 Dinners
 Gratuities for the guide and driver
Why Elite Turkey Tours
Verified Reviews
25000+ Pictures and Reviews on the platform.

10000+ Tours and Activities
We have activities across 17 countries, across every category so that you never miss best things to do anywhere.

Customer Delight
We are always able to support you so that you have a hassle free experience.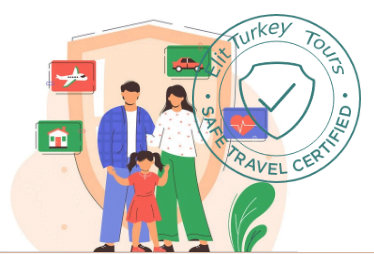 Our first priority is always to protect the health and safety of our clients and local teams  
Elite Turkey Tours  has received the World Travel and Tourism Council's Safe Travels stamp, which provides travelers with assurance that we have adopted health and hygiene global standardized protocols – so you can experience 'Safe Travels'.