2-Days Deluxe Private Cappadocia Tour Balloon Flight



Overview
Get ready for the historical and natural beauty that awaits you in Cappadocia, with its history dating back 60 million years. 2-Days Deluxe Private Cappadocia Tour Balloon Flight, where you will feel integrated with the beauties of nature, will be a unique experience for you.
By choosing this tour where you will visit many places with unique views of the caves, you will have the opportunity to discover the exotic experience in Turkey. Explore our special Cappadocia Tour Balloon Flight package!
Day 1 – Arrival & Cappadocia Region Tour

If you want to start your Cappadocia tour in the best way, get ready for the services offered by our agency, Elite Turkey Tour, which provides excellent opportunities for you. After you take your flight from Istanbul Airport to Nevsehir or Kayseri Airport, you will meet our professional, experienced driver and guide waiting for you.
We want to provide the best service for you. That's why the driver and guide waiting for you will greet you with a board with your name on it. In this way, you can reach our team members within the airport without any difficulty and take a step on your Cappadocia vacation.
Devrent Valley (Imagination Valley)
Our first stop will be Devrent Valley as we start our Cappadocia tour. This valley contains fairy chimneys with an attractive appearance in the Cappadocia region. The fairy chimneys found here are made of human and animal shapes attracts attention. Due to the interestingness of these shapes, you can satisfy your curiosity with the detailed information of the guides in the place known as Imagination Valley.
Pasabag (Monks Valley)
We will drive to Pasabag (Monks Valley) at our next stop. The church and interesting fairy chimneys you will encounter in this location will attract your attention. Fairy chimneys resembling Hobbits and Smurfs, in particular, make people curious.
Pottery Workshop
While continuing the tour, you will stop by the pottery shops where works of art from ancient times. The pottery shop, where the people's works of art will be explained in detail, together with the information about the Hittite period, which you learn with the guide during the tour, awaits you. You can access information about people's living conditions in ancient times here.
Lunch at a Local Restaurant
As we continue our tour, we aim for you to have a delicious experience. We host you in a restaurant where you will discover traditional Cappadocian dishes, and we offer you a service where you will taste delicious dishes. In this way, we want you to capture the cultural interaction in the best way possible.
Goreme Open Air Museum
You will be able to continue the tour from where you left off with Goreme Open Air Museum, which offers unique beauties on the UNESCO World Heritage list. In this museum, there are some of the most famous churches of Cappadocia, St. Basil, Elmalı, St. Barbara, Yılanlı, Pantaktator, Maltese Crusader, St. Catherine, Darkness, Çarıklı, Tokalı. In this way, continue to explore the cultural riches of Cappadocia by exploring the churches.
Uchisar Castle Region
Uchisar Castle Region is the only place where Erciyes and Hasan Mountains can be seen together. You will also have the opportunity to see Cappadocia with a bird's head in this place, known as the biggest fairy chimney of Cappadocia. As Elite Turkey Tour, Cappadocia will be at your feet in this location where you will visit on the tour we offer you.
Pigeon Valley
Pigeon Valley, where colorful balloons float in the sky, offers you the unique view of Cappadocia. Get ready to take perfect pictures of the scenery that awaits you in this location, known for the story of pigeons.
Overnight in Cappadocia
We provide your return to your hotels with luxury facilities. A peaceful night will be waiting for you in your hotels that will relieve the tiredness of the day.
Estimated Time: 6 to 8 hours.
The time interval we have specified for you may vary depending on the groups and departure times.
Day 2- Cappadocia Region & Flight To İstanbul

On the 2nd and last day of your tour, you will continue to visit the unique regions of the Cappadocia Region, which await you today. We will send you off from Cappadocia to your planes with the particular transfer services of Elite Turkey Tour.
Derinkuyu Underground City
We take you to this city, known as the largest underground city of Cappadocia, in the early hours of the morning. Many areas are open to visitors in this 8-floor place, open from tunnels and rooms. It is possible to come across the traces of the people of the ancient times in this place, which belongs to the Byzantine period.
Nar Lake (Photo Break)
We stop for you to take unique photos in this place, the only crater lake with its natural beauty. In this way, you can reflect the integration of the mountains and the lake, which reflect the beauty of nature, to your cameras in the best way.
Ihlara Valley & Hiking
A 3.8km hike awaits you in the Ihlara Valley, which reflects the natural beauty formed by the combination of the vineyard, garden, and river. In this location, where you will feel in touch with nature and cover your soul with peace, there will be a very short distance to Ihlara Canyon. You can access the fascinating photoshoots here.
Lunch at Kanyon
At the lunch break, where you can try delicious local dishes again, you can forget your tiredness of the day with dishes that spread delicious smells around. It will be an excellent dining experience for you to continue the tour.
Sarihan Caravanserai
You will end your touristic tour in this caravanserai, which provides the east and west connection of the Silk Road. You will have the opportunity to examine historic structures in this caravanserai, which has hosted many different civilizations.
When your tour is completed, as Elite Turkey Tour, we provide your transfer with the most luxurious facilities and return to Nevsehir airport. You complete the perfect tour by boarding the plane that will enable you to return to Istanbul.
Airport Transfer & Hotel Transfer
We will conclude our tour with our transfer service to the airport and your hotel.
Estimated Time: 6 to 8 hours
The time interval specified to you may vary depending on the number of people in the group and the departure time.
Why Elite Turkey Tours
Verified Reviews
25000+ Pictures and Reviews on the platform.

10000+ Tours and Activities
We have activities across 17 countries, across every category so that you never miss best things to do anywhere.

Customer Delight
We are always able to support you so that you have a hassle free experience.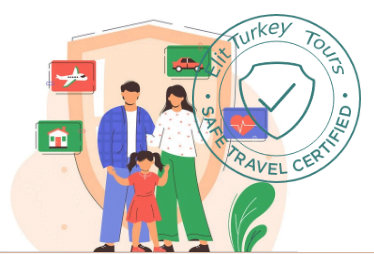 Our first priority is always to protect the health and safety of our clients and local teams  
Elite Turkey Tours  has received the World Travel and Tourism Council's Safe Travels stamp, which provides travelers with assurance that we have adopted health and hygiene global standardized protocols – so you can experience 'Safe Travels'.