13 Nights All About Greece Honeymoon



Overview
From Athens' majestic Acropolis to the must-see ancient sites of Delphi, Olympia, Epidavros and Mycenae you will have a dreamy trip with Elite Turkey Tour. You'll walk among marble monuments where Plato pondered, splash in the turquoise Aegean where Odysseus sailed, gaze up at God-dwelling mountains, sample family-crafted olives and wines.
HIGHLIGHTS
Athens, Delphi, Peloponnese Mountains, Ancient Olympia, Seaside Kardamyli, Mani Villages, Medieval Monemvasia, Byzantine Mystras, Mycenae and Nafplio, Ancient Epidavros, Island of Hydra
Day 1
After you are transferred to your hotel, you'll get oriented to your neighborhood and walk to a nearby restaurant where you can get acquainted over dinner. You will be staying in Athens for 2 nights. Please note that there will be no bus. Be ready for light walking.
Day 2
This morning you'll hike to the top of Athens' legendary Acropolis, where you'll take a walking tour of its 2,500-year-old Golden Age temples, dominated by the dramatic Parthenon. Then you will work your way down and tour the sleek new Acropolis Museum, custom built to showcase the amazing Parthenon sculptures. Your afternoon and evening will be free for exploring Athens' marketplaces – the ancient Agora and the modern Plaka's labyrinth of inviting streets, squares, shops and cafés. There will be no bus again but strenuous walking.
Day 3
Today, you'll tour Athens' impressive National Archaeological Museum, home to amazingly-preserved masterpieces in marble, bronze and gold. Then you'll leave the city and drive into the rugged countryside. In a dramatic setting on the flanks of 8,000-foot Mt. Parnassus you'll enjoy the fresh air and tour the mystical ruins of Delphi. Here, 25 centuries ago, the celebrated oracle allowed mere mortals to converse with the gods. This evening you'll have dinner together and stay in the town of Delphi. The bus trip will take about 4 hours.
Day 4
Today you'll cross over the Gulf of Corinth to the Peloponnese Peninsula, where you'll temporarily leave our bus for a steep, scenic cog railway ride past the waterfalls and caves lining the narrow Vouraikos Gorge. From the end of the line, your bus will take you to our destination high up in the Menalon Mountains, where you'll enjoy dinner from a wood-fired oven. Tonight you will stay in or near Lagkadia.
Day 5
This morning's winding mountain drive will take you to Olympia, site of the world's first Olympics, over 2,700 years ago. There you'll take a vivid walking tour of Olympia's ancient athletic venues, temples and museum, followed by lunch together. This afternoon's drive will take you along sweeping views of the Ionian Sea to the relaxed seaside village of Kardamyli, where you'll stay.
Day 6
Kardamyli is an ideal place to enjoy a "vacation from your vacation." After some orientation by your guide, the day will be all yours. You might hike along the ancient cobbled paths that wind their way through the nearby hills — or just relax on the beach — and end your day with a grilled seafood dinner and a view from the little taverna you've discovered.
Day 7
Today, you'll follow the coast to the isolated Mani Peninsula, home to generations-long clan wars, salt-of-the-earth villages and unique pyrgospita ,the tower houses. If Greece had a Tombstone and an O.K. Corral, here is where they'd be. After making a few off-the-beaten-path discoveries, you'll ride on to the dramatically-set medieval town of Monemvasia, where you'll be free for dinner. Tonight, you will sleep in mainland Monemvasia.
Day 8
This morning you'll cross the causeway to tackle the massive rock that shoots straight up out of the blue-green Aegean Sea. After an orientation walk around Monemvasia's cozy little Lower Town, the rest of the day will be free. You can wander more of the romantic walled town or take a swim in the Aegean. Those who want a workout can hike to the very top of the rock. You will be rewarded with sweeping Aegean views and a chance to explore the ruins of the Upper Town which is a living museum of Byzantine, Ottoman and Venetian history.
Day 9

Today is the day to head up into the heart of the Peloponnese, where you'll tour the haunting ruins of the fortress town of Mystras and its still-standing group of Byzantine churches. After stopping in nearby Sparta for lunch, you'll continue north to our destination: the delightful, fortress-topped harbor town of Nafplio. We'll enjoy a Greek wine and ouzo tasting, and stay in Nafplio.
Day 10
After breakfast you'll take a short drive to mysterious Mycenae, the fortified city founded by Perseus a thousand years before the Parthenon was built. Then you'll take a walking tour through the grand Lion Gate, along the "cyclopean" walls, and into a remarkably-domed tholos tomb. After that you'll return to Nafplio for a free afternoon to explore the colorful alleyways of the Old Town, ride a boat to the little castle island in the harbor, or hike up to enjoy a Venetian fortress view. You'll regroup for dinner together this evening.
Day 11
This morning you'll be driven to nearby Epidavros. Once the most famous healing center in the Mediterranean, today's star attraction is its ancient theater, large enough to accommodate 15,000 togas. You'll learn about the roots of drama here, before hopping a boat to the idyllic traffic-free island of Hydra. Tonight you'll share dinner together at one of the town's oldest tavernas and stay in Hydra.
Day 12
Your entire day and evening will be free to soak up the whitewashed architecture as you wander Hydra's narrow streets and harbor promenade. You might swim at a nearby beach, hire a boat for the day, hike across the island, or try to make friends with a donkey.
Day 13
Today, you'll take a ferry ride to Piraeus, where your bus will be waiting to take you back to our Athens hotel. Your afternoon will be free to wander and shop through the Plaka, or explore other parts of this bustling city. Tonight you'll gaze at the floodlit Acropolis and enjoy a final dinner together, sharing travel memories and toasting new friends. you will stay in Athens tonight.
Day 14
There will be no group activities today. You can easily catch a cab for the airport, or to nearby Piraeus where a fleet of ferries awaits to transport those with time to even more Greek destinations.
A small, friendly group of 24-28 people — half the size of most tour groups
Full-time services of a professional Elite Turkey Tour guide and local experts who will make the fascinating history, art and culture of Greece come alive for you
All tours and admissions — at no extra cost — covering at least 17 group sightseeing events • Acropolis tour • Acropolis Museum tour • Ancient Agora entry • National Archaeological Museum tour • Ancient Delphi tour • Scenic Diakofto-Kalavryta Railway • Olive and olive oil tasting • Ancient Olympia tour • Mani Peninsula villages • Monemvasia orientation • Byzantine Mystras tour • Nafplio orientation • Wine tasting • Ancient Mycenae tour • Folk music evening • Theatre of Epidavros tour • Hydra orientation...and more
All group transportation from Athens to Athens
13 nights accommodations in memorable, centrally-located hotels
All breakfasts and half your dinners
All tips for guides and driver
Free stuff, including : Athens & the Peloponnese guidebook, moneybelt and earplugs
Guaranteed tour price, locked in the moment you make your deposit
Optional single supplements — this tour has a limited number of private rooms for solo travelers for an additional fee
Tour alum discount of $50 for each tour you've taken prior to 2015
50% discount on a consulting appointment with our in-house experts to assist with your pre- or post-tour travel plans
Flexibility should you need to transfer, or cancel/interrupt your tour
Fine print: You are responsible for the cost of your drinks and free-time sightseeing. See our Tour conditions Agreement for important details regarding everything listed above
Why Elite Turkey Tours
Verified Reviews
25000+ Pictures and Reviews on the platform.

10000+ Tours and Activities
We have activities across 17 countries, across every category so that you never miss best things to do anywhere.

Customer Delight
We are always able to support you so that you have a hassle free experience.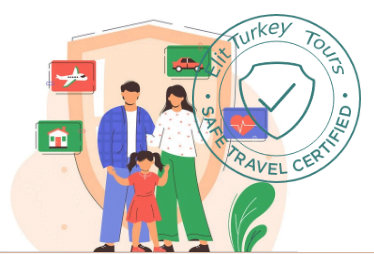 Our first priority is always to protect the health and safety of our clients and local teams  
Elite Turkey Tours  has received the World Travel and Tourism Council's Safe Travels stamp, which provides travelers with assurance that we have adopted health and hygiene global standardized protocols – so you can experience 'Safe Travels'.