13 Night Amalfi Cost – Italian Dream Deluxe Honeymoon Pack



Day 1
Venice
Benvenuto in Italia Benvenuto in Italia, home to the world's most sculpted civilizations as well as Renaissance masterpieces. In Venice International Airport, your private chauffeur will be waiting for you to transfer you and your partner to your 5-star hotel by motorboat. Take advantage of the afternoon and evening as newlyweds by exploring the distinctive characteristics in Venice's appealingly narrow roads amazing architecture, the vibrant San Marco square, and the majestic Grand Canal. Consult your travel advisor for leisure for suggestions of their top places to eat, cafes and places to visit on your Venetian honeymoon trip.
Day 2
Venice – Half Day Venice Walking Tour
A licensed English-speaking guide will meet you at the hotel in the morning to start your journey through the fascinating history of the city of Venice as you visit the city's most famous landmarks. You will then wander through the narrow streets and alleyways. The first stop is in San Marco square, a central spot for gathering and a place to relax. The guide will lead you to the Palazzo Ducale di Venezia, which is also known in the past as Doge's Palace, and on to other popular attractions of this charming city which you may revisit later with your partner. This walking tour for couples will take you through the modern city that has incredible history, and leave your with lasting memories of your honeymoon.
Day 3
Venice
Contact your travel advisor for their own tips of their favorite excursions and activities, while you explore Venice during your honeymoon.
Day 4
Venice, Florence
Your chauffeur will collect you and your driver from your hotel in morning, and will take the two of you into Florence. Enjoy the evening and afternoon taking in one of the gorgeous cities in Italy that is brimming with stunning buildings stunning galleries, impressive museums, and treasure-packed churches, proving the Florentine admiration for displays. Through the ages, Florence has upheld its beautiful appearance with its stunning landscapes, russet rooftops and high-pitched domes. Enjoy the cuisine of Florence for dinner, following a stroll through Florence's Duomo with your beloved. Request suggestions from your travel agent for the most enjoyable dining experience for your spouse or partner when you visit Florence
Day 5
Florence – Half Day Florence Walking Tour
Your English-speaking guide licensed by the embassy will greet you in the lobby of your hotel, which is where you'll start a beautiful stroll through the historic city of Florence which is also called Florence, the Cradle of Renaissance. The route will take you through historic streets before heading toward the Duomo complex, which includes Giotto's bell tower and the Baptistery that has bronze doors which includes the famed Porta del Paradiso, and the Cathedral with the impressive Cupola del Brunelleschi. The main attraction of your romantic trip will be a trip at the Uffizi Gallery or the Accademia Museum. In the evening, you can take an optional cooking class where you will learn how to cook the traditional Tuscan dinner. Then, you can indulge with the results of your work, as you sip local wine.
Day 6
Florence
Explore the charming city of Florence during your leisure time, with suggestions from your travel expert.
Day 7
Florence, Rome
Breakfast is served, and your chauffeur will be waiting to pick you up and bring your to Rome. Take advantage of the first evening and afternoon in the Roman honeymoon by taking a tour of Rome's rich mix of architectural and artistic masterpieces, classic ruins, extravagant baroque churches, and piazzas. Rome is often regarded as the treasure trove of Italy, brimming with two millennia worth of artistic excellence. For those who love history and culture Rome is brimming with opportunities to explore, and gives visitors the chance to go back in the past, while remaining grounded within the current. Consult your leisure travel advisor for their recommendations on their top things to do in Rome for a great way to end your honeymoon with the best way!
Day 8
Rome – Half Day Walking Tour
After breakfast After breakfast, your English-speaking licensed guide will meet you and your partner at your hotel's lobby. Your private romantic tour will take you on a romantic journey through the city, during which the power and splendor that was the Great Roman Empire developed and increased. Your guide will guide you through the beautiful ruin sites of the Imperial-era starting with Piazza Venezia and its beautiful monument to the king Victor Emanuel II and the Unknown Soldier. Continue to the well-known Piazza del Campidoglio, designed by Michelangelo and featuring a spectacular views of the Roman Forum. With the remnants of the Forum as a backdrop your guide will share details of the political and social life of Rome starting from its beginning and through the glory days during Rome's Great Roman Empire. Take your newlyweds on a tour of the impressive Coliseum which is a recognizable emblem of Imperial Rome and among the most stunning structures from the time of the Imperial era.
Day 9
Rome
Enjoy the day by relaxing and exploring Rome in lovewhile enjoying a cup of coffee at one of the many cafes , or exploring the deep culture, history as well as art in Rome. Contact your travel agent for suggestions of their top things they would recommend to do in Rome to do together with your husband or wife.
Day 10
Rome, Amalfi Coast
Your chauffeur will collect you and your driver from your hotel and drive your to Amalfi coast, making a stop at Pompeii, the city that was once a major tourist attraction. Pompeii which is where you'll have a two-hour private guided tour with only two of you. Pompeii was destroyed in the aftermath of an eruption on Mount Vesuvius in 79 AD. Your guide will lead you through the baths, streets, places of worship, and the homes of this city of 2000 years which was miraculously saved through volcanic ash. Once you've arrived in your accommodation, take pleasure at the incredible panorama of the Italian Amalfi coastline, while keeping your partner with you.
Day 11 & 12 & 13
Amalfi Coast
Spend the final few the days on your honeymoon taking a trip along the Amalfi Coast only you two. Enjoy the stunning splendor of the famed stretch of rugged coastlines in Campania an area located south of Naples. The southern part, which is of to the Bay of Naples, stretches out into a rugged and rocky peninsula that stretches towards and towards the Isle of Capri. Sorrento located on the northern coastline of the peninsula is another popular tourist spot that overlooks Naples from the opposite end. The southern part of the Peninsula is filled with charming villages that cling to the cliffs, and boasting 700 metersof deep water that plunge dramatically to the bottom of the blue Mediterranean Sea, defining the Amalfi Coast. The coast has been an attraction for the wealthy and famous for over 50 years. It is the Amalfi coast is a special place due to its beauty and natural beauty, stunning views, colors and unique features. Lively, full in culture and history, in addition to the many beautiful memories from the past. The fishing villages of the small are scattered throughout the region and churches, villas and corner stores are constructed from the rock and stacked one over another, rising upwards from the shore of the lake. The buildings are surrounded by lush terraces and gardens along with narrow, pebbled streets, endless steps and lemon trees, olive and grape plants, along with the fragrance of the earth; a great combination to revive that butterflies feeling that you felt when you first started your relationship.
Day 14
Departure
After breakfast You will be transported towards at the Naples Airport, to catch your flight departure.
Three Nights of Luxury Hotel Accommodation in Your Choice of Hotel in Venice The city of Venice
Three Nights of Luxury Hotel Accommodation with the hotel of your choice of Hotel in Florence The city of Florence
3 nights of Luxury Hotel Accommodation in the hotel of your choice of Hotel in Rome 3 Nights of Luxury Accommodations in Rome
Four Nights of Luxury Hotel Accommodation in the hotel of your choice on Hotel in Amalfi Coast
The Private Half-Day Walking Tours in Venice, Florence, and Rome with an English Speaking Licensed Guide
Private Car Transfer Between Cities
Breakfast Daily
All Hotel Taxes and Service Charges
Why Elite Turkey Tours
Verified Reviews
25000+ Pictures and Reviews on the platform.

10000+ Tours and Activities
We have activities across 17 countries, across every category so that you never miss best things to do anywhere.

Customer Delight
We are always able to support you so that you have a hassle free experience.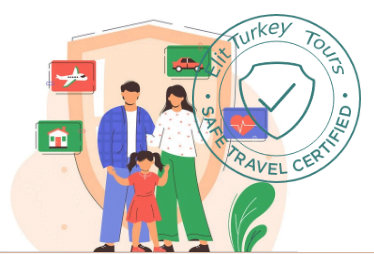 Our first priority is always to protect the health and safety of our clients and local teams  
Elite Turkey Tours  has received the World Travel and Tourism Council's Safe Travels stamp, which provides travelers with assurance that we have adopted health and hygiene global standardized protocols – so you can experience 'Safe Travels'.