13 Days Deluxe Greek Classical Honeymoon Pack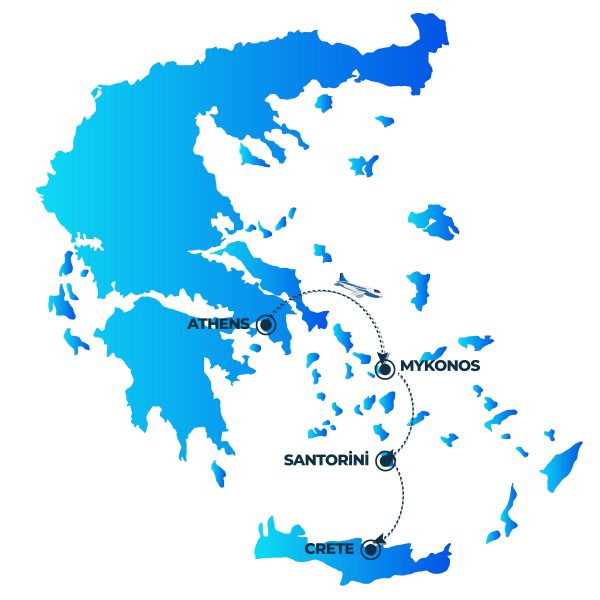 Day 1
Athens
Welcome to Greece where you will find the home that is the home of mythical Gods and the ancient civilization. Your chauffeur will bring you and your spouse up at Athens International Airport and take you to the five-star hotel. Have a romantic lunch and evening exploring the lively nightlife and culture of Athens. Talk to Your Leisure Travel Consultant for recommendations of their most loved places to eat, bars and entertainment to spend time with your beloved spouse while enjoying your romantic honeymoon.
Day 2
Athens – Half Day Athens Walking Tour
Start the first day on your honeymoon by meeting a authorized English-speaking guide. He will meet with the two of you in your hotel's lobby and begin your excursion through the brand-new Acropolis Museum. Then, you'll get the chance to visit your way around the Acropolis and its ancient temples that include The Parthenon, Erectheion and Athena Nike. Take a walk up the Hill of Philopappus to see the magnificent memorial to a loved one that dates back to the Roman period as you enjoy the vast perspectives that surround Athens as well as Piraeus with your beloved. Then, stroll down the hill to the Pnyx which was a place that was used as a place of worship in Classical Athens as the meeting location in the democratic assemblies. Then, you can enter the historic Plaka region, near the Thiseion temple, which dates from the fifth century BC. Explore the old Agora and its stunningly repaired Stoa of Attalus, Hadrian's Library as well as the stunning Tower of the Winds. The return journey takes you across to the Hill of Mars, also called Areopagus in which Saint Paul gave his Sermon about an unidentified God according to the Acts of the Apostles, in the year 54 A.D., which is right beneath the Acropolis. Continue your journey through The Odeion of Herodes Atticus, that is still used today as a summer location for concerts in the open air and theatre shows. The final stop on your honeymoon will be Syntagma Square where you can watch the change of Guards at the Tomb of the Unknown Soldier located just below the Parliament building.
Day 3

Athens, Mykonos
After breakfast, you'll be taken by bus to Athens airport in order to board the flight for Mykonos. On arrival the representative will meet you to assist in transferring you to your luxurious hotel. Relax for the rest of your time enjoying the pool or at one of the numerous sparkling beaches on the island, while you relax with each other. Explore the labyrinth of whitewashed streets of Mykonos town that are lined with many restaurants and shops. Be sure to consult your travel advisor for their suggestions on their top activities and sights to see with your companion when you are on the island.
Day 4

Mykonos
Relax with your partner in Mykonos and go at your own pace. Or opt for a trip to the remote island of Delos the island of sacred significance of antiquity, and the place of birth for Apollo. The whole island, comprising of five square kilometres, is an archeological site with remains of temples, holy spots as well as houses and settlements that date back to Neolithic and Roman times. Be sure to capture photos from Lion Terrace Lion Terrace and its unique marble Lions. Indoors, the Archaeological Museum is filled with treasures from antiquities, making it among the most popular museums in the country.
Day 5

Mykonos
Relax and enjoy your day. Consult your travel advisor for recommendations on their favorite beaches to visit with a partner, or to kick off your evening of fun before sunset.
Day 6

Mykonos, Santorini
After breakfast, you'll be transported into the harbor of Mykonos for a 3 hour hydrofoil boat to the top island for honeymooners: Santorini. When you arrive an agent will greet you and will transfer you to your honeymoon hotel. Enjoy the rest of your day gazing at the stunning panoramic views from the caldera as well as the amazing colors of the sunset , with your partner with you. Have dinner in one of the many eateries and sip wines at one of the local wineries while you stare into each others eyes. Contact your travel agent for recommendations on their favorite restaurants to dine at as newlyweds.
Day 7

Santorini
Take a look at the first full day of your wedding in Santorini by yourself or opt for a Semi-Private Sunset Cruise. The cruise starts from Vlihada Marina, and sails past white and red beaches until Akrotiri as well as the ancient lighthouse. The first stop is at the hot springs of the volcano to take a dip before heading to a quiet beach that is perfect for snorkeling and swimming while the chef on board cooks up fresh fish and steak barbecue. After lunch, you will continue to voyage through the caldera taking in some islands like Thirassia and Aspronissi and returning back to Vlihada Marina.
Day 8

Santorini
Take advantage of your time off. Contact your travel agent for suggestions on their favorite beaches and activities during your visit to Santorini.
Day 9

Santorini, Crete
After breakfast, you'll be taken into the harbour of Santorini for your three-hour hydrofoil ferry ride to Crete. When you arrive an agent will greet you and transfer you to your luxurious hotel. You can spend the rest of the day exploring the beauty of nature, the local culture, and the history of Crete as newlyweds. Contact your travel agent for suggestions of their top activities and activities for you to do together, when on Crete.
Day 10
Crete
Have a restful day with just you and your partner or opt for an exclusive half-day tour of Knossos Palace. Your driver will collect you from your hotel and take you to the center for The Minoan Civilization, before visiting the Archeological Museum of Heraklion. Continue your journey through the city , making stops on Heraklion's Old Port, the Venetian Walls as well as the Municipal Market as well as Koules Castle, Castle or Koules Museums as well as churches, fountains and stores of your choice which will give you the opportunity to spoil one another with gifts and souvenirs.
Day 11 & 12

Crete
Spend a day relaxing on one of Crete's endless blue beaches or discover the rich culture and history of Crete's island. Contact your travel advisor for their recommendations of their favorite places to visit during the final moments of your honeymoon.
Day 13
Departure
After breakfast You will be transported into the Heraklion airport, where you will join the departure flight.
Included / Excluded
Two Nights of Luxury Hotel Accommodation with the hotel of your Choice of Hotel in Athens Athens
3 nights of Luxury Hotel Accommodation in the hotel of your Choice of Hotel in Mykonos The
3 nights of Luxury Hotel Accommodation in the hotel of your Choice of Hotel in Santorini
Four Nights of Luxury Hotel Rooms in Your Choice of Hotel in Crete Crete
A Private Half Day Tour of Athens with an English Speaking Licensed Guide
Half Day Tour of Delos Island (Optional)
Semi-Private Sunset Catamaran Cruise in Santorini (Optional)
Private Half Day Knossos Tour in Crete (Optional)
Aeroports departing between Athens from Mykonos Mykonos
Hydrofoil Travel from Mykonos from Mykonos to Santorini (Business Class)
Hydrofoil from Santorini to Crete (Business Class)
Aeroports and flights From Crete through Athens Athens to Crete
Round-trip Airport/Port Transfers
Breakfast Daily
All Hotel Taxes and Service Charges
Why Elite Turkey Tours
Verified Reviews
25000+ Pictures and Reviews on the platform.

10000+ Tours and Activities
We have activities across 17 countries, across every category so that you never miss best things to do anywhere.

Customer Delight
We are always able to support you so that you have a hassle free experience.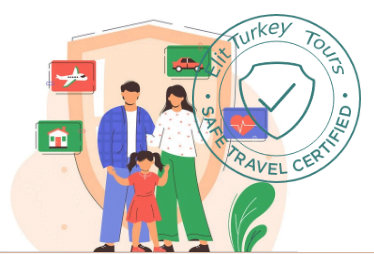 Our first priority is always to protect the health and safety of our clients and local teams  
Elite Turkey Tours  has received the World Travel and Tourism Council's Safe Travels stamp, which provides travelers with assurance that we have adopted health and hygiene global standardized protocols – so you can experience 'Safe Travels'.