Overview
With this tour, you will be experiencing the relaxed lifestyle and vibrant locals that color all the islands while spending time discovering the character and history unique to each locale. You will be able to take in the mainstays of the mainland in ancient Athens, before soaking in Crete's legendary landscapes. You will also be cruising the Aegean to the volcanic shores of Santorini and anchor on the star-studded beaches of lively Mykonos.
Honeymoon in the Greek Islands (13 days (16 Days if extended))
HIGHLIGHTS
Athens, Acropolis, Syntagma Square, Tomb of the Unknown Soldier, Crete, Knossos, Mioan ruins, Santorini, Akrotiri Excavations, Mykonos, Delos Island. If extended: Istanbul, Hagia Sophia, Blue Mosque, Topkapi Palace.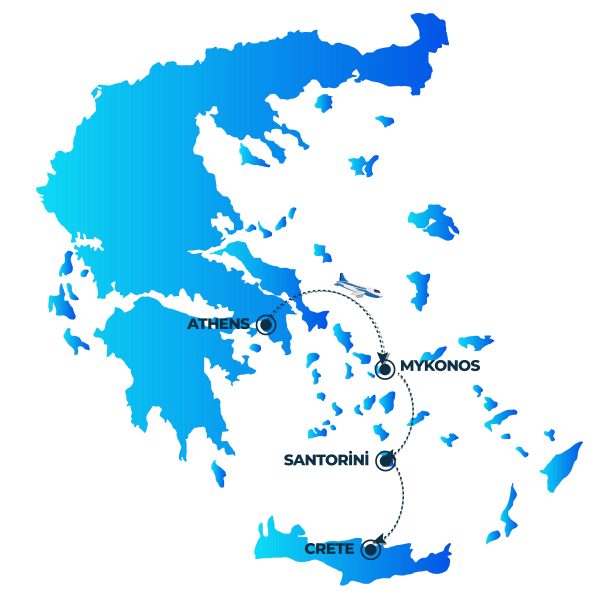 TOUR PLAN

1 st DAY
Your trip will start with a regularly scheduled overnight flight to Athens aboard an internationally recognized airline.
2nd DAY
An Elite Turkey Tours representative will greet you at the airport after you clear customs and then escorts you to your hotel. The rest of the day will be free for you to relax or begin acquainting yourself with Athens. This evening, at an included dinner you will meet your fellow travelers.
3rd DAY
A local guide will introduce you to the highlights of this bustling ancient capital. On your tour of the Acropolis—the original City on a Hill—you can walk amid the ruins of the Parthenon and the Temple of Athena Nike. Descending from the Acropolis, you will be able to view the Presidential Guard in their traditional costumes and the classically inspired Greek Parliament. After that you will pass through Syntagma Square, where you'll see the Tomb of the Unknown Soldier. Today, there will be an optional tour for an excursion to Cape Sounion, where you can see the inspiring Temple of Poseidon. Optional Excursion – Cape Sounion $35 per person.
4th DAY
Today you will fly to Heraklion on the island of Crete, where you'll enjoy a guided tour. You will have the chance to visit Knossos, the royal complex of the ancient King Minos. As ruler of the Minoans, King Minos enjoyed an opulent reign. His ancient palace includes 1,300 rooms, an alabaster throne and strikingly modern plumbing. Knossos is also the setting for the Minotaur legend, according to which King Minos imprisoned the Minotaur in a labyrinth. Today dinner is included.
5th DAY
Today you will have the chance to explore Crete on your own today. You might choose to visit some of the island's architecturally interesting churches or see the Minoan ruins at Faistós or Górtys. You might choose to join an excursion to Venetian- and Turkish-influenced Hania and the picturesque town of Fodhele as well. Optional Excursion – Hania & Fodhele $99 per person.
6th DAY
Today you will be transferred via ferry to Santorini, an island of stunning volcanic landscapes, black-sand beaches, sprawling vineyards and cliff-lined shores. Dinner is included this evening.
7th DAY
On your guided tour of Santorini, you will be able to visit the Akrotiri Excavations, the ruins of a Minoan Bronze Age settlement. The afternoon will be free to explore as you please.
8th DAY
Today is another day to enjoy Santorini's charms as you please. Santorini is renowned for its white wine because the volcanic soil is ideal for cultivating grapes, so you might consider an optional lunch and wine-tasting excursion. Optional Excursion – Greek Wine Tasting & Lunch $45 per person.
9th DAY
Today from the Santorini harbor you will travel by ferry to Mykonos. After a leisurely cruise, you'll arrive in Mykonos by early afternoon. The rest of the day will be yours to explore or relax.
10th DAY
You will be able to enjoy another free day in Mykonos or take an optional excursion to view the ancient ruins on the island of Delos. Optional Excursion – Delos $79 per person.
11th DAY
You will board a ferry in Mykonos this morning for your return trip to Athens. This afternoon and evening will be free for you to continue your explorations of the ancient city. Tonight, you will have the option to join our Greek Folklore Dinner, featuring live music and traditional Greek dancing. Optional Excursion – Greek Folklore Evening $65 per person.
12th DAY
Today will be a full day at your leisure. You might plan to visit any of the city's excellent museums or take a walk in the National Gardens. Alternatively, you might join an optional excursion to the Temple of Apollo in Delphi. Lunch is included on this excursion. Optional Excursion – Delphi $85 per person.
13th DAY
If you are not continuing on our tour extension to Istanbul, an Elite Turkey Tours representative will escort you to the airport for your return flight home.
14th DAY
Your Turkish Tour Director, who is also a licensed guide, will lead this morning's sightseeing tour of the fascinating sights of Istanbul. You will be able to discover the ancient Hippodrome, which served as the public center of Byzantium for over a thousand years. You will have a chance to behold the breathtaking Blue Mosque, built by Sultan Ahmet and decorated with exquisite, blue Iznik tiles. You will then continue on to the Topkapi Palace, once the residence of the Ottoman sultans. After that, you will visit Hagia Sophia. About 1,000 years older than St. Peter's in Rome, this building was the pride of Christendom until the city fell to the Turks in 1453. This evening, you will have an option for our Whirling Dervishes: Sufi Mystics excursion. Optional Excursion – Whirling Dervishes: Sufi Mystics $49 per person.
15th DAY
Today you will spend the day exploring Istanbul at your own pace or choose an optional cruise through the Bosphorus Straits, where you can view Ottoman palaces and medieval castles. Optional Excursion – Bosphorus Straits Cruise $55 per person.
16th DAY
An Elite Turkey Tours representative will assist you with the transfer to the airport for your return flight home.
Calendar & Prices
30
15 Nights Greece and Turkey Deluxe Vacation
General price:
$

6850.00 / ticket
1
15 Nights Greece and Turkey Deluxe Vacation
General price:
$

6850.00 / ticket
30
15 Nights Greece and Turkey Deluxe Vacation
General price:
$

6850.00 / ticket
1
15 Nights Greece and Turkey Deluxe Vacation
General price:
$

6850.00 / ticket
2
15 Nights Greece and Turkey Deluxe Vacation
General price:
$

6850.00 / ticket
3
15 Nights Greece and Turkey Deluxe Vacation
General price:
$

6850.00 / ticket
4
15 Nights Greece and Turkey Deluxe Vacation
General price:
$

6850.00 / ticket
5
15 Nights Greece and Turkey Deluxe Vacation
General price:
$

6850.00 / ticket
6
15 Nights Greece and Turkey Deluxe Vacation
General price:
$

6850.00 / ticket
7
15 Nights Greece and Turkey Deluxe Vacation
General price:
$

6850.00 / ticket
8
15 Nights Greece and Turkey Deluxe Vacation
General price:
$

6850.00 / ticket
9
15 Nights Greece and Turkey Deluxe Vacation
General price:
$

6850.00 / ticket
10
15 Nights Greece and Turkey Deluxe Vacation
General price:
$

6850.00 / ticket
11
15 Nights Greece and Turkey Deluxe Vacation
General price:
$

6850.00 / ticket
12
15 Nights Greece and Turkey Deluxe Vacation
General price:
$

6850.00 / ticket
13
15 Nights Greece and Turkey Deluxe Vacation
General price:
$

6850.00 / ticket
14
15 Nights Greece and Turkey Deluxe Vacation
General price:
$

6850.00 / ticket
15
15 Nights Greece and Turkey Deluxe Vacation
General price:
$

6850.00 / ticket
16
15 Nights Greece and Turkey Deluxe Vacation
General price:
$

6850.00 / ticket
17
15 Nights Greece and Turkey Deluxe Vacation
General price:
$

6850.00 / ticket
18
15 Nights Greece and Turkey Deluxe Vacation
General price:
$

6850.00 / ticket
19
15 Nights Greece and Turkey Deluxe Vacation
General price:
$

6850.00 / ticket
20
15 Nights Greece and Turkey Deluxe Vacation
General price:
$

6850.00 / ticket
21
15 Nights Greece and Turkey Deluxe Vacation
General price:
$

6850.00 / ticket
22
15 Nights Greece and Turkey Deluxe Vacation
General price:
$

6850.00 / ticket
23
15 Nights Greece and Turkey Deluxe Vacation
General price:
$

6850.00 / ticket
24
15 Nights Greece and Turkey Deluxe Vacation
General price:
$

6850.00 / ticket
25
15 Nights Greece and Turkey Deluxe Vacation
General price:
$

6850.00 / ticket
26
15 Nights Greece and Turkey Deluxe Vacation
General price:
$

6850.00 / ticket
27
15 Nights Greece and Turkey Deluxe Vacation
General price:
$

6850.00 / ticket
28
15 Nights Greece and Turkey Deluxe Vacation
General price:
$

6850.00 / ticket
29
15 Nights Greece and Turkey Deluxe Vacation
General price:
$

6850.00 / ticket
30
15 Nights Greece and Turkey Deluxe Vacation
General price:
$

6850.00 / ticket
31
15 Nights Greece and Turkey Deluxe Vacation
General price:
$

6850.00 / ticket
1
15 Nights Greece and Turkey Deluxe Vacation
General price:
$

6850.00 / ticket
2
15 Nights Greece and Turkey Deluxe Vacation
General price:
$

6850.00 / ticket
3
15 Nights Greece and Turkey Deluxe Vacation
General price:
$

6850.00 / ticket
4
15 Nights Greece and Turkey Deluxe Vacation
General price:
$

6850.00 / ticket
5
15 Nights Greece and Turkey Deluxe Vacation
General price:
$

6850.00 / ticket
30
15 Nights Greece and Turkey Deluxe Vacation
General price:
$

6850.00 / ticket
31
15 Nights Greece and Turkey Deluxe Vacation
General price:
$

6850.00 / ticket
1
15 Nights Greece and Turkey Deluxe Vacation
General price:
$

6850.00 / ticket
2
15 Nights Greece and Turkey Deluxe Vacation
General price:
$

6850.00 / ticket
3
15 Nights Greece and Turkey Deluxe Vacation
General price:
$

6850.00 / ticket
4
15 Nights Greece and Turkey Deluxe Vacation
General price:
$

6850.00 / ticket
5
15 Nights Greece and Turkey Deluxe Vacation
General price:
$

6850.00 / ticket
6
15 Nights Greece and Turkey Deluxe Vacation
General price:
$

6850.00 / ticket
7
15 Nights Greece and Turkey Deluxe Vacation
General price:
$

6850.00 / ticket
8
15 Nights Greece and Turkey Deluxe Vacation
General price:
$

6850.00 / ticket
9
15 Nights Greece and Turkey Deluxe Vacation
General price:
$

6850.00 / ticket
10
15 Nights Greece and Turkey Deluxe Vacation
General price:
$

6850.00 / ticket
11
15 Nights Greece and Turkey Deluxe Vacation
General price:
$

6850.00 / ticket
12
15 Nights Greece and Turkey Deluxe Vacation
General price:
$

6850.00 / ticket
13
15 Nights Greece and Turkey Deluxe Vacation
General price:
$

6850.00 / ticket
14
15 Nights Greece and Turkey Deluxe Vacation
General price:
$

6850.00 / ticket
15
15 Nights Greece and Turkey Deluxe Vacation
General price:
$

6850.00 / ticket
16
15 Nights Greece and Turkey Deluxe Vacation
General price:
$

6850.00 / ticket
17
15 Nights Greece and Turkey Deluxe Vacation
General price:
$

6850.00 / ticket
18
15 Nights Greece and Turkey Deluxe Vacation
General price:
$

6850.00 / ticket
19
15 Nights Greece and Turkey Deluxe Vacation
General price:
$

6850.00 / ticket
20
15 Nights Greece and Turkey Deluxe Vacation
General price:
$

6850.00 / ticket
21
15 Nights Greece and Turkey Deluxe Vacation
General price:
$

6850.00 / ticket
22
15 Nights Greece and Turkey Deluxe Vacation
General price:
$

6850.00 / ticket
23
15 Nights Greece and Turkey Deluxe Vacation
General price:
$

6850.00 / ticket
24
15 Nights Greece and Turkey Deluxe Vacation
General price:
$

6850.00 / ticket
25
15 Nights Greece and Turkey Deluxe Vacation
General price:
$

6850.00 / ticket
26
15 Nights Greece and Turkey Deluxe Vacation
General price:
$

6850.00 / ticket
27
15 Nights Greece and Turkey Deluxe Vacation
General price:
$

6850.00 / ticket
28
15 Nights Greece and Turkey Deluxe Vacation
General price:
$

6850.00 / ticket
29
15 Nights Greece and Turkey Deluxe Vacation
General price:
$

6850.00 / ticket
30
15 Nights Greece and Turkey Deluxe Vacation
General price:
$

6850.00 / ticket
1
15 Nights Greece and Turkey Deluxe Vacation
General price:
$

6850.00 / ticket
2
15 Nights Greece and Turkey Deluxe Vacation
General price:
$

6850.00 / ticket
3
15 Nights Greece and Turkey Deluxe Vacation
General price:
$

6850.00 / ticket
27
15 Nights Greece and Turkey Deluxe Vacation
General price:
$

6850.00 / ticket
28
15 Nights Greece and Turkey Deluxe Vacation
General price:
$

6850.00 / ticket
29
15 Nights Greece and Turkey Deluxe Vacation
General price:
$

6850.00 / ticket
30
15 Nights Greece and Turkey Deluxe Vacation
General price:
$

6850.00 / ticket
1
15 Nights Greece and Turkey Deluxe Vacation
General price:
$

6850.00 / ticket
2
15 Nights Greece and Turkey Deluxe Vacation
General price:
$

6850.00 / ticket
3
15 Nights Greece and Turkey Deluxe Vacation
General price:
$

6850.00 / ticket
4
15 Nights Greece and Turkey Deluxe Vacation
General price:
$

6850.00 / ticket
5
15 Nights Greece and Turkey Deluxe Vacation
General price:
$

6850.00 / ticket
6
15 Nights Greece and Turkey Deluxe Vacation
General price:
$

6850.00 / ticket
7
15 Nights Greece and Turkey Deluxe Vacation
General price:
$

6850.00 / ticket
8
15 Nights Greece and Turkey Deluxe Vacation
General price:
$

6850.00 / ticket
9
15 Nights Greece and Turkey Deluxe Vacation
General price:
$

6850.00 / ticket
10
15 Nights Greece and Turkey Deluxe Vacation
General price:
$

6850.00 / ticket
11
15 Nights Greece and Turkey Deluxe Vacation
General price:
$

6850.00 / ticket
12
15 Nights Greece and Turkey Deluxe Vacation
General price:
$

6850.00 / ticket
13
15 Nights Greece and Turkey Deluxe Vacation
General price:
$

6850.00 / ticket
14
15 Nights Greece and Turkey Deluxe Vacation
General price:
$

6850.00 / ticket
15
15 Nights Greece and Turkey Deluxe Vacation
General price:
$

6850.00 / ticket
16
15 Nights Greece and Turkey Deluxe Vacation
General price:
$

6850.00 / ticket
17
15 Nights Greece and Turkey Deluxe Vacation
General price:
$

6850.00 / ticket
18
15 Nights Greece and Turkey Deluxe Vacation
General price:
$

6850.00 / ticket
19
15 Nights Greece and Turkey Deluxe Vacation
General price:
$

6850.00 / ticket
20
15 Nights Greece and Turkey Deluxe Vacation
General price:
$

6850.00 / ticket
21
15 Nights Greece and Turkey Deluxe Vacation
General price:
$

6850.00 / ticket
22
15 Nights Greece and Turkey Deluxe Vacation
General price:
$

6850.00 / ticket
23
15 Nights Greece and Turkey Deluxe Vacation
General price:
$

6850.00 / ticket
24
15 Nights Greece and Turkey Deluxe Vacation
General price:
$

6850.00 / ticket
25
15 Nights Greece and Turkey Deluxe Vacation
General price:
$

6850.00 / ticket
26
15 Nights Greece and Turkey Deluxe Vacation
General price:
$

6850.00 / ticket
27
15 Nights Greece and Turkey Deluxe Vacation
General price:
$

6850.00 / ticket
28
15 Nights Greece and Turkey Deluxe Vacation
General price:
$

6850.00 / ticket
29
15 Nights Greece and Turkey Deluxe Vacation
General price:
$

6850.00 / ticket
30
15 Nights Greece and Turkey Deluxe Vacation
General price:
$

6850.00 / ticket
31
15 Nights Greece and Turkey Deluxe Vacation
General price:
$

6850.00 / ticket
1
15 Nights Greece and Turkey Deluxe Vacation
General price:
$

6850.00 / ticket
2
15 Nights Greece and Turkey Deluxe Vacation
General price:
$

6850.00 / ticket
3
15 Nights Greece and Turkey Deluxe Vacation
General price:
$

6850.00 / ticket
4
15 Nights Greece and Turkey Deluxe Vacation
General price:
$

6850.00 / ticket
5
15 Nights Greece and Turkey Deluxe Vacation
General price:
$

6850.00 / ticket
6
15 Nights Greece and Turkey Deluxe Vacation
General price:
$

6850.00 / ticket
7
15 Nights Greece and Turkey Deluxe Vacation
General price:
$

6850.00 / ticket
8
15 Nights Greece and Turkey Deluxe Vacation
General price:
$

6850.00 / ticket
9
15 Nights Greece and Turkey Deluxe Vacation
General price:
$

6850.00 / ticket
10
15 Nights Greece and Turkey Deluxe Vacation
General price:
$

6850.00 / ticket
11
15 Nights Greece and Turkey Deluxe Vacation
General price:
$

6850.00 / ticket
12
15 Nights Greece and Turkey Deluxe Vacation
General price:
$

6850.00 / ticket
13
15 Nights Greece and Turkey Deluxe Vacation
General price:
$

6850.00 / ticket
14
15 Nights Greece and Turkey Deluxe Vacation
General price:
$

6850.00 / ticket
15
15 Nights Greece and Turkey Deluxe Vacation
General price:
$

6850.00 / ticket
16
15 Nights Greece and Turkey Deluxe Vacation
General price:
$

6850.00 / ticket
17
15 Nights Greece and Turkey Deluxe Vacation
General price:
$

6850.00 / ticket
18
15 Nights Greece and Turkey Deluxe Vacation
General price:
$

6850.00 / ticket
19
15 Nights Greece and Turkey Deluxe Vacation
General price:
$

6850.00 / ticket
20
15 Nights Greece and Turkey Deluxe Vacation
General price:
$

6850.00 / ticket
21
15 Nights Greece and Turkey Deluxe Vacation
General price:
$

6850.00 / ticket
22
15 Nights Greece and Turkey Deluxe Vacation
General price:
$

6850.00 / ticket
23
15 Nights Greece and Turkey Deluxe Vacation
General price:
$

6850.00 / ticket
24
15 Nights Greece and Turkey Deluxe Vacation
General price:
$

6850.00 / ticket
25
15 Nights Greece and Turkey Deluxe Vacation
General price:
$

6850.00 / ticket
26
15 Nights Greece and Turkey Deluxe Vacation
General price:
$

6850.00 / ticket
27
15 Nights Greece and Turkey Deluxe Vacation
General price:
$

6850.00 / ticket
28
15 Nights Greece and Turkey Deluxe Vacation
General price:
$

6850.00 / ticket
29
15 Nights Greece and Turkey Deluxe Vacation
General price:
$

6850.00 / ticket
30
15 Nights Greece and Turkey Deluxe Vacation
General price:
$

6850.00 / ticket
31
15 Nights Greece and Turkey Deluxe Vacation
General price:
$

6850.00 / ticket
1
15 Nights Greece and Turkey Deluxe Vacation
General price:
$

6850.00 / ticket
2
15 Nights Greece and Turkey Deluxe Vacation
General price:
$

6850.00 / ticket
3
15 Nights Greece and Turkey Deluxe Vacation
General price:
$

6850.00 / ticket
4
15 Nights Greece and Turkey Deluxe Vacation
General price:
$

6850.00 / ticket
29
15 Nights Greece and Turkey Deluxe Vacation
General price:
$

6850.00 / ticket
30
15 Nights Greece and Turkey Deluxe Vacation
General price:
$

6850.00 / ticket
31
15 Nights Greece and Turkey Deluxe Vacation
General price:
$

6850.00 / ticket
1
15 Nights Greece and Turkey Deluxe Vacation
General price:
$

6850.00 / ticket
2
15 Nights Greece and Turkey Deluxe Vacation
General price:
$

6850.00 / ticket
3
15 Nights Greece and Turkey Deluxe Vacation
General price:
$

6850.00 / ticket
4
15 Nights Greece and Turkey Deluxe Vacation
General price:
$

6850.00 / ticket
5
15 Nights Greece and Turkey Deluxe Vacation
General price:
$

6850.00 / ticket
6
15 Nights Greece and Turkey Deluxe Vacation
General price:
$

6850.00 / ticket
7
15 Nights Greece and Turkey Deluxe Vacation
General price:
$

6850.00 / ticket
8
15 Nights Greece and Turkey Deluxe Vacation
General price:
$

6850.00 / ticket
9
15 Nights Greece and Turkey Deluxe Vacation
General price:
$

6850.00 / ticket
10
15 Nights Greece and Turkey Deluxe Vacation
General price:
$

6850.00 / ticket
11
15 Nights Greece and Turkey Deluxe Vacation
General price:
$

6850.00 / ticket
12
15 Nights Greece and Turkey Deluxe Vacation
General price:
$

6850.00 / ticket
13
15 Nights Greece and Turkey Deluxe Vacation
General price:
$

6850.00 / ticket
14
15 Nights Greece and Turkey Deluxe Vacation
General price:
$

6850.00 / ticket
15
15 Nights Greece and Turkey Deluxe Vacation
General price:
$

6850.00 / ticket
16
15 Nights Greece and Turkey Deluxe Vacation
General price:
$

6850.00 / ticket
17
15 Nights Greece and Turkey Deluxe Vacation
General price:
$

6850.00 / ticket
18
15 Nights Greece and Turkey Deluxe Vacation
General price:
$

6850.00 / ticket
19
15 Nights Greece and Turkey Deluxe Vacation
General price:
$

6850.00 / ticket
20
15 Nights Greece and Turkey Deluxe Vacation
General price:
$

6850.00 / ticket
21
15 Nights Greece and Turkey Deluxe Vacation
General price:
$

6850.00 / ticket
22
15 Nights Greece and Turkey Deluxe Vacation
General price:
$

6850.00 / ticket
23
15 Nights Greece and Turkey Deluxe Vacation
General price:
$

6850.00 / ticket
24
15 Nights Greece and Turkey Deluxe Vacation
General price:
$

6850.00 / ticket
25
15 Nights Greece and Turkey Deluxe Vacation
General price:
$

6850.00 / ticket
26
15 Nights Greece and Turkey Deluxe Vacation
General price:
$

6850.00 / ticket
27
15 Nights Greece and Turkey Deluxe Vacation
General price:
$

6850.00 / ticket
28
15 Nights Greece and Turkey Deluxe Vacation
General price:
$

6850.00 / ticket
29
15 Nights Greece and Turkey Deluxe Vacation
General price:
$

6850.00 / ticket
1
15 Nights Greece and Turkey Deluxe Vacation
General price:
$

6850.00 / ticket
2
15 Nights Greece and Turkey Deluxe Vacation
General price:
$

6850.00 / ticket
3
15 Nights Greece and Turkey Deluxe Vacation
General price:
$

6850.00 / ticket
26
15 Nights Greece and Turkey Deluxe Vacation
General price:
$

6850.00 / ticket
27
15 Nights Greece and Turkey Deluxe Vacation
General price:
$

6850.00 / ticket
28
15 Nights Greece and Turkey Deluxe Vacation
General price:
$

6850.00 / ticket
29
15 Nights Greece and Turkey Deluxe Vacation
General price:
$

6850.00 / ticket
1
15 Nights Greece and Turkey Deluxe Vacation
General price:
$

6850.00 / ticket
2
15 Nights Greece and Turkey Deluxe Vacation
General price:
$

6850.00 / ticket
3
15 Nights Greece and Turkey Deluxe Vacation
General price:
$

6850.00 / ticket
4
15 Nights Greece and Turkey Deluxe Vacation
General price:
$

6850.00 / ticket
5
15 Nights Greece and Turkey Deluxe Vacation
General price:
$

6850.00 / ticket
6
15 Nights Greece and Turkey Deluxe Vacation
General price:
$

6850.00 / ticket
7
15 Nights Greece and Turkey Deluxe Vacation
General price:
$

6850.00 / ticket
8
15 Nights Greece and Turkey Deluxe Vacation
General price:
$

6850.00 / ticket
9
15 Nights Greece and Turkey Deluxe Vacation
General price:
$

6850.00 / ticket
10
15 Nights Greece and Turkey Deluxe Vacation
General price:
$

6850.00 / ticket
11
15 Nights Greece and Turkey Deluxe Vacation
General price:
$

6850.00 / ticket
12
15 Nights Greece and Turkey Deluxe Vacation
General price:
$

6850.00 / ticket
13
15 Nights Greece and Turkey Deluxe Vacation
General price:
$

6850.00 / ticket
14
15 Nights Greece and Turkey Deluxe Vacation
General price:
$

6850.00 / ticket
15
15 Nights Greece and Turkey Deluxe Vacation
General price:
$

6850.00 / ticket
16
15 Nights Greece and Turkey Deluxe Vacation
General price:
$

6850.00 / ticket
17
15 Nights Greece and Turkey Deluxe Vacation
General price:
$

6850.00 / ticket
18
15 Nights Greece and Turkey Deluxe Vacation
General price:
$

6850.00 / ticket
19
15 Nights Greece and Turkey Deluxe Vacation
General price:
$

6850.00 / ticket
20
15 Nights Greece and Turkey Deluxe Vacation
General price:
$

6850.00 / ticket
21
15 Nights Greece and Turkey Deluxe Vacation
General price:
$

6850.00 / ticket
22
15 Nights Greece and Turkey Deluxe Vacation
General price:
$

6850.00 / ticket
23
15 Nights Greece and Turkey Deluxe Vacation
General price:
$

6850.00 / ticket
24
15 Nights Greece and Turkey Deluxe Vacation
General price:
$

6850.00 / ticket
25
15 Nights Greece and Turkey Deluxe Vacation
General price:
$

6850.00 / ticket
26
15 Nights Greece and Turkey Deluxe Vacation
General price:
$

6850.00 / ticket
27
15 Nights Greece and Turkey Deluxe Vacation
General price:
$

6850.00 / ticket
28
15 Nights Greece and Turkey Deluxe Vacation
General price:
$

6850.00 / ticket
29
15 Nights Greece and Turkey Deluxe Vacation
General price:
$

6850.00 / ticket
30
15 Nights Greece and Turkey Deluxe Vacation
General price:
$

6850.00 / ticket
31
15 Nights Greece and Turkey Deluxe Vacation
General price:
$

6850.00 / ticket
1
15 Nights Greece and Turkey Deluxe Vacation
General price:
$

6850.00 / ticket
2
15 Nights Greece and Turkey Deluxe Vacation
General price:
$

6850.00 / ticket
3
15 Nights Greece and Turkey Deluxe Vacation
General price:
$

6850.00 / ticket
4
15 Nights Greece and Turkey Deluxe Vacation
General price:
$

6850.00 / ticket
5
15 Nights Greece and Turkey Deluxe Vacation
General price:
$

6850.00 / ticket
6
15 Nights Greece and Turkey Deluxe Vacation
General price:
$

6850.00 / ticket
7
15 Nights Greece and Turkey Deluxe Vacation
General price:
$

6850.00 / ticket
8
15 Nights Greece and Turkey Deluxe Vacation
General price:
$

6850.00 / ticket
9
15 Nights Greece and Turkey Deluxe Vacation
General price:
$

6850.00 / ticket
10
15 Nights Greece and Turkey Deluxe Vacation
General price:
$

6850.00 / ticket
11
15 Nights Greece and Turkey Deluxe Vacation
General price:
$

6850.00 / ticket
12
15 Nights Greece and Turkey Deluxe Vacation
General price:
$

6850.00 / ticket
13
15 Nights Greece and Turkey Deluxe Vacation
General price:
$

6850.00 / ticket
14
15 Nights Greece and Turkey Deluxe Vacation
General price:
$

6850.00 / ticket
15
15 Nights Greece and Turkey Deluxe Vacation
General price:
$

6850.00 / ticket
16
15 Nights Greece and Turkey Deluxe Vacation
General price:
$

6850.00 / ticket
17
15 Nights Greece and Turkey Deluxe Vacation
General price:
$

6850.00 / ticket
18
15 Nights Greece and Turkey Deluxe Vacation
General price:
$

6850.00 / ticket
19
15 Nights Greece and Turkey Deluxe Vacation
General price:
$

6850.00 / ticket
20
15 Nights Greece and Turkey Deluxe Vacation
General price:
$

6850.00 / ticket
21
15 Nights Greece and Turkey Deluxe Vacation
General price:
$

6850.00 / ticket
22
15 Nights Greece and Turkey Deluxe Vacation
General price:
$

6850.00 / ticket
23
15 Nights Greece and Turkey Deluxe Vacation
General price:
$

6850.00 / ticket
24
15 Nights Greece and Turkey Deluxe Vacation
General price:
$

6850.00 / ticket
25
15 Nights Greece and Turkey Deluxe Vacation
General price:
$

6850.00 / ticket
26
15 Nights Greece and Turkey Deluxe Vacation
General price:
$

6850.00 / ticket
27
15 Nights Greece and Turkey Deluxe Vacation
General price:
$

6850.00 / ticket
28
15 Nights Greece and Turkey Deluxe Vacation
General price:
$

6850.00 / ticket
29
15 Nights Greece and Turkey Deluxe Vacation
General price:
$

6850.00 / ticket
30
15 Nights Greece and Turkey Deluxe Vacation
General price:
$

6850.00 / ticket
1
15 Nights Greece and Turkey Deluxe Vacation
General price:
$

6850.00 / ticket
2
15 Nights Greece and Turkey Deluxe Vacation
General price:
$

6850.00 / ticket
3
15 Nights Greece and Turkey Deluxe Vacation
General price:
$

6850.00 / ticket
4
15 Nights Greece and Turkey Deluxe Vacation
General price:
$

6850.00 / ticket
5
15 Nights Greece and Turkey Deluxe Vacation
General price:
$

6850.00 / ticket
29
15 Nights Greece and Turkey Deluxe Vacation
General price:
$

6850.00 / ticket
30
15 Nights Greece and Turkey Deluxe Vacation
General price:
$

6850.00 / ticket
1
15 Nights Greece and Turkey Deluxe Vacation
General price:
$

6850.00 / ticket
2
15 Nights Greece and Turkey Deluxe Vacation
General price:
$

6850.00 / ticket
3
15 Nights Greece and Turkey Deluxe Vacation
General price:
$

6850.00 / ticket
4
15 Nights Greece and Turkey Deluxe Vacation
General price:
$

6850.00 / ticket
5
15 Nights Greece and Turkey Deluxe Vacation
General price:
$

6850.00 / ticket
6
15 Nights Greece and Turkey Deluxe Vacation
General price:
$

6850.00 / ticket
7
15 Nights Greece and Turkey Deluxe Vacation
General price:
$

6850.00 / ticket
8
15 Nights Greece and Turkey Deluxe Vacation
General price:
$

6850.00 / ticket
9
15 Nights Greece and Turkey Deluxe Vacation
General price:
$

6850.00 / ticket
10
15 Nights Greece and Turkey Deluxe Vacation
General price:
$

6850.00 / ticket
11
15 Nights Greece and Turkey Deluxe Vacation
General price:
$

6850.00 / ticket
12
15 Nights Greece and Turkey Deluxe Vacation
General price:
$

6850.00 / ticket
13
15 Nights Greece and Turkey Deluxe Vacation
General price:
$

6850.00 / ticket
14
15 Nights Greece and Turkey Deluxe Vacation
General price:
$

6850.00 / ticket
15
15 Nights Greece and Turkey Deluxe Vacation
General price:
$

6850.00 / ticket
16
15 Nights Greece and Turkey Deluxe Vacation
General price:
$

6850.00 / ticket
17
15 Nights Greece and Turkey Deluxe Vacation
General price:
$

6850.00 / ticket
18
15 Nights Greece and Turkey Deluxe Vacation
General price:
$

6850.00 / ticket
19
15 Nights Greece and Turkey Deluxe Vacation
General price:
$

6850.00 / ticket
20
15 Nights Greece and Turkey Deluxe Vacation
General price:
$

6850.00 / ticket
21
15 Nights Greece and Turkey Deluxe Vacation
General price:
$

6850.00 / ticket
22
15 Nights Greece and Turkey Deluxe Vacation
General price:
$

6850.00 / ticket
23
15 Nights Greece and Turkey Deluxe Vacation
General price:
$

6850.00 / ticket
24
15 Nights Greece and Turkey Deluxe Vacation
General price:
$

6850.00 / ticket
25
15 Nights Greece and Turkey Deluxe Vacation
General price:
$

6850.00 / ticket
26
15 Nights Greece and Turkey Deluxe Vacation
General price:
$

6850.00 / ticket
27
15 Nights Greece and Turkey Deluxe Vacation
General price:
$

6850.00 / ticket
28
15 Nights Greece and Turkey Deluxe Vacation
General price:
$

6850.00 / ticket
29
15 Nights Greece and Turkey Deluxe Vacation
General price:
$

6850.00 / ticket
30
15 Nights Greece and Turkey Deluxe Vacation
General price:
$

6850.00 / ticket
31
15 Nights Greece and Turkey Deluxe Vacation
General price:
$

6850.00 / ticket
1
15 Nights Greece and Turkey Deluxe Vacation
General price:
$

6850.00 / ticket
2
15 Nights Greece and Turkey Deluxe Vacation
General price:
$

6850.00 / ticket
27
15 Nights Greece and Turkey Deluxe Vacation
General price:
$

6850.00 / ticket
28
15 Nights Greece and Turkey Deluxe Vacation
General price:
$

6850.00 / ticket
29
15 Nights Greece and Turkey Deluxe Vacation
General price:
$

6850.00 / ticket
30
15 Nights Greece and Turkey Deluxe Vacation
General price:
$

6850.00 / ticket
31
15 Nights Greece and Turkey Deluxe Vacation
General price:
$

6850.00 / ticket
1
15 Nights Greece and Turkey Deluxe Vacation
General price:
$

6850.00 / ticket
2
15 Nights Greece and Turkey Deluxe Vacation
General price:
$

6850.00 / ticket
3
15 Nights Greece and Turkey Deluxe Vacation
General price:
$

6850.00 / ticket
4
15 Nights Greece and Turkey Deluxe Vacation
General price:
$

6850.00 / ticket
5
15 Nights Greece and Turkey Deluxe Vacation
General price:
$

6850.00 / ticket
6
15 Nights Greece and Turkey Deluxe Vacation
General price:
$

6850.00 / ticket
7
15 Nights Greece and Turkey Deluxe Vacation
General price:
$

6850.00 / ticket
8
15 Nights Greece and Turkey Deluxe Vacation
General price:
$

6850.00 / ticket
9
15 Nights Greece and Turkey Deluxe Vacation
General price:
$

6850.00 / ticket
10
15 Nights Greece and Turkey Deluxe Vacation
General price:
$

6850.00 / ticket
11
15 Nights Greece and Turkey Deluxe Vacation
General price:
$

6850.00 / ticket
12
15 Nights Greece and Turkey Deluxe Vacation
General price:
$

6850.00 / ticket
13
15 Nights Greece and Turkey Deluxe Vacation
General price:
$

6850.00 / ticket
14
15 Nights Greece and Turkey Deluxe Vacation
General price:
$

6850.00 / ticket
15
15 Nights Greece and Turkey Deluxe Vacation
General price:
$

6850.00 / ticket
16
15 Nights Greece and Turkey Deluxe Vacation
General price:
$

6850.00 / ticket
17
15 Nights Greece and Turkey Deluxe Vacation
General price:
$

6850.00 / ticket
18
15 Nights Greece and Turkey Deluxe Vacation
General price:
$

6850.00 / ticket
19
15 Nights Greece and Turkey Deluxe Vacation
General price:
$

6850.00 / ticket
20
15 Nights Greece and Turkey Deluxe Vacation
General price:
$

6850.00 / ticket
21
15 Nights Greece and Turkey Deluxe Vacation
General price:
$

6850.00 / ticket
22
15 Nights Greece and Turkey Deluxe Vacation
General price:
$

6850.00 / ticket
23
15 Nights Greece and Turkey Deluxe Vacation
General price:
$

6850.00 / ticket
24
15 Nights Greece and Turkey Deluxe Vacation
General price:
$

6850.00 / ticket
25
15 Nights Greece and Turkey Deluxe Vacation
General price:
$

6850.00 / ticket
26
15 Nights Greece and Turkey Deluxe Vacation
General price:
$

6850.00 / ticket
27
15 Nights Greece and Turkey Deluxe Vacation
General price:
$

6850.00 / ticket
28
15 Nights Greece and Turkey Deluxe Vacation
General price:
$

6850.00 / ticket
29
15 Nights Greece and Turkey Deluxe Vacation
General price:
$

6850.00 / ticket
30
15 Nights Greece and Turkey Deluxe Vacation
General price:
$

6850.00 / ticket
1
15 Nights Greece and Turkey Deluxe Vacation
General price:
$

6850.00 / ticket
2
15 Nights Greece and Turkey Deluxe Vacation
General price:
$

6850.00 / ticket
3
15 Nights Greece and Turkey Deluxe Vacation
General price:
$

6850.00 / ticket
4
15 Nights Greece and Turkey Deluxe Vacation
General price:
$

6850.00 / ticket
5
15 Nights Greece and Turkey Deluxe Vacation
General price:
$

6850.00 / ticket
6
15 Nights Greece and Turkey Deluxe Vacation
General price:
$

6850.00 / ticket
7
15 Nights Greece and Turkey Deluxe Vacation
General price:
$

6850.00 / ticket
8
15 Nights Greece and Turkey Deluxe Vacation
General price:
$

6850.00 / ticket
9
15 Nights Greece and Turkey Deluxe Vacation
General price:
$

6850.00 / ticket
10
15 Nights Greece and Turkey Deluxe Vacation
General price:
$

6850.00 / ticket
11
15 Nights Greece and Turkey Deluxe Vacation
General price:
$

6850.00 / ticket
12
15 Nights Greece and Turkey Deluxe Vacation
General price:
$

6850.00 / ticket
13
15 Nights Greece and Turkey Deluxe Vacation
General price:
$

6850.00 / ticket
14
15 Nights Greece and Turkey Deluxe Vacation
General price:
$

6850.00 / ticket
15
15 Nights Greece and Turkey Deluxe Vacation
General price:
$

6850.00 / ticket
16
15 Nights Greece and Turkey Deluxe Vacation
General price:
$

6850.00 / ticket
17
15 Nights Greece and Turkey Deluxe Vacation
General price:
$

6850.00 / ticket
18
15 Nights Greece and Turkey Deluxe Vacation
General price:
$

6850.00 / ticket
19
15 Nights Greece and Turkey Deluxe Vacation
General price:
$

6850.00 / ticket
20
15 Nights Greece and Turkey Deluxe Vacation
General price:
$

6850.00 / ticket
21
15 Nights Greece and Turkey Deluxe Vacation
General price:
$

6850.00 / ticket
22
15 Nights Greece and Turkey Deluxe Vacation
General price:
$

6850.00 / ticket
23
15 Nights Greece and Turkey Deluxe Vacation
General price:
$

6850.00 / ticket
24
15 Nights Greece and Turkey Deluxe Vacation
General price:
$

6850.00 / ticket
25
15 Nights Greece and Turkey Deluxe Vacation
General price:
$

6850.00 / ticket
26
15 Nights Greece and Turkey Deluxe Vacation
General price:
$

6850.00 / ticket
27
15 Nights Greece and Turkey Deluxe Vacation
General price:
$

6850.00 / ticket
28
15 Nights Greece and Turkey Deluxe Vacation
General price:
$

6850.00 / ticket
29
15 Nights Greece and Turkey Deluxe Vacation
General price:
$

6850.00 / ticket
30
15 Nights Greece and Turkey Deluxe Vacation
General price:
$

6850.00 / ticket
31
15 Nights Greece and Turkey Deluxe Vacation
General price:
$

6850.00 / ticket
1
15 Nights Greece and Turkey Deluxe Vacation
General price:
$

6850.00 / ticket
2
15 Nights Greece and Turkey Deluxe Vacation
General price:
$

6850.00 / ticket
3
15 Nights Greece and Turkey Deluxe Vacation
General price:
$

6850.00 / ticket
4
15 Nights Greece and Turkey Deluxe Vacation
General price:
$

6850.00 / ticket
29
15 Nights Greece and Turkey Deluxe Vacation
General price:
$

6850.00 / ticket
30
15 Nights Greece and Turkey Deluxe Vacation
General price:
$

6850.00 / ticket
31
15 Nights Greece and Turkey Deluxe Vacation
General price:
$

6850.00 / ticket
1
15 Nights Greece and Turkey Deluxe Vacation
General price:
$

6850.00 / ticket
2
15 Nights Greece and Turkey Deluxe Vacation
General price:
$

6850.00 / ticket
3
15 Nights Greece and Turkey Deluxe Vacation
General price:
$

6850.00 / ticket
4
15 Nights Greece and Turkey Deluxe Vacation
General price:
$

6850.00 / ticket
5
15 Nights Greece and Turkey Deluxe Vacation
General price:
$

6850.00 / ticket
6
15 Nights Greece and Turkey Deluxe Vacation
General price:
$

6850.00 / ticket
7
15 Nights Greece and Turkey Deluxe Vacation
General price:
$

6850.00 / ticket
8
15 Nights Greece and Turkey Deluxe Vacation
General price:
$

6850.00 / ticket
9
15 Nights Greece and Turkey Deluxe Vacation
General price:
$

6850.00 / ticket
10
15 Nights Greece and Turkey Deluxe Vacation
General price:
$

6850.00 / ticket
11
15 Nights Greece and Turkey Deluxe Vacation
General price:
$

6850.00 / ticket
12
15 Nights Greece and Turkey Deluxe Vacation
General price:
$

6850.00 / ticket
13
15 Nights Greece and Turkey Deluxe Vacation
General price:
$

6850.00 / ticket
14
15 Nights Greece and Turkey Deluxe Vacation
General price:
$

6850.00 / ticket
15
15 Nights Greece and Turkey Deluxe Vacation
General price:
$

6850.00 / ticket
16
15 Nights Greece and Turkey Deluxe Vacation
General price:
$

6850.00 / ticket
17
15 Nights Greece and Turkey Deluxe Vacation
General price:
$

6850.00 / ticket
18
15 Nights Greece and Turkey Deluxe Vacation
General price:
$

6850.00 / ticket
19
15 Nights Greece and Turkey Deluxe Vacation
General price:
$

6850.00 / ticket
20
15 Nights Greece and Turkey Deluxe Vacation
General price:
$

6850.00 / ticket
21
15 Nights Greece and Turkey Deluxe Vacation
General price:
$

6850.00 / ticket
22
15 Nights Greece and Turkey Deluxe Vacation
General price:
$

6850.00 / ticket
23
15 Nights Greece and Turkey Deluxe Vacation
General price:
$

6850.00 / ticket
24
15 Nights Greece and Turkey Deluxe Vacation
General price:
$

6850.00 / ticket
25
15 Nights Greece and Turkey Deluxe Vacation
General price:
$

6850.00 / ticket
26
15 Nights Greece and Turkey Deluxe Vacation
General price:
$

6850.00 / ticket
27
15 Nights Greece and Turkey Deluxe Vacation
General price:
$

6850.00 / ticket
28
15 Nights Greece and Turkey Deluxe Vacation
General price:
$

6850.00 / ticket
29
15 Nights Greece and Turkey Deluxe Vacation
General price:
$

6850.00 / ticket
30
15 Nights Greece and Turkey Deluxe Vacation
General price:
$

6850.00 / ticket
31
15 Nights Greece and Turkey Deluxe Vacation
General price:
$

6850.00 / ticket
1
15 Nights Greece and Turkey Deluxe Vacation
General price:
$

6850.00 / ticket