11 Days Athens, Mykonos, Santorini, Crete Greece Tours



Overview
Athens is a city rich in history, with magnificent historical monuments and charming districts in the historic center. Visit the Acropolis and the new Museum, Plaka – the ancient heart of the old town, the Constitution Building, and the Unknown Soldier Monument. Ermou, Monastiraki, and Thiseio are all worth a visit, as are Kerameikos and Kerameikos.
If you have time, continue your adventure down Attica's coastline to Glyfada, where the tram that begins in Syntagma terminates after going along a beautiful seaside path.
Mykonos retains its bohemian spirit while remaining the most popular and cosmopolitan summer resort. Many people are unaware that Mykonos is an island with a "dual personality." On the one side, it's vibrant, bright, and cosmopolitan, yet it's also quite charming, with cobblestone streets, whitewashed buildings, churches, and windmills.
Santorini is an island that actually hangs on the edge of the cliff, unique in the world for its beauty, charm, and enigmatic history. It is regarded as the most tempting location in Greece for a romantic holiday since there are few sites in the world where you can enjoy gorgeous clean seas while ascending the brink of a massive active volcano in the midst of the sea!
The spirit of the island will overwhelm your senses as you watch the sunset from the lovely Oia!
Crete does not require special recommendations since it is one-of-a-kind, intriguing, and enticing! A little jewel in the Mediterranean is worth seeing because of its gorgeous scenery and beaches that cannot be compared to others, as well as its intriguing hinterland and attractive villages with amazing people. Crete's must-see locations include Heraklion and the Palace of Knossos, as well as Chania and Rethymnon.
Enjoy your vacation to those magnificent locations and… experience your Greek story!
The package includes 10 nights' lodging in a hotel of your choice with breakfast, transportation, and ferry tickets.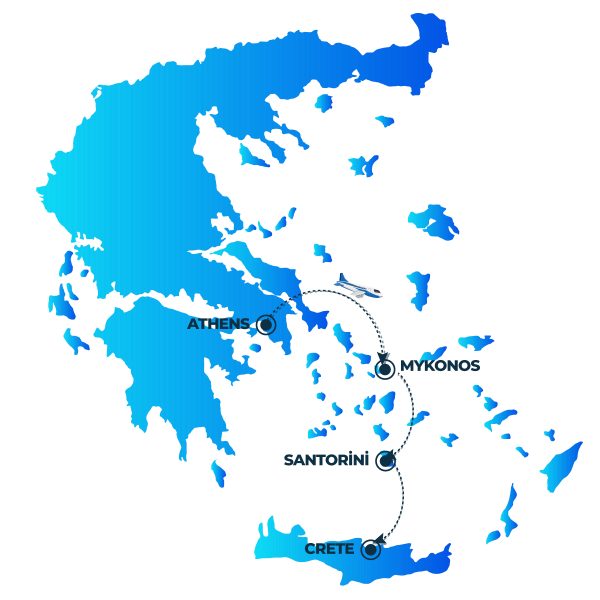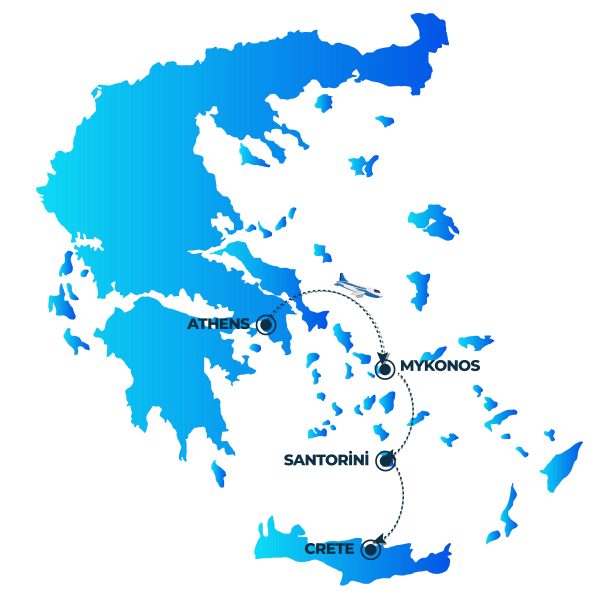 TOUR PLAN

1 st DAY
Athens Arrival
Arrival at Athens airport – Our representative will greet you and drive you to Athens or Glyfada – Check into your hotel in Athens or Glyfada. Tonight, we offer a nighttime Athens (Optional tour). Your evening will begin with a short panoramic drive through the city center, where you will be able to observe, enjoy, and photograph the lit Acropolis from the slopes of the sacred hill. Then, after a nice walk through the tiny scenic alleyways of Plaka, the ancient city, you will arrive at a Typical Greek Tavern to eat your supper while watching a floor show with live music and Greek Folk Dances in traditional costumes.
2nd DAY
Aegean panorama tour
(Optional Tour) Acropolis visit and panoramic bus tour of Athens. This trip allows you to see the stunning contrasts that make Athens such a fascinating city. Our knowledgeable guides will take you to the Panathenaic Stadium, where the first modern Olympic Games were held in 1896. (shortstop). Continue and pass by the Prime Minister's residence (ex-Royal Palace), which is guarded by Evzones in their colorful uniforms, the Temple of Olympian Zeus, the Hadrian's Arch, the Parliament and the Unknown Soldier Memorial, the Academy, the University, the National Library, and the Constitution Square (Syntagma).
3rd DAY
Athens – Mykonos
Early transfer to the port of Piraeus to board the ferry to Mykonos. Upon your arrival in Mykonos, transfer to your hotel. Overnight
4th DAY
Mykonos – (Optional island tour)
We begin with a one-of-a-kind encounter of Mykonos Island's countryside. Our first destination will be Ag. Ioannis, a beautiful beach with the greatest view of Delos Island, where we will witness fisherman and their boats at the little pier, a private church, and buildings built in traditional Cycladic architectural style. The next stop is Kalafatis beach, where there will be time to rest before returning to town. Walk through the small cobblestone lanes of Mykonos town, passing via the typical labyrinth of the ancient town. We'll see the famed windmills, as well as the Little Venice Paraportiani and Saint Nicholas churches. You are free to continue your independent exploration of town after the walking tour. Fabrika Square in Mykonos town is the meeting spot.
5th DAY
Delos – Mykonos (Optional Tour)
Transfer to the dock in the morning to take the boat to Delos. The tale of god Apollo, god of light, and goddess Artemis being born there in ancient times made the island sacred: no mortal would ever be permitted to be born on its territory. But, as the island has been a nursery of gods, no mortals would ever be allowed to die on it. So, in addition to being a prominent religious and economic center, the island was also exclusive in that, even during the height of the Delian Alliance, women on the verge of delivery and individuals nearing death would be sent to the neighboring island of Rineia.
6th DAY
Mykonos – Santorini
Transfer to the port to board the ferry to Santorini. Upon your arrival in Santorini, transfer to your hotel.
7th DAY
Santorini – Heraklion
Transfer to the port to board the ferry to Heraklion. Upon your arrival in Heraklion, transfer to your hotel. Overnight.
8th DAY
Santorini – Heraklion
Transfer to the port to board the ferry to Heraklion. Upon your arrival in Heraklion, transfer to your hotel. Overnight.
9th DAY
Heraklion – Knossos (Optional Tour)
The beautiful palace of King Minos at Knossos, located near Heraklion, Crete's main port, is the foundation of the Minoan civilisation. Heraklion, Crete's historic capital city, is separated between his modern and ancient towns, fortified by massive walls that conceal structures from various ages and preserve its Venetian harbor. Beautiful beaches and bustling resorts may be found all along the coast, as can rosary recitation. Heraklion is bordered by beautiful beaches and long stretches of coastline. Among the prominent attractions are the old town and Venetian harbor, the Archaeological Museum of Heraklion, Knossos – King Minos' palace, the long beaches and resorts along the coast, the hinterland, and its traditional villages.
10th DAY
Heraklion – Athens
Free day in Heraklion. In the evening Ferry crossing from Heraklion to Piraeus (Athens) Overnight on board.
11th DAY
Athens – Departure Day
Our assistant will meet you at the Port – Ferry Dock and will transfer you to the Airport for your departure flight.
 2 Overnights in Athens, 3 Overnights in Mykonos, 2 Overnights in Santorini, 2 Overnights in Heraklion, with twin-bedded rooms with breakfast in a hotel of your choice.
 1 Overnight in 4 Berth Cabins on the Ferry Heraklion - Piraeus,
 All transfers as mentioned in our program,
 Ferry tickets Piraeus-Mykonos, Mykonos-Santorini, Santorini-Heraklion. Heraklion-Piraeus
 Lunches and Dinners,
 Optional Tours,
 Entrance Fees to Archaeological sites,
 Greek Hotels stayover tax.
Why Elite Turkey Tours
Verified Reviews
25000+ Pictures and Reviews on the platform.

10000+ Tours and Activities
We have activities across 17 countries, across every category so that you never miss best things to do anywhere.

Customer Delight
We are always able to support you so that you have a hassle free experience.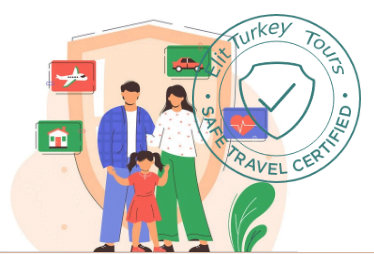 Our first priority is always to protect the health and safety of our clients and local teams  
Elite Turkey Tours  has received the World Travel and Tourism Council's Safe Travels stamp, which provides travelers with assurance that we have adopted health and hygiene global standardized protocols – so you can experience 'Safe Travels'.