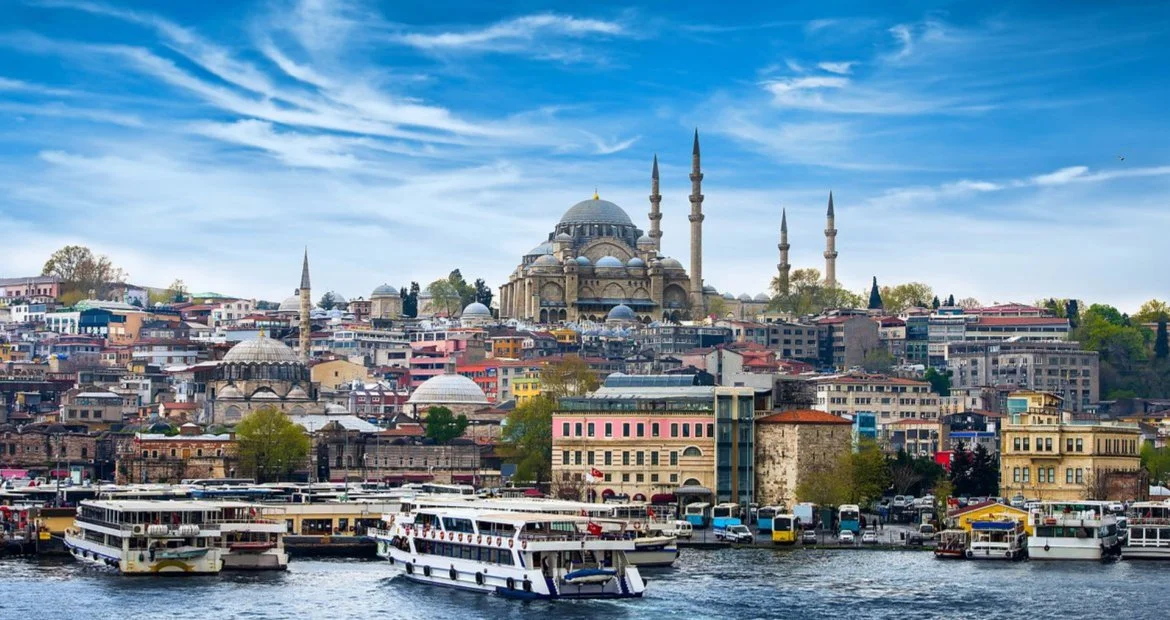 İstanbul
The delicious Turkish cuisine
Turkish cuisine is often considered one of the best in the world - and even political disputes can't change that. The country's culinary traditions have endured for more than 1,300 years and include a delicious blend of Balkan, Middle Eastern and Central Asian influences. Although Turkish cuisine is best known for its grilled meats, it goes far beyond the popular donor kebab. Start your day with a traditional Turkish breakfast. This appetising offering includes fresh white bread, a cheese platter, eggs, tomatoes, cucumbers, black olives and a variety of spreads - all washed down with tea. Tempting mezze platters, savoury kofte meatballs and real Turkish coffee will also grab your attention.
There is history to be discovered around every corner
Outside Istanbul, there are a number of regions worthy of their own itinerary. Bodrum is a nine-hour drive from Istanbul - the peninsula trumps St. Tropez as the place to be among the most beautiful people in the world. And with ancient artefacts and architecture along every street, there really is no area too small to explore.
Stunning natural attractions
It's no wonder Turkey is famous as a beach holiday destination, with its sparkling coastline and gorgeous beaches like the blue lagoon of Oludeniz. But due to its active geological past, the country also offers a wealth of other beautiful landscapes and scenery. With 44 national parks protecting the rich flora and fauna, the country's natural heritage is worth exploring. In central Turkey is the otherworldly Cappadocia. A fascinating landscape made up of thousands of bizarre, cone-shaped rocks with pointed spires. UNESCO Pamukkale, a World Heritage Site, is also unlike anything you've seen before. This natural phenomenon consists of white limestone-based terraces filled with warm mineral water. This so-called 'cotton castle" is a breathtaking natural bath and one of the most photographed attractions in Turkey.
Ancient Ruins
Turkey has been a crossroads of civilizations for thousands of years. Therefore, it's not surprising that the country is home to numerous ancient ruins and landmarks. The legendary Ephesus is considered one of the greatest historical sites in the world. This classical city dates back to the Roman era, when its 250,000 inhabitants profited from trade and pilgrims visiting the Temple of Artemis - one of the Seven Wonders of the Ancient World. Although little remains of the temple today, visitors can marvel at the Library of Celsus and the impressive Great Theatre. Also worth a visit are the ruins of Pergamon. This ancient Greek city sits dramatically on a hill and houses one of the steepest, vertiginous amphitheatres in the classical world. Pergamon was also famous for its Asclepion, an ancient medical centre built to honour Asclepius, the god of healing.
ANZAC Day
April 25 this year marks the 103rd anniversary of the landing of ANZAC. Although ANZAC Day is a national day of remembrance in both Australia and New Zealand, the date isn't as well known in other countries. The day commemorates the 36,000 Commonwealth soldiers who died on the coast of Gallipoli in the former Ottoman Empire. The campaign lasted eight months during World War I and was fought between the Ottomans and the Allies, which included thousands of soldiers from Australia and New Zealand. In modern-day Turkey, the numerous cemeteries and memorials of Gallipoli can be visited throughout the year. However, many choose to schedule their visit on the anniversary of the landing to participate in the morning service. A visit to Gallipoli is definitely worthwhile if you want to learn more about ANZAC or pay tribute to the fallen soldiers.
the Blue Mosque
Journey to Istanbul this year for a chance to explore and enjoy the exquisite Blue Mosque – an iconic piece of Turkish history. Known for its beautiful blue tiles, it was Sultan Ahmed I's grand project over 400 years ago, with his own tomb still inside. Unfortunately tourists will not be able to admire the mosque until May 15th due renovations taking place in early 2018 - making now more important than ever as we wait patiently before being allowed access once again!
To Explore Istanbul: A Vibrant City That Rests in Two Continents
Journey to Istanbul, a city brimming with contrasts and charisma, bridging two mighty continents: Europe and Asia. The architecture echoes of a bygone era, an era where it stood as Constantinople - the jewel and capital of the renowned Roman Empire. Yet, the Ottoman dynasty eventually took over, adding its own pizzazz to the cultural heritage of this city. Enter the present day, and Istanbul still reigns as a majestic metropolis, ripe for travelers to discover and uncover its unparalleled cultural delights. So why wait? Will you be the one to explore this fascinating, history-rich city? Immerse yourself in the mystery and intrigue of a city where two mighty empires once reigned supreme. Wander through the ancient streets and hidden cisterns, where the whispers of the past still echo. With every step, you'll uncover new secrets and untold tales that will give history aficionados a rush like no other. Are you ready to embark on a journey of discovery and exploration like never before?