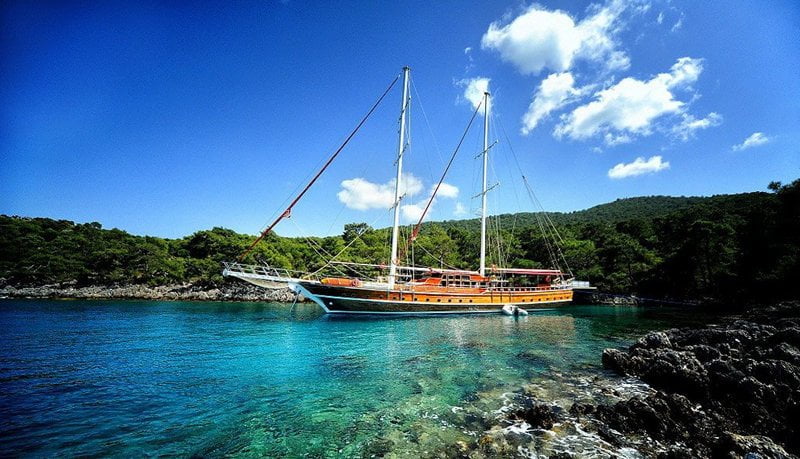 Gulet Tour
Gulet Tour
We experience the essence of the Mediterranean and ancient times when conducting a gulet trip in Turkey. Although the term "gulet" implies "holiday on the Mediterranean A La Turca," it is a loanword from Venetian goéta (Italian goletta), which is a loanword from French Goulette (present-day form goélette), which means "schooner."Gulets are also known as "Bodrum boats" since they originated in Bodrum (ancient Halicarnassus), where the best gulets have been constructed since ancient times. Marmaris, Bozburun, and Fethiye are becoming prominent gulet construction hubs as well.The traditional Turkish Gulet is a handcrafted wooden vessel created by highly talented master artisans. Gulets, sometimes known as motor sailors, are extremely comfortable and suited for lengthy sea journeys and inshore coastal excursions.
TYPES OF GULETS
The Gulet is the most popular traditional boat during the "Blue Cruise." It is a cruising yacht with a spacious, rounded stern space that is ideal for dining and relaxing. Gulets are often rigged with ketch (Marconi) or schooner rigging with one, two, or three foresails. Their lengths range from 15 to 55 meters, and they can sleep 6 to 24 people in 3 to 12 cabins with individual showers and WCs.
Gulet Yacht Charter
Charter a Gulet Yacht for a spectacular private seaside vacation with family and close friends. Whether you book a conventional, classic, luxury, or super-luxury Gulet Yacht to fit your budget, you can expect a great vacation experience that will leave you wanting to return!
Cabin Charters
Couldn't you just hire the entire Gulet? Don't be concerned! You may still make the most of your vacation by booking a cabin charter to have a wonderful sailing experience with your family or friends, or you can broaden your network and meet new people on board!